Friends of David McComb
Friends of David McComb
Rocksteady Records
Monday 17 February 2020
Free
SAVE WHAT YOU CAN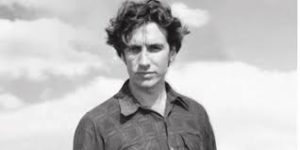 David McComb is one of the best songwriters to emerge from Australia. With his band The Triffids he produced some of the most evocative moments in Australian music, in particular the albums Born Sandy Devotional (1986) and Calenture (1988). There were a few other Triffids LPs, a handful of EPs, a solo album, Love of Will (1994) and various recordings with The Blackeyed Susans. All of them featuring McComb's poignant songs and expressive baritone.
His tragic death in 1999 however, closed one of the most distinguished songbooks in contemporary music. Since then his fellow Triffids, in particular his brother Robert McComb and Evil Graham Lee have done their bit to keep both the band's and David McComb's songwriting legacy alive. There's been a few festival appearances with an array of guest vocalists as well as gigs here and there. I've attended a couple of them and they have always been great celebratory occasions and a little bit emotional as well.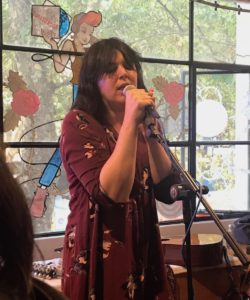 I was looking forward to this one at Rocksteady Records, as it was to feature 'new' material – a selection of 'lost' David McComb songs that Robert McComb and Evil Graham Lee have recorded with a selection of guests. This was the album launch.
Rocksteady Records is a good size for a record shop, but quite small for a gig, although it perhaps surprising how many people can squeeze between the racks of records. I got in there 20 minutes before the gig time, bought the LP – Truckload of Sky: The Lost Songs of David McComb – and took up a spot close to the performance space – near the racks bearing the records of artists M-P.
For this gig the band consisted of Robert McComb on guitar & violin, Evil Graham Lee on guitar, Phil Kakulas on bass and someone whose name I didn't catch on keyboards. I'm guessing it was Bruce Haymes who played on the record. Guest vocalists for the gig were Romy Vager of RVG, Rob Snarski of the Blackeyed Susans, Alex Gow from Oh Mercy and Angie Hart from Frente, all of whom sing on the album.
It was cramped inside the store by the time the band took up their instruments and there were plenty of people out in the corridor who couldn't squeeze in to the shop.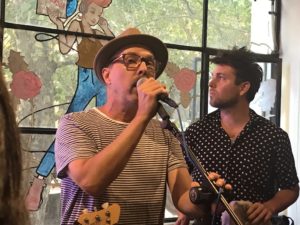 The band set up in the Lonsdale Street end of the shop, under the watchful eye of David McComb whose photographic portrait by Bleddyn Butcher hangs permanently on the wall.
Romy Vager from RVG opened proceedings with Kneel So Low, her impassioned delivery a fine fit for a McComb song. Her second song, Make Believe We're Not Here in Hell is an evocative McComb ballad that gave Vager the chance to give full vent to the melodrama in her vocals.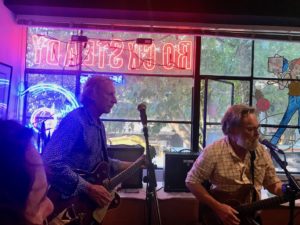 Snarski took vocal duties for three songs, including Kiss Him (he's History) that features an extended coda of fuzz guitar, and Somewhere in the Shadows which is taken from one of McComb's tapes, although not featured on this album. The Blackeyed Susans vocalist has one of Australia's finest voices and is probably the foremost interpreter of McComb's songs, so this was the next best thing to having the man there himself.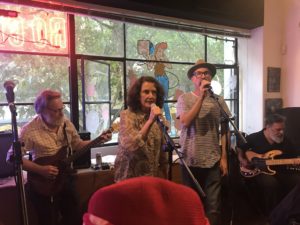 The band provided a low-key backing with Lee and McComb picking out gentle interweaving guitar melodies and backing vocals, while Kakulas kept things moving with a steady bass line and Haymes (if that's who it was) adding some colour on the keys.
Alex Gow of Oh Mercy fame had provided tambourine and percussive backing on a few tracks, but took guitar and vocal duties on Look out for Yourself, a gentle country tinged song that might have fitted nicely on the In the Pines LP.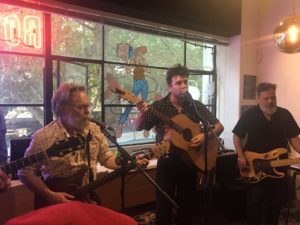 The final song of the night, Second Nature was performed by Angie Hart, from Triffids contemporaries Frente, whose sweet, pure voice proved a natural fit for this McComb song.
The album is excellent and illustrates just how many fine songs we missed hearing after McComb's untimely death. We are fortunate that Robert McComb, Graham Lee and the other former Triffids are working to retrieve this music. IN the words of McComb, 'Between ourselves, and the end at hand, save what you can.'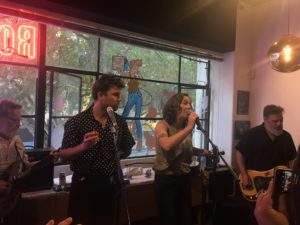 Setlist
Kneel so Low – (Romy Vager)
Make Believe we're not Here in Hell – (Romy Vager)
Kiss Him (He's History – (Rob Snarski)
So Good to be Home – (Rob Snarski)
Somewhere in the Shadows – (Rob Snarski)
Look out for Yourself – (Alex Gow)
Second Nature – (Angie Hart)