Hawthorn – Home & Away 2020
Round 1
Hawthorn v Brisbane Lions
MCG
Sunday 22 March 2020
ONE FOR ALL AND ALL FOR ONE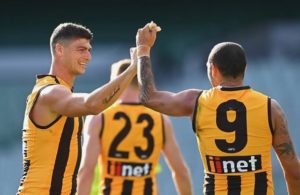 These are strange days for football, and I don't just mean because Richmond are the reigning premiers.
The season reduced to 17 rounds due to the coronavirus, no fans allowed to attend games and people still taking Robbo's Top 50 list seriously, even when he names The Bont at #1.
It seems weird to me that social distancing restrictions that prevent handshakes, bum pats or any physical contact and proximity to other humans somehow don't apply when it comes to grappling over a football and the sort of Greco-Roman wrestling moves that are part of any game of football.
Personally, I don't think it's right to be playing football in these circumstances, partly because it's sending mixed messages to the community, but also because Hawthorn's pre-season form has been so abysmal that I don't hold out much confidence for the season ahead. Of course, the public health perspective is paramount, but I wonder if all football shouldn't be suspended until Luke Hodge's kids are old enough to play for Hawthorn. Just a thought.
I'm also concerned that social distancing is a concept that Hawks captain Ben Stratton will struggle to adhere to. If you can't push, shove, pinch, wrestle and tickle, he won't know what to do and may well lose his love for the game.
To be honest, not being able to turn up to games saves me a lot of anxiety as well as money when you consider a Crown Lager costs more than $11. And the reduced season means we only have to play Geelong once, which also limits the number of scuffles I'll find myself in.
With Tasmania closing its borders, obviously we can't play games in Launceston, so this might be an opportune time to move a few home games to Waverley or even Glenferrie Oval.
Watching the opening match of the season between Richmond and Carlton was certainly weird without the crowds, but we also didn't have BT, who is in quarantine, so the noise level was reduced even further.
Not everything about the new world of football is bad. Disinfecting the balls after they've crossed the fence is a good initiative and perhaps one that should be kept up at Collingwood games when the crowds return.
Of course, all this was academic on the morning of Hawthorn's first match with the situation surrounding coronavirus growing more serious by the hour. I would not have been surprised had the match been abandoned. But as it was, I was in front of the TV with my scarf and a patty duke as the boys took the field.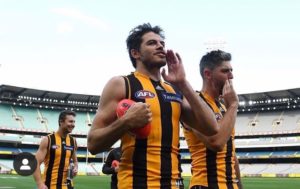 A testament to Grant Birchall's consistency, if not his resilience, he was a late withdrawal with a hamstring strain. There was nothing new in this, except that it was for Brisbane. After the best part of three seasons self-isolating at Hawthorn, he owed us that one.
We had our own injury concerns at Hawthorn with Mitch Lewis, Blake Hardwick and Jarman Impey all missing. To make up for the lack of run from our back line, we selected Ben McEvoy down back. We also had Tom Mitchell returning as well as former Melbourne defender Sam Frost making his debut and former GWS Giant Jonathon Patton up forward.
I feared that the lack of a crowd would favour Brisbane who are more accustomed to playing in front of no one. But Hawthorn settled reasonably well, and Isaac Smith snagged our first goal from a scrimmage.
It was a pretty competitive first quarter with Charlie Cameron and Lachie Neale looking dangerous for the Lions and Shaun Burgoyne looking like out most poised forward, while Jager O'Meara and Tom Mitchell were both playing well. Patton had a chance for an early goal but handballed to Luke Breust running into the goal square and although we trailed by 2 points at the break, we were playing reasonably well.
The second quarter was marked by the Hawks taking a slight advantage in general play as well as on the scoreboard, and marred by constant warnings about AFL supremo Gillon McLachlan's impending half-time press conference. Typical! Just as the Hawks were looking good again it appeared that the season was about to be abandoned – fear of coronavirus or of another Hawks dynasty? I couldn't help but be suspicious. At least we were in front at the break if the game suddenly had to stop.
The third quarter was also pretty good with Hawthorn maintaining its edge and accuracy. Goals to O'Brien, Burgoyne and Patton took us to 10.2. Wingard was playing a great game and was perhaps equal with Burgoyne as our best afield.  Any elation was tempered by the knowledge that the season was to be suspended until 31 May – a fact reiterated several hundred times by the commentary team.
So the final quarter for the match and possibly the season saw the Hawks edge further ahead in a display that had me looking forward to next week's game, until I realised there wasn't going to be one. It was a comfortable and satisfying win in the end and the Hawks currently stand undefeated. As I understand it, historically the team that wins the final match of the season at the MCG is the premier, and for the moment at least, that's Hawthorn.
Final scores: Hawthorn 14 6 90 d Brisbane 9 8 62.