Kate Tempest
Kate Tempest
Melbourne Recital Centre
Tuesday 18 February 2020
$89.90
EYE OF THE STORM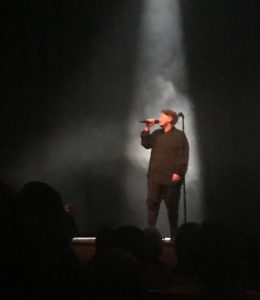 Fittingly, ahead of Kate Tempest's performance on Tuesday night, a massive storm erupted over Melbourne, complete with heavy downpour, bullet-like hail and flash flooding. Living up to her name, it seems that Kate Tempest does indeed take the weather with her.
Regardless of whether this was a coincidence or the manifestation of her power and control over the elements, Kate Tempest is a kind, warm-hearted, generous, loving human. I've never met her of course, but this is the impression she gave the instant she walked onto the stage at the Melbourne Recital Centre. She spoke to the audience for a bit, acknowledged the effort we'd made to battle through Melbourne's storm to join her for the show, introduced her accompanist – the immensely talented Clare Uchima – and delivered all of her thank-you's up front, or what she called her 'gratitudes,' adding that 'once I start I won't be stopping,' referring to the imminent performance of her poetry.
And true to her word, she didn't. Opening with Europe is Lost, she recited several pieces from her back catalogue, mainly from 2015's Let Them Eat Chaos, before delivering her latest album, The Book of Traps and Lessons, from start to finish.
It was utterly spellbinding. Dressed in all-black, she wandered the stage, spitting out her words in rapid fire succession and spinning her stories of corporate greed, social inequity, love and lust, requited and otherwise, with passion and precision. Occasionally she lent her head against the speaker as if she was retrieving the words from inside. What she does falls somewhere between the crevices between spoken word, rap and singing – a recitation with a killer soundtrack.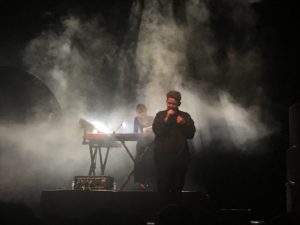 Accompanist Clare Uchima all the while stood on her plinth with a bank of synths, keyboards and knobs and set up the post-industrial 'Portishead'-like' soundscape mixing beats, tapes and occasional tinkles of melody. Her physical presence was graceful and understated, but her musical contribution was immense.
The staging was centred around a large disc that stood at the back of the stage and was illuminated with lights and smoke to resemble a fiery eclipse. It was a look not unfamiliar to anyone watching images of the sun during the recent bushfires.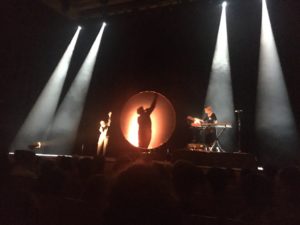 The narrative of The Book of Traps and Lessons is a slow-burn that ebbs and flows through the political and the personal – the failings of the former and the fumblings of the latter – and slowly develops into the dramatic climax of Holy Elixir with lights, smoke, clanging industrial noise and Tempest's fierce and searing recitation building to a finale of fury.
All this noise subsides into the real finale, the melodic and moving People's Faces, the melody provided by Uchima on the keyboards. It begins as a lament, 'It's coming to pass, my country's coming apart, the whole thing's becoming such a bumbling farce, was that a pivotal historical moment, we went stumbling past?' and continues in this vein, 'we got our heads down and our hackles up,' but settles as Tempest finds a ray of hope, 'There is so much peace to be found in people's faces.'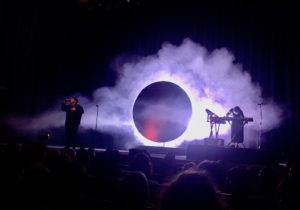 At its conclusion, the audience roared and stood as one for an extended and clamouring ovation. Tempest came back out to acknowledge the ovation, but there was no more and really, there was nowhere she could go after such a powerful performance. Bravo!
Setlist
Europe is Lost
We Die
Marshall Law
Ketamine for Breakfast
Grubby
Circles
The Beigeness
Tunnel vision
Thirsty
Keep moving Don't Move
Brown Eyed Man
Three Sided Coin
I Trap You
All Humans Too late
Hold Your Own
Lessons
Firesmoke
Holy Elixir
People's Faces