Jeff Duff – Bowie Unzipped
Jeff Duff – Bowie Unzipped
Bird's Basement, Melbourne
Friday 31 January 2020
$30
WHAM BAM THANK YOU MA'AM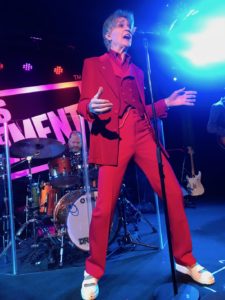 "I know what you're thinking – how does such a thin man have such a fat voice? Well, I'll tell you; huuuuge testicles," quipped Jeff Duff half way through his show at Bird's Basement. And he's not wrong – it must take balls to tour a Bowie tribute show.
When I was about 12 years old, my eldest brother David had an album called Snow White and the Eight Straights by a band called Kush.
The Snow White of the title was Jeff Duff, a flamboyant, high camp singer with a big voice who had dyed hair in a Ziggy cut, wore tight glittery body suits, lipstick, eye shadow and nail polish. The eight straights were the denim clad, long-haired, bearded musicians who made up the rest of the band. They looked like truckies. The album spawned a couple of hits in Easy Street and a cover of Macarthur Park. There have been numerous versions of the latter song, many of them much better known, but for Australians of a certain era, it is Kush's version that remains the seminal recording.
Jeff Duff was a Countdown staple back in the 1970s, lip-synching to the audience of teen girls who were wearing Miller shirts, Golden Breed windcheaters and flared jeans, songs with suggestive titles like I'm Your Football, Kick Me and The Banana Song. In that era of glam rock with Bowie, Alvin Stardust, Hush, Slade and Skyhooks, Jeff Duff and Kush didn't seem particularly out of place. In fact, I knew about Jeff Duff long before I'd ever heard of Ziggy Stardust. Outrageous costumes and over the top, extravagant singers were the norm. It would have been weird if Duff wasn't wearing fishnets.
My brother has kept closer tabs on Duff over the years and has seen him perform a few times. I'd been meaning to see his Bowie tribute show, Bowie Unzipped for some time, so when Duff played Bird's Basement in March last year, David and I went along. It was the first gig we'd been together since the 1970s – and we couldn't work out which was the most recent, Leo Sayer at Festival Hall or Rose Tattoo at the Exhibition Buildings as part of radio station 3XY's annual Rocktober festival. At the latter I recall being impressed by Angry Anderson's rebellious act of pouring a can of beer over his bald head. Talk about rock 'n' roll. In the mid 70s, the seemingly incompatible styles of Rose Tattoo, Leo Sayer and Jeff Duff didn't seem at all incongruous. They were, in many ways, more forgiving times.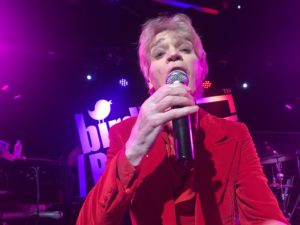 Duff put on a great show; it took place in the same week George Pell was sentenced to six years' imprisonment for child sex crimes, so when Duff got to the chorus of Five Years, he of course changed the lyric to 'Six Years, stuck on my eyes" and had us all sing along.
We enjoyed that show so much we booked in again for his latest tour. Duff is in his late 60s now, possibly older, but he's still a consummate performer. His baritone pipes are as powerful as ever and his sense of showmanship is equally strong. Plus, he's witty. Referring to Ziggy's 'God-given arse' on this night, he stuck out what passes for his derriere and quipped, "I don't have an arse, I just sit on the tops of my legs."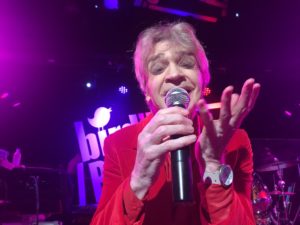 The band opened the show with the familiar strains of Heroes – if it's not the greatest song of all time, I'm not sure what is – Duff appearing on stage last wearing an immaculate three-piece red velvet suit, circa Bowie's Glass Spider tour, teamed with what appeared to be a pair of stylish cream crocs. Duff's voice was deep and resonant as he brought to life the cast of characters; kings, queens, dolphins, soldiers and lovers.
Being a Bowie tribute show the setlist is of course a roll-call of hits. Changes, China Girl, Ziggy etc. The band is led by Glenn Rhodes on keyboards and bass keyboards and featured (if my checking of the website is accurate) Gordan Rytmeister on drums and Paul Berton on guitar. Given that Bowie toured with a band of about eight musicians, this trio deliver an impressively full sound.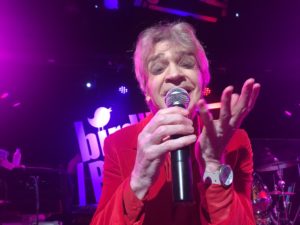 We were seated right up against the stage so there wasn't a lot of room to move, but I could happily sing along and Duff, who isn't shy of cameras, knelt down when he saw me pointing my iPhone in his direction, so I could get an ultra close-up.
He clearly noted that I had a reasonable grasp of the lyrics because during Space Oddity he thrust the microphone under my nose when we got to the, "Tell my wife I love her very much, she know-oh-ows." I'm not a confident singer, but it can't have been too bad because I was called on again for, "Planet earth is blue and there's nothing I can do…" All those occasions in my teens singing along while my friend Mark played guitar suddenly paid off. However, when Duff followed with Young Americans and looked to me hopefully for the "Break down and cryyyy" part, I suggested someone with a falsetto might be better. Happily, the guy at the next table produced an excellent cameo. I was just pleased that he didn't call on me to do Freddie's vocal for Under Pressure.
The show is more than just music. Duff's quick wit and irreverence brought plenty of humour. Stories of his career and his various meetings with Bowie peppered the show. The woman at the next table showed him a picture of Molly with his pants down that she'd taken on a music cruise; Duff glanced at it and said, "Yes, that's how I remember him."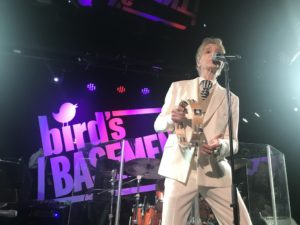 The second half got a bit looser – Duff was wearing a Thin White Duke ensemble, we'd had a few more beers in the interval and after the somewhat sombre Lazarus, the set list moved into the funkier, dancier numbers, with Duff getting out into the crowd to urge people to dance.  A run home featuring Golden Years, The Jean Genie, Rebel Rebel and Suffragette City rightly had the place hopping by the time the band said goodnight.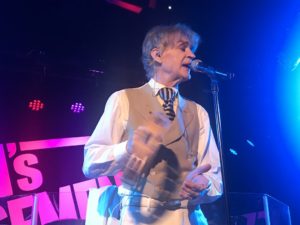 For the encore, they performed Macarthur Park which satisfied the Kush purists in the audience and ended the night. To be honest, it's a song that has always baffled me. I've read and to some extent understood Joyce's Ulysses, late Beckett, the poetry of Ezra Pound and the lyrics of Thom Yorke, but I'll go to my grave never comprehending the verse, "someone left the cake out in the rain, and I don't think that I can take it, 'cos it took so long to bake it, and I'll never have that recipe again…Oh Nooooooo!" It all seems a bit melodramatic for a spoilt sponge. Is it a metaphor, a cautionary tale of culinary forgetfulness, or am I missing something obvious? Either way, it was a fitting way to end a memorable show.
Duff commented at one stage that given the stretch of human history, we should consider ourselves fortunate to have lived in the same era as Bowie, and he is right. But here in Australia, we are doubly fortunate to have arguably the best interpreter of Bowie sashaying amongst us.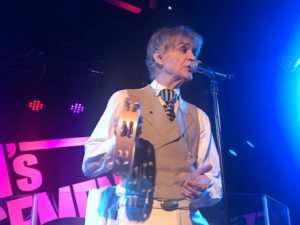 Setlist
Heroes
Changes
China Girl
Ziggy Stardust
Starman
Life on Mars
Modern Love
Space Oddity
Young Americans
————
Walk on the Wild Side
Lazarus
Let's Dance
Sorrow
Golden Years
The Jean Genie
Rebel Rebel
Suffragette City
———–
Macarthur Park