2015 AFL Second Semi Final
Hawthorn v Adelaide
Friday 18 September, MCG 
Leadership Spill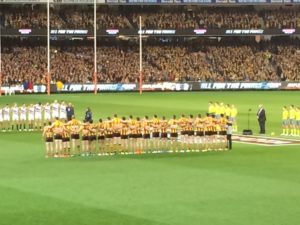 Leadership was very much on the minds of Australians this week. After last week's loss to the Eagles, many commentators questioned the leadership of Luke Hodge. A quiet game on the back of a drink-driving incident the week previous indicated to many that Hodge was no longer fit to lead the Hawks – that Hawthorn needed a spill of leadership positions.
A good institution, one with the right values and a clear vision, one with the right leader already in place, trusts its decisions and stays strong. That's why Hawthorn stuck with Luke Hodge and why the Liberal Party had to replace Tony Abbott with Malcolm Turnbull. Of course the leadership of Hawthorn is far more significant than the leadership of the nation, but perhaps both now have the best possible leaders at the helm.
With Abbott gone and Hawthorn remaining alive in the finals, Australia feels like a better place than it did a week ago.
Abbott had to go because, above all, he's a right-wing neo-nutcase: misogynist, monarchist, racist, homophobe, and worse, a rugby fan. In the end Abbott simply didn't have the numbers whereas Hodge did: 15 kicks, 9 handballs, 4 marks, 4 tackles and 4 goals, including the first, a long straight set shot from 50 metres after intercepting a kick-in. This was effectively the match winner.
From then Hawthorn weren't troubled at all. In the first quarter Hawthorn kicked eight goals to two, and Adelaide's goals were both fortuitous: a free kick for deliberate out of bounds against Grant Birchall who was pushed as he kicked it, forcing the ball over the line, and a freak gal from Patrick Dangerfield on the boundary, under pressure and on the run – there was more chance of him remaining with the Adelaide Crows for the 2016 season than repeating the feat. If that was how they were going to get their goals, we weren't in much danger.
And so it proved. Three first quarter goals to Breeeuuust, two to Hodgey, plus a sizzling running goal from Isaac Smith set up the win. So dominant was Hawthorn that even Ben Stratton had a set shot. He missed of course, but it was one more set shot than his opponent, Eddie Betts, managed. Jordan Lewis finished the quarter by threading through a goal after the siren.
Ryan Schoenmakers had another one within two minutes of the restart. The second quarter was more even, but only because the goal review system came into play to overrule another Breust goal, claiming his boot never quite touched the ball. Breust later said he definitely kicked it, and that's good enough for me.
A half time lead of 45 points seemed fairly impregnable, but when Rough sent a long bomb sailing through from the centre square within one minute of the restart, the match was effectively over. Though not before another goal review fiasco – this time they didn't overrule the umpire when they should have.  Not that it mattered; but at that stage the score was 97 to 43.
This is how finals are meant to be: an anxiety free procession of Hawthorn goals – 21 in all. The most stressful this game got was late in the final quarter when we were wondering why Cyril was still out there risking injury when he should have been under the ministrations of a talented masseuse, or better still, a cocktail waitress.
Speaking of Cyril, in an inventive marketing ploy, Hawthorn placed one of Cyril's boots at a designated spot near the ground post-match and then tweeted the location to fans. Whoever got there first would receive the second boot hand delivered from Cyril. The boot was placed at Citizen's Park in Richmond, on Gleadell Street. My friend Chan-Tha lives just around the corner so she set off, but sadly just missed out. On the video the club posted of the exercise, you can see her having a quite understandable tantrum when she realised she missed it. It's a shame because it would have been good to drink champagne from after we win the premiership.
Final scores: Hawthorn 21 9 135 d Adelaide Crows 8 13 61
What we learned: Hawthorn has made it to a fifth successive Preliminary Final – one step closer to the three-peat, but we're not getting ahead of ourselves; at Hawthorn we're just taking it one Grand Final at a time.
What we already knew: Just as most non-Hawthorn fans generally like Luke Hodge, or at least wish he played for their club, likewise most left wing voters quite like Malcolm Turnbull, or wish he'd mount a leadership challenge against Bill Shorten.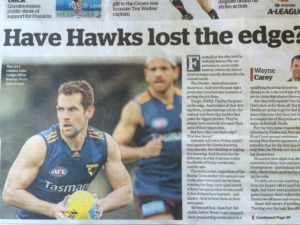 Wayne Carey's weekly writing off of Hawthorn continues. Following his assertion that Sam Mitchell wouldn't get a game in any of the other 17 clubs, he now suggests we're done. I trust our eight goal first quarter provided a suitable repost.