Jess Ribeiro
Jess Ribeiro
Gorsha
Leah Senior Band
Northcote Social Cub
Saturday 26 September 2015
$15
Jess Kills It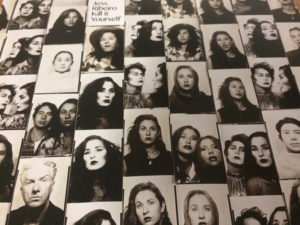 An air of general good humour pervaded the Northcote Social Club for the occasion of Jess Ribeiro's album launch for Kill It Yourself.
I don't know if it was the weather, reasonably balmy, the fact that it was Saturday night, or that in a rare instance of political positivity, the ruling coalition government had overthrown arch conservative Tony Abbott as Prime Minister and installed instead, the more moderate and somewhat more urbane, Malcolm Turnbull at the helm of the country. It wasn't just the leftie hipsters gathered in the Northcote Social Club that were happy about this news, the mood of the entire country seemed to have lifted in the week or so since it happened.
My own good mood I could put down to the fact that Hawthorn had, just the night before, won their way into another Grand Final, our fourth in succession, so already buoyed by the ousting of Abbott, my mood was verging on euphoric.
My friend Fiona, who accompanied me on this night, believes there is something in the Northcote Social Club itself that promotes cheery banter. She based this on the evidence of he rprevious visit. She had been there a few weeks earlier to see old indie curmudgeon Ed Kuepper and claims that even he smiled and joked with the crowd. And even though he'd once fronted a band called Laughing Clowns, that name was more ironic than descriptive.
On the night she saw Ed, Fiona said he played material from the soundtrack for the film 'Last Cab To Darwin' that had just opened in cinemas. This is the real link to the Jess Ribeiro gig, because most of the musicians in the various bands playing, as well as some of the crowd – there was a show of hands – also hailed from Darwin. Perhaps there is something about our northern most capital that evokes general chirpiness. Or they were just glad to be out of there.
Gorsha
We missed the first band on the bill, Leah Senior Band. However, Gorsha, the band that were playing when we wandered in, were from Darwin, as is Ribeiro herself. Gorsha is a three-piece comprising guitar, bass and drums with the guitarist taking vocal duties. Their music is a sort of swamp rock or punkabilly – reminiscent perhaps of The Scientists or The Moodists if one were to hark back to 80s antecedents. Even so, there was a freshness to the music and they played with energy and verve, enough to get a portion of the crowd – naturally standing well back from the stage – if not actually dancing, then moving a leg in tandem with the beat. Except the bloke next to me who had a Warren Ellis like beard and was taking notes.
Even if you didn't like the music, the between song banter between the guitarist and bass player was a highlight. They were like a stand-up duo feeding off each other and they used the chatter to try and disguise the lengthy guitar tuning interludes. I can't repeat any of their lines, partly because I can't recall them, but also because it was humour of the moment and it emerged through tone and delivery as much as the actual comments. In other words, you had to be there.
At one point the bass player acknowledged an audience member who was standing right at the front wearing a coat of what looked like white tiger fur, and said that last time they'd played the NSC there was a girl in a giant panda outfit, so clearly their demographic included hunters of endangered species. To the gentleman wearing the tiger fur he stressed, "Not that it doesn't look great, it does, just that it probably looked better on the tiger."
They clearly knew Jess Ribeiro from their hometown of Darwin and she had probably got them the gig, but that didn't stop them from critiquing her rise to prominence, if a headlining show at the Northcote Social Club can be called prominence, to which she retaliated by heckling from the crowd.
Jess Ribeiro – These Shoes Are Made For Walking…literally
I was aware of Jess Ribeiro after reading an article in The Age in which she spoke about recording the album. I was sufficiently intrigued to have a listen on Spotify and I then bought the vinyl. She said in the interview that she'd been listening to PJ Harvey's Let England Shake and was impressed by Mick Harvey's production, so asked him to produce her new album. Happily he agreed, which explained why the legendary Bad Seed sauntered onto the stage with the band and plonked himself behind the keyboard.
The album is an understated little masterpiece – gently brooding music with noirish overtones, wry, enigmatic lyrics and Jess' vocals not so much wafting over the top but melding nicely into the nooks and crannies of the music.
Ribeiro brought the same understated feel to her performance, which was evident in her outfit of shapeless taupe jacket, jeans and Asics. Okay, so I wasn't expecting Beyonce bling or Gaga flamboyance, but some effort at showpersonship might have been nice. The band was togged out in variations of black denim, except of course Mick Harvey who was rocking his high pants look.
As well as Mick Harvey on keyboards, there was a chap introduced as Damien on drums, another on sax, possibly the Rob Law listed in the album credits, someone called George on lead guitar and Jade McInally on bass. She too was wearing runners – clearly it was a comfy shoe kind of band.
They opened with If You Were a Kelpie, after which Ribeiro informed us that the main refrain, 'If you were a kelpie I'd shoot you' was something her PE teacher used to say to her, suggesting why she might have sought out a career in the arts rather than sport – despite the Asics.
They followed this with Born To Ride, also from the album, before playing the title track, Kill It Yourself. Ostensibly this song is about the act of slaughtering a chicken for dinner, but it might also be read as political commentary on the Liberal Party's recent leadership coup:
'Sharpen the blade, don't make a fuss, 
As fast as you can, kill it yourself…unsentimental, kill it yourself.
Feathers plucked, God's in the bucket,
Kill it yourself'
The set consisted of the album, just played in a different order. The band performed the songs well and Jess chatted amiably with audience and band between songs. She seemed like a charming person with a lovely warm gentle wit, in other words, way too nice for the rock music scene.
She responded to comments from the crowd and smiled to acknowledge people she knew. The general vibe was one of being among friends – it was possibly the most convivial gig I've ever attended. She changed the set list a couple of times, much to Mick Harvey's confusion and also apologised to him for the inordinate amount of time she was taking to locate the G chord, saying "Sorry Mick, I know you're a pro" at which precise point the amp chord fell from her guitar with perfect slapstick timing.
The set ended with Good Day that Ribeiro introduced by saying that the last time they'd played it the audience took their clothes off. Fiona went to oblige before Mick gestured that this sort of participation wasn't really necessary.
The band returned for an encore, playing Unfamiliar Ground, also from the album, but which apparently they'd never played before, plus one more that I didn't recognise.
Although not coming on until 11pm, it was all over just after midnight – just the right length. Fiona bought a cd on the way out and we were on our way. I was clearly still on a buzz from the Hawks victory and mentally preparing for another Grand Final week, so I took no notice of the actual set list and nor did I take any of my usual out of focus photos. But you don't always need the details, sometimes just the vibe is enough and on this night it was more than sufficient.