Ainslie Wills
Ainslie Wills
Sunday 21 February 2016
NGV Garden, National Gallery of Victoria, Melbourne
Free
EVERYDAY IS LIKE SUNDAY…IF ONLY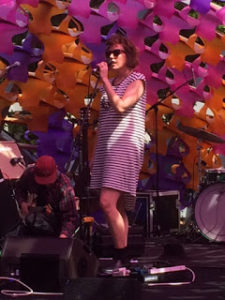 Just two days after seeing Black Cab in the Great Hall at the NGV as part of their Friday night series, I was back, this time to see Ainslie Wills in the NGV Garden for their Summer Sundays.
With all this music being used as a draw card to get people to visit art galleries, you wonder if they'll ever have to hang Whiteleys and Nolans at places like the The Tote and The Corner Hotel to attract art lovers to rock gigs.
This was the Sunday afternoon on the day after White Night, Melbourne's all-night music, art and projection extravaganzas, so I thought the city would be quiet. But if anything, it was more crowded than usual. Either the crowds hadn't yet gone home, or the glorious day and balmy conditions had drawn people back out.
I can't complain; the golden sunshine was, after all, one of the factors that had got me out of the house. The other reason was that Ainslie Wills was playing for free. After spending over $200 to see Prince earlier in the week, the universe owed me a free gig and here it was providing.
Ainslie Wills is an emerging singer-songwriter with a crystalline voice. I first heard her on the #1 Dads song, So Soldier, which she co-wrote with Tom Ionsek and on which she provided a beautiful vocal. I've since been listening to her Oh The Gold EP.
The NGV garden is an idyllic setting on such a day. A large canopy of bright pink and orange interlocking modules covers the stage and creates dappled light over the performers and the mosh pit, such as it is – at this gig, which was largely a sit down affair, it consisted of a few twirling toddlers. The surrounding gardens have shady trees, pop-up bars and a BBQ. People lounge on scattered chairs or loll on giant cushions under sailcloth shades. It's the perfect set up to sip on an Asahi or two and take in Ainslie's immaculate laid-back tunes. As with Black Cab, Ralph joined me for the afternoon.
As the band kicked into the first song, Stop Pulling the Strings from her album, You Go Your Way and I'll Go Mine, Ainslie started to twirl about on stage, flinging her arms and kicking out her legs, sort of like Kate Bush but without quite the same fluidity. I'm not one to criticize, after all, my jerky, uncoordinated moves have never won anyone's admiration, but I don't think Ainslie is going to steal Beyonce's crown any time soon.
While dancing may not be her strong point, her voice was smooth and clear. As Ralph commented, she made singing beautifully seem effortless.
The band too, was slick and proficient. I missed their names, but the line-up was guitar, bass, drums and keyboards, with the woman on keys providing beautiful harmonies, particularly during But I'll Tryfrom the Oh The Gold EP.  If anything the band were too perfect and could perhaps have benefitted from a dissonant interruption or two – perhaps a Blixa Bargeld or Andy Gill giving their guitar a discordant swipe just to rough up the smooth sound.
But you can't criticise a band for what they're not – in this case the music and vocals complemented each other perfectly and suited the lazy Sunday afternoon those of us in the audience were enjoying. Where Ainslie Wills finds her point of difference is in song structure. Her songs don't necessarily fit the 32 bar form of standard rock songs; they start out that way but veer off into other directions or they build to something else entirely. Some of them seem to be made up entirely of middle eights, or a succession of bridge sections, if such a thing is possible.
Constellations is a great song and it stood out as one of the highlights of this performance, along with So Soldier and her closing number Drive.
As Ainslie herself commented, we are fortunate in a city like Melbourne that these sorts of events are put on for free – she was speaking in more general terms, but it was certainly true for those of us in the audience there for her performance.
Set list
Stop Pulling the Strings
Hawaii
?
Wide Load
Lemon Japan
But I'll Try
So Soldier
Never Know What To Say
Constellations
Fighting Kind
Drive
Encore: I bought a CD of Oh The Gold after the performance and Ainslie was good enough to sign it – see pic. Ainslie probably gets a reasonable share of the $15 I paid. Okay, so probably not much on its own I know, but let's say 2 or 3 million people were to buy it – she'd make $20 or $30 million. This probably won't happen for Ainslie, but it gave me an idea for Kanye West.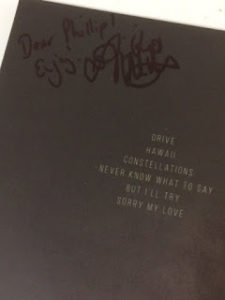 In the past week or so Kanye has claimed that he is US$53 in debt, clarifying of course that he still had money to buy furs and houses for his family – just in case we thought he wasn't providing. Furthermore he wanted Mark Zuckerberg to invest $1 billion in what he called 'Kanye West ideas'.
This is in the same week that he released his new album The Life of Pablo, but kept it exclusive to the Tidal streaming service, meaning it wasn't available for purchase. The obvious upshot was that most people simply pirated the album from the internet, an outcome that not only surprised Kanye, but angered him.
If I was Mark Zuckerberg I'd suggest that one idea might be to release the album so people could buy it – that would bring some money in. At the risk of limiting a true Renaissance man, I'd be inclined to question the worth of his other ideas if he can't even capitalize on the one thing we know he can actually do, which is make music. I'd buy a copy, if only to keep his family in furs.