Black Cab
Black Cab
Friday 19 February 2016
Great Hall, National Gallery of Victoria, Melbourne
$30
POP ART – ART POP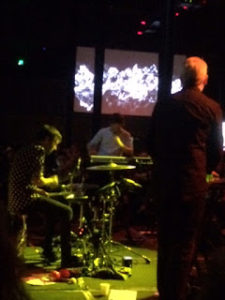 The National Gallery of Victoria, or NGV to the locals, hosts Friday night museum entry during big exhibitions, with drinks, dining and local bands playing in the Great Hall.
There has been a good line-up of bands to coincide with the Andy Warhol / Ai Weiwei exhibition. Having been out of town when Norwegian singer, and one time Melbourne resident, Jenny Hval, played, I was keen to catch Black Cab. Black Cab are local purveyors of what is known as 'Krautrock' – a somewhat racist term originally invented by the English music press to describe German experimental and electronic music, but which has come to encapsulate pretty much any German music or music displaying hints of German influence.
While terms like Latin music or middle-eastern music are vaguely descriptive, I'm not sure that rock genres can necessarily be divided along national lines, particularly as Germany has produced bands as diverse as Kraftwerk, Einsturzende Neu Bauten, and even Boney M. After all, it's not as if Beethoven, Mozart, Wagner and Bach's music is clumped together under a banner called 'Krautclassical.'
My friend Ralph, who has a keen instinct for discovering little-known bands that play innovative music, introduced me to Black Cab recently, and joined me at the NGV for the exhibition and gig. If the throng coursing through the gallery was any indication, however, Black Cab is anything but little-known. Though I suspected Warhol and Weiwei were the main drawcards.
Andy Warhol is well-known as an innovator and art world subversive and Ai Weiwei is a Chinese dissident artist and activist who works in a similar tradition. The exhibition displayed their works side by side, highlighting the moments where they complement each other, but also contradicted each other. It was a thought-provoking and creatively curated exhibition.
At first there may seem to be little connection between the work of these two artists and the music of Black Cab, however, all three comment on authoritarian regimes. There is Warhol's Mao and Stalin portraits – included in the exhibition alongside his celebrity portraits – and Ai Weiwei's own Mao portraits, which of course carry a different connotation given his political activism and imprisonment in China.
Black Cab, on the other hand, has an abiding interest in the authoritarian regime of the former East Germany. Their 2009 album Call Signs was about surveillance by the East German secret police, the Stasi. Their latest album, Games of the XXI Olympiad, concerns itself with the East German state sponsored performance enhancing drugs program at the 1976 Montreal Olympic Games. It may seem unlikely source material for a concept album, but perhaps no more so than Rick Wakeman's The Six Wives of Henry VIII (the most common response to hearing that album is overwhelming relief that Henry only had six wives, mixed with surprise that an enraged populace didn't rise up and drag Wakeman himself off to the chopping block.)  Having said that, you can imagine someone turning the Essendon supplements saga into a concept album, even a musical – Hird Mentality perhaps, or See the Bombers Shoot Up.
Black Cab's album dispenses with the drone guitar sound of some of their earlier work and instead features pulsing up-tempo electronic music with crisp, metronomic beats and anthemic flourishes – as if Kraftwerk have had heir drink spiked.
The Great Hall was packed as the buzzing drone of Closing Ceremony introduced the show. Black Cab's principal players, Andrew Coates and James Lee looked suitably serious as they stood at their respective workstations fiddling with knobs and flicking switches to program sounds and electronic beats on their laptops. At least that's what I assume they were doing – they might simply have been catching up on their emails after pressing the 'Go' button. Drummer Wes Hall, however, was head down, wrists flexing as he kept up a steady rhythm at the kit.
Black Cab fans or not, the crowd was getting into it. It didn't matter that the vast majority of the audience were unfamiliar with the material, for everyone understands the meaning of a running beat and a big bass drop. Whether stimulated by the art or just the wine and beer, a general air of abandon took hold as the disco thump of Supermadchen and Combat Boots propelled things along.
Despite the theme of the pieces, the music is quite joyous at times, capturing the fanfare nature of the world's biggest sporting event. There were families with kids, older art enthusiasts, attractive twenty-somethings and Black Cab fans all bopping away while Coates intoned his snippets of Teutonic sporting supremacy. As the beats pumped and the synths swirled, you could easily imagine yourself at a nightclub. As an habitué of Studio 54 in the 1970s, Warhol would have felt right at home.
They ran through most of the Olympiad album, running one piece into the next with only the slightest pause in between. As befitting their general demeanour of cerebral detachment – or perhaps they were just concentrating – there was no audience interaction. To be honest I'm not even sure they knew we were there. But then the music didn't lend itself to shout outs and banter.
Instead they programmed some diverting visuals on three big screens – mainly geometric shapes and patterns, but also a video of two silhouetted figures with fierce red eyes.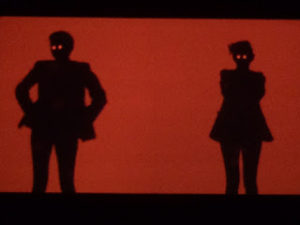 It was a good gig to accompany the exhibition and the audience stayed right until the end, which meant there was a good reception for the rousing Sexy Polizei with which they concluded. Overall, it was a good value $30 cab ride.
We can now look forward to seeing what they make of the 2016 Rio Olympics, particularly if the zika virus runs amok.
Setlist (more or less)
Closing Ceremony
Supermadchen
Combat Boots
Kornelia Ender
?
Victorious
Opening ceremony?
Sexy Polizei