Beth Orton
Beth Orton
Croxton Bandroom, Thornbury
Friday 9 June 2017
$67
ALL HAIL BETH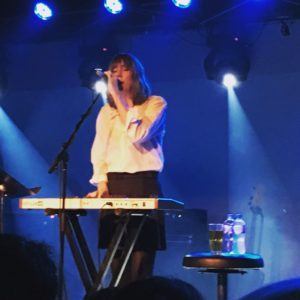 Beth Orton is not the first person to flounder in a place of worship, only to find redemption in a pub.
My first experience of hearing Beth Orton play live in 2014 took place in a church and was somewhat less than a religious experience. However, five years later she played at a pub and attained, if not quite transcendence, then something like atonement.
Fallen Angel
I've seen and heard some surprising and unexpected things at gigs over the years; SPK operating chainsaws on stage, Ian McCulloch assaulting an audience member with his microphone, Mark E Smith storming off stage mid gig (a standard feature of his stage show I now realise, but this was 1982 and new to me), Johnny Rotten lecturing an audience in Frankston about manners after someone threw a glass at him, and an audience member plunge a large knife into the stage as Talking Heads played Psycho Killer.
One of the more surprising things I've experienced in recent years, however, was when I first saw Beth Orton perform. It wasn't that she did anything outrageous, or that anything scandalous or miraculous happened, although the show took place in a church so either was a possibility. No, it was her voice. Far from being the pure God-given instrument I had thought it to be, her singing lacked consistency and her voice faltered on several occasions. It didn't descend to the depths of say Meatloaf at the 2011 Grand Final, or Dylan anytime in the past 15 years, (longer some would say), but I was shocked nonetheless.
The once constant across all her recordings, be they folky, electronic, or something in between, is the unique quality and timbre of her voice. Even her less engaging material has that going for it. So, I was shocked when confronted with this unexpected reality. The idea that Beth couldn't sing all that convincingly made me think I'd been living a lie all this time. I didn't know what was true anymore. It was like finding out that Keith Richards has always practised abstinence or that Serge Gainsbourg was celibate.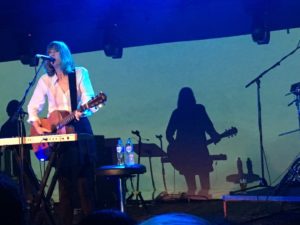 The occasion was a performance at St Michael's church in Collins Street as part of the Heavenly Sounds series of concerts. Orton played a solo acoustic show on guitar and piano. While it was a nice intimate venue, the setting added a layer of undue reverence to the occasion and the church's acoustics had the effect of amplifying any slight imperfection.
All of which may have contributed to Orton's nerves, because she was almost hamstrung by them. This, mind you, was 18 years into her career. I felt sorry for her. To be a singer, songwriter and musician so crippled by nerves is a bit like being a rapper with low self-esteem or a sex addict with a germ phobia.
Recalling this show, I was initially hesitant to buy a ticket for her Croxton Park Hotel show (like Laura Marling, she is touring the country as part of her Vivid Festival appearance at the Sydney Opera House). However, her latest album Kidsticks is a welcome return to the electronic or folktronica sound that launched her career, plus she had a band with her. Added to that, our friend Kath was having a birthday, so Angela and I bought tickets for the three of us.
Born Again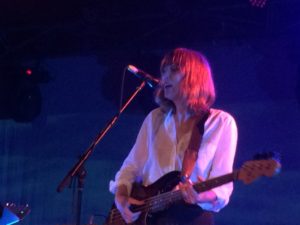 The Croxton band room is a big space so we wanted to get up near the front. Led by Angela, we manoeuvred our way towards the stage just before the throng thickened.
When the band emerged onto the stage Beth took up position behind a keyboard while the two other band members stationed themselves on their respective instruments; Alex Thomas on drums and percussion and Graeme McMurray on guitar.
The lighting wasn't overly bright so visibility was poor with a blue hue flooding the stage for much of the gig. They opened with the wafting ambient wash of Dawnstar, a slow, brooding atmospheric piece from the latest album. Not an obvious opener, but that's what made it an interesting choice. Orton's singing was a bit husky at first and I feared we might be in for a repeat of four years ago, but she soon found her vocal groove and her voice remained strong throughout.
The focus was very much on new material for the first part of the show; Falling and Wave gradually increased the tempo and sonic intensity, and eventually gave way to the breezy dance groove of 1973, Orton's ethereal vocal floating across the top of the tight electronic rhythms. She kept her gaze fixed mainly on her keyboard, although at one point she looked up at the audience and commented nervously on how many of us there were.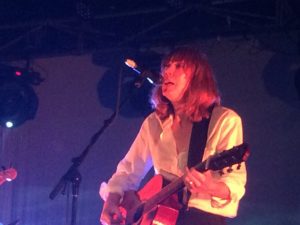 Fittingly, when she departed from the new electronic material she went all the way back to Trailer Park, playing the meditative, trip-hoppy Touch Me With Your Love, before swapping keyboard for guitar to play that album's opener, She Cries Your Name.
The band accompaniment added a strong foundation into which Orton's voice melded perfectly. Either that or the act of looking down at her keyboard rather than out at the audience helped ease her nerves.
Despite this, the band members departed and Orton played Blood Red River alone on guitar. Not one usually given to overt political statements, she did however comment vis a vis the election in the UK that day and the recent terror attacks, that her country was getting 'more fucked by the minute.'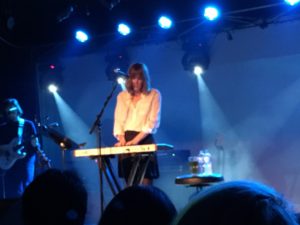 A further sequence of new material with one word titles included Snow, Moon and Petals. The latter morphed into Galaxy of Emptiness in which Thomas' deft percussion and McMurray's treated, layered guitar created the requisite mood of galactic ennui.
There was a nice sonic consistency for most of the set, shot through with enough variation to prevent it from ever growing dull.  It never quite reached pulsating fever pitch, but Beth changed the vibe sufficiently to coax a slow groove out of us with Stolen Car and a sexed up Central Reservation.
There was only a brief break before they returned for an encore with Orton strapping on the bass to play Thinking About Tomorrow from 2010's Daybreaker album and Call Me the Breeze from 2014.
Despite her nerves and stage awkwardness, she ended on a note of bravado, singing the almost triumphant, by her standards, Feel to Believe, a sentiment that would not be out of place in a church, but sounded a hell of a lot better in a pub with a band. We'll never doubt you again Beth.
Setlist
Dawnstar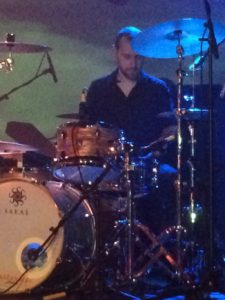 Falling
Wave
1973
Touch Me With Your Love
She Cries Your Name
Blood Red River
Shopping Trolley
Moon
Snow
Petals
Galaxy of Emptiness
Stolen Car
Central Reservation
——————-
Thinking About Tomorrow
Call Me the Breeze
Feel To Believe