Laura Marling
Laura Marling
The Forum
Sunday 11 June 2017
$74
SWEET SONGBIRD OF YOUTH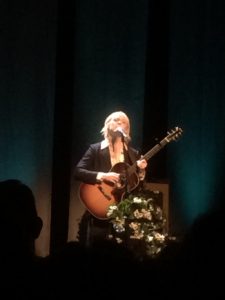 Everything about Laura Marling is immaculate, from her tailored black suit to her home counties accent, the original signed art prints on sale at the Merchandise stall to the harmonies of the two backing vocalists and the tasteful playing of her band. Which is why a couple of her own fluffed guitar cues were a welcome sign that she is human after all.
Much has been made of Marling's precocious talent as both a singer and songwriter, as well as her prolific output. She released her first album in 2008 when she was 18 and in the nine years since there have been five further albums of ever increasing quality and sophistication. There's a line in Always This Way from her most recent album Semper Femina where she sings "Twenty-five years and nothing to show for it," which could be a comment on the ephemeral nature of art and the elusiveness of meaning, but which sounds to me like a spot of humble bagging.
Laura Marling was in Australia to perform at the Vivid Festival at the Sydney Opera House and was playing lead up shows around the country. I've seen her a couple of times previously, first playing solo at a small church in the city as part of the Heavenly Sounds series, and most recently at Hamer Hall in 2015 for the Melbourne festival. I was with John, Sue and Angela for this show; Angela having overcome her initial resistance to seeing someone she described as 'too young, too talented and too beautiful.' I know how she feels, I feel the same about reading books by youthful upstart authors. Regardless of how good they might be, you can't help resenting them for it. No one likes an overachiever.
Laura With Flora
In a nice doffing of the cap to one of her more obvious inspirations, the pre-show music piping through the speakers while we waited for Laura to appear was early Leonard Cohen.
The stage was looking distinctly bucolic with the drum kit and various mic stands festooned with flowers; the garlands quite in-keeping with the faux Greco-Roman statues and décor of the venue.
When they appeared, Laura was accompanied by Matt Ingram on drums, Simon Ribchester on guitar, Nick Pini on bass and Tamsin and Emma Topolski on backing vocalists.
They opened the set with Soothing, a subtle, slow moving piece propelled by a skipping bass line, sparse percussive rhythm and Marling's exquisite voice.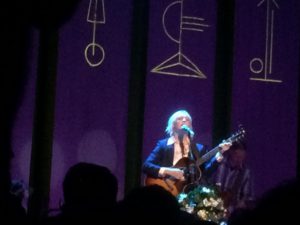 The first seven songs they played were all from the latest album, Semper Femina, quiet, slow-paced ballads in the main. It all sounded beautiful, but it wasn't until the chorus of Don't Pass Me By that the band got to flex a bit of musical muscle and test the robustness of the room's acoustics.
Marling's gaze was directed permanently upwards as she sang, as if she was seeking inspiration from above or was perhaps afraid to look her audience in the eye. Fears that she was being aloof were allayed when she revealed that she was transfixed by the famous constellation of twinkling stars on the Forum's ceiling.
Nothing, Not Nearly is probably the liveliest of the new songs with its bar room blues feel, however, rather than capitalise on any momentum it generated, the band disappeared and left Marling alone on stage for a short acoustic set.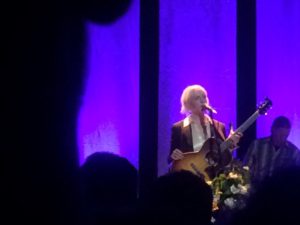 "It's cold" she said with some disapproval, noting that it was warm in England, hereby revealing a not untypical northern hemisphere ignorance of how the whole earth orbiting the sun thing works in relation to the seasons.
In honour of England and winter, she played the hypnotic hymn, Goodbye England (Covered in Snow), which was a veritable 'hear a pin drop' moment. There was no whooping or hollering from the audience, not even the fizzing snap of beer cans being opened, just respectful, rapt attention.
Marling remained alone and solo to play a Simon & Garfunkel cover, Blues Run the Game, followed by What He Wrote, which is so much like a Leonard Cohen song with its circular guitar strumming and lyrical construction that it too almost constitutes a cover version.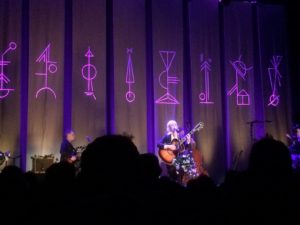 The Topolski singers returned to the stage, having they said, polished off the rest of the Prosecco backstage. They joined Marling in a performance of Daisy, a bonus track from the Short Movie album. The rest of the band then re-emerged and played How Can I, also from that album and possibly my favourite Laura Marling song. Played with restraint and an immaculate light touch, it was, for me at least, the highlight of the show.
To compensate for her inadequacies at stage banter, Marling had each member of the band recite a 'fact.' One of them said something about llamas, another recounted a story about a shark attack and Emma Tobolski revealed that her first word was 'neighbours,' as in the TV show. None of it was particularly instructive, but it did give Marling a chance to have a break and take a few lingering sips of her own Prosecco.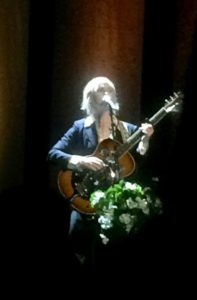 After playing older tracks Salinas and Once, Marling announced that they don't play encores, so the next song would be their last. Unless we particularly like encores, in which case the previous song had been the last. Saying so, they launched into the folky rock of Rambling Man. They played it with energy and verve and as Sue observed, it was one of the few occasions the audience had a chance to let go and get in a few moves.
Sue had a point. It was an accomplished performance, even captivating; everything sounded good, the band was technically proficient, Marling's sang beautifully, the backing vocalists added a rich choral element and the songs were smart and nuanced. It's just that most of them were a similar pace. So, while the show benefited from consistency and a steady through line, it lacked a little in the way of spontaneity and moments of exhilaration.
Marling herself commented on what a polite audience we were, so perhaps it was just us; it was a Sunday night after all. I think, however, that we were responding to the gentle flow of the music, and mesmerising as much of it was, it might have been fun to be shaken up a little with a rollicking rendition of Devil's Spoke or False Hope.
Angela and Kath wouldn't let me join the signing queue for Beth Orton, so I was pleased to see that Laura Marling had pre-signed her merchandise. I picked up a poster. Having pre-signed merch shows that either Marling is more organised than Beth Orton, or she doesn't want a whole bunch of pervy, old blokes like me leering at her within minutes of leaving the stage.
Setlist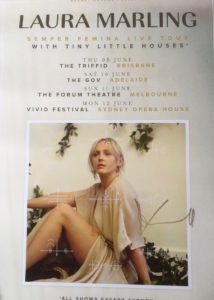 Soothing
Wild Fire
The Valley
Don't Pass Me By
Always This Way
Next Time
Nothing, Not Nearly
Goodbye England
Blues Run the Game
What He Wrote
Wild Once
Daisy
How Can I
Salinas
Once
Rambling Man