Bjork Biophilia Live
Bjork Biophilia Live
ACMI
Monday 27 October 2014
$17
Bjork, In Absentia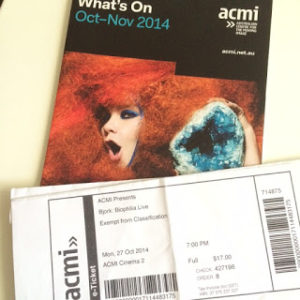 If the best gig I attended in 2014 was St. Vincent at Howler, then the best gig I didn't go to was Bjork's Biophilia show. The reason being of course is that she didn't tour Australia, let alone Brunswick. Perhaps she doesn't like flying, or perhaps the cost of carting a 25 person choir across the hemispheres was too prohibitive. Happily ACMI (Australian Centre of the Moving Image) was showing a film version of the concert, so that was just going to have to do.
The concert was filmed at Alexandra Palace in London on 3 September 2013 – the final show of the tour – and was directed by Nick Fenton and Peter Strickland. Had I been there I might have missed the 2013 federal election three days later when Australia voted in a right wing government led by arch conservative, Tony Abbott. In which case I'd have been tempted to stay in London.
Bjork is a true artist and musical innovator. The fact that we live in a world in which she commands a mass audience is a sign that things aren't all bad. Of course the fact that Elton John still sells millions of records cancels out much of the hope that Bjork's relative popularity might otherwise have engendered. I just wish Bjork realised that part of her mass audience resides in Australia and that she would tour here one day.
Natural Wonders
Like St Vincent's concert, Bjork's show was a highly stylised, tightly choreographed performance. Staged in the round, it was a visual, musical and theatrical feast from the moment of David Attenborough's recorded introduction at the beginning of the concert to the performance of Sacrifice featuring Henry Dagg and his sharpsichord – a massive stainless steel sculpture with pipes, knobs and a perforated cylinder – at the end.
Despite what you might think, 'biophilia' has nothing to do with people who like to engage in intimate relations with plant life, or indeed, with biologists – a fact that possibly disappointed David Attenborough when he found out. In Bjork's world, Biophilia is where nature, music and technology interconnect. This was partly illustrated by images of microorganisms squirming and mutating in larvae, maggots devouring sea creatures, lava flow, forking Tesla coils and the like. The imagery was never didactic, but the relationship between the visual and the song being performed was generally discernible.
For those in the audience, the visuals were projected on large screens ringing the stage. In the film version, these images were interspersed with concert footage, interrupted it and bled into it, but never intrusively.
While the images were effective, the audience's focus, whether at the venue or in the cinema, was always on Bjork.
She appeared wearing an orange afro wig like a fiery fairyfloss mein and had a ring of blue paint circling her face. Her dress, at first sight looked like it was made up of a dozen or so breasts, which I realise reveals more about my obsessions than it might about Bjork's couture. In reality her dress was probably meant to reflect a shell or cocoon of sorts – some life giving carapace in any case. So at least I was on the right track.
Army of Bjorks
The main feature of the concert however, was the music and how it was made. There were just two musicians on stage playing instruments, Matt Robertson on 'keyboards knobs and stuff' as Bjork put it, and Manu Delango on percussion. Although the word 'percussion' seems somewhat inadequate to describe the sheer variety of things he hit, tapped and pummelled during the course of the show. One such instrument that he used in Virus and One Day looked like an upturned tortoise shell or a landmine. Perhaps that's why he tapped it so gently.
In addition to the two musicians, there was a 25 strong female choir. They used their singular and separate voices to good effect, not just adding to the soundscape, but defining it. Even though they were dressed in orange, blue and brown cassock type garments, they were not the po faced choral accompaniment you might encounter at mass. Instead they danced and bopped about in loose formation, coming together and separating into choreographed groups. Bjork may not have performed Army of Me on the night, but through their supporting voices, the choir represented Bjork's battalion or army yet despite their number, somehow they didn't seem to crowd the stage.
In the course of scanning across the stage, the cameras also picked up other oddities such as a self-playing harpsichord and a massive scaffold with swinging pendulums. Whether this was powering something or adding to the soundscape I couldn't say. It's Bjork after all – you have to accept that you won't always know what's going on.
Biophile
Unsurprisingly the setlist drew mainly on Biophilia. In fact it was not until Hidden Place, six songs in, that the show departed form its parent album. The music itself, while sparse, was perfectly attuned to Bjork's singing and the choir's accompaniment. Crystalline ended with an explosion of live percussion and programmed beats, while Virus was played almost solely on the treated tortoise shell instrument.
Possibly Maybe received a cheer of recognition form the audience, despite being played at a slower tempo and with a new arrangement of percussion, farting synth and disjointed beats.
Two songs from Medulla, Mouth's Cradle and Sonnets/Unrealities showcased the power of the choir. In the former the choir closed in around Bjork, both vocally and on stage, while the latter was sung in a beautiful a capella arrangement.
Isobel was also greeted with a cheer of recognition as the choir formed a circle around the outer ring of the stage, with Bjork in its centre. The cheer, while no doubt a genuine sign of affection for an old favourite, also had a hint of the 'at last, a song we know' sentiment about it. The screen, meanwhile, projected time-lapse footage of mushrooms sprouting and blooming.
The concert concluded with Solstice from Biophilia, which Bjork sung accompanied by a solo stringed instrument of some sort. As it concluded she said a simple "Thanks for tonight" and skipped off the stage, smiling as she had done throughout the gig.
The logistics of moving 25 people off the stage and then back on meant that they didn't bother to enact the charade of the encore. Or possibly they just edited that bit out. In any case Bjork returned and performed a slowed down version of One Day accompanied by soft percussion and her own lilting whistle.
Nattura, in contrast, was a virtual wig out with the choir members head banging to the song's wild beats and spasmodic rhythms. Maintaining the intensity, Declare Independence – dedicated to the Faroe Islands – erupted in a storm of atonal noise and discordant synth screeches, along with Bjork's ever more manic exhortations to "raise your flag…higher higher!"
Bjork's singular vision came through in the staging of this show, and the central message of Declare Independence to "make your own flag" could just as well serve as Bjork's personal mantra. After all, she is operating not so much in her own country but in her own universe.
Perhaps illustrating this, the final song, Sacrifice, was performed on a separate stage with Henry Dagg and his bespoke instrument, the sharpsichord. The sharpsichord resembles two or three giant tubas caught in a compromising position with a trombone. Thankfully it doesn't sound like that – more like a harpsichord really. Hence the name I suppose. Playing it involves rotating a giant cylinder while systematically plugging a variety of holes, so not entirely dissimilar to a menage-a-trois after all. What it might lack in portability, it made up for with theatrical presence.
As a concert film, Biophilia is enagaging and intriguing, but live the show would have been a truly transcendent concert experience. The filmmakers did a fine job to convey at least that much.
My friend Kath says she likes the idea of Bjork more than she actually likes Bjork's music. I understand her point – I feel the same way about jazz and having sex in cars. However, it might be that 'the idea of Bjork' as depicted in film, or perhaps even hologram, is the only chance I'll ever have of seeing her perform. If anyone is going to work out a way of making a hologram concert an authentic musical and theatrical experience, then it is probably Bjork. And as this film demonstrated, virtual Bjork is better than no Bjork.
Setlist
Thunderbolt
Moon
Crystalline
Hollow
Dark Matter
Hidden Place
Virus
Possibly Maybe
Mouth's Cradle
Isobel
Sonnets/Unrealities XI
Mutual Core
Cosmogony
Solstice
– – – – – – – –
One Day
Náttúra
Declare Independence
Sacrifice
Encore: There was another significant concert event that I missed in London in 2014, when Kate Bush returned to the stage for the first time in 30 years. Kate Bush concerts come around even less frequently than Halley's Comet, so she is even less likely than Bjork to ever our Australia.
I also missed some big concert events in Australia in 2014. Bruce Springsteen returned, but I'd seen him play a concert at Hanging Rock just 18 months previous, so I saved myself the expense this time around.
In the same week that I saw Bjork's concert film however, The Rolling Stones commenced their tour of Australia. The tickets of course were prohibitively expensive. They were priced at a level that is possibly fine if you're a baby boomer who has just received a bulk superannuation payout, which may indeed be their demographic, but pretty much out of the question for everyone else. I've never seen the Stones and am unlikely to, unless of course they mount a hologram concert. You'd consider going perhaps if it was the 1970s Stones, and not the 2014 (re)incarnation.