Hawthorn 2016 – The Finals
The Finals
Qualifying Final
Geelong v Hawthorn
MCG
Friday 9 September 2016
THE O SHOT AND THE SET SHOT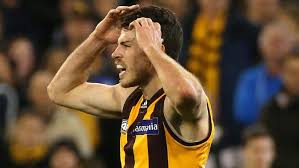 I read in The Guardian online about a new medical procedure whereby a woman can have her own blood injected directly into her clitoris so that during sex she will experience orgasms of greater frequency, duration and intensity. There's a similar procedure for men to have blood injected directly into the penis. It's called the O shot.
Whatever you might think of the virtues of such a practice, it would certainly add a level of complexity and frisson to foreplay – all that fussing about with drips and needles. I'm not sure of the details exactly, but I imagine the thrill to be similar to that which I experienced when with just a few seconds to play in the Qualifying Final, and Hawthorn down by three points, we brought the ball around the outer wing where Luke Breust passed to a Hawthorn player 35 metres out dead in front!  I leapt into the air and squealed a little as I saw the arms of someone wearing a brown and gold jumper reach up to take the mark in front of goal.
For a fleeting moment, just before I recognised the number 16 of Isaac Smith's jumper and took a moment to reflect on his unremarkable set shot record, I experienced my own rather intense moment of excitement. I didn't need an injection of blood.
He missed.
I'm treating the 2016 AFL finals in one post: partly because Hawthorn's participation in this series was cruelly abbreviated, and partly because I have no wish to relive the horror in any of its grisly detail.
Besides, the Qualifying Final against Geelong essentially came down to just that one kick after the final siren, and really, apart from observing that it was a vicious right hook shank from Isaac Smith, what else is there to say about it? Smith roosting one from 60 metres out on the run, sure. But a set shot from 30 metres out directly in front was always unlikely. There was more chance of the same-sex marriage plebiscite legislation enjoying untroubled passage through two houses of parliament than there was of Smith's kick staying on line.
Of course Isaac Smith did kick a monster goal in the final quarter of the 2013 Grand Final to seal victory against Freo (Bruce MaCavaney: "It's a good kick. It's a great kick. IT'S ONE FOR THE AGES!"), so he's done his bit for the team. And on balance, I'll take that kick any day over the post-siren miss against Geelong. He also kicked three beauties in the 2015 Grand Final.
It wasn't the only mistake made by the boys in brown and gold in the Qualifying Final – it was just the most noticeable. It wasn't Smith who missed set shots in the first three quarters. It wasn't Smith who gave away a free kick and 50 metre penalty to Joel Selwood in the second quarter – admittedly that was just a terrible umpiring decision, but nevertheless Smith didn't invite it. And it wasn't Smith who turned the ball over on half-back when we had the lead and the momentum in the third quarter, ushering in a string of Geelong goals.
Besides, we live in a world in which Pauline Hanson is again able to get on her parliamentary soap box to rail against anyone who isn't white, Christian, heterosexual and born in Australia. A world in which a similarly bigoted boof-head like Donald Trump might actually become President of the USA, despite making veiled assassination threats against his opponent. And even more bizarrely, a world in which Fev gets a gig as breakfast radio host. Clearly we confront bigger problems than a Qualifying final loss to Geelong and bigger villains than Isaac Smith.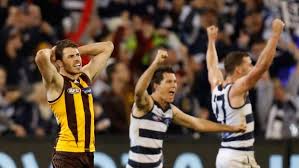 You might possibly admire my mature outlook on the result of this match, even laud my commendable attempt to see the game in a broader perspective, but I'm sure that I fool no one. We all know that I'd happily welcome Trump into the White House if it meant Hawthorn would win another premiership. Hell, I'd wear a Trump wig if I thought it would help.
So the Hawks lost, but it was an indisputably magnificent match: tough, tight and intense. And really, after winning five games by less than a goal during the Home & Away season, the odds on us losing a big game by a similar margin magnified exponentially as each last gasp wins mounted.
Final score:
Geelong 12 13 85 d Hawthorn 12 11 83
– – – – – – – – – – – – – – – – – – – – – – – – – – – – – – –
Second Semi Final
Hawthorn v Western Bulldogs
MCG
Friday 16 September 2016
Pup smear
So to the knock out stage of the finals. No sweat – we'd come through via the same path last year and still won the flag. And we were playing the Bulldogs – a team so spectacularly unsuccessful that after 90 years in the competition they still don't have an arch rival – they haven't played in enough big games in their history to create one. When the AFL experimented with a 'rivalry round' a few seasons back, pitting traditional rivals against one another on the same weekend, the Bulldogs had to have a bye.
The signs were okay early – the Hawks were more or less controlling the game and even if we were missing a few set shots, so were the Bulldogs.
At 7.4 goals to 3.7 half way through the second quarter Luke Breust had a set shot from 20 metres out that would have given us a five goal lead and perhaps have ended the Bulldogs resistance, or at least made them question whether it was worthwhile persisting. Breust missed.
From there the Dogs kicked three goals to make the difference just one point at half-time. And if that wasn't bad enough, there was an announcement during the half-time break that Sting would be performing at the Grand Final.
The Premiership Reign Ends – No-more-thorn
As the government loses key votes in the lower house and key pieces of legislation are blocked, there has been a lot of talk about the paralysis in parliament. But that is nothing compared to the paralysis in the Hawthorn midfield from half way through the second quarter. We simply couldn't get the ball.
More specifically we couldn't get it off Marcus Bontempelli, although he seemed to have no problem getting it off us, dispossessing Luke Hodge in the centre of the ground at one stage to set up a goal. The big Bulldog played one of the great finals games and there was nothing any of the Hawks could do to stop him – not even Luke Hodge. We couldn't blunt The Bont.
In fact the entire Bulldogs team played strong, tough, thrilling football and deserved to win. At one stage they had kicked 9 of the preceding 10 goals. So gruesome did it become that late in the third quarter I had to repair to the Tower 6 Bar to join Chan-Tha and Bakes for a recuperative beer before I could face the final quarter.
The Dogs piled on more goals and any chance of Hawthorn salvaging another miracle was gone. I sat calmly, if a little dejected as the Dogs fans around me cheered gleefully and roared home more goals. Normally I'd loathe the team that knocks us out with the sort of venom that a middle-east insurgent reserves for an invading western force. But it's hard to begrudge Bulldogs fans their moment. They haven't had many. After all, they have won only one premiership in 90 years, and that was 62 years ago. I'd be happy for them to win it this year. Well, better them than Geelong.
Of course such magnanimity must be viewed in perspective. After all I'm still working my way through the various stages of grief. I'm currently in the first stage of denial and isolation, but I'll get to the anger stage when Preliminary Final weekend comes around and it sinks in that we're not playing. It's possible I'll even go to the G out of habit or basic muscle memory.
It was certainly disappointing to lose. I thought we'd bounce back after the Geelong loss and even if we didn't make the Grand Final, I thought we'd win this one.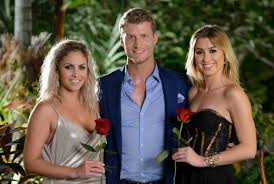 Really, the only outcome more surprising than Hawthorn losing to the Bulldogs was perhaps Nikki losing to Alex in the final episode of The Bachelor. Unlike the outpouring of support for Nikki, however, ('how dare he crush her heart?') and the backlash against Alex ('but she's a single mum!'), there has been general and widespread celebration over the Hawks defeat. Only the downfall of ISIS would galvanise the populace in such shared spasms of joy.
There are, however, positives to take out of this loss. By not making the Preliminary Final we saved Brendan Whitecross the pain and agony of injuring his ACL again.
For me, at least there is a new Nick Cave album to enjoy: eight new songs of loss, grief and eking out a pitiful existence in a Godless universe. Perfect.
Plus I've got a wedding to attend next Saturday night, so I can bestow all my best wishes on the happy couple without feeling like I could be doing something else.
Final score:
Western Bulldogs 16 11 107 d Hawthorn 12 12 84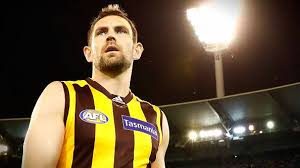 Sadly, our premiership reign is over after 1084 days. That's not too bad – most teams only get 65 or so and it's longer than the previous government lasted.
I liked a post by Nick Rava on the Hawthorn Facebook group, We Are Hawthorn, in which he broke down our past five seasons with the following statistics:
Hawthorn: 2011-2016
150 games
116 wins
5 Preliminary Finals
4 Grand Finals
3 Premierships
Also in that time the reserves side Box Hill Hawks played in three successive Grand Finals and the Box Hill Development league side played in five successive Grand Finals, finally winning at its fifth attempt this season.
Post script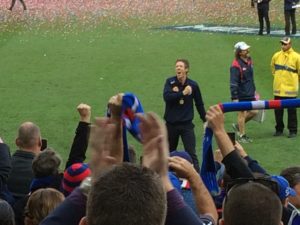 Not only did the Bulldogs knock out Hawthorn, the following week they defeated GWS Giants to make their first Grand Final since 1961 – when incidentally they were beaten by Hawthorn.
Facing Sydney in the Grand Final they maintained their form and their fast, intense attacking style of football and triumphed magnificently. It was a mighty performance by the Bulldogs and arguably the greatest finals campaign by any team in the history of the competition. Starting from seventh position, they achieved four wins, two of them interstate, each against a higher ranked opposition, including the reigning premiers (Hawthorn) and the team that finished top (Sydney).