Sting, The Living End, Vance Joy
Sting
The Living End
Vance Joy
AFL Grand Final Pre-Match
MCG
Saturday 1 October 2016
FIELDS OF GOLD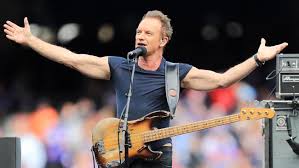 It is a curiosity of major sporting events that organisers feel the need to incorporate an exhibition of music and dance into the occasion. The Olympic Games, the World Cup, the Superbowl, the Melbourne Cup, the NRL Grand Final and of course the AFL Grand Final – they all do it. It's as if the physical prowess of the participants and the majesty of the occasion can only find true expression in an abstract display of popular music, rather than say, the sporting heroics of the athletes.
You wonder if the day will ever come when the Australian Ballet or Bruce Springsteen will preface their performances with a spot of cricket or a bit of kick to kick on stage.
When economic and political pragmatists question the value of art, ask them to consider how else a sporting event would ever get underway.
Grand Final Hall of Fame
The Grand Final has featured singers since 1977 when Barry Crocker strode onto the ground with his long legs to sing Advance Australia Fair or Waltzing Matilda – possibly both. Since then a veritable who's who of Australian music plus a few international acts have graced the not-so-hallowed stage of the G.
I've seen Peter Allen, who crammed his entire two-hour stage show into his 10 minute performance, Olivia Newton-John, the now notorious Rolf Harris, The Seekers, Tina Arena, Daryl Braithewaite, Slim Dusty, Men At Work, Hunters & Collectors, Powderfinger, Archie Roach, Yothu Yindi, INXS (without Michael Hutchence), Paul Kelly, Jimmy Barnes, Human Nature, JPY and numerous others.
When people complain about international acts performing on Australia's biggest sporting day, you really only need to show them that list and they should be able to see why we look to overseas.
Having said that, if you wanted to be picky, you could argue that the roll call of international acts doesn't exactly measure up to the Superbowl: Irene Cara, Lionel Ritchie, Chris Isaak, Michael Buble, Bryan Adams and Ellie Goulding for example.
In 2014 the AFL showed some prescience by asking Ed Sheeran to perform. He played with Tom Jones who was pretty good, as you'd expect, but virtually from that moment, Ed Sheeran has sat at the top of the world's charts. I suspect it will cost a bit more if they want to get him back again.
Of course the acts people remember most fondly, in fact the only acts they remember, are the embarrassing disasters. Here I speak of Angry Anderson in 1991 singing Bound For Glory from the back of the Batmobile, and the now legendary performance by Meatloaf in 2011. It wasn't so much that he was off key, as just off. "You took the words right out of my mouth," he sang – we wished we could have.
Pre-Match Matinee
It was unlikely that this year's lineup of Vance Joy, The Living End and Sting would plumb such discordant depths, but nor did it necessarily promise to soar to glorious, ecstatic heights. Unless of course Sting were to launch into his inspirational anthem, De do do do, De da da da.
Working against the performers at this event is the fact that the match is played in mid-afternoon, so it is essentially a matinee. There is no recourse to light shows, fireworks or other special effects. And just looking at the lineup, even a wardrobe malfunction wasn't going to help much. Plus the arena is so vast that the performers and audience are somewhat remote from each other. There is no chance of the performers getting up close and personal. I was sitting just 12 rows from the front, facing the stage, and I could barely make them out.
But of course my team wasn't playing so I was going to find it difficult to enjoy the pre-match entertainment no matter who played.
Vance Joy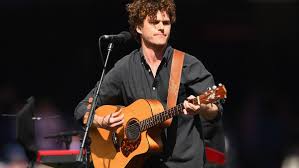 I was still in the Blazer Bar when Vance Joy took to the stage. That's the other thing about the pre-match entertainment, the performers face the Member's Pavillion, which makes sense as that is where the main TV cameras are stationed, but of course, most of the members are crowded into bars and dining rooms yakking about the game ahead, the season past, or as was the case this year, the outfit Jordan Ablett wore to the Brownlow. So the performers face the least occupied grandstand in the shade while behind them, the sunny stands are heaving with people who actually like the pre-match entertainment and might even know some of the bands.
I finished my beer and wandered out to take my seat. Vance Joy looked like a shy Tim Finn – as in the mature, solo artist Tim Finn, not the young, wacky-haired Split Enz Tim Finn. Having said that, a couple of the Bulldogs players, Jason Johannesson and Tom Liberatore, do sport the sort of nutty haircuts that might have earned them a place as extras in Split Enz's I See Red film clip.
The sun was out and Joy was singing his song Fire and Flood. He was strumming an acoustic guitar and was accompanied by a bass player, keyboardist, drummer and a two-piece brass section. Fire and Flood is one of those songs in the Mumford & Sons vane of modern Irish folk jigs that rolls along gently and then builds to an uplifting anthemic chorus that consists of 'wa-hooo, wahooo' type singing rather than actual words. Normally I find such songs irritating, but of course it is exactly what the situation calls for on Grand Final day and Vance was getting the mood just right.
He then swapped his guitar for a ukulele and played his big hit Riptide. Was this the first time a ukulele has rocked a Grand Final crowd? Riptide won radio station Triple J's Hot 100 a few years ago. It too features a bit of dingo-esque 'wa-hooing,' but in this case it leads into a killer chorus that you can't help singing along to, regardless of whether you know the words. Plus he name checks Michelle Pfieffer, so the song gets full marks from most males over the age of 40.
At the ground the blustery breeze buffeted Joy's gentle pop strumming about a bit, so the sound was a tad inconsistent. However, he lived up to his name by singing good-time songs that carried a spark of celebration and inspired the sort of foot-tapping, sing-a-long response that you rarely get from a Grand Final crowd, particularly in the MCC Members, and especially for an artist under 60 years of age.
The Living End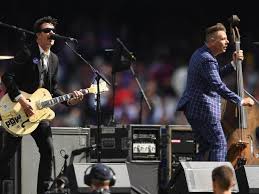 Although I know of The Living End, I'm not really familiar with their material. I'm not sure why that is, other than the fact that you can't follow every band. However, if nothing else, they do have a great band name and sometimes that is enough for me.
So I was interested to hear them play, even allowing for the fact that the MCG on a windy Grand Final day is hardly the optimum acoustic environment in which to check out a band.
And so it proved. From where I was sitting, the sound fluctuated considerably and was quite echoey. The band played with tremendous energy, but the swirling breeze made it all sound like a bit of a rumble. Which is a shame because when I watched it back on TV later, the sound was much better than it seemed at the ground.
Singer and guitarist Chris Cheney was every bit the rock star with his jet black hair and dark sunglasses, but I noticed that he also affected the slightly less rock accessory of Bulldogs badge. Drummer Andy Strachan meanwhile was wearing a half Bulldogs/ half Swans jumper in honour of the two competing teams. This is the sort of statement that is meant to appease everyone but in fact pleases no one. More to the point, however, it looks shit, though not as bad as the year Hawthorn's brown and gold stripes mixed with Fremantle's purple and white. But then it is rarely the drummer who defines a band's look. On this occasion the band's sartorial stakes were won by double bass player, Scott Owen, who wore a smart purple checked suit, head kicker boots and sported a sharp pompadour haircut.
They opened with Keep On Running from their latest album Shift, an energetic rocker with a melodic hook and catchy uplifting chorus. It also featured an all female string quartet who sawed happily away throughout to add a bit ballast to the sound.
Lyrically the song also fitted the occasion with a chorus that could have been taken from one of the coaches pre-game addresses, 'Without a heart you're nothing, without a dream your lost, you gotta keep on running…'
Cheney dedicated their second song to Footscray, "the hometown of the Bulldogs, the hometown of rock and roll and the hometown of The Living End." The song was Prisoner of Society, a defiant punk-a-billy number that chugged along gloriously with Scott Owen taking the phrase 'stand up bass' quite literally, to the point that he jumped up and stood with one foot on its shoulder and one foot on its hip, so to speak, while still playing. It looked for a minute like he was taking a speccy over his instrument.
It was refreshing to have some good Australian acts performing, and both Vance Joy and The Living End put in strong performances. If Hawthorn's midfield had played with the same grunt as The Living End we might even have beaten the Bulldogs in the semi final and be lining up in the big one.
The problem was that Riptide aside, most of the crowd had never heard the songs before. Rock bands work best at sporting events when the vast majority of the audience is familiar with the artist and their material. A big anthemic chorus or two helps as well. Even Coldplay, who deal exclusively in feel good anthems that everyone knows were upstaged at this year's Superbowl. Admittedly they were upstaged by Beyonce wearing a lace leotard, which very nearly upstaged the game itself. So The Living End and Vance Joy were battling against bigger odds than even the Bulldogs.
Sting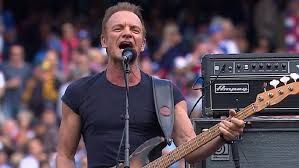 Sting, I thought, might just be able to overcome these obstacles and make the occasion his own, assuming of course that Beyonce didn't turn up. Surely a few telling thwangs of his bass guitar and a bit of "Yee-oh, Yee-oh, Yee-Yayo" call and response with the crowd, as well as a few of his mega hits, and the Grand Final would be away nicely.
So it came as something of a surprise when he took to the stage unassumingly with his band and launched into a half-paced standard song that I'd never previously heard.
This is not to say that I'm au fait with his entire oeuvre (I'm familiar with very little from the mid 80s onwards), or that he shouldn't experiment once in a while, but I would have thought that a three song set at a sporting event was not the time to be plucking obscurities and deep cuts from your discography.
As it turned out the song was I Can't Stop Thinking About You, the new single he was in Australia to promote. It wasn't bad, but given that no one had heard it before, it was never going to inspire the crowd into a raucous ecstasy of anticipation.
The show was taking place the day before Sting's 65th birthday, which is remarkable, not just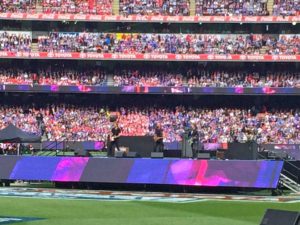 because he was wearing combat pants and a sleeveless muscle tee when most men his age are wearing elasticised pants and cardigans, but because it means he was alive the last time the Bulldogs won the premiership. It's fair to say he's achieved more in the past 60 odd years than 10 generations of Bulldogs players, and that's without even considering the tantric sex.
I saw The Police twice, both times at Festival Hall when they toured to promote their Regatta De Blanc and Zenyatta Mondatta albums. So it's been more than 35 years since I saw Sting perform live. Not much has changed really. I don't mean that in a disrespectful way, or to put down his performance, but simply as an observation on his appearance and physique. He actually looks younger now than he did then, and fit enough to come off the interchange bench if one of the teams needs a bit of midfield muscle.
He did at least have the good sense to follow his new single with one of his most well known numbers, Message in a Bottle, a song he performed at both of those Festival Hall gigs I attended back in the early 1980s. This was a slightly truncated version, with more chorus and less of that fiddly verse stuff.
He followed this with his great stalker anthem, Every Breath You Take. The song was beefed up a bit from the original, which probably suited the occasion, but robbed it of some of its quiet impact. And that was it. Three songs and he was gone. No Walking on the Moon, no Don't Stand So Close to Me, no Fields of Gold, no If You Love Somebody Set Them Free, and most notably, no Roxanne.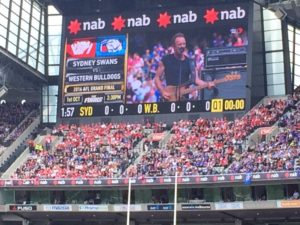 I suppose some people might think that Roxanne, a song about a prostitute, was inappropriate for the Grand Final, but in 2015 Ellie Goulding sang Love Me Like You Do, which is about S&M, and in 2014 Tom Jones roused the crowd with Delilah, a song about stabbing a woman to death in a fit of jealous rage. There's nothing quite like domestic violence to rev up a crowd.
Apparently Sting was paid $1.2 million for his three-song set, which is nearly as much as Buddy Franklin got, but Buddy at least played for 120 minutes. And while some people are complaining about Sting's performance, just think, it could have been worse; we could have had Keith Urban as they did at the NRL Grand Final.
Of course the real reason we were there was the footy. After all, Sting was really only one of the support acts, with Buddy, the Bont and their respective teams about to headline on what Sting might have called the 'fields of gold.'
Setlist
Vance Joy
Fire and Flood
Riptide
The Living End
Keep On Running
Prisoner of Society
Sting
I Can't Stop Thinking About You
Message in a Bottle
Every Breath You Take
Bryan Adams, Ellie Goulding, Chris Isaak – 2015 AFL Grand Final