Hawthorn 2018
This blog follows the Mighty Hawks as we try to emerge from two years in the premiership wilderness.
GRAND FINAL WEEK
Although we weren't in the big one, it still turned out to be a week of wins for the Hawks.
The Hawthorn Hex
The two teams that consigned Hawthorn to an untimely exit in this year's finals, Richmond and Melbourne, were both thrashed in their respective Preliminary Finals. Thoroughly deserved of course, but there are two ways to view this; one is that we were about 15 goals off a Grand Final appearance and these results simply illustrated our realistic position. The other altogether more likely explanation however is that in defeating Hawthorn, Richmond and Melbourne had a Hawthorn hex placed on them by the Footy Gods and suffered as a result.
Two Premierships in one Day
VFLW – Hawthorn v Geelong
Hawthorn Heroines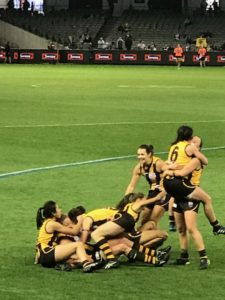 Great scenes at Etihad Stadium when Hawthorn's VFLW team powered past Geelong to win a premiership in their first year as Hawthorn.
I arrived at the match early in the third quarter with the Hawks up by a goal and a bit. One more should seal it I thought. Of course within a minute of taking a seat Geelong were paid three free kicks in succession. All of a sudden it felt like any other Geelong game I've seen in the past 10 years.
However, gun recruit Sarah Perkins snagged a nice goal late in the quarter to maintain our lead. Chantella Perera was playing exceptionally well for the Hawks, as was Phoebe McWilliams who is a strong mark – and with her blonde hair, brings something of a Peter Knights factor up forward.
Geelong attacked relentlessly in the final quarter, but the defence, led by Perera withstood the assault. It was left to Emily Gilder to kick the sealer late in the game – no surprise that the match winner was wearing no. 33.
I'd met up with Linda and Melinda by this stage and we joined the team and supporters to celebrate the win in the appropriately named Victory room.
Final scores: Hawthorn 4 6 30 d Geelong 2 5 17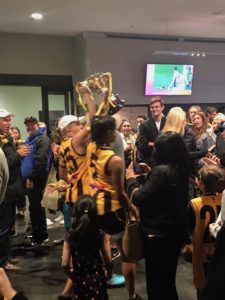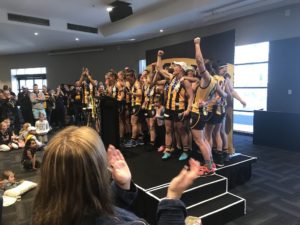 VFL – Casey Demons v Box Hill Hawks
While celebrating the VFLW win with the team and supporters in the Victory Room at Etihad – or is it Marvel Stadium now? – we missed most of the opening quarter of the VFL Grand Final between Casey and Box Hill. But it didn't matter because every time I looked up at the screen Casey players were celebrating a goal.
It was an inauspicious start for the boys in brown and gold, but things were looking up by the time we found seats to take in the game. We weren't scoring, but we had at least stopped the Demons from piling on the goals.
Gradually the Hawks edged back into the game. Captain Andrew Moore and former captain David Mirra started to control the game across half back. And little dynamo Dylan Moore was looking dangerous up forward, mainly because he kept being awarded dubious free kicks. He kicked two goals from free kicks – including a beauty after the siren from 45 out on the boundary that got us back within 17 points at the main break. If Dylan was an important counter-culture figure in the 1960s, then his namesake was proving to be an equally important counter-attack figure in this game.
The half time 'entertainment' of Russell Robertson and his mate playing Oz Rock classics on acoustic guitars was as uninspiring as it sounds, but still promised to be better than the proposed AFL Grand Final line-up of Jimmy Barnes and the Black-Eyed Peas.
One of the classics they played was Eagle Rock, which I don't imagine went down all that well with Casey Demons supporters after the West Coast Eagles demolished the senior team the previous day. Equally puzzling was the choice of The Boys Light Up, with its references to blow jobs and dildos at what is essentially a family event. At least they didn't play any Rolf Harris numbers.
In the second half the Hawks were on top but scoring was difficult and we were still nine points down at the final break. The Hawks dominated the final term as the Demons ground to a halt and eventually Kieran Lovell put us in front with a great running goal. Dylan Moore sealed the win when he was awarded another dodgy free kick in front of goal – putting us 10 points in front.
If the umpires were playing a key role in the match, so too was Brendan Whitecross – the luckless, longtime Hawk becoming the hero of the final quarter with critical smothers and tackles to stop Casey and set up Box Hill attacks. It was enough to secure the win and deliver an unlikely premiership from sixth place, and our second for the afternoon.
Final scores: Box Hill Hawks 10 12 72 d Casey Demons 8 14 62.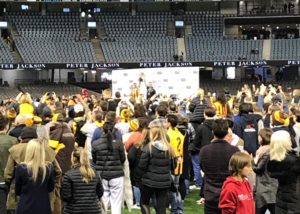 Gold and Brownlow
I love Brownlow night. Yes, the red carpet is inane ("who are you dressed by?") and the event itself has a Rain Man element to it with someone reading out names and numbers for three hours, and then there's Bruce's squirmy man-love interview with the winner, but I still love it.
And this year Hawks fans had a reason other than perving on Marc Murphy's wife to tune in. For our man Tom Mitchell, or Titch Mitch, was overwhelming favourite to win.
The main competition was expected to come from the hipster duo of Collingwood's Brodie Grundy with his man bun and Melbourne's Max Gawn with his Vikings beard. But as it turned out, it was Collingwood's Steele Sidebottom who gave Tom the biggest scare. Steele Sidebottom is a superb player and as my friend John says, with that name he either had to be a good footballer or a gay porn star.
Happily, our man Mitch drew clear towards the end and the Hawks had another Brownlow to celebrate. Our first since Sam Mitchell in 2012, but that was awarded retrospectively after Jobe Watson was stripped of his award, so we never got to celebrate Sammy on the night. Really, this was our first Brownlow win since Crawf in 1999.
It was a great occasion, Mitch is a deserving winner and with Crawf and Sammy, makes it a trio of great Hawthorn Brownlow blondes. But a lot of credit must go to his partner Hannah Davis who not only seems to be keeping Tommy on track, but also for keeping up the long Brownlow tradition of fake tan.
Bruce distinguished himself in his interview with Tommy by asking how he got 'to those dark places' which was presumably a reference to getting in under the packs, but might also have been an existential enquiry of some sort.
Not to be outdone, Clarko appeared to be asleep when the camera cut to him during Mitchell's speech. Not that anyone could blame him, who hasn't nodded off at least fleetingly on Brownlow night?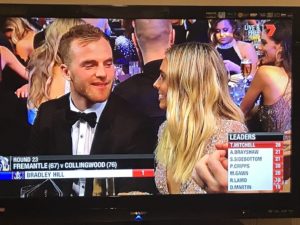 Grand Final
If the Hawks were not going to be in a position to hold up the cup on the dais, we at least had the satisfaction of seeing Josh Gibson in his role as cup ambassador. It was a good choice by the AFL to appoint Gibbo to this role. After all, he's had a hand in winning enough of them, so he knows how to handle a premiership cup. But more importantly, he's exceedingly handsome, well dressed and was quite happy to get out there every day and bring the cup to the people. Anyone who follows Gibbo on Insta knows how hard he worked.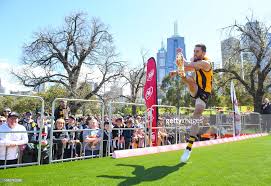 A relatively new Grand Final Day tradition is Fox Footy's Longest Kick over the Yarra competition. I'm usually at the ground so I don't see it, and truth be told, I'm not particularly interested, except that this year Cyril was competing. He didn't triumph as it turned out, but Jack Gunston did, winning with a 66.9 metre kick that nearly made it to the opposite bank (75 metres). It simply isn't Grand Final Day without a Hawthorn victory, and even if Jarman Impey bombed out in the sprint, we still had this stylish trophy. Plus, at the time of writing, Brian Lake is still in Survivor.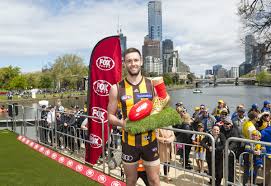 Not only that, but Hawthorn was still to have an influence on the premiership cup. In a tense passage of play in the third quarter of a tight Grand Final, Taylor Adams tried to measure a pass to Jayden Stephenson, whose run at the ball was blocked by the Collingwood runner – former Hawk Alex Woodward. Elliot Yeo intercepted the kick and put the Eagles in front for the first time since the early minutes of the match. Good work Woodsy!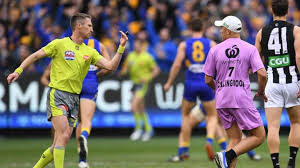 I was reasonably happy the Eagles won – with Sam Mitchell as midfield coach and Adam Simpson making it a hat-trick of Clarko alumni to lift the trophy, after Luke Beveridge in 2016 and Damien Hardwick in 2017. Get your money on Leon Cameron and the Giants for 2019.
We now enter the period of trade week rumours – which is so much more exciting than the grim reality of trade week itself. I hope we have plenty of room in our salary cap because the number of players linked to Hawthorn is growing daily: Dylan Shiel, Steven May, Andrew Gaff, Chad Wingard, Levi Casboult (because you'd want a player who isn't good enough to get into Carlton's best 22), Jack Scrimshaw and Karl Amon among others.
Shiel is the player everyone seems to want, but we already have Liam Shiels and I'm worried it might create too much confusion at centre bounces.
I'd like to see Trade Week conducted like The Bachelor, with all the free agents sharing a house trying to impress Clarko as the Bachelor, and Jeff in the role of host.
This is the final post for 2018 – thanks to those who followed here or read the posts via the Happy Hawks Facebook site. Thank you to Darren Sovereign from the Happy Hawks for his support.
Go Hawks!
First Semi Final
Hawthorn v Melbourne
MCG
Friday 14 September 2018
SPECTEMER AGENDO
On the day of the Hawthorn v Melbourne Semi Final, one of my favourite bands, Low, released their new album called Double Negative. As their name suggests, they are not an upbeat band, but even by their own downcast standards, this is a gloomy, despairing record. It is unlikely that in this instance 'double negative' equates to a 'positive.'  It's also unlikely they'll ever be invited to play at the Grand Final.
The music is all distortion, fizzing pulses and low-fi industrial droning. It has been described by the Guardian as 'the sound of the world unravelling', as if 'the last rites of a nation – even the planet – are being read out,' and 'a document of contemporary social collapse.' I'm playing it now as I type this entry and there is no more fitting soundtrack as I reflect on Hawthorn's untimely exit from the finals. It captures my mood perfectly. Plus I've got some Nick Cave and Leonard Cohen records on standby if this takes awhile.
Despite sneaking into the top four in the final Home and Away round, the Hawks have been eliminated from the finals in 'straight sets' as they say – just like Serena Williams in the US Open Final last week, only with less controversy and fewer tantrums, although had I been holding a tennis racquet while I watched the game, it's very likely I would have smashed it at some point. I certainly let the umpires know what I thought of them. The only good thing to come out of that whole Serena episode is that Herald Sun cartoonist Mark Knight is finally being made to pay for his cruel Hawthorn 'Cooked' cartoon from 2017.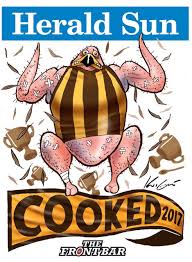 This is not how I envisaged the finals panning out. We suffered the same straight sets fate in our most recent finals series in 2016. That's four finals in succession we've now lost – not quite the four-thorn we were imagining after the 2015 Grand Final.
The only highlight of the night came early on, before I got to the ground in fact. Dining in The Squire's Loft on Russell Street, the TV on the wall showed Paul Roos and Dermott Brereton previewing the match. We couldn't hear them, but we didn't need to, for Dermie's jacket spoke volumes and his hair was a statement in itself. In hindsight, I couldn't help but wish our backline had held as firm as Dermie's hair.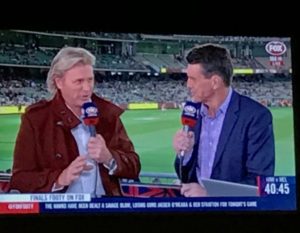 Working against this was the fact that Ben Stratton was ruled out injured after last week's game against Richmond. But the bad news didn't stop there; Jaeger O'Meara was also ruled out. This meant we were going into this match without our two best players from the previous week.
WHERE'S BUCKY?
All the pre-game media buzz was about Melbourne, so much so that a neutral fan would not have even known Hawthorn was playing. Even some of our players seemed to not be aware they were on the field. Conor Nash is a fine athlete and has great potential, but had only four possessions for the match – which admittedly is three more than I saw – but it also suggests that a big final as his fourth game was perhaps too much to ask (although try telling Dermie that).
Melbourne have been fast starters of late, while the Hawks have revelled in the slow build. So my thinking before the match was that if we were within a goal or two at quarter time, we'd be fine. And we were. Scores were level at the first break.
Not only that, but we went on to play much the better football for the bulk of the second quarter, racking up six scoring shots to Melbourne's four. The only problem was that they kicked 3.1 while we managed just six straight behinds and went into half time trailing 3.7 to 6.2.
That's two weeks in succession we've reached half time with a score of just three goals. Even Ross Lyon would be embarrassed by such a scoreline.
It wasn't looking good, but then, we'd only scored three goals to half time in the 1987 Preliminary Final against Melbourne and still went on to win that match. It was a relatively similar scoreline to that day actually – 3.6 to 6.10 at half-time, so there was still hope. Jim Stynes was no longer around, but Bucky was probably sitting in the stands somewhere.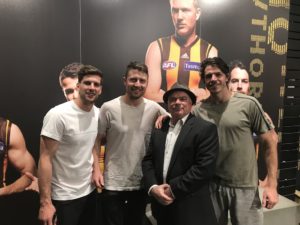 ROUGH STUFF
Melbourne extended their lead in the third quarter, but then the Hawks hit back hard, and not long after Jack Gunston kicked his second for the match, he found himself running into an open goal. This was more like it. Gunston doesn't miss these. The difference would be just 9 points when he kicked it…except he hit the post.
The difference remained at 14 points, but not for long, because Melbourne ran the ball the length of the ground and kicked a goal to make it 20 points. Then added two more to make it a virtually insurmountable 32 points at the final break.
If not for Scott Morrison's Fatman Scoop tweet, Gunston's miss would have been the most cringeworthy event of the week.
We made another run at them early in the final quarter, largely due to Roughead and Isaac Smith, both of whom were industrious and kicked goals.
A number of Hawks fans have been disappointed with Roughead this year, which has fuelled the 'Roughy to leave Hawthorn' speculation.
My biggest disappointment this season has been Hawthorn fans talking down Roughy. What a champion he is. He is Hawthorn's fourth highest goalkicker in finals (42) and sixth overall (529). Even when you consider the one he stole from Cyril in the dying minutes of the 2014 Grand Final, that is some sort of achievement. He ended up with 5 goals in two finals this season – more than any other Hawthorn player. I was very happy when Clarkson quashed talks of a move after the match.
VENITE AD METAM DEESSET ICTIBUS EXACTIS OCCIDENTES (Let us miss shots at goal)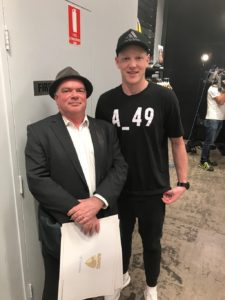 Even though we fought back early in the final quarter, we still missed critical chances. No sooner had we bridged the gap to 12 points than Jake Melksham kicked a long goal on the run for Melbourne. With their midfield on top they were getting the ball through our defence nearly as easy as a European au pair on a tourist visa can bypass Australian customs laws.
The game degenerated from there with Hawthorn players sapped of all motivation and Melbourne riding the momentum provided by the partisan crowd whose grasp of the rules, it has to be said, was at times rather slippery. In their defence, many of them were attending only their second game of football.
This was one reason why I was pleased to be sitting among Hawthorn members rather than in the MCC – at least everyone around me was equally glum. There is nothing more depressing than being amongst fans of the opposition club as they cheer manically for their team, especially when you know that many of them couldn't identify their captain in a police line-up. Although in the case of Melbourne, you probably would pick Nathan Jones in a police line-up.
It was a game of what-ifs and might have beens – what if Gunston had kicked that goal in the third quarter instead of hitting the post, what if Ben Stratton and Jaeger O'Meara had been available to play, what if Luke Breust had been able to get a kick, what if Cyril hadn't retired…
In the end we lost by 33 points, a poignant number proving to anyone who ever doubted that Cyril was indeed the difference.
Missed shots on goal has been the story of the 2018 finals. In fact it is the reason behind all our knock-out final failures this decade – starting with the 2007 First Semi Final against North Melbourne which we lost 14.9 to 8.12. Then there was the 2010 Elimination Final against Fremantle which we lost 14.10 to 8.16; the 2011 Preliminary Final we lost to Collingwood 10.8 to 9.11; the 2012 Grand Final we lost to Sydney 14.7 to 11.15, and the 2016 Second Semi Final we lost to the Western Bulldogs 16.11 to 12.12 – a match we were only playing because Isaac Smith missed a set shot after the siren in the Qualifying Final against Geelong.
I mean the answer is fairly obvious – goal kicking practice! And when they've done that … more goal kicking practice. Despite this damning statistic, we have won four premierships in this period, so I suppose I shouldn't quibble; it's just that it could have been nine premierships.
In the end we finished fifth this season, which is probably an accurate reflection of our place in the pecking order. Certainly it is higher than many Hawks fans anticipated at the beginning of the year, or even after round 17's loss to Brisbane.
But as disappointing as it was to lose, I still take several positives out of the match. Firstly, exposing some of our young players to finals football, the consistent form of Ricky Henderson, who was arguably our best player in the finals, and the fact that we no longer have to go to the Grand Final and listen to Barnsey and the Black-Eyed Peas.
The other positive is that we can finally drop this year's finals motto, 'Spectemer Agendo.' It supposedly translates as 'let us be known by our actions,' which is at least a lot easier than working out how to pronounce the actual motto.  Although I don't know why we want to be known for missing shots on goal. I prefer the motto of 2008, 'De Rore Caeli' which means, 'Of the (Stuart) Dew of the Heavens.'
Final scores: Melbourne 16 8 104 d Hawthorn 10 11 71
The Hawks VFL and VFLW teams are both in their respective Grand Finals next week, so I haven't given up all hope of brown and gold premiership glory in 2018.
Qualifying Final
Richmond v Hawthorn
MCG
Thursday 5 September 2018
EVERYBODY HURTS
The years from 1983 to 1989 were marked by two things: Hawthorn made the Grand Final each year and R.E.M. released a great album every year. Name any year in that bracket and my mind races instantly to the Hawthorn Grand Final, and not too long after turns to whichever album R.E.M. released. (Sure, there was other shit in the 80s like Reaganomics, Thatcherism, Chernobyl, Tiananmen Square, AIDS, the threat of nuclear Armageddon and male perms, but let's just stick with the positives.)
I was looking forward to a concert at the Palais on Thursday night featuring guest artists performing R.E.M. songs. Until that is, the AFL scheduled the Hawthorn v Richmond Qualifying Final on the same night as the gig. Not only did it scupper any plans of attending the show, there is scarcely a less convenient time for a football match, except perhaps Monday brunch.
Still, it was finals and while the AFL is running with the somewhat clumsy formulation of 'Don't Believe in Never' as their promotional tag, I'll stick with R.E.M. who put it rather more succinctly on Life's Rich Pageant (1986) with 'I Believe.'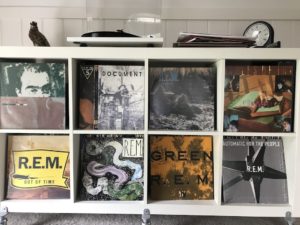 I BELIEVE
Chatting with friends in the Tower 6 Bar ahead of Thursday night's Qualifying Final against Richmond, talk turned to which player we'd most trust to kick a goal after the siren to win the match. I nominated Jack Gunston; Schoenmakers' name also came up, but popular vote settled on Luke Breust and Shaun Burgoyne (You Are the Everything – R.E.M.).
Of course the hypothetical notion of being within a kick at the end of the match was exposed as a delusional fantasy when first Burgoyne and then Breust both missed set shots from 15 metres out directly in front (Strange – R.E.M.). Talk about cruel, the whole point of hypotheticals is that they never have to be tested, not summarily disproven within an hour.
Despite these howlers, Hawthorn managed to more or less stay with Richmond for most of the first half – mainly because Jaeger O'Mera and Tom Mitchell were playing well in the middle and Stratts (The One I Love – R.E.M.) was impassable down back. However, when Dustin Martyn (I Am Superman – R.E.M.) kicked a brilliant boundary line goal and followed it up with an equally brilliant underground handball that resulted in a goal to Kamdyn McIntosh, the Tigers had set up a decisive two goal break at half time.
It wasn't looking good. For a start, we'd let someone called Kamdyn kick two goals. If that wasn't already enough to sap my confidence, I realised that of our three goals to half time, two had come from free kicks and one had come from an Irishman playing his fourth game.
Oh well, it was time to hit the Hugh Trumble Bar, grab a Crown Lager and reflect on Hawthorn's 18 month rebuild and what a solid achievement it was to finish top 4 (Fables of the Reconstruction – R.E.M.).
CAN'T GET THERE FROM HERE
In the lead up to the match, commentators were busy speculating about the possible tactical surprises Clarko would spring on Richmond. The way the match was panning out however, it seemed that if there was a masterplan to thwart the Tigers, then it was to have Paul Puopolo play one out against three Richmond defenders in our forward line – a move that would certainly have surprised Richmond, even if it didn't necessarily disconcert them.
The Tigers played a manic crash and bash and move the ball forward at all costs style – a gameplan that was eminently suited to the wet conditions. Or at least more suited than our attempt at a possession and precision passing game, which given the wet ball, slippery surface and Richmond's intense tackling pressure, came unstuck quicker than Peter Dutton's tilt at the Prime Ministership.
Speaking of which, new PM Scott Morrison (World Leader Pretend – R.E.M.) was shown on the big screen in the grandstand watching the game. In a heartening sign that some football traditions still endure, supporters of both teams united to give him a resounding boo.
The third quarter was the critical term and Richmond drove the ball forward relentlessly while we went sideways, backwards and tied ourselves in knots trying to get a clean possession. Can't Get There From Here, as R.E.M. might have put it.  Only goals to Jarman Impey and Rough kept us vaguely in touch. When Stratts went off with a hamstring injury, the resistance was essentially over.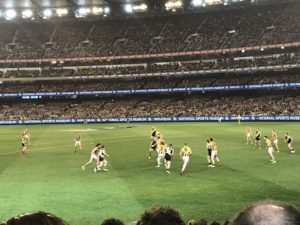 IT'S THE END OF THE WORLD AS WE KNOW IT
The final quarter was really just playing out time. The Hawks at least kept trying and we kicked a few nice goals, Rough's third was a beauty, but we still struggled to move the ball with any fluidity or finesse. And, it has to be said, Richmond played superbly all night.
Being a Thursday night and with work the next morning, I left as soon as the siren sounded and was outside the ground before the second airing of Tigers theme song (Finest Worksong – R.E.M.).
O'Meara, Mitchell, Shiels, Sicily and Henderson were among our best, but overall it was a disappointing performance. Just as the musicians at the Palais were a simulacrum of the real R.E.M. this Hawthorn team is a simulacrum of the great Hawthorn team of the 1980s. Which is no criticism – don't worry, I'm not losing my religion – for there has never been a team as good in Hawthorn's history, or indeed in the history of any other club.
I take heart from 2015. That year we were badly beaten in the Qualifying Final by West Coast. We lost that match by 32 points and reversed the result three weeks later in the Grand Final. In this match Richmond beat us by 31 points, but despite this result, there's still a chance we can come back. "It's the end of the world as we know it … and I feel fine" Michael Stipe sang in 1987, an anachronistic lyric that all of a sudden makes sense.
Final scores (Reckoning): Richmond 13 17 95 d Hawthorn 9 10 64
This final against Richmond was a sensitive issue in my family because two of my brothers ostensibly support the Tigers. I say ostensibly because neither of them ever attends matches. And can you really call yourself a Richmond fan if you haven't looted a bottle shop, overturned a car or been arrested for assault on Swan Street?
Congratulations to Hawthorn's VFLW team that qualified for the Grand Final after defeating Collingwood, 5 2 32 to 3 3 21. That's one Hawks team in the big one. You go girls!
The Box Hill Hawks are also still alive after defeating Geelong in the Semi-Final, so there is still plenty to celebrate this weekend – not just that the Hawks are in the Prelim, but that all Geelong sides have now been knocked out.
Round 23
Sydney Swans v Hawthorn
Sydney Cricket Ground
Saturday 25 August 2018
MORRISON FOR PM – HARRY, THAT IS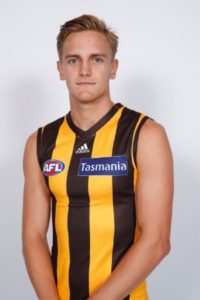 There was much talk of leadership last week, with many people advocating for a change at the top. Some of the online vitriol was quite heated and there were vicious whisper campaigns swirling around the main players.
I understand why there is such conjecture – after all, we're talking about the most important job in the Australia – but personally, I'm happy with the way Rough is performing his role as captain of Hawthorn. His final quarter mark and goal and his long bomb to Luke Breust in the dying minutes against the Swans merely served to underline the very valuable role he continues to play. That's two years in succession he has won us the game in Sydney. When it counts, Rough delivers. And boy did it count this time. That's why he is captain.
It's just a shame our political leaders aren't made of the same stuff. There is something seriously wrong with our democracy if the tenure of an AFL coach is more stable than that of a sitting Prime Minister.
Alastair Clarkson is now in his 15th year as coach of Hawthorn and after this week's events in Canberra, is onto his sixth PM in that time – seven when you consider that Kevin Rudd was installed twice. I suppose the main difference is that Alastair Clarkson is achieving something meaningful and worthwhile. For a start, he's just got the Hawks back into the top four for seventh time in eight years. That's more than Turnbull, Abbott, Gillard, Rudd and Howard can claim between them. And the only thing Scott Morrison has going for him is that he shares a surname with young Hawk star, Harry Morrison.
This was a famous victory. It was the fourth time in as many attempts that we've defeated Sydney at the SCG in the last minute or so. In 2012 it was Burgoyne and Sewell who gave us victory with late goals; in 2016 it was Cyril who kicked a 55 metre bomb; last year it was Rough who kicked the winner, and this year Henderson and Breust delivered the coup de ta. In fact, given how well we play the SCG, there is an argument for selecting 11 Hawthorn players to line up for Australia in the Sydney Test match next January.
JEFF'S NEW JINX
It didn't always look promising. In fact even before the match most Hawks fans feared the worst when Jeff Kennett went on radio and said that Buddy never plays well against Hawthorn.
It's well-known that when he made a similar claim about Geelong not being able to beat us, they proceeded to win the next 11 matches.  I'm sure I wasn't alone in thinking that Buddy was about to bag 11 goals.
But as it happened, Buddy was a late withdrawal and didn't play. Apparently he had a sore ankle, which judging by his song selections on Channel 7's Players' playlist, Can't Get You Out of My Head and On a Night Like This, he possibly hurt while dancing. If nothing else, having two Kylie songs on your playlist is a sure sign that he's settled into life in Sydney.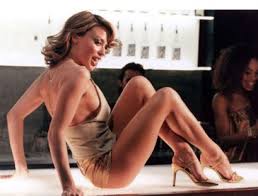 FIRST HALF
When the match did get underway, there were encouraging signs. The Swans had two goals on the board half way through the first quarter and we were off to our customary slow start. To be honest, these days I get more alarmed if we pile on three or four goals quickly at the beginning, as we did on both occasions against Brisbane.
Then Aliir Aliir let the ball slip through his hands from a kick in and Worpel was there to snare it and kick our first goal. Henderson evened things up with a set shot and we went into the first break with a one point advantage.
Sensing danger, the umpires wasted no time giving Sydney a free kick as soon as the second quarter began. They followed up quickly with another free kick to Isaac Heeney, giving him two goals from free kicks – their other goal coming from a kick that was clearly touched, but strangely not reviewed. A pattern was beginning to form.
And when Haywood was paid a free kick on the goal line for a supposed block, I recalled Clarkson's criticism of the umpires after our first encounter in Round 8 – when they did literally cost us the game. I got the sneaking suspicion the umpires indulging in a bit of payback. It was 13 free kicks to 5 in Sydney's favour at this point.
The Swans dominated the second quarter and when Josh Kennedy took the ball away from a throw in and kicked a running 60 metre goal, we trailed by 24 points, 6.6 to 2.6.
My friend John, a Swans fan, chose that moment to text me with a 'Who needs Buddy' taunt, to which I replied, 'Not when Razor Ray and his mates out there' and helpfully provided the free kick stat to illustrate my point – it was 14-6 by that stage. I think he sensed I wasn't taking it well, because I didn't hear from him after that.
We managed to get one back when The Poo was pushed in the back. From the free kick (of course it was there) he snagged a very nice goal from the boundary line.
Even so, a Hawthorn victory didn't look likely at half time, but then neither did a Scott Morrison prime ministership 48 hours previous, and he somehow got up. Admittedly, in the Sydney Swans, even without Buddy, we were facing a more formidable adversary than Morrison was in that numbskull, Peter Dutton. And even though we had the umpires against us, Dutton had the altogether weightier forces of morality, ethics and karma working against him.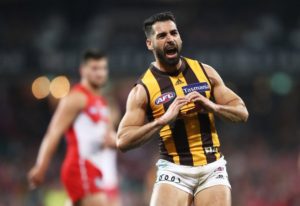 SECOND HALF
A few minutes into the third quarter our man Ryan Schoenmakers kicked a goal – as he does most weeks. In the debate over whether Schoenmakers or O'Brien should be in the team, I vote for Schoey at the moment. He's no Peter Curran or John Hendrie perhaps, to invoke the ghosts of former great no. 25's for Hawthorn, but he does take at least one mark and kick at least one goal every time he plays. In fact, we have won every time he's played this season, so that alone justifies his selection. It's nearly enough to make him the next captain.
From there however, the third quarter was tight and intense. Gunston and Poo both kicked goals in quick succession and suddenly we were back in it! Until Papley and Cunningham goaled shortly after for the Swans. Oh well, we were at least matching the Swans around the ball.
At ¾ time the free kick count was 25-13 in the Swans favour – it was hard not to keep track – but on the upside, we trailed by only one goal. The players' song selection at the ad break was Jack Gunston's choice – On Top by Flume. It provided a cool beat, but more importantly, it provided hope.
That was until Tom McCartin goaled in the first minute of the final quarter. We were two goals down. Then Conor Nash, playing in only his third game, barged through a couple of Swans to get the ball to Poo, who dribbled through a trademark rolling off-break.
From the bounce, Worpel kicked a tumbler to Rough who marked 30 metres out. At this point I could no longer sit down, but paced nervously behind the couch for the rest of the match. Rough converted. We were back level.
The Swans edged back ahead, but cometh the hour, cometh the man. Scott Morrison was our new PM, but it was Harry Morrison who was showing real leadership, dispossessing the Swans, gathering the ball and kicking a stunning goal. Not long after, Ricky Henderson took a set shot from outside 50 – in what is becoming a bit of a theme late in matches at the SCG – and put us in front.
I had the lounge to myself by this stage – Angela could no longer bear to be in the same room with me as I rode every bump (with a grimace rather than a grin) and urged on the boys, perhaps too loudly.
Then Conor Nash, already a hero this quarter, kept the tackling pressure up and got the ball to Rough who wheeled around and put the ball into the path of Luke Breust who slid into the mark in the goal square. As I leapt into the air in a euphoric pirouette I narrowly missed splitting my head open on a ceiling beam. But it would have been worth it. What a heroic victory!
In the wash-up most commentators praised Sydney's George Hewett for keeping our numbers man Tom Mitchell to 24 disposals, but I was more impressed by Blake Hardwick holding Ben Ronke to fewer than 7 goals.
While the games of youngsters Worpel and Morrison are being rightly lauded, Conor Nash didn't go unnoticed with two crucial acts in the final quarter that led directly to goals. It's the sort of form that has Hawks fans thinking positively as we head into September, confident that we can beat any team in the top eight, and just glad we don't have to play Brisbane in the finals
Final scores: Hawthorn 12 11 83 d Sydney Swans 10 14 74.
Free kicks: Hawthorn 17, Sydney 30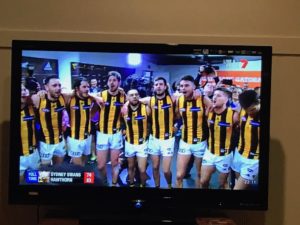 POST MATCH
Drug Habit
News ahead of the final round that Collingwood player Sam Murray had returned a positive drug test has prompted many people to question whether Collingwood should be kicked out of the Finals. After all, this the third player in three years to test positive to cocaine, following the positive tests returned by Lachie Keefe and Josh Thomas (not the comedian).
Where people are going too far is to question whether there is a culture problem at Collingwood. Coach Nathan Buckley is right to categorically refute such claims of there being any culture at Collingwood – good or bad.
Captain Buddy
The All-Australian team was named and shamed in the days following Round 23. Three Hawks made the cut: Jack Gunston, Luke Breust and Tom Mitchell – all thoroughly deserving, but I would also have found room for Big Boy, Stratts and Isaac Smith, and after his final quarter athleticism, possibly even Conor Nash.
Much of the controversy has centred around the choice of captain, Buddy Franklin. Personally, I don't see the problem – he's the best player of the past 20 years without question and this is his eighth All-Australian nomination after all. To me, the only surprise is that he wasn't named Captain-Coach.
New Rivalry
As we look ahead to our Qualifying Final against Richmond, historians of the game have observed that Hawthorn and Richmond have never previously met in a final. This is perhaps more surprising because over a 12 year period from 1971 to 1982, both teams featured together in the finals on six occasions, but never once played each other.
However, as curious as this stat might be, it's not strictly true. When Collingwood and North Melbourne drew in the 1977 Grand Final, the VFL was looking for some pre-match entertainment, and settled on a curtain raiser between the two teams that finished third and fourth – Hawthorn and Richmond respectively. The match featured the great Peter Hudson in what, I think, was his last ever appearance in a Hawthorn team. He kicked seven that day and we won by three points.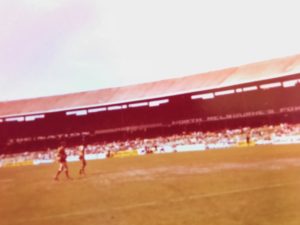 I was there. I saw it. Above is a photo I took of Huddo walking towards goal.
The President and the Au Pair
The most intriguing post-season story though is the immigration scandal involving failed coup leader and wannabe Prime Minister, Peter Dutton, the President of the AFL, Gillon Mclachlan and a French au pair. I don't know why Gill is trying to underplay his role in this saga. If I'm ever involved in an immigration scandal, I'd want a French blonde au pair to be at the centre of it. And had this news leaked earlier, perhaps Peter Dutton might have had more support in the PM ballot.
Round 22
St Kilda v Hawthorn
Etihad Stadium
Saturday 18 August 2018
CLIMACTIC FINISHES
Here's the situation; on the day of the Hawthorn St Kilda match, Winx won its 26th consecutive race, Geelong kicked 23 unanswered goals against Freo, and Richmond won its 20th game in a row at the G the night before.
The Hawks were also in the unbeaten run business – we were aiming for our fifth win in a row. And against lowly St Kilda. Surely this would be a doddle. Especially as we had a finals spot to cement and the Saints had nothing to play for – not even pride for St Kilda dispensed with that long ago – just ask any person of short stature who has been asked to perform at their Mad Monday celebrations.
But there were troubling signs. During the week St Kilda had gone into crisis mode. There was talk of priority picks, sacking the coach, overthrowing the Board, ousting the president, even making Molly Meldrum the ruck coach.
Meanwhile at Hawthorn, we were talking top four, Jon Ralph wrote an article in the Herald Sun listing the 23 reasons why Hawthorn could win the premiership, there was general discussion about Alastair Clarkson being the greatest coach of the past 50 years (even though he hasn't once won coach of the year) and fans were already speculating whether the '18 flag would rival the '08 flag – forgetting of course that without a win over St Kilda or Sydney we may not even make the finals. Mere details, I was already pondering who might win the Norm Smith medal and where we would go to celebrate our 14th flag.
On the night Oscar and I parked at Essendon station about 6.45pm, threw our brown and gold scarves jauntily over our shoulders and waited for the train. The 6.50pm never came and by 7.00pm, the 7.10pm was 26 minutes away according to the information screen.
At 7.15 the next train was still 26 minutes away. Keeping in mind that the game was commencing at 7.25 I asked the station attendant if the train was delayed, cancelled or decommissioned. He checked. Apparently it was 15 minutes away, which, if true, and I had severe doubts, would see it arrive about 7.30 – getting us to the ground around 8.00 at the earliest. We decided to ditch the train and drive. Then we worked out that we'd still miss most of the first half, so Oscar suggested we just watch it at home on the TV. Which we did.
Even at the time it occurred to me that aborting a trip to the game seemed like a bad omen. But really, against St Kilda how bad could it get?
JACK OF ALL TRADES
The game began as we assumed it would go on – with a goal to Gunston, followed by further goals to Burgoyne and Breust. After 20 minutes we led 3.2 to 0.2 – so far, so expected. When Worpel snagged our fourth, it was looking like I'd been entirely misguided to to read anything into our aborted attempt to go to the game.
Then of course the match turned. A five goal second term for St Kilda tightened things considerably. At least two of them came from Ben Stratton turnovers. But it wasn't so much that the Saints were kicking goals, they were outplaying us all over the ground.
Things got back on track in the third quarter when we kicked four straight goals, but even then our dominance was only momentary. When Jade Gresham added a goal early in the final quarter, our lead was back under a goal.
From there on it was a tight, defensive affair with both teams botching shots at goal. Dour doesn't begin to describe it, but extremely frustrating and angst-ridden come close. If not for Jack Gunston, who somehow managed to be our best forward and our best defender on the night, we would almost certainly have lost.
HAWKGASM
In the end we won by 4 points – our third close finish in as many weeks.
Against Essendon, Worpedo's last minute goal was exciting. Last week against Geelong, O'Meara's sealer was exhilarating. And the relief was when we held on against the Saints was equally thrilling.
On each occasion we got to a good lead, then let the opposition come back into the match, only for us to steal the win at the end with a last gasp goal, or behind as it was this week. In any case, I'm beginning to wonder if the Hawks are doing this on purpose, just to up the excitement levels when the final siren goes.
It reminds me of the latest social phenomena – not the Dele Alli challenge, talk about lame-ass – I mean the peegasm. It's a new social trend where you hold off going to the toilet for as long as possible, and then when you do finally let go, the feeling of relief is so intense it feels like an orgasm.
It sounds weird I know, but we live in strange times. Who would have thought such a thing could be a trend – but then who would have imagined the mullet would come back in fashion, the Tiges go back to back, that #inmyfeelings would be a thing, or that Sam Dastyari would host a TV show (it's called Disgrace, so at least they got something right).
There are some things I'll never understand – but one thing I'll never question is a Hawks win, regardless of how we achieve it.
Final scores: Hawthorn 12 8 80 d St Kilda 11 10 76.
It's worth noting that doctors are warning against the peegasm phenomena – saying that deliberately not going to the toilet could cause irreparable liver damage – in much the same way, I imagine, that constantly sitting through close finishes can cause heart problems.
Despite being close, most people thought this was a dull, uninspiring affair. But look at the scores: Hawthorn 12 8 80 d St Kilda 11 10 76. It's only a few points either side of the 1971 Grand Final scores: Hawthorn 12 10 82 d St Kilda 11 9 75, which many people (i.e. me) consider to be one of the greatest matches of all time.  It just shows, it's all about context – and Bob Keddie (he was the Jack Gunston of his day).
Round 21
Hawthorn v Geelong
MCG
Saturday 11 August 2018
JAEGER BOMB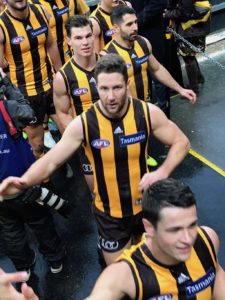 This week Melbourne lost its crown of world's most liveable city to Vienna, but in a week when Hawthorn has defeated Geelong, to not only cement our own place in the top 8 but to imperil Geelong's chances of making the Finals, where, I ask, would you rather be?
I've been to Vienna and sure, there's a few nice Gustav Klimt paintings, a thriving experimental theatre scene and an ornate Gothic cathedral. But I saw nothing there as glorious as The Worpedo taking on Joel Selwood in a one-on-one contest, winning the ball, blind turning out of trouble and dishing off to Gunston for a goal.  And nowhere in Vienna would you see Isaac Smith bomb a set shot from outside 50, or burst through the middle to nail another. Call that living?
I arrived late to this match as I had to fit in with the timetable of children. It was early in the second quarter by the time I hit the concourse outside the ground. I heard a roar and could see the Hawks players celebrating a goal on the screen as I passed the Tower 6 bar. Turned out it was our first because by the time I got through the gate and was walking down the aisle I was applauding Gunston as he kicked our second. I saw a few more goals in the next several minutes. This was great. Clearly, I'd missed nothing of importance and the Hawks had waited until my arrival before turning it on.
I asked my friends Linda and Melinda why we were booing Ablett, to which Melinda replied, "Do we need a reason?" which was a fair enough response. But it turned out the Little Master had been staging some of his thespian skills. Or just staging. I joined in the booing, more out of instinct than anything else, but what really puzzled me was why Ablett was in a Paul Chapman lookalike competition.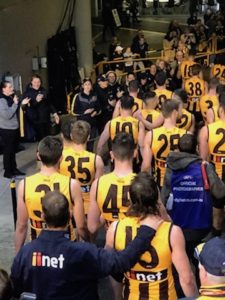 The Hawks had turned on a fantastic second quarter to establish a good lead. Our tackling was intense and our pressure around the ball was frenetic. However, I was still surprised by The Cats' uncharacteristic clumsiness and unclean disposal. And I was even more surprised that I didn't see Joel Selwood duck his head for a single free kick. Ablett's theatrical Neymar-esque dives and Danger's invariable outspread arms in constant free kick appeal (how does he get through doorways?) were probably filling the slack. I nearly felt sorry for Selwood. I wonder if on one level he resents Dangerfield and Ablett for coming to Geelong and taking all his free kicks?
The third quarter was nearly as good as the second, although the Cats hit the scoreboard this time. But when Schoey and Cegs goaled late in the term, we'd outscored them for the quarter and went into the final break with a 26 point leads.
We were playing well, the vibes were positive, what could go wrong? Of course, like all Hawks fans, I know we're never more vulnerable than when we're five goals up against Geelong, so I wasn't getting too comfy with our lead. By which I mean I was in state of deep panic.
And sure enough, a botched forward foray or two was followed by a mistake by Henderson when he stepped over the goal line to give the Cats a free kick. It was just the opening they needed to set up a series of frantic attacks. A goal to Tim Kelly cut our lead to seven points. Surely not again I thought.
However, it seemed that on this occasion at least, the footy gods were on our side because first James Parsons missed a set shot. Then Ablett kicked on the full. And when Tom Hawkins marked only 20 metres out, he too somehow missed. Perhaps it was going to go our way after all.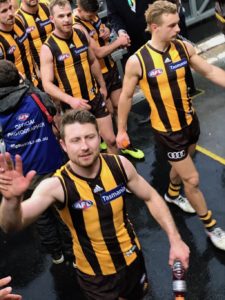 It is said that the definition of insanity is to do the same thing again and expect a different result. Which if true means that the definition of sanity is to do the same thing and expect the same outcome. Thankfully Cegs knew this. He repeated his trick from the previous week against Essendon and gave the ball an indiscriminate roost forward just to get it down our end. The Poo set off in chase, and I felt safe watching Poppy steam towards me. He controlled the ball against two Geelong opponents, then combined with Smith and Schoenmakers to get it over to Jaeger who kicked the sealer.
My friend Linda was filming the final play, and in playback there is a khaki blur across the vision as the ball goes through – which is me leaping up and down in front of her as I celebrate another famous Hawthorn triumph.
If defeating Essendon twice in a season was sweet, then defeating Geelong twice in the same season is a sugar rush. Much praise is being heaped on James Worpel for his game, and indeed he played well, as did Isaac Smith, Jack Gunston, but also Jonathan Ceglar, who took marks around the ground. And the defensive quartert of James Frawley, Ben Stratton, Kaiden Brand and Blake Hardwick who kept Geelong's dangerous forwards to just eight goals for the match.
Even Pittonet did his job, as did debutant Conor Nash – no big goals but he laid a couple of strong tackles.
But how great was Jaeger's final quarter goal? Jagermeister, the key ingredient in a Jagerbomb, was invented not far from Vienna, but we've got the real Jaeger bomb – his winning goal was every bit as intoxicating as its alcoholic namesake.
Final scores: Hawthorn 10 11 71 d Geelong 8 12 60.
There has been a lot of unrestrained Hawthorn gloating online after our victory over Geelong. Don't get me wrong, no one relishes beating the Cats more than me – if offered the choice of Hawthorn beating Geelong or saving the Great Barrier Reef, I'd choose the beating the Cats over reviving the coral any day – but there is a very real chance we could play Geelong in the first or second week of the finals, so I just think we need to keep our celebrations measured. Although I thought the person who hung their Hawks scarf over the KARDINIA PARK sign at Geelong's hone ground got the balance just about right.
At this time of year, if you want to go on and win the premiership, you need to get the players on the same page, give them motivation and inspire them to come together as a collective to do their best. And Jeff Kennett did just that this week when he announced there would be no more white clash strips – and presumably gold leaf and silver in the case of the Power Rangers guernsey – in coming seasons. Cyril suddenly coming out of retirement could barely give the players a bigger lift as we head into finals. Although why we would take fashion advice from Jeff Kennett, rather than Myer ambassador, Josh Gibson, is another thing.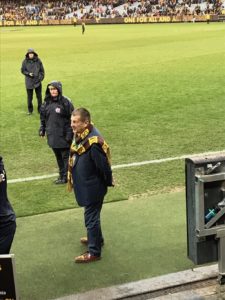 Round 20
Hawthorn v Essendon
MCG
Saturday 4 August 2018
RIDING THE BUMPS WITH A GRIN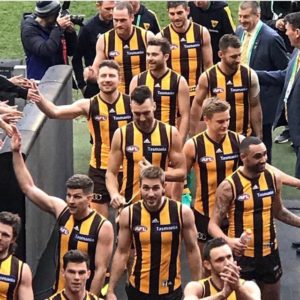 What a game! It's already being remembered as a modern classic. So exhilarating was the contest, so exciting the fast paced football and ebb and flow of momentum, that I nearly forgot how much I loathed Essendon.
I was so transported by cheering on Gunners, Stratts and Mitch after our four point win that I didn't even think to 'send off' the Essendon supporters as they trudged up the aisle, or even shout out any 'drug cheat' taunts at the players.
Such was the high quality of the game that at the risk of having my Hawthorn membership cancelled, I nearly applauded the Essendon players from the ground. Then I caught sight of Brendon Goddard and remembered where I was.
Of course, in the immediate aftermath of such an exciting climax, you can almost lose sight of the fact that the thrilling finish was artificially created by two appalling umpiring decisions. The decision to pay 'advantage' to Hawthorn after James Worpel had been ridden into the ground and the ball knocked from his grasp simply presented Essendon with a goal they should not have got. If that is Dean Margetts' idea of 'advantage' it's lucky he's not a tennis umpire.
Then, after Worpel had sealed the match for seemingly the fourth time, another 'advantage' decision paid to Essendon when all the players had stopped gave Travis Colyer another, admittedly quite good, goal for the Bombers.
Without these interjections we might have won by four goals. In the end though, Hawthorn hung on to win by four points. This entrenched us in the top eight, but more importantly, pretty much ended any chance Essendon has of playing finals. If that's not already cause for celebration, next week we have the chance to do the same to Geelong. That doesn't leave much more to achieve for the season, aside from Tom Mitchell winning the Brownlow, Luke Breust the Coleman medal and Sam Mitchell the Miles Franklin Award for his book Relentless.
To knock Essendon and Geelong out of the finals would carry almost as much erotic frisson as a night with Rhianna, or one of the Hemsworth's, depending on your preference. Or both.
But I fear I'm getting ahead of myself; we haven't even guaranteed our own finals spot yet, and I haven't even been introduced to Rhianna.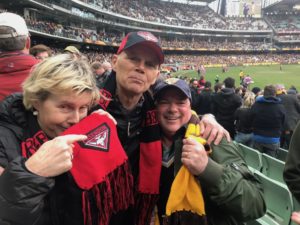 The real reason for my generous outlook on the match was that I when I took my seat with Sarah and Chan-Tha, I found myself sitting in front of two old friends, Maz and Barnsey – both Bombers fans. Because I don't want them to know the real me, this meant that I had to be on my best behaviour for the day and pretend I was a normal, civilised human being who was just there to appreciate the aerobic fitness, dashing skills, aerial prowess and rugged tackling of the athletes.
So I begrudgingly admired Cale Hooker's 65 metre bomb in the third quarter, Anthony McDonald-Tipungwuti's run and Zach Merrett's tenacity. I don't think I yelled BAAAALLLL! even once, I didn't become argumentative with strangers in the crowd, and I didn't even get involved in any scuffles with Essendon fans or officials.
Perhaps I've changed. Just as all the footage of past Hawthorn and Essendon fights and affrays is starting to look a bit dated, perhaps my animosity towards Essendon is fading. I liked the post by @BeckiBubbles who observed that 'The media show all the brawls from the past and then Roughy and Heppell hug at the coin toss.'
This doesn't mean I didn't get excited by Gunston's round the corner chip to Henderson for our first goal, Harry Morrisson outpointing Goddard and getting it to Breust for a goal in the second, Ceglar nailing a big set shot in the third, Whitecross' drop kick goal, Goddard overstepping the line at the kick out to let in Gunston for his fourth goal, James Worpel's match winner and Ben Stratton's match saving hanger late in the match.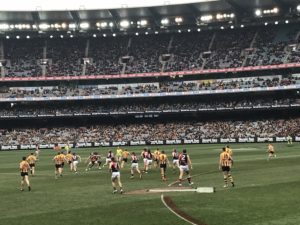 Stratton, Gunston Tom Mitchell and Jaeger O'Meara played brilliant games, and Harry Morrisson deserved his Rising Star nomination.
It was a great win by the Hawks and perhaps a turning point for both the team and me.  Although the real test for Hawthorn, and even more so for my composure is a match next week against Geelong that actually matters.
Final scores: Hawthorn 16 11 107 d Essendon 16 7 103
Elsewhere: On a day when Hawthorn and Essendon contest a high quality, friendly game in good spirits at the G, over in the west nice guy Andrew Gaff punches a teenager Andrew Brayshaw and breaks his jaw.  Go figure.
There is still much debate about the proposed rule changes – the elongated goal square, or rather rectangle, the 6-6-6 formation et al, but this is ignoring the real issues affecting the game – who is providing the pre-game entertainment at this year's Grand Final? Is Rhianna available?
*Photo of the Hawthorn team leaving the ground by xoxlindylouxox
Round 19
Fremantle v Hawthorn
Optus Stadium, Perth
Sunday 29 July 2018
GIVING FREO THE OLD HEAVE HO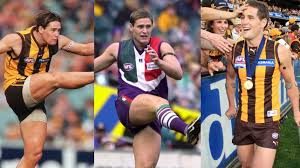 In this environment where everyone has a different view on the state of the game and what needs to be done to fix it, there are certain things that continue to hold true, truths so self-evident that their veracity can't be challenged: you can't win a premiership without a good ruckman and a strong defence, you need forward pressure to win finals, if you don't tag Tom Mitchell he'll pick up 40 disposals, and if you're small of stature, steer clear of St Kilda's Mad Monday celebrations. Another self-evident truth to emerge in recent years is that Freo can't win without Nat Fyffe and Aaron Sandilands.
Even so, our 10 goal win in Perth against the Dockers was a mighty achievement by the Hawks. Despite us sitting a few spots higher on the ladder and Freo having a young team in, it presented as a 50/50 game – what with Hawthorn travelling to Perth, having to play at an unfamiliar venue, and still missing Ben McEvoy, James Sicily and Daniel Howe (and Cyril), this never looked like a lock down win to me.
After all, another self-evident truth once held that Hawthorn always win Launceston, yet lowly Brisbane beat us there just two weeks ago. That's the thing about self-evident truths – they're only true until they're not. Another self-evident truth once held that you never kick across goal in the backline – now we call it switching and any player who doesn't do it is likely to be dragged.
The point is that even without Fyffe and Sandilands, Freo still presented a danger. That was until the first passage of play that ended with a Ryan Schoenmakers snap for goal. The second passage ended in a goal to Paul Puopolo. And when Luke Breust added the first of four a few minutes later, it was looking like a bright day ahead for the Hawks. We were on.
Freo fought back a little in the first quarter, but Hawthorn still held sway, and then kept the Dockers goalless in the second quarter to shore up our advantage.
Our endeavour and tackling ferocity were both strong and even if we weren't capitalising on every chance, we were creating so many that eventually our five goal half-time lead would grow to something insurmountable.
We didn't have to wait long, for the third quarter began the same as the first, with two goals in two minutes, this time to Shaun Burgoyne and Jack Gunston.
It was a complete performance by the Hawks with everyone contributing. Mitchell, Breust, O'Meara and Stratton were the standouts, and Shiels, Gunston, Roughead and Smith were all excellent.
The return of Burgoyne was cause enough for celebration (he's still got it), but the most pleasing aspect of the match was the contribution of some of the younger players like Teia Miles, Kayden Brand, Ryan Burton and James Worpel, who is growing in stature, even if his moustache isn't.
I was also impressed by the assured performances of the middle rank of players, such as Brendan Whitecross, Ryan Schoenmakers and Ricky Henderson. Probably the only player to struggle at times was Johnno O'Rourke, but I think we need to keep him in the team so he can string a few games together. He may provide a valuable strong midfield body in big games and play a role similar to Josh Kennedy for the Swans.
Overall, a great performance by the Hawks to bring home another Trent Croad Cup, or is it now the Brad Hill Cup? However, we have some big must-win games coming up against Essendon and Geelong if we want to play finals. And there is no truth more self-evident than the delight Hawks fans would feel if knocked Essendon and Geelong out of contention.
Final scores: Hawthorn 17 10 112 d Fremantle 7 11 53
Elsewhere: Much of the talk this weekend had been about Jack Higgins' round the goal post scissor kick goal. Sure, a lot of that talk has centred on the fact that Higgins clearly threw the ball, but these glass half empty types are overlooking just how brilliant and inventive it was. This was every bit as much a goal as Gary Ablett Senior's mark was a mark at the same end of the ground all those years ago. Both were against Collingwood, so in that sense natural justice prevails.
Round 18
Carlton v Hawthorn
Etihad Stadium
Sunday 22 July 2018
IT'S ALL OVER NOW, BABY BLUES
There should have been no reason to be nervous about playing Carlton – after all, they're sitting on the bottom of the ladder with just one win for the season. Only last week they were systematically demolished by the almost equally hapless St Kilda – prompting commentator Dwayne Russell to come up with his best line yet, "They need a safe word, Carlton." It was a nice change from his stock phrases "in your dreams" and "it doesn't get any better than that."
However, after our loss the previous week against the third from the bottom Brisbane Lions, and with James Sicily and Jaeger O'Meara out of the team, plus the fact that we lost to Carlton last time we played, Hawks fans could be forgiven for being less than cocky going into the match.
I couldn't attend the game due to junior soccer commitments. So, there I was watching my son's soccer match, and not quite daring to switch on the AFL app to get a score update.
When I finally worked up the nerve, I was relieved to see that we were winning 26-0. Only at that point was I able to relax and look forward to watching the second half when I got home. My son's team lost, but I was okay about that once I knew the Hawks were on track – just don't tell my son I said so.
I turned on the radio commentary as I was driving home and listened in as we increased our lead. Breust had three goals already and Rough got on the end of a nice pass and converted late in the half. A 47-point half-time lead was comforting.
We were leading by more than 60 points by the time I settled in with a beer to enjoy the romp home.  Then just as I took my first sip, the match turned. A 50 metre penalty against Brand for, well, not much, gave Carlton a certain goal. Then a free kick to Charlie Curnow for, well, even less, gave them another. Curnow kadded another, admittedly very good goal, before Cameron Polson's wayward shot bounced at right angles and rolled through for a fourth in nearly as many minutes. Seriously. I'd been watching for 10 minutes and only seen Carlton score.
Meanwhile at the other end, Roughead was pushed in the back, pulled off the ball – and nothing. The free kick count was something like 24-8 against us at this stage. I noticed a distinct Box Hill flavour to our team: Worpel, Whitecross, Brand, Miles, Schoenmakers, O'Rourke. Suddenly I didn't feel so certain. Surely, we couldn't lose from here. Could we? It would be more embarrassing than losing to Brisbane, twice, and nearly as humiliating as having to wear Carlton's dishwater grey clash strip.
At such times, you want the ball in the hands of Burgoyne or Cyril, but as they weren't there we had to make do with Carlton's Harry McKay, who was proving adept at giving Hawthorn possession. Happily, Gunston got hold of it and snapped a nice goal to restore a semblance of control just before the final break.
WIN WIN
The final quarter was more like it, with Poo kicking a few goals and Mitchell kicking a couple to add to his 40 something possessions. Even Schoenmakers got on the end of one in a nice run of five goals in 10 minutes that ended with Breust kicking his fifth just before the siren.
A very satisfying win that put us back in the top eight, and even more satisfyingly, pushed Geelong out of it. Win Win as they say.
Whether we finish up in the finals, however, is less certain. We may not have a team by the time we get to September. It seems that every week we lose another player to injiry, suspension, or retirement.
In the past month we've lost Cyril forever, Shaun Burgoyne for four weeks, Ben McEvoy for six weeks, James Sicily for six weeks, and now Daniel Howe has been suspended for five weeks for two separate incidents. Two weeks for punching a Carlton player seems excessive – it should be two Brownlow votes. As for the tripping incident, it looked innocuous to me, but Zac Fisher ended up with a fractured leg, so you had to admire Hawthorn's argument to have the impact downgraded from 'severe' to medium.
The other factor determining whether we play finals could be the rule changes. Gil McLachlan has intimated there might rule changes in some games. Note, 'some' games. We already have a compromised fixture, now some teams will be playing under different rules to others – I mean that is already the case for Dangerfield, Selwood and Ablett, but it could become even more pronounced.
KARMA BUS
Some people, I've noticed, are beginning to feel a bit sorry for Carlton. But not me, nor anyone else from my generation. Anyone who remembers former Carlton President John Elliot mocking clubs like the Bulldogs and Richmond for their tin rattling money drives, who can recall Carlton using their business tycoon money to steal players from poorer clubs, their salary cap cheating of the 90s and their links to the Liberal Party, will, like me, be taking great delight in their current predicament. It's no longer Sir Robert Menzies' Rolls Royce parked behind the goals at Princes Park – it's the Carlton Karma bus.
And how satisfying that it was Tom Mitchell, the son of one of those high priced recruits Barry Mitchell, who tore Carlton to shreds on the weekend.
Now there is talk of Carlton receiving a priority pick in the draft. Really? Give the salary cap cheats a priority pick? While one is tempted to scoff at the idea, it's worth remembering that their team is already littered with high draft picks that didn't work out, so perhaps it wouldn't make any difference anyway.
But how to explain Carlton's predicament? Some people, like me, blame karma, others blame Mick Malthouse for getting rid of all their good players when he came in as coach, but perhaps there is a clue in their club song…
We are the navy blues
except for when they're wearing dishwater grey
We are the old, dark navy blues
well, Kade Simpson is certainly getting on, but the rest of them are barely out of their teens
We're the team that never lets you down
I don't want to be picky, but one win and 16 losses might suggest otherwise
We're the only team old Carlton knows
which doesn't make much sense, but at least explains their arrogance
With all the champions they like to send us
which must refer to all those high draft picks that got them into this predicament?
We'll keep our end up
which is either a reference to a defensive press or something sexual. One is ineffectual and the other I'd prefer to not think about
And they will know that they've been playing, against the famous old, dark blues
yes, the lack of bruises and a glance at the scoreboard will also give it away.
Final scores: Hawthorn 18 16 124 d Carlton 7 10 52
ELSEWHERE
People are disgusted by the violence after a Geelong v Melbourne match at Kardinia Park on Saturday night. The real surprise to me is not that there was a bit of a scuffle, but that there are Melbourne fans who care that much. Who knew?
Round 17
Hawthorn v Brisbane Lions
University of Tasmania Stadium
Saturday 14 July 2018
HOT PINK, COLD HARD REALITY
One thing is clear to me after our loss to Brisbane in Launceston – it's perfectly safe for me to buy a ticket to Mark Lanegan's concert at The Croxton Park Hotel on Saturday 15 September.
I'd been holding off on the assumption that not only would Hawthorn be figuring in the finals, but surely we'd make it to the second week. However, as I watched some teenager slot his third goal for the Lions, I realised that such unbridled optimism was entirely misplaced. I've now bought a ticket and am looking forward to listening to Lanegan's dulcet baritone belting out his post-punk songs of doom and gloom. Perhaps we could co-opt one as Hawthorn's new theme song?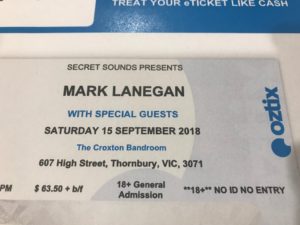 Not only does this loss seriously harm our finals chances, but losing twice to Brisbane in one season seriously harms our credibility, if not our raison d'être. And we didn't just lose by a goal or so, we got soundly beaten on each occasion.
It can't all be down to Fagan and Hodge's Hawthorn intel can it? Or can it?<
It's so embarrassing I'm wondering if there should be some sort of additional penance – perhaps a two-spot penalty on the ladder or even having to wear the brown and hot pink striped guernsey for the rest of the season. I know we wear the brown and pink stripes for a good cause, and it's okay when we win, but we just look silly when we lose. And it does nothing for Roughy's complexion.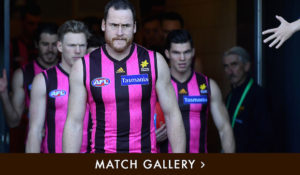 The only consolation was that I had a ticket to see Kendrick Lamar that night at Rod Laver Arena, so the game put me in just the right frame of mind for hearing some angry gangsta rap. And Kendrick might have been addressing Hawthorn later that night when he rapped, "Sit down bitch. Be humble."
There's not much to say about the match – Mitchell and O'Meara played well, but no one else did. Really, 17 points up early in the third quarter against a team who sit second from bottom with only three wins, the week after our best performance for the season, at a venue where we've won 22 of our past 24 matches; there are not many excuses for getting overrun.
On a weekend when we should be celebrating Geelong, Collingwood and England losing, instead we have to wallow in our own misery.
Final scores: Brisbane Lions 15 8 98 d Hawthorn 9 11 65
Round 16
Western Bulldogs v Hawthorn
Etihad Stadiun
Saturday 7 July 2018
DINING OUT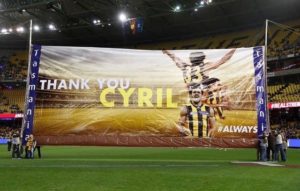 We had guests for dinner on Saturday night which meant that not only wasn't I able to go to the Hawks game, I couldn't even watch it. How I found myself in this position highlights the shortcomings of my diary keeping. Even the people we invited were surprised that the night was going ahead, or that I was actually there.
However, with the retirement of Cyril mid-week, my official line was that I was no longer interested in football. Which was partly true. Sure, it was something of an oversight to invite people over at Hawthorn game time, but in the end the weather was appalling, so I didn't want to venture out into the cold and nor do I particularly like going to Etihad Stadium. More tellingly, I didn't think we'd win.
The ball was bounced just as we were serving dinner, but there were several Hawks kids in the house so there was always someone to give me a score update as the match wore on. Sure, the wine bottle was paused mid-pour while I watched Luke Breust take our first shot on goal, and on more than one occasion, one of the guests had to wait for me to serve the vegetables while I lamented a defensive lapse that allowed the Bulldogs in for a goal. Worst was a 50 metre penalty against Sicily when he was charged by a Bulldog. Go figure.
The guests didn't mind – they knew where my priorities really lay. Plus, they knew that if nothing else, I would be attentive to their drinking needs because getting to the fridge took me past the TV on which the game was showing.
A flurry of Hawks goals near the end of the quarter was faithfully reported back to me, and Luke Breust's name was popping up regularly. He had four at quarter time.
We only managed one goal for the second quarter, and that too was kicked by Luke Breust. The Dogs had wrestled the lead from us by half-time, but we went in only 2 points down. We've certainly recovered from worse positions this season, so I wasn't overly worried.
The third quarter started as we were serving dessert. We had chocolate mud cake and lemon tart – and you don't need to know much about plating up to realise that this constituted brown and yellow dessert.
Good signs early as Rough set up a Gunston goal then got one himself. And then a few minutes later Luke Breust kicked his sixth. I'm not sure if I was feeling dizzy from a sugar rush or a goal glut. Talk about having your cake and eating it too.
Rough and Gunston were turning it on and when I was called in to watch a replay of Daniel Howe's 55 metre goal I saw that we were leading 89 to 46. Only a serious debacle could prevent us from winning this one, I thought. Then I remembered Cyril was no longer playing and I plunged back into doubt.
However, any misgivings dissipated as soon as the final quarter commenced and Isaac Smith strolled into an open goal to stretch our lead even further. It meant I could relax safe in the knowledge that the dinner party wasn't going to end with me sulking in a corner – well, not due to football at least.
I knew Bruest had kicked six, but when I watched the match back in full, I was pleased to see that Rough and Jaeger O'Meara had played well, as had Liam Shiels and James Sicily. The second half was a complete performance by the Hawks – possibly as good as we've played this season. Good signs. We really should entertain at home more often.
Final scores: Hawthorn 19 8 122 d Western Bulldogs 9 5 59
Of course, the football team everyone is barracking for this weekend are the Wild Boars junior soccer team trapped in a cave in Thailand. If ever there was a case for encouraging soccer players to dive, then this is it. Hopefully they can all channel their inner Neymar to get out of the cave.
Welease Bwian
Just as desperate is the case of Brian Lake, incarcerated in a Japanese gaol for a spot of over celebrating. Don't the Japanese understand the value of a premiership win – any premiership win? And a win can't really be said to have been celebrated unless there's a bit of a ruckus. I don't know what Julie Bishop is up to, but surely all the resources of Australia's Department of Foreign Affairs must be swung into action to free a Hawthorn Norm Smith medallist.
Round 15
GWS v Hawthorn
Spotless Stadium
Saturday 30 June 2018
FALL APART
It was another slow start for the Hawks, another first quarter in which we fell so far behind that the match was all but gone by the first break. In this case GWS kicked five opening quarter goals to our one goal, including four in five minutes.
We've recovered form this situation a few times this season, most recently last week against the Suns, but GWS at home is an altogether different proposition and I wasn't as confident of a comeback this time.
As part of their telecast these days, Channel 7 go to a break with a song selected by a player from one of the two teams. I missed the name of the player whose song was played as they went to the quarter time huddle, but I suspect it was a Hawthorn player because the song was I Fall Apart by Post Malone. We'd fallen apart alright.
I don't know what our pre-game preparation is, but perhaps another Post Malone song, Beerbongs and Bentleys, holds a clue. We start games these days with all the spark of teenagers getting up from a bong circle.
For a quarter and a half we barely had a clean possession, and when we did we turned it over.  But that wasn't even the worst part of the telecast, for as unpleasant and clumsy as Hawthorn may have been, it was nothing compared to Basil Zempalis' laboured 90s pop culture references. Using Giants players Dawson Simpson and Aidan Corr as his cues, Basil insisted on working Dawson's Creek and Corrs references into his descriptions – as if the onfield action wasn't excruciating enough.
Jelly Wrestling with the Jones Boys
If this reflected on Basil's bland middle brow taste in TV and music, then I wouldn't like to hazard a guess as to what Hamish McLachlan's effort the night before says about him. Commentating in the Richmond v Sydney game, Hamish was admiring the uncompromising play of Sydney's Zak Jones. He compared Zak to his equally uncompromising brother, Nathan Jones of Melbourne and then invited viewers to, "Imagine Christmas day at the Jones household with Nathan and Zak jelly wrestling."
A moment's silence ensued before Cameron Ling sheepishly said, on behalf of all of us, "I'm not sure I do want to imagine that."
I'm just wondering from which recess of Hamish's rich fantasy world this image bubbled up. And what does it say about Christmas Day activities at the McLaclan household with Hamish and Gillon. I'd have picked them more as backyard cricket types myself, or polo even, but it just goes to show you should never underestimate anyone.
Birth Control
If Basil and Hamish distinguished themselves in the clumsy commentary stakes, that was nothing compared to Barry Hall's remarks about Leigh Montagna's wife Erin on Triple M radio. People have been critical of Leigh Montagna's role in this discussion and with some justification. In his defence however, it is worth remembering that Montagna was a St Kilda player, think nude photos and setting dwarves on fire, so I'm not sure he can be held responsible for his actions.
I won't go into Barry Hall's comments here, but in sacking him on the spot, Triple M certainly acted more decisively than Hawthorn were when they took possession of the ball.
Oh sure we fought back and teased fans with the tantalising prospect of winning, but despite Tom Mitchell and Luke Breust's efforts, we couldn't quite close the gap. Some encouraging signs. Our players never gave up, but it's the never starting up that concerns me.
It was very disappointing considering a win would have taken us to sixth place on the ladder, but that was nothing compared to what was to come…
Final scores: GWS 13 17 95 d Hawthorn 13 6 84.
Cyril
On the Wednesday after the match, Cyril Rioli announced his retirement and triggered an outpouring of intense mourning from Hawks fans. It was a weird mix of grief that we'll never see him play again and a celebration that we had the rare privilege of watching him play for 10 years.
There are few players who have thrilled us as much over the years as Cyril. There are few players known simply by their first name, and there are no players so sublimely skilled that they could bring the very name Cyril out of obscurity and back into the lexicon. Even Franklin couldn't do it with Lance – he has to go by Buddy.
Cyril is a name I've squealed in excitement perhaps more than any other name – and that includes Kylie. His last gasp goal against Essendon in 2014, his last gasp 50 metre goal against Sydney in 2016, his leap, mid-air pirouette and landing on the move goal against Fremantle in 2014, his tackle against three Geelong players in the 2008 Grand Final, his boundary line goal against Richmond in 08, against the Eagles in 2012, that goal when he dodged and weaved through four, five or was it six Essendon players, some of them twice, his two final quarter goals against Fremantle in the 2015 Preliminary, and perhaps his finest hour, the 2015 Grand Final.
Along with my wife and children Cyril is one of my favourite people, and not necessarily in that order. Perhaps that seems harsh, but my wife has never once bounced the Sherrin around the Member's wing at the G and potted a goal on the run.
Football will never simply be the same without him.  Like all Hawks fans I wish Cyril a long, happy retirement with his family.
Now, if you'll excuse me I need to find a dark room where I can rock back and forth while chanting "Cyyrrrill…Cyyyrrrill"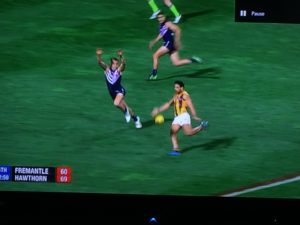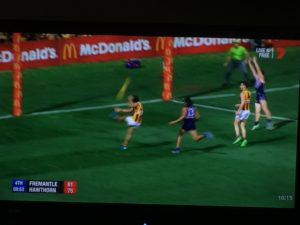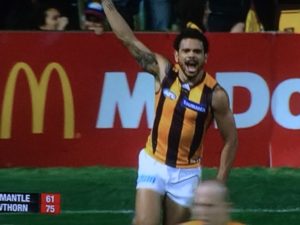 Above: a glorious few Cyril moments from the 2015 Preliminary Final
Round 14
Hawthorn v Gold Coast Suns
University of Tasmania Stadium
Saturday 23 June 2018
DURYEA MAKES HIS MARK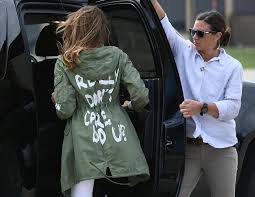 The World Cup is dominating all sporting news at the moment, and in particular, Optus' streaming failure which left subscribers unable to view matches. I'm with Telstra, but I had the opposite problem because their streaming service was working just fine, which meant I had uninterrupted viewing through the first quarter of Hawthorn's match against the Gold Coast. What I wouldn't have given for some buffering or blackouts as the Hawks were outmarked, outrun and outplayed by the Suns.
There has been much speculation this week about what message US First Lady Melania Trump was trying to send with her jacket that had 'I Really Don't Care Do U?' scrawled on the back. Viewers of the first quarter would have been mistaken for thinking the Hawks players had the same message scrawled on their jumpers, such was the lacklustre opening quarter and a half.
We've grown accustomed to these slow starts. In our most recent match in Launceston against Port Adelaide we trailed by five goals at the first break. We still won the game, and look, Port are now everyone's premiership favourites.
However, I didn't expect such a slow start against the Suns. The advantage of playing teams from Queensland and WA in Launceston is that it usually takes them until quarter time to thaw out, by which time we've built a handy buffer. Not this week though. It was the Hawks who seemed frozen to the spot.
The good news is that we picked up our game in the second quarter and slowly worked our way back in front, point by painful point. If people remember this match for anything, it will be for the inaccurate kicking for goal. The Hawks squandered numerous chances in the second quarter, but even that was an improvement on the first quarter when we didn't even create any chances. Plus we stifled the Suns and held them goal-less for the second quarter.
What's Up Doc?
The real highlight of the quarter, and of the match, was Doc Duryea's spectacular hanger late in the second quarter. Some people have been critical because he missed the subsequent set shot, but I suspect he's never been that high before, so he was possibly suffering from a touch of vertigo by the time he took his kick. Besides, it was the sort of match where neither team could pull off two good moves in succession, so it was no real surprise that he missed. And anyone who has seen Taylor Duryea take a set shot before knew to ignore the kick and just celebrate the mark.
But he wasn't alone; Henderson, Gunston, Breust and Roughead all missed easy shots in the second quarter, so I think we can forgive Doc.
After a strong mark and goal to Luke Breust to open the third quarter, the match reverted to type with both sides missing multiple shots on goal. Eventually Puopolo and O'Meara managed a couple of goals and we went into the final quarter with a 34 point lead. But this was not as carefree as the scoreline suggests, for the Suns had several great opportunities late in the quarter, only for them to butcher their shots on goal. Perhaps they were just being courteous guests and following their hosts lead
The final quarter began with another flurry of behinds to both teams. Despite being a sunny day with little in the way of a breeze, the score at one point was 8.16 to 3.11.  Why no one could kick straight was one of the great mysteries of the weekend, along with exactly what Melania meant by that jacket, why wasn't Tim Cahill brought on in the Socceroos' match against Denmark and why anyone would watch Love Island.
Shaun Burgoyne was off the ground in the final quarter, but if the commentators said why, I missed it. I half suspect he had simply decided to take no further part in such a scrappy game.
Our accuracy picked up a bit by the end with Gunston and Smith nailing a couple of shots, and Tim O'Brien and Rough also kicking truly. The latter came after a sublime pass from Liam Shiels, who was probably our best player for the day. Daniel Howe was also good for the Hawks, as of course was Tom Mitchell playing his 100th game.
There is still much angst among some Hawks fans about the way we are playing and the manner of our victories. It's true that we're not playing with great fluidity and nor are we scoring prolifically, but I still prefer scrappy victories to free-flowing losses any day. Personally, I can't see anything to complain about in two successive victories of 50+ points. Plus, if you look at our defence, we've conceded just 9 goals since the bye (Adelaide 4, Gold Coast 5), and only 18 in our past three matches, which suggests that part of our game is working exceptionally well.
Clarko knows we don't have the team to kick 15-20 goals a week consistently like we did in the three-peat years, so he's concocted a game plan to suit the current line-up. Every premiership team I can remember has been based around a solid defensive set up, so in my book, Clarko is half way to our next genuine tilt. We just need to teach Doc how to kick straight. Or recruit Mile Jedinak to play full forward.
Final scores: Hawthorn 13 18 96 d Gold Coast Suns 5 13 43
In Brisbane's loss to the Giants, Luke Hodge also took a screamer, which set up an unlikely battle for Mark of the Round between Luke Hodge and Taylor Duryea. Expect Jeremy Howe to drop a chest mark in Collingwood's match.
Round 13
Hawthorn v Adelaide
MCG
Saturday 16 June 2018
SMOOTH AS SILK
On Saturday night the Socceroos let me down, losing 1-2 to France in the FIFA World Cup. The Wallabies let me down, losing 21-26 to Ireland in the rugby test at AAMI Park, and the Australian cricket team – who don't have a nickname, although a few spring to mind – also let me down, losing the second ODI to England.
Thank God then for Hawthorn who among all our national teams, were the only ones to get the job done.
It was especially pleasing that Hawthorn won; not just because it was a crucial game in the context of our season, but because it was a freezing cold night at the G with the temperature hovering around seven degrees Celsius. So those of us who went to the game rather than stay at home in the warmth to flick between the Hawks and the Socceroos, or to play Fortnite deserved some reward.
Besides, it was Shaun Burgoyne's 350th game, so I felt I should go and pay due homage. What a champion player and champion bloke. And even if the animated symbol of his head that was used for the 350 merch looked more like Drake than Silk, it doesn't detract from his contribution to Hawthorn, and therefore humanity. Plus, whatever else you say about Burgoyne, he's never made a record as bad as Drake has.
The only highlight from the first half was Blake Hardwick marking a high ball and kicking accurately when few others could. It was our only goal of the second quarter in a dour first half that saw both teams kick just three goals each. Nevertheless, at half time the ground announcer bellowed about what a fantastic half of football we'd just witnessed. He must have been watching the Australia v France match in the World Cup, because the match we were watching at the G was many things, but fantastic was not one of them.
The real highlight happened at half time when players from Hawthorn's 1978, 1988 and 2008 premiership teams walked a lap of honour  to commemorate the respective anniversaries of those great years. Fantastic to see Gladys Moncrieff, Party Polks, Peter Knights, Bomber Hendrie and several blokes I could no longer recognise. But that's okay, I'm also unrecognisable from the young boy with long blonde hair and a gold cape that I wore to the 1978 Grand Final.
It was good to see Hodgey, Lewis and Sammy out there with the 08 team. And while there was no Dermie or Dunstall out there with the 88 team, Tuck, Dipper and Russell Greene were there.
If cheering on these legends didn't warm one's cockles, then the third quarter certainly did with the Hawks piling on seven goals to none, beginning with a 55 metre bomb from James Sicily. It was the first of three from outside 50 for Big Sis.
After Portugal played Spain in the World Cup, pundits were carrying on about Cristiano Ronaldo kicking three goals for Portugal. While it was an impressive performance by Ronaldo, it took him 86 minutes to do it, whereas Sicily kicked three in the space of just 23 minutes. Sis may not have Ronaldo's physique, but he he might be one of the few people who can challenge Ronaldo for self-confidence.
The Hawks completely dominated the quarter, kicking 7.2 to zero by playing fast, scintillating football. Perhaps they'd been inspired by seeing the great premiership players of the past. After all, in each of the 78, 88 and 08 deciders we kicked six or seven goals in the third quarter to edge ahead or wrap up those flags.
The final quarter, however, we returned to reality. The Hawks still dominated in general play but we missed more chances than we took. Rough kicked a goal, which was good; in fact he had a hand, or at least a handball in most of our goals, so he deserved one of his own.
Fittingly, the final goal of the match went to Shaun Burgoyne after a well-judged ruck tap out from Jonathan Ceglar. Burgoyne sharked the tap and bent through a beautiful banana goal from 25 metres out.
It only remained to applaud as Silk was chaired off by Roughead and Stratton – Burgoyne has carried the Hawks a few times, so it was only fitting that the Hawks carried him.
Final scores: Hawthorn 12 16 88 d Adelaide 4 8 32
Round 11
Hawthorn v Port Adelaide
University of Tasmania Stadium, Launceston
Saturday 2 June 2018
ANY PORT IN A STORM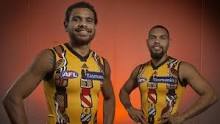 If you'd snuck into my house late on Saturday afternoon, you would have seen four people hunched over an iPad squirming with discomfort, gasping in horror, shrieking in panic, recoiling in disgust and groaning with displeasure. Such were the tortuous exhalations you would have been forgiven for thinking we were watching an advance copy of Barnaby Joyce and Vikki Campion's tell-all interview; or even a Barnaby Joyce sex tape, but no, it was just Hawthorn trying to hold on grimly against Port Adelaide.
While it was a huge relief when we won, I can't say that watching the match was particularly enjoyable. It was frustrating and agonising, just as I imagine sex with Barnaby would be, but certainly not enjoyable. But after three consecutive losses, any win will do. Or any port in a storm, as they say.
Hawthorn completely dominated possession for most of the game, yet couldn't score. Not only that, but somehow we were four goals behind after a few injudicious turnovers that all seemed to end up with Robbie Gray. At that point I pretty much gave up any hope of Hawthorn winning and was just hoping that Sicily would refrain from stomping on anyone. After all, it's been three weeks, he's due for another suspension.
In a round of matches that produced lopsided results across the board, this was the only close game, not because it was a goal for goal shoot-out, but because neither team was good enough to capitalise on their opportunities and break away.
Much has been made of the record 11 50-metre penalties and the number of free kicks awarded, but watching the game again it was apparent that most of the decisions were correct. Just as neither team was good enough to score, they were also incapable of getting through one or two passages of play without transgressing at least one rule. If the umpires hadn't awarded free kicks, the game might never have got going.
Being the Sir Doug Nicholls Round, both teams were wearing special Indigenous guernseys. Hawthorn's jumper was designed by Cyril Rioli's Aunty Lulu. It is gold with Tiwi Island totems or Pukamani poles in place of the brown stripes.
Traditionally, Pukamani poles are used in ceremonies and are placed around graves to protect the deceased from evil spirits. Which in the case of Port Adelaide is presumably Mark 'Choco' Williams and Kane Cornes.
It was a shame Cyril wasn't on the field to wear one of the guernsey's, not just because it depicted life in the Tiwi Islands, but because we needed his unpredictability and pizazz around the goals.
Shaun Burgoyne, Jarman Impey, James Sicily, Tom Mitchell, Jack Gunston and Ben McEvoy were probably our best players. Roughead was quite good and even though he kicked three behinds from set shots, it was he who kicked the winning goal. Thankfully it came courtesy of a free kick right in front of goal and so close that Rough would have struggled to miss. I still couldn't watch as he lined it up.
There followed several excruciating minutes as first Gunston and then Breust missed set shots that might have sealed the win, and we tried valiantly to keep the ball out of Robbie Gray's hands.
It was not a great game, nor a famous victory, but I watched it again on Sunday night, if only to avoid watching Barnaby's tell-all.
Final scores: Hawthorn 9 10 64 d Port Adelaide 9 7 61
Round 10
Hawthorn v West Coast
Etihad Stadium
Sunday 27 May 2018
THE CURSE OF HAWKMAN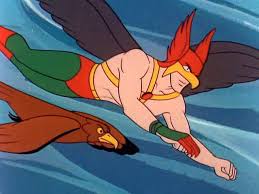 This weekend's match against West Coast was not one I was looking forward to with much optimism. The Eagles were coming off a 10 goal win against the top side while we were coming off a 10 goal loss to the bottom side. Hardly score lines to promote much confidence. A 20 goal loss didn't seem entirely out of the realms of possibility.
On the other hand, the Eagles had never previously beaten us at Etihad Stadium before so history was on our side. Sure, we've only played them once at this venue in 2013 when we were the top side, but Hawks fans had to clutch at the few omens we could.
In the lead up to this match it was announced that from next season Etihad stadium would be renamed as Marvel Stadium, after a naming rights deal with Disney. It occurred to me that we might need the Avengers to intervene if we were to have any hope of winning. Flash and Hulk would do. Or even just Cyril – if he's not already one of The Avengers, he should be.
I was unable to attend the match due to a dog emergency that involved two trips to the emergency vet hospital plus a visit to a medical clinic. It's a long story, but by the time I was back home with all injured humans and canines satisfactorily sedated, the match was already starting.
I took myself away with the iPad and folded laundry while I watched the game. Quite literally sorting out my sock drawer was more entertaining than watching the Hawks.
To be honest, we played okay and stayed in touch for the bulk of the game. We even led for a few minutes early in the second quarter, but like the names Telstra Dome and Etihad Stadium, it was destined not to last. We hovered around a two goal deficit for most of the second half and didn't display sufficient potency to suggest we were going to reverse that position, much like the Green Lantern franchise.
Jarman Impey and Blake Hardwick were probably our best players, and Rioli also had some dazzling moments – it's just a pity it was West Coast's Willie Rioli and not our own Cyril.
Hawks fans looking for more effort from the team this week would at least have been satisfied. The boys tried valiantly, but we still lacked any sort of system for forward entry, let alone scoring. We're not going to win many games when Luke Breust, Jarryd Roughhead and Jack Gunston all go goalless. it would be like expecting the Justice League to prevail without Captain America, Thor and Ironman.
Gaff was the main problem – both the Eagles' Andrew Gaff and his many telling possessions, plus Hawthorns own numerous gaffs, many of which resulted in turnovers. But it could have been worse, particularly if we'd had Liverpool goalkeeper Loris Karius at full back. As it happened, our defence played quite well.
It was our forward thrusts that were ineffectual. Many of them were as misguided and off the mark as the Superman t-shirt Hamish McLachlan wore on Game Day as his ill-conceived tribute to Marvel. This merely highlighted that he knows as much about comics as he does about football, for of course Superman is a DC character, not a Marvel character. It would be the same as wearing an Emirates t-shirt the day the Etihad sponsorship was announced.
I didn't realise it at the time, but in a way the Marvel sponsorship was a bad omen for us.  For the comic book character Hawkman is from the DC Universe. He never stood a chance in the world of Marvel.
Final scores: West Coast 11 9 75 d Hawthorn 9 6 60
The 2018 Hall of Fame inductees were announced during the week. While it was heartening to see three time Hawthorn premiership player Terry Wallace honoured, it was passing strange to see David Neitz from Melbourne also inducted. If he has made the Hall of Fame, that must mean every Hawthorn player from the 70s and 80s is already there, because how else do you explain the presence of someone who never won anything? It's the equivalent of Hollywood giving a lifetime achievement award to Melanie Griffith.
Round 9
Brisbane v Hawthorn
Sunday 20 May 2018
Gabba, Brisbane
"LAUREL-YANNY" – "CYRIL-SAMMY"
When asked on the weekend to identify which word I heard in the 'Laurel' or 'Yanny' audio meme, I put the mobile phone to my ear and distinctly heard the name 'Cyril'.
I realise this might just have been wishful thinking on my part given how desperately we lacked any sort of spark up forward in this weekend's dismal loss to Brisbane, so I tried again. The second time I heard 'Sammy.'  Again, this might simply suggest the directionless performance of our midfield during Sunday's encounter. Either that or I need grommets.
However, this wasn't the only disorientating trick of the senses that I experienced while watching the match. For lining up across half back was someone who looked a lot like Luke Hodge, but wearing a Brisbane Lions guernsey. What was going on?
This is not the first occasion I've had to question the clarity of my vision, for when an ocular meme swept the internet a few years back, people argued over whether a particular dress was blue and black or white and gold. How you could confuse these combinations is beyond me, because clearly the dress was brown and gold.
I'm beginning to wonder if my sensory perception has collapsed entirely or whether it is just more heightened than most.
There was another fashion faux pas on the weekend nearly as hideous as that of Luke Hodge wearing a Lions jumper, and that was the hats worn to the royal wedding by Princesses Beatrice and Eugenie. After the elaborate creations they wore to William and Kate's wedding, I think we were anticipating something a little more spectacular than the peasant millinery in which they were drably titferred for their cousin's big day.
Likewise, we were hoping for something a little more spectacular at the Gabba on Sunday than the pedestrian display that Hawthorn produced. Watching Hawthorn fumble, fall over and flummox about was nearly as excruciating as watching Australian breakfast TV hosts gush over the royal wedding.
To cap it off, the weather looked lovely and warm in Brisbane, while we sat gloomily under charcoal skies in Melbourne.
Even worse, I was watching the game with my mother so I couldn't even give proper voice to my real feelings. Perhaps that was a good thing, for once our early flurry was over, when we led by four goals to one, our most hopeful moment came when goal umpire Chelsea Roffey signalled a behind to Brisbane for a kick that was a clear goal. Unfortunately for us, the review system got it right for a change, and the score was corrected.
I haven't much to say about this game; Mitchell, Smith, Sicily and Gunston played okay, but no one else figured significantly for the Hawks. Debutant Mitch Lewis had a few early touches, but not much afterwards. Clarko's team changes from the previous week didn't add anything, and I'm not sure that another round of wholesale changes will help, unless we can bring back Hodge. He looked quite assured at half back for the Lions and easily picked off our occasional forward thrusts.
To be so completely outclassed by a Brisbane Lions outfit who prior to this weekend hadn't won a game was dispiriting to watch. Our performance had shades of this time last season, particularly in the final quarter when we couldn't hit a target, stick a tackle or give a yelp. If not for my mum keeping the coffee and biscuits coming, I'd have turned it off at three quarter time.
Hawthorn were slow, cumbersome and hesitant with ball in hand, although to be truthful, we fumbled it most of the time, so it was rarely 'in hand' as such. Brisbane, meanwhile, were quick sprightly and adventurous. They were the yin to our yang, or the yanny to our laurel.
Final scores: Brisbane Lions 20 9 129 d Hawthorn 11 7 73.
Round 8
Hawthorn v Sydney
MCG
Friday 11 May 2018
"AND THE WINNER IS…SYD-ER-NEY"
It was Eurovision weekend, so what could be more fitting than to have the cast of Priscilla delivering the pre-match entertainment for this Hawthorn v Sydney match. After all, nothing says 'bring on the footy' like a burst of kitsch, high camp, song and dance with men in colourful clothes and tight shorts. Or was that just the two teams running out through their respective banners with their theme songs blasting out?
Like most people, I missed it. With Melbourne receiving a month's worth of rain in the space of 24 hours, most sensible people simply stayed home to stoke their canara and watch the game on TV.
I was at a work function so didn't get to the ground until after quarter time, by which time it had stopped raining, but the Hawks trailed narrowly.
I met Chan-Tha and Jason and we sat through a tight second quarter. The play was close and it was crowded around the ball, but not nearly as congested as it was in the Percy Beames bar when we went to meet a friend at half time. Getting a drink seemed about as likely as having a straight guy host the Eurovision coverage.
Instead we headed to the trusty Hugh Trumble bar where it was warm and our friends Linda, Melinda and Victoria were already ensconced.
As with the previous week, spending the third quarter in the Trumble bar proved a good omen as the Hawks edged ahead. Sicily was playing well, as was Gunston, but there were not really many other stand-outs for the Hawks.
While for Sydney, someone called Ben Ronke playing in his second or third game had kicked six goals by three-quarter time. In the lead-up to the match Hawthorn coach Alastair Clarkson had said that we had separate defensive plans depending on whether Buddy played, but evidently neither plan took third gamer Ronke into account.
Over the past few years games between Hawthorn and Sydney have been tight, so it was no surprise that this game was panning out the same. I was mildly surprised that we were in front because Sydney seemed to be playing the more fluent football. However, when Rough took a strong mark in front of goal, it looked like we would be able to hold on for the win…
Until, that is, the umpires paid a free kick to Sydney for a block by Langford – despite the fact that Sydney had been doing it all night to Rough without any penalty. It was of course no surprise that Sydney immediately brought it forward and kicked a goal to get within a few points. Nor was it any surprise that they did so again to hit the front.
When Ronke, or as Chan-Tha identified him, 'some random,' kicked his seventh goal for the night I was having flashbacks to the 2012 Grand Final when we lost to Sydney in similar fashion by just over a goal.
It was a disappointing loss because we had our opportunities to win and it would have kept our necks above the waterline of teams on five wins. And had Rough been able to take his kick it is almost certain that we would have won.
Clarko was right to call out this decision as critical. We were robbed, just as Jessica Mauboy was robbed at Eurovision by those Euro-centric Europeans. Not only that, but just as Eurovision was won by a woman from Israel (which wasn't part of Europe either the last time I looked at a map) dressed up as a woman from Japan while doing a chicken dance and singing, "He's a bucka-mhm-buck-buck-buck-mhm boy, Bucka-mhm-buck-buck-buck, I'm not your bucka-mhm-buck-mhm-buck-mhm," we were beaten by a novelty act in Ben Ronke. Robbed!
Final scores: Sydney 12 7 79 d Hawthorn 10 11 71
I can understand Clarko's displeasure at the decision that denied Rough a mark, because when you extrapolate it out, you see that it cost us a crucial goal, almost certain victory, a top four position, a likely premiership and almost certain back-to-back flags. Talk about a ripple effect.
Even so, I was surprised that Clarko made such a big deal about it, calling it 'blue murder,' which was possibly not the wisest phrase given we were playing for the Beyond Blue cup to raise awareness about depression. But also going around to AFL chief Gillon McLachlan's house for a secret meeting (which we all knew about while it was happening) to discuss the blocking rule. Others, like Robert Walls didn't like it, but he doesn't like anything. I'm with Clarko. He has every right to go round to Gill's and demand an explanation. Next year we should send him to Tel Aviv for Eurovision so that he can confront any anti-Australian sentiment head on.
Round 7
Essendon v Hawthorn
MCG
Saturday 5 May 2018
The 23 Enigma Redux
I must be maturing – as a football supporter at least, if not in other ways. For on Saturday I sat through an entire match against arch-enemy Essendon without once losing my shit over an umpiring decision, becoming embroiled in any verbal stoushes or scuffles with Bombers fans, or even making any passing references to Essendon's 2012 supplements program – other than to sing "see the Bombers shoot up, up" when their theme song was played. I didn't even invoke Bomber Thompson's recent courtroom travails over drug charges.
No, I watched the game unfold with almost zen-like serenity, quietly bemoaning our missed chances here and there, politely applauding our goal bursts and chuckling at Joe Daniher. It was all very civilised, so much so I nearly ordered a Pimms from the Trumble Bar. Should I be worried?
For if I can't get worked up over a game against Essendon, perhaps I can't get worked up over anything. And come to think of it, I'm not overly bothered that Kanye said something stupid about slavery (that's how Kanye rolls) or that the President of The United States paid hush money to a woman (it's not like he holds an important position like coach of Fremantle). I can't say I have an opinion one way or another about whether Hannah Mouncey should be allowed to play in the AFLW, or that Dane Swan's privacy was violated by a leaked sex tape – so long as I don't have to watch it. These are all things on which I might once have held forth at some length, whether anyone was listening or not. But now it's like I just don't care. As James Murphy from  LCD Soundsystem once sang, "I'm losing my edge."
Possibly the reason I didn't get worked up was that the game was more or less without incident, or even much in the way of inspiring football.
Watching it back it's hard to work out how we fell behind by three goals in the first quarter. It looked like we were dominating play, but for some reason couldn't score, whereas Essendon barely had the ball but piled on four goals. If scores were awarded for backwards handballs, then we would have had an unassailable lead by the first change, but as it was, we needed Isaac Smith's goal right on the siren to stay in touch.
The second quarter was about as uninspiring as you can get. There was very little scoring and the play was congested and at times, downright clumsy. Paradoxically, the three goals that were scored, two by the Hawks and one by Essendon, were exceptional. Roughead contested a mark, brought the ball to ground and was out wide to gather it when it spilled near the boundary, from where he measured a perfect 25 metre dribble kick that bounced through.
The second goal was from Brendan Whitecross who gathered on the line between the goal and point posts, swivelled, turned and screwed through a nice left foot goal.
Essendon's solitary goal for the quarter was hacked out of mid-air in the goal square by Kobe Mutch, as the Hawks defenders waited to gather the bouncing ball.
At half time we still trailed by seven points, having only kicked 4.4 in a half of football. I was a little concerned because the talk during the week was about how Essendon need to redress their poor third quarters. They announced they were going to change up their half time routine and come out firing in the third.
I don't know what they did, but it must have worked because in the third quarter we kicked six goals to zero. God knows what might have happened had they stuck with their normal routine.
Everyone's favourite goal was the one James Sicily kicked after Joe Daniher gave away a 50 metre penalty to bring Sicily within 60 metres. Naturally Sic went back and drilled it, and after accepting the customary hugs and bottom taps from his team mates, he put out his hand for a 'low five' from Joe. An unamused Daniher refused to reciprocate, so Sic had to deliver it himself.
We saw all this from the comfort of the Trumble Bar, where we'd gone for our half-time drink. After a couple of early goals we decided not to jinx the run and stayed for another drink. You could say we drew a line in the bar. In truth we do that most weeks, but we didn't want to mix up our own half-time routine.
We were back out in our seats for the final quarter. Essendon gave us a minor scare before Isaac Smith kicked a beautiful running goal to put the result beyond doubt.
A 23 point margin doesn't reflect the gulf between the two teams on the day, but it nevertheless represents another example of the '23 Enigma', a theory that emphasises the significance of that number. And after Dermie deeds and the bags Buddy kicked against the Bombers, you don't need to tell an Essendon supporter about the value of the number 23.
Hawthorn has now won five games out of seven this season, which is probably better than anticipated. Yet the media have really only given us credit for one – the victory over Geelong. In each of our other triumphs, it is not Hawthorn's sublime skill, Clarko's genius or even Ty Vickery's absence that have been credited. Rather, the perceived shortcomings of our opposition have been highlighted as the deciding factor.
After we beat Collingwood in Round one, Buckley and his misguided gameplan were cited as the main reason we won. Melbourne lacked fitness and firepower, St Kilda was in a slump and now Essendon are supposedly in disarray. Is it just possible that these victories might have something to do with the way Hawthorn is playing?
Final scores: Hawthorn 13 12 90 d Essendon 10 7 67
My favourite player this week was Blake Hardwick. His mullet may not be receiving the same kudos as Ben Stratton's is, but it is nevertheless a fine specimen – and reminiscent of the Sharpie movement from the mid 1970s.
I'm a bit worried about Tom Mitchell's form slump though – just the 29 disposals this week. Is it time for an intervention?
The (Brown and) Golden Girls
The only thing better than beating Essendon on a Saturday, is beating them again on Sunday. Hawthorn's VFLW team was making its debut at Windy Hill against the Essendon womens team and given I live locally, I dropped in to catch the girls in action.
There was a good vibe at Windy Hill; it was a warm, sunny day, a good crowd in and $5 cans on the hill. And the Hawks girls put on a good performance winning comfortably. Plus there was a bit of line in the sand action with a few flying elbows and crunching tackles.
It was strangely moving to see a team of women out there representing Hawthorn. I think I cheered more on Sunday than I did the previous day watching the men's team. I think I was so touched because now every little girl can grow up dreaming of one day pulling on the brown and gold jumper. That's what I call equality.
The highlights were Meg Hutchins roosting a goal from close on 50, and Emily Gilder who boasts the best braids at Hawthorn since Chance Bateman.
The real triumph, however, was finding 22 women prepared to wear brown and gold vertical stripes with white shorts.
As I left the ground via an exit at the school end, I could hear the girls from all the way across the other side of the ground belting out the theme song.
Final scores: Hawthorn 8 12 60 d Essendon 3 3 21
Round 6
Hawthorn v St Kilda
University of Tasmania Stadium, Launceston
Saturday 28 April 2018
GOOD NEWS WEEK
Good news gripped the world this week: the two Koreas came together to pledge peace, ABBA announced they had recorded two new songs – their first in 35 years, Princess Kate gave birth to a royal baby and Kylie revealed that she is dating again. All cause for celebration.
Also, a report by Pricewaterhouse Coopers commissioned by Hawthorn Football Club, Events Tasmania and the City of Launceston (no vested interests there) revealed that with four home games plus a JLT Series game played in Launceston, Hawthorn's economic impact on the state of Tasmania in 2017 was $28.5 million. And one of those games was against GWS who can't have attracted too many fans. This is the tourism equivalent of impacting the scoreboard as footy-speak would have it.
Of greater significance than any of these events however, with the possible exception of Kylie's news, is that James Warpel was selected to play his first game for Hawthorn.
Warpel was our first selection in the 2017 draft, and even though that didn't come until pick 45 or so, he is viewed as having great potential. Not only that, but he has already become a fan favourite and cult figure. He even has a nickname – The Warpedo – and he has achieved all this without even playing a game. I can only assume it is the blond tash and top knot combo that has so captured our imaginations. Or just the sheer novelty of Hawthorn having a pick in the draft. Whatever the cause, imagine the fervour if he actually turns out to be good.
Shame Game
If all of this relentless positivity was too much to bear, then the football over the weekend at least provided an antidote of sorts. Aside from Sydney over-running Geelong in the final quarter and a reasonably close game in the WA derby, most of the football played across the weekend acted as a mood suppressant for fans of the game. And the Hawthorn v St Kilda game might have been Exhibit A.
In Round 8 of 2007, Hawthorn and St Kilda played what many people at the time judged to be the worst game ever. President of the day Jeff Kennett called it "appalling" while saints captain Nick Riewoldt called it "the shame game." Both sides went ultra-defensive and as a result neither team found scoring easy. In near perfect conditions, it was just two goals apiece at half time and Hawthorn led 4.9 to 3.5 at three quarter time.
Bear in mind this match would have featured Hodge, Mitchell, Lewis, Crawford, Franklin and Roughead, while St Kilda's lineup would have included Riewoldt, Hayes, Harvey, Del Santo and Luke Ball. How players of that calibre contrived to score so little is perhaps worthy of a Royal Commission in itself. Anyway, as Hawthorn eventually emerged victorious (10 12 72 to 6 8 44), I didn't concern myself overly much with the aesthetics of the match and simply celebrated a much needed win.
A Game of Two Kicks
Likewise with Saturday night's match. To call it scrappy would be an understatement – and perhaps pronouncing 'scrappy' with a silent 's' would be more accurate.
Hawthorn dominated general play in the first quarter, but couldn't kick straight, scoring 3.7 from their numerous shots on goal. After kicking an early goal, Luke Breust missed a couple of set shots, while Rough, Gunston and Burgoyne also missed relatively easy goals.
Even so, Tommy Mitchell was killing it, the Warpedo had a few nice touches, and St Kilda seemed determined to hand us the ball on the rare occasions they had it, so surely there was nothing to worry about.
Until the second quarter at least, which was about as unskillful and sloppy a quarter of football as I've seen – and that includes junior football played in the mud and any game involving Carlton in the past five years. Admittedly, the Launceston fog is hardly conducive to scintillating skills and crisp, clean ball disposal, but even so, this was less than dazzling.
A point that was illustrated by the only passage of play from this game that you're likely to see replayed in the round-by-round highlights on Brownlow night. Saint Tim Membrey got out the back of James Frawley and ran into an open goal only to miss from the goal square, replicating the improbable feat of Josh Bruce from the corresponding game last season. He was unanimously awarded miss of the week.
This passage of play, however, also underlined the Saints dominance of the quarter. If not for a Luke Breust goal just before the siren, we'd have gone in at half-time with our early lead all but gone.
At this point I had to leave the telecast to attend a 50th birthday party, where I was also slated to lay down a few beats to fill the dance floor. The way the game was panning out though, I was getting in the mood for Leonard Cohen and Nick Cave, not Michael Jackson and Justin Timberlake.
I followed the scores on the AFL app and watched the second half the next day. The dour struggle continued in the third quarter, although Hawthorn managed a few coherent passages of play. A nice mark and turn on landing by Tim O'Brien set up an Isaac Smith goal and may also have quietened some of the TOB haters out there. Gunston also slotted a beauty from outside 50.
By the end the Hawks kicked some nice goals – another long range set shot by Gunston as well as a snap from close to the boundary, while Daniel Howe slotted a long range snap. In all we kicked six final quarter goals, including a beautiful long running goal from Isaac Smith that turned out to be Goal of the Week, and the yin to Membrey's yang.
In a game in which the two teams recorded a collective total of 435 kicks, this one was defined by just two of them – Tim Membrey's miss from point blank range and Isaac Smith's goal from outside 60.
Smith was easily best on ground, along with Ricky Henderson, Luke Breust, Big Boy McEvoy, Tom Mitchell and Jack Gunston. I also liked Daniel Howe and Harry Morrison's game.
In years to come, this match may not be remembered as a classic by misty-eyed nostalgics, but given we fielded a team with four players who have each played fewer than five games (Morrison, Warpel, James Cousins and David Mirra) it was quite encouraging.
Just like the game from 2007, I'm simply happy to celebrate a win. And when you consider that in the corresponding fixture of 2017, we lost by 75 points, this game represented a 110 point turnaround. It also represented the continuation of good news across the weekend.
Final scores: Hawthorn 13 11 89 d St Kilda 7 12 54
Post match
There was more discussion about Jarryd Roughead's performance after the game with serial shock jock Kane Cornes even suggesting he should retire. I thought Rough played okay – sure he missed a couple of shots, but he set up a couple of goals and he had two, sometimes three opponents on him. Plus he's got a newborn at home so he probably hasn't slept properly in six weeks. Obviously Cornes just wants some attention, because to say Roughead should retire is like saying Donald Trump should win the Nobel Peace Prize or James Sicily should be courteous and sensible. Besides, given Roughy has beaten cancer twice, I suspect he can overcome a mild dip in form. He'll still be the first player selected next week.
I love Luke Breust. Let's just put that out there. We all know he is having a great season, as evidenced by the fact that he is sitting second in the Coleman medal on 19 goals. But I'd like to also suggest that he is one of the calmest players in the AFL. I've never seen him dispute an umpiring decision, appeal for a free kick, let alone play for one, look despondent after a miss or even overly celebrate a goal – a little skip after he kicked a crucial goal in the final quarter of the 2013 Grand Final is the most animated I've seen him. I suspect he presides over the mindfulness classes at the Ricoh Centre – perhaps Sicliy should enrol.
Round 5
North Melbourne v Hawthorn
Etihad Stadium
Sunday 22 April 2018
HUMBLING BEGINNINGS
For diehard footy fans, the worst crime a fellow supporter can commit is to leave a match before the end, regardless of the situation. Your team might be 10 goals down, you might be sitting in the rain and your youngest child might have just vomited up their super dog and chips, but to hit the aisles before the final siren is still viewed as the ultimate act of footy betrayal.
I'm wasn't guilty of this exactly, but on Sunday I did the opposite. I was watching my son Declan play soccer which was due to start at 2.30. My plan was to head into the Hawks game at Etihad after the soccer finished. I figured I'd arrive half way through the second quarter.
As it was, the soccer game started late and by the time I was ready to head in Hawthorn were already trailing 10.7 to 3.0.
I texted Chan-Tha, who was at the match, to ask if it was worth coming in. Her one word response was 'No.' Further elaboration was unnecessary; we were so bad we didn't even warrant a profanity.
By the time I reached home it was half time and the score was 11.9 to 3.0 – that's 20 scoring shots to three. All I can say is thank God we were kicking straight!
A couple of weeks ago Richmond led 5.3 to 2.4 at quarter time. Last week Melbourne led 5.6 to 3.5 at quarter time, and this week North was leading us 7.5 to 2.0 – that's 17.14 to 7.9 on aggregate.  In the the ongoing debate about whether the game should be shortened, I think the answer is obvious – scrap the first quarter.
The only upside to such a humiliating first half is that it was against North Melbourne and we are unlikely to encounter any North fans who are going to wound us with sassy ridicule.
When I first learned Declan's kick-off time I was annoyed that I would miss part of the Hawthorn game – now that I was home in time to watch the second half, I was annoyed that I wasn't going to miss more of it.
As it turned out, the second half was a vastly improved performance on the first, so much so that in the portion of the game I saw Hawthorn pretty much dominated. Sicily, Smith, Shiels, Impey and Breust were all playing well. We ran, we spread and moved the ball with something like quick precision. More importantly, we kicked goals.
For a few fleeting moments Hawthorn even teased us with the possibility of pulling off the impossible comeback. Then Rough missed a marking opportunity towards the end of the third quarter and our hopes, already worse than faint, more or less rolled away with the loose ball. Oh well, at least the boys gave us something to cheer.
In the online fan forums everyone seems to be copping the blame; Roughead (yeah, what's he ever done for Hawthorn?), Frawley (if North have 12 scoring shots in the first quarter, being full back would be akin to being a lone life guard trying to hold back rising ocean levels in the Maldives), Duryea, (from what I saw, I thought he played reasonably well) and O'Brien (well, I concede, he could possibly have more impact in matches, but surely he wasn't the reason we were 10 goals behind at half-time). Even the cheer squad was copping flak – why, was the banner not sufficiently inspirational? Was the crepe paper the wrong shade of gold?
We can't even blame the injuries to Cyril and Poppy – if the ball doesn't go forward, there's not much in the way of forward pressure they could have applied.
Just as our best wins are collective team efforts, so are our bad losses. I know I didn't see the first half, but it's just possible that North played decisive and brilliant football. Sometimes you just have to give credit where credit is due, as well as blame the umpires – that goes without saying. At least we kept fighting; this time last season a poor start like that would have resulted in a 10 goal loss.
And really, given this was the ANZAC Round, a valiant loss is perfectly in keeping with the spirit of the original battle. And at least Declan's soccer team won 2-0.
Final scores: North Melbourne 14 14 98 d Hawthorn 11 4 70.
Much of the talk post-match was about Ryan Burton's bump on Shaun Higgins which left the North Melbourne player concussed and in hospital. With nothing else to bang on about, the several hundred journos commentating on football tried to outdo each other in their condemnation and calls for a suspension. So much so that by Tuesday night not only should he have been given a 12 week suspension, he was a suspect in the disappearance of the Beaumont children. It was all a bit over the top – even by North's whingeing standards. By all means suspend him for his pitiful porn moustache, but not for executing a fair bump.
James Sicily was of course the other cause of controversy. He was suspended for a second time this season for stomping on someone – not bad in just three games. Many observers have noted similarities in strut, attitude, sass and ginger hair between Sicily and a young Dermott Brereton. It would appear that regular appearances before the tribunal and stomping injudiciously on opposition players is another point of similarity. Come on Sis – you can do better than this. People forgave you for stomping on Joel Selwood, after all, that is virtually a community service, but where's the value in stomping on Shaun Atley.
Personally I think it's all a misunderstanding. There are some places, fetish clubs for instance, where walking up and down on another person in football stops is considered a favour.
Round 4
Hawthorn v Melbourne
MCG
Sunday 15 April 2018
LET'S DANCE
Hawthorn's Round 4 clash against Melbourne took place 35 years to the day that David Bowie released his album Let's Dance.
On the face of it, there may seem to be little to link these two events, except that Melbourne began the match as if they were celebrating the anniversary by acting out the lyrics to the title song.
"Put on your red shoes and dance the blues" aptly describes their fleet of foot ball movement while also calling out their team colours. Meanwhile "sway through the crowd to an empty space" might well have been coach Simon Goodwin's final instruction to the players, such was the ease with which they moved the ball forward to find loose players in goal scoring positions.
Despite Luke Breust kicking a goal with 30 seconds of the opening bounce, the 'Dees' led by 20 points after 20 minutes, and I was beginning to wish i'd stayed at home on the couch with the heater going instead of getting increasingly damp in the light drizzle falling at the G.
It was looking like a dreary afternoon for the Hawks, and I'm not just referring to the overcast sky. Melbourne were winning the clearances, Jesse Hogan was finding plenty of the ball, Nathan Jones was restricting Tom Mitchell's influence ("If you say run, I'll run with you") and the hot chips from the Red Rooster outlet were tepid at best.
The only bright spot came when Max Gawn missed a set shot from exactly the same spot that he'd missed the shot on goal that would have defeated Geelong.
Then Breust snagged his second goal just before the quarter time siren and despite being comprehensively outplayed for most of the quarter, we went into the break only a couple of goals behind. Rain and hot chips aside, it wasn't nearly as bad as it could have been.
"Ch Ch Ch Changes"
An older Bowie song, Changes, came to mind in the second quarter as things began to turn. And they turned with satisfying numerical neatness, as Hawthorn scored four goals and Melbourne four behinds.
Breust kicked his third from a set shot on the boundary from 40 metres out, Poppy volleyed one through from the goal square, Cyril spun on the spot and pinpointed a pass to Henderson, and Rough was the recipient of a 50 metre penalty after Dean Kent punched the ball from his grasp after taking a mark.
The cavalier crowing of the MCC members had taken on a darker tone by half-time. The scones that had been light and fluffy at quarter time, by half-time had turned to chewy dust, and the Melbourne members who might have fancied quaffing a cheeky red during the long break instead turned to something heavier.
By comparison, Hawks fans weren't exactly ordering sparkling wine by the bottle, but our conversation certainly had more fizz than it had 30 minutes earlier.
"Move Like Jaeger"
Our first goal after the break can be seen as vindication of Alastair Clarkson's decision to turnover our ageing midfield at the end of 2016. James Sicily bombed it out of defence into open space where several players took off in pursuit. It has been widely commented that Jaeger O'Meara outpaced five Melbourne players to reach the ball first and soccer it through for a goal, but what has perhaps been overlooked is that one of the players he sped past was Jordan Lewis, whose spot in the team he had effectively taken.
Aside from stretching our lead to 14 points, this goal was hugely symbolic of the transformation that has taken place at Hawthorn over the past two seasons, and not just because Jaeger boasts a lush growth of hair were Jordan now has a bald spot.
Just on Lewis, it was good to hear, or rather not hear, any booing from Hawks fans. We still love him, as evidenced by the appreciative encouragement Hawks fans gave him, although that was mainly on the occasions when he turned the ball over.
"Something is happening here, but you don't know what it is, do you Mr Jones?"
Melbourne persisted with their tag of Nathan Jones on Tom Mitchell, which certainly quietened Mitchell, but helped bring our other midfielders Liam Shiels, Isaac Smith and Jaeger O'Meara into the game. More importantly, it kept Nathan Jones out of it. Just like Sam Mitchell in the 2013 Grand Final, Tom Mitchell effectively played as a decoy.
Clarkson's other masterstroke was to quell Jesse Hogan by putting first-gamer David Mirra on him. Hogan barely touched it from quarter time.
The final quarter was a good old fashioned rout with Hawthorn scoring at will. Gunston's shot from 50 on the boundary line was Buddy-esque, and Luke Bresut's pinpoint pass to Roughead was Rioli-esque. Which was fortunate because Rioli hadn't been on the field since half-time after injuring his knee.
It was a handsome win by the Hawks. Shiels, Smith and O'Meara controlled the midfield while Ben Stratton and James Sicily controlled defence. Luke Breust and Gunston were good near goal, but Jarryd Roughead completely owned the forward line.
As good as Hawthorn played, Melbourne were abysmal. They scored just one goal to Hawthorn's 15 after quarter time. It's hard to know where their season will go from here. Most of their fans do though. By the end of the match you couldn't get phone reception in the ground due to the digital congestion caused by Melbourne fans inside the G booking their Mount Hotham Winter getaways.
But as bad as Melbourne were, even they were far from the worst sporting performance of the weekend. And I'm not referring to Brisbane who kicked just two goals or Carlton who kicked four, but to the closing ceremony of the Commonwealth Games later that night. The athletes could be seen leaving the arena with even greater alacrity than Melbourne fans headed for the aisles half way through the final quarter.
This was sweet revenge for the Hawks. Like most fans of the brown and gold, I was still hurting from our painful loss to Melbourne in the AFLX Final in February.  I couldn't work out that night how we could possibly lose to Melbourne, but  now I know; the game only went for 20 minutes – another 80 minutes and we would have got them that night as well.
By the end it was left to Hawthorn to celebrate the anniversary of Bowie's Lets Dance. As the Hawthorn theme song blared out we danced, "to the song they're playin' on the radio," then swayed all the way home "under the moonlight, the serious moonlight."
Final scores: Hawthorn 18 7 115 d Melbourne 6 12 48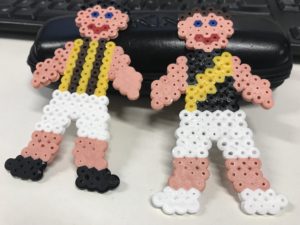 Round 3
Richmond v Hawthorn
MCG
Sunday 8 April 2018
THE TY VICKERY CUP
It should come as no surprise to lose to the reigning premiers; even if it is still a source of mild surprise that the reigning premier is Richmond. Of course Richmond had a habit of defeating us even when no one else could. They did so in three of our past four premiership years, so deluded Hawks fans like me can take this week's loss a sign that we are on our way back to the top.
What was surprising about this match was the early start time of 1.10pm, which aside from interfering with my brunch plans, was a bit off-Broadway for a game featuring two teams that have won four of the past five flags between them.
Equally unexpected was the balmy weather in which the match was played, with bright sunshine and mid-Autumn temperatures nudging 31 degrees by half time. This lent the game a pleasant, friendly Sunday afternoon vibe with both players and supporters in good humour.
In truth, not much separates Hawthorn and Richmond; geographically it is the Yarra River; on the colour wheel you just swap black for brown and on the Ty Vickery career spectrum, the difference is just 113 games (119 for Richmond, 6 for Hawthorn).
So it was all fairly good humoured until Alex Rance thumped Luke Breust in the back of the head during a marking contest. But even then, the Hawthorn fans' booing was of a variety reserved for pantomime villains. No one really meant it; but it was our way of getting involved in the show.
Game Hair On
The pattern of the game was more or less as expected, with Richmond getting on top early and staying there, maintaining a lead that hovered around the three to four goal mark with the same consistency as Trent Cotchin's hair product.
The Tigers were fast, classy and organised, whereas Hawthorn's first quarter was characterised by skill errors and turnovers. No surprise then that it took a moment of Cyril magic to set up our opening goal; with Rioli managing to dispossess two Tigers on the wing and burst free to pass to an unmarked Roughead.
For Hawthorn, Tom Mitchell was busy and prolific as always. It occurs to me he'd be a good man to have around the house, displaying initiative and industry, and when necessary, getting to the trouble spots to clean up after other people.
For the Tigers, Dustin Martin was was not necessarily dominant, but his every possession was pivotal and usually hit the chest of a teammate in a goal scoring position. With Shaun Burgoyne out injured, we had no ball user of equivalent skill or temperament, let alone mohawk and neck tatts.
Talking of hairstyles, in the battle of the LEGO-hair men; Trent Cotchin had the better of Jaeger O'Meara.
Hawthorn International Comedy Festival
The second quarter played out like something from the Melbourne International Comedy Festival which opened this week – and that's even without Ty Vickery playing. Hawthorn provided some slapstick moments with Daniel Howe knocking out Jarryd Roughead in a pack, and Luke Breust somehow managing to trip over a teammate while attempting to take a free kick.
More abstract comic relief came after Jack Gunston rushed through a behind with his boot, only for the field umpire to call for a review and for the video reviewer to award Richmond a goal. If only Gunston had been as accurate in front of goals for Hawthorn.
Richmond debutant Jack Higgins kicked a goal after a gift of a handball from Dusty and took off on a lap of honour as if he'd just sealed the premiership with a miracle snap.
Half time drinks with the gang in the Hugh Trumble Bar extended for the entire third quarter. By the time we moved back to our seats the Hawks were 39 points behind and a 10 goal loss was looming. More drinks seemed likely.
Happily however, our boys rallied to kick five of the last six goals. It was not quite enough to send a scare through the Tigers' ranks, or provoke thoughts of unlikely victory for Hawks fans, but it was at least heartening to finish strongly.
For the Hawks, Tom Mitchell was our best (that is a given, so I won't even bother to mention it in future), but he was ably assisted by Big Boy McEvoy, Ben Stratton, Jaeger O'Meara, Jarman Impey and Isaac Smith. Jarryd Roughhead provided a good target up forward and even if a couple of his kicks went out of bounds on the full, he did kick four goals.
And Paul Puopolo did his bit to rile Richmond and remind the football world that Joel Selwood isn't the only one who can draw a high tackle. In Poppy's case it helps that he stands at the perfect height for high tackles. To tackle him around the hips would require the tackler to start from a sitting position.
So this result gives Richmond Back-to-Back Ty Vickery cup wins, but hopefully it's the last Back-to-Back they'll achieve this season.
Final scores: Richmond 15 12 102 d Hawthorn 13 11 89
Round 2
Geelong v Hawthorn
MCG
Monday 2 April 2018
ROUGH MAKES A POINT
The Easter Monday game between Hawthorn and Geelong was a physically and mentally draining game that left me wrung out and utterly spent at its conclusion, and I wasn't even playing.
If my condition at the end of the game was listed in the same manner as that of injured players, the prognosis would have been, "Taylor: Emotionally fraught and a little hoarse."
The game, as many have said, was another classic between Hawthorn and Geelong. And Hawthorn blowing a four goal lead over Geelong has become as much a part of the Easter tradition as the Royal Children's Hospital Good Friday Appeal and the egg hunt.
The only positive the Hawks fans usually take out of playing Geelong on Easter Monday is that we get to enjoy the long weekend before the inevitable disappointment of losing.
This time, however, we hung on to win by one point – thanks to Jarryd Roughead kicking a behind with a minute to go.
Sordid Threesome
If Easter originally began as a pagan ceremony of renewal and new life, then this result fits the theme and potentially sets up the season for the Hawks. But none of this looked likely before the match began.
Much of the talk pre-match, well all of it actually, was about Geelong's vaunted midfield of Patrick Dangerfield, Joel Selwood and Gary Ablett jnr. 'The Holy Trinity,' the commentators called it. The corny called it 'Dangerwoodlett,' and other labelled it 'the sordid threesome' – okay, that last one was just me.
Some commentators even included Mitch Duncan in the group and labelled them the 'fab four,' which might sound funky, but is perhaps a little flattering to Duncan. As good a player as he is, I don't think he is quite in the same league as his highly credentialed peers.
I too was worried by the Ablett, Dangerfield, Selwood triumverate, but I was much more concerned by the potential damage that 'Razor' Ray Chamberlain might inflict with his abstract, interpretive umpiring.
I was particularly worried that the game might begin in total confusion. With three three field umpires officiating and Ablett, Dangerfield and Selwood all in the square for the first bounce, there was the potential for all three umpires to blow their whistles and simultaneously award a free kick to a different player at the first bounce.
It didn't pan out quite like that, but the umpires still found plenty of opportunities to reward their three favourite players.
Fittingly, Geelong's first goal came from a Selwood ducking free kick. Up until the final quarter however, the umpiring was just routinely average, with both teams scoring goals from dodgy decisions.
It all changed in the final quarter though. Some observers say that Geelong lose some of their home ground advantage by playing home games at the G, and quite possibly they do, however, in this game they still enjoyed the final quarter free kick festival that is such a feature of their games at Kardinia Park. The final quarter tally was 11 free kicks to 1 –  a discrepancy which even Donald Trump would concede smacks of Russian meddling.
But it was not just the free kicks awarded to Geelong for no obvious reason, but the ones not awarded to Hawthorn for flagrant breaches of the rules. In the final quarter there was greater likelihood of Christ's second coming than there was of Dangerfield being penalised for holding the ball.
Triple J
None of this should detract from Hawthorn's fine performance. Tom Mitchell's 40 disposals may have slashed his season average, but he made up for it by kicking two goals.
The two Bens, McEvoy and Stratton, played well, as did the triple J boys – Jack Gunston, Jarman Impey and Jaeger O'Meara. Plus, for the second successive week, Liam Shiels kicked a long, raking goal to the City end goals. I don't know what's going on there.
Isaac Smith was also excellent. Geelong seemed to not be bothering to pick him up, which was possibly intentional given that in two of our past three games against them, Smith has single-handedly fluffed chances to defeat them.  Perhaps they thought the more possessions he got, the better.
Luke Breust and Cyril were quiet, and the quickest Sicily moved all day was to rush over to Selwood to push him over after he milked one of his ducking free kicks.
Kneeing Selwood in the head was certainly a crowd-pleaser, if not necessarily the most noble act. Even if Selwood did initiate the contact, Sicily was lucky to receive just a one week suspension. At the end of the match one of the Cats fans behind me yelled out, "You're a fucking wanker Sicily!" which might well be true, but he's our wanker.
So There is a God After All
Despite being the superior team for the majority of the match, I was not in the least bit surprised when our four goal buffer was wiped out with just minutes to go.
Deja-vous seems too wishy-washy a concept to explain the familiarity of the position in which we suddenly found ourselves, with scores level and a minute of play left. I was resigned to yet another last gasp defeat, especially when Isaac Smith bobbed up and took a mark within scoring distance. He must sensed the same, for his kick sought out Roughead who took a mark in the forward pocket.
Rough's round the corner kick missed, but it put us in the lead by one point – talk about a captain's point. And it was a brilliant tactical move, for had he kicked a goal, the ball would have gone back to the centre where Razor Ray would have inevitably found a free kick for Selwood, Ablett or Danger, or possibly all three of them simultaneously, and we would have ended up with a draw.
So our boys held on grimly to inflict a well-deserved and long overdue one point loss on Geelong. Heart-stopping yes, but ultimately heart warming.
Final scores: Hawthorn 17 16 118 d Geelong 18 9 117
Round 1
Hawthorn v Collingwood
MCG
Saturday 24 March 2018
TOM CRUISES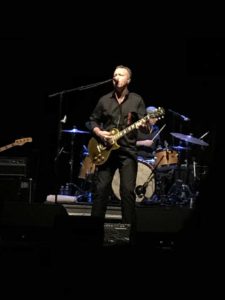 Sometime in late 2017 my friend John called me to say that he'd bought me a ticket to see Jason Isbell and his band on their 2018 Australian tour. 'Great', I thought. We'd seen Isbell play a couple of years ago and he was very impressive, so I was looking forward to another good show of robust alt-country rock. I didn't give the gig another thought until a week or so ago when it dawned on me that it clashed with Hawthorn's opening match for the 2018 season. I haven't faced this sort of dilemma since I had to choose between Australian Spartan and Married at First Sight.
Of course had it been me, I would have checked the Hawthorn fixture before buying a ticket to anything. In the event of a clash I would  then weigh up which event I'd rather see. Possibly this is exactly what John did, because he's a Collingwood supporter and perhaps had some inkling or insight into what might unfold on Saturday night.
Each season the team that draws Collingwood in Round one has a responsibility to the rest of the competition to ensure the Pies begin the year with a loss. This year the onus was on Hawthorn.
I joined John at the Palais for the concert and indeed Isbell and band were very good. But my appreciation was perhaps tempered by the realisation that I was missing a mighty Hawks triumph taking place at the G.
I was a bit disappointed there wasn't a big screen next to the stage showing the game, but naturally I was following the scores on the AFL app. The Hawks had got out to a good half-time lead by the time Isbell came on stage, but recalling our third quarter lapses from 2017 as well as in this year's JLT series, I wasn't necessarily confident. Particularly as we had given up a 40 point half-time lead to Collingwood just last year.
Still, it all looked fine as the third quarter got underway and the Hawks edged further ahead, going into the final break leading 87 – 48. Then the final quarter began and either there was something wrong with the app, or Hawthorn simply weren't scoring – we were stuck on 87 for two or three songs. Meanwhile I noted that Collingwood's score had crept up to 64. 'Surely not again' I thought.
Isbell has a song on his latest album called Anxiety and although he didn't play it, I was certainly feeling it. So when I saw the keyboard player take up the accordion in readiness to play Codeine, I took the opportunity to push past the people in my row and visit the bathroom, and also get a sense check of the match – i.e. activate the AFL live app and get some real time vision of what was happening and how long there was to go in the match.
Don't get me wrong, Codeine is an okay song, but the inclusion of a piano accordion renders it entirely dispensable, especially when the game was getting to crunch time.
It took just 30seconds or so of vision to reassure me that the Hawks weren't in any danger. Tom Mitchell had about three disposals in the brief snippet I saw and the Hawks controlled the ball. I suspected a nice late goal would end it all satisfactorily. And it did – two of them in fact, by which time I was back in my seat enjoying the show.
"Let's name all the monsters you've killed" Isbell sang during Chaos and Clothes, and I very nearly said out loud, "Collingwood for one – that's a start."
On the tram ride home I watched the highlights of the match and checked the stats, so I learnt of  Tom Mitchell's 54 disposals. When I watched the entire game the next day I was also impressed by O'Meara getting the first few clearances, Sicily's defensive marks and clearances, Breust's four goals, in particular his pirouette spin, Cyril's every move and Ben Stratton and Hardwick's mullets. But each player contributed something – even Schoenmakers kicked a lovely goal.
So where would I rather have been? Well, let's go to the applause-o-meter to get the answer…
Jason Isbell played 19 songs, so add in the various comings and goings at the beginning and around the encore, subtract one for the accordion solo, and I probably gave him 25 rounds of applause, including two standing ovations – at the end of the set and the end of the show. Not bad.
Hawthorn, on the other hand, kicked 15 goals, then add in the comings and goings at the breaks, the extra applause for a well-laid tackle, free kicks against Collingwood, Pendlebury's crucial miss late in the third term, and every one of Cyril's disposals (14, including a goal), another as Collingwood fans were escorted out of the ground by security, and we're up to about 40 rounds of applause, most of which would morph into standing ovations with perhaps a wolf whistle or a guttural roar to add emphasis. And had I applauded every Tom Mitchell disposals, I'd probably need a hand massage, if not surgery.
It's no contest really; as good as Isbell was, naturally I wish I'd gone to the Hawks match.
As news emerged from South Africa of Australia's greatest moment of sporting shame on the cricket field (cheating, and not even winning), it is good to know that we can continue to look up to Hawthorn as beacons of upstanding sportsmanship and civil responsibility, give or take the odd pokie venue.
Final scores: Hawthorn 15 11 101 d Collingwood 9 13 67
Source of satisfaction – speculation about Nathan Buckley's coaching future was already rife before half-time in round one.
Cause for surprise – thanks to a nearby tropical cyclone creating unplayable conditions in Cairns, there was actually a talking point out of the God Coast v North Melbourne match.