Lana Del Rey
Lana Del Rey
Borns
Sidney Myer Music Bowl
Saturday 31 March 2018
$130
LUST FOR LANA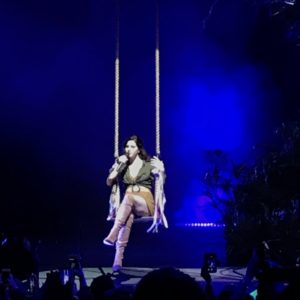 "Lana, light of my life, fire of my loins. My sin, my soul. La-na: the tip of my tongue taking a trip of two steps down the palate to tap, at two, on the roof my mouth. La-Na."
It's okay, I think, to quote from Nabokov's Lolita to express my fandom of Lana Del Rey. After all, Lana herself has a song called Lolita and has adopted many of the tropes of Dolores Haze in her pop persona. She exudes an air of the artful ingenue and her songs paint an alluring portrait of louche licentiousness and sleazy ennui with a dash of mannered fatalism. Or am I reading too much into it?
While Del Rey is of course too old to be a true nymphette in the Lolita mould, she betrays a similar coquettish innocence to her fictional forbear. Plus, I'm at least 20 years older than her so our age difference helps me to continue the conceit.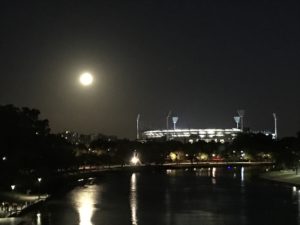 Lunar Del Rey
Appropriately enough for the 'LA to the Moon' tour, a big, bright full moon hovered low over the Music Bowl and the MCG on the night of the show. This lent an otherwise chilly evening a fitting air of feminine power and mystique, and showed that Lana can even summon celestial bodies to act as her props. We provided the moon, Lana brought the LA. As for the chill, Lana combatted that with her own sultriness.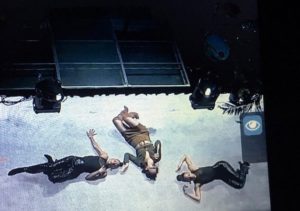 I've liked Lana since I saw her perform Blue Jeans on Letterman and the subsequent Born To Die LP. What I didn't realise until this night though was just how young many of her fans are. Not only that, but the unbridled adoration they have for her. I mean, I thought I had a thing for Lana, but my old man's crush is mild compared to the obsessive worship that many of the fans were exhibiting.
The young girl sitting next to Angela and I could not contain her excitement at the prospect of seeing Lana. She simply had to tell someone just how excited she was to be there and chose us. I guess as a middle-aged couple we looked pretty harmless. Of course, she assumed Angela was the fan and that I was simply tagging along, when in fact quite the opposite was true.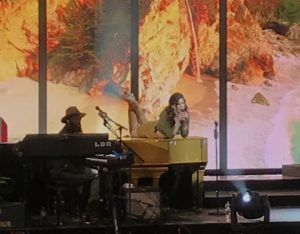 Support act Borns passed by in a sort of synth pop haze while I visited the bar and joined the masses at the merch tent, before finally giving up on it. If there was any signed or lipstick smirched vinyl for sale it would be gone by the time I got to the front.
I don't know if they were selling laurel wreaths, but plenty of young girls were wearing floral crowns. I stuck with the trilby.
Shades of Cool
Lana has changed her image for the Lust For Life album and tour, dialling down the femme fatale detachment and going instead for a sort of soccer mum or cheery hippie look. She smiled warmly for most of this gig. An opening film sequence showing scenes of Melbourne gave way to footage of a cliff face and a raging ocean. The band took the stage in darkness, and began playing, 13 Beaches, and then Lana appeared wearing a mustard thigh length leather skirt, with matching knee-high boots and olive green blouse that lent her a curious camouflage look. The squeals of the crowd when the spotlight picked her out drowned out her vocals.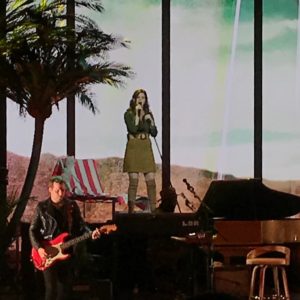 She moved into Cherry, another song from Lust For Life that exemplifies her slow burning, cinematic sound. She threw in a spot of Simon & Garfunkel's Scarborough Fair and sang Pretty When You Cry while sprawled on the stage in an artful tableau with her dancers.
Angela and I moved down to the centre aisle half way through and coaxed our new friend to come with us and push through to the front.
With a setlist that only rarely rises above a slow groove, Lana employed a range of props and distractions to keep the audience involved. A massive IMAX screen projected dramatic cinematic imagery, snippets from her career and scenes from stage.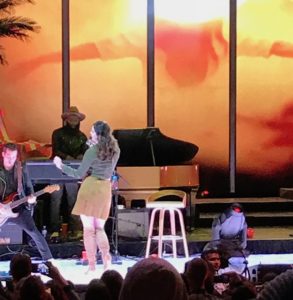 It was as much a theatrical event as it was a concert. The set design offered Lana a variety of stages on which to pose and gently sway as she crooned her way through her songs. She lay on top of the piano for one song, stood atop it for another, reclined in a deckchair under the fake palm and swung gently back and forth on a rope swing while singing Video Games. Other props included a cigarette for Shades of Cool and strapping on an arrow cut guitar for a solo rendition of Yayo.
Unsurprisingly, the Born To Die album was most represented in the setlist, but she played tracks from each of her albums. Impressively for a show that was otherwise heavily controlled and choreographed, she took requests from those near the front – we heard Gods and Monsters and Million Dollar Man as a result. In the lead up to National Anthem she teased us with a cover of Marilyn Monroe's Happy Birthday Mr. President.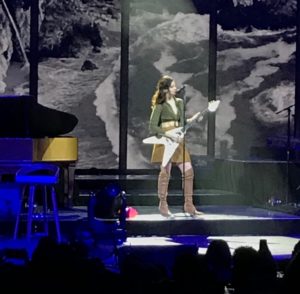 Del Rey maintained her cool throughout, posed for selfies with fans, accepted bunches of flowers and other gifts and generally seemed to enjoy communing with her fans in the front rows.
She closed the night with two of her most popular songs, Summertime Sadness and Off to the Races, two unlikely anthems that the audience belted out in unison.
It was the last concert of the season for the Bowl. Since the beginning November I've seen Midnight Oil, Lorde, Paul Kelly, The National, and now Lana Del Rey play the famous amphitheatre. Lorde was possibly the most exuberant, but this was every bit as good.
Setlist
13 Beaches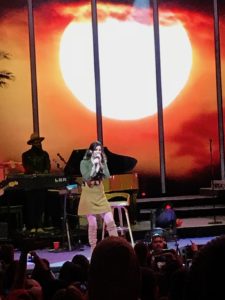 Cherry
Scarborough Fair
Pretty When You Cry
Mustang
High by the Beach
Born to Die
Blue Jeans
Happy Birthday Mr. President
National Anthem
Gods and Monsters
Million Dollar Man
West Coast
Lust For Life
Change/Young and Beautiful/Black Beauty
Ride
Video Games
Yayo
Shades of Cool
Summertime Sadness
Off to the Races