Patti Smith's Horses
Patti Smith's Horses – Adalita, Courtney Barnett, Jen Cloher, Gareth Liddiard
Melbourne Town Hall
Sunday 18 October 2015
$33.15
Hobby Horses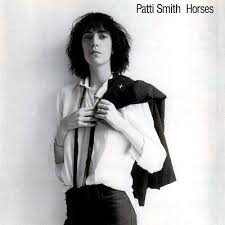 The live album show, in which an artist performs one of their classic albums live in its entirety, is now commonplace.  But if you don't happen to have an album that wears the 'classic' mantel, then don't worry, just perform someone else's classic album. As part of the Melbourne Festival, Jen Cloher has put together a line-up to perform Patti Smith's debut album, Horses to celebrate its 40th anniversary.
The idea, Cloher explained in interviews to promote the event, came after a series of concerts in which local artists performed classic Beatles albums – The White Album, Rubber Soul and Revolver. She thought it would be a good idea to celebrate a classic album by a female artist. She's right; it is a good idea, and if you don't have what it takes to tackle Pussyfoot or Pat Wilson's Bop Girl, then Patti Smith's Horses is a good place to start.
The songs on Horses are not conventional, in that they don't follow a verse-chorus-verse type structure, and in typical Patti Smith style, there are epic nine-minute songs, monologues and moments of free-form poetry. It's not so much that her songs go off on a tangent; they start on one and then veer off further in unexplored terrain.
For an album that opens with a cover version of sorts, Patti's take on Van Morrison's Gloria, it seems like an unusually difficult album to cover, so the choice of singers was always going to be critical to the chances of success.
Here, Cloher chose exceptionally well. Her own most recent album, In Blood Memory, shows that she can match both Smith's brash guitar approach as well as her bold singing style. Plus, her wispy-edged haircut is reminiscent of Smith's in Robert Mapplethorpe's famous cover portrait. Likewise, Adalita; Australia's first lady of rock, could cover a Danni Minogue song and make it sound good. Then there's Courtney Barnett, the 'it' girl of Australian indie music, and also, as it happens, of Cloher's heart. On paper her deadpan style doesn't necessarily seem a natural fit for Smith's songs, but she does bring attitude and more helpfully perhaps, a sizeable audience. The inspired choice is the inclusion of Gareth Liddiard, lead singer of The Drones, whose own songs rattle and ramble, spurt and snarl in a manner reminiscent of Smith's. If Patti Smith has a male heir, it is possibly Liddiard.
I met my friend Jason out the front before the show. I was only 11 years old when Horses was released in 1975 so it's not an album I grew up with, but knowing my taste, Jason, who is a few years older, introduced me to Smith's Easter and Horses albums in my mid-teens. And in the mid to late 90s I saw Patti Smith perform at The Palais.
The Melbourne Town Hall with its massive pipe organ seems like a grand venue for this venture, but I've been here before for gigs and the sound is less than ideal for rock music. The stage is nice and high though, so short-asses like me can stand back a bit and still see quite easily.
Side A
The show began without fanfare; Adalita walked out and kick started things with Smith's classic opening line, "Jesus died for someone's sins, but not mine." Perhaps that was fanfare enough. Adalita was magnificent; she prowled the stage and spat out the song with gusto and Smith-like menace.
Next up was Barnett who took the stage to great acclaim to perform Redondo Beach. Without her customary guitar, she hunched her shoulders and remained at the mike stand for the reggae tinged number. It was an understated rendition by Barnett who seemed conscious not to hog the limelight.
Even before the show it was inevitable that Liddiard would take Birdland with its intense atmospheric sound, literary pretensions and irascible spitting lyrics. It might even be a Drones song. Like Adalita on Gloria, he absolutely nailed it.
The band consisted mainly of Drones from what I could tell – Dan Luscombe was on guitar and Steve Hesketh on keyboards and I think the drummer might have been Jen Sholakis from Cloher's band. While the supporting cast remained in the shadows, the spotlight remained on the respective singers.
Side B
Adalita was back to rip through the anthemic Free Money to round out Side A, before Jen Cloher made her first appearance to sing Kimberly. As Jason commented, Cloher's reading was more of an impression than an interpretation, but it is perhaps a sign of her generosity that she took this song, which is, arguably, the weakest, or least remarkable song on the album. It was like being drawn to sing Maxwell's Silver Hammer in an Abbey Road tribute show, without even having the benefit of an all-in "Bang! Bang!" sing-a-long moment.
After Barnett sang Break it Up, this time her demeanour more exuberant to match the boisterous song and it's big chorus, Cloher returned for a redemptive and show stealing version of the epic nine minute title track Land. Obviously relishing the opportunity to sing an undeniable rock classic, she injected everything she had into her performance, suggesting that she had deliberately underplayed her hand during Kimberly so that she could channel all effort and emotion into this one song. As the lyrics exhort, she did the watuzzi, the Boney Maroney and much more, even sprinting a couple of laps of around the stage perimeter.
After her remarkable rendition, Liddiard's final song, Elegie was always going to be a bit of a low key let down. That's not a criticism – that's the role the song assumes on the album as well.
For the encore they played My Generation, which was the B-side to Gloria and a bonus track on the cd version of the album. Given the audience was made up of an equal mix of people who would have known the album from its first incarnation, as well as people from the Coutney Barnett musical epoch, it was hard to know which generation they were referring to. Perhaps that was the point…all rock fans are pilgrims to Patti Smith. In keeping with Smith's recording, it was a ragged and raucous reading that degenerated into all three women shouting the song's refrain into the mike, Barnett writhing on the ground, while Liddiard expunged feedback from his guitar. I'd have preferred Because The Night or Rock N Roll Nigger, but I suppose they had to stick to the script, and if nothing else, it made for a suitably destructive ending. Still, would it have killed them to get Daryl Braithewaite up for his version of Horses?
Aside from the Town Hall's muddy sound and overpriced warm beer, the only problem with the gig was the lack of fanfare or any sort of communication with the audience. I know it is very rock 'n' roll to eschew such niceties, and you don't necessarily need Bert Newton as MC, but someone to introduce the singers and the band would have been nice.
Even so, at approximately $30, this represented exceptional value, even if the whole thing only went for an hour. If a stage musical of Patti Smith's life is ever put together, a la Johnny Cash, ABBA and Queen, Adalita or Jen Cloher would be perfect in the lead role. And at the rate it is selling, perhaps for next year's festival Jen Cloher could put together an all-star cast to pay tribute to partner Coutney Barnett's debut album, Sometimes I Sit and think and Sometimes I Just Sit – it's already reached classic staus.
Set list
Gloria – performed by Adalita
Redondo Bech – performed by Courtney Barnett
Birdland – performed by Gareth Liddiard
Free Money – performed by Adalita
Kimberley – performed by Jen Cloher
Break It Up – performed by Courtney Barnett
Land – performed by Jen Cloher
Elegie – performed by Garth Liddiard
– – – – –
My Generation – performed by Adalita, Courtney Barnett, Jen Cloher, Gareth Liddiard