The Fall
The Fall
Melbourne Festival Hub
Friday 23, Saturday 24 & Sunday 25 October 2015
$55 x 3
IN THRALL TO THE FALL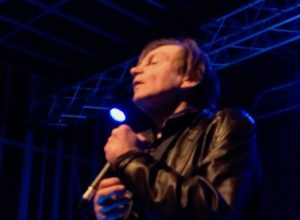 We were crammed in near the front of the stage when the lights dimmed some 45 minutes after The Fall were meant to have stared. The band belatedly emerged: Eleni Poulou on keyboards, Peter Greenway on guitar, Dave Spurr on bass and Kieron Melling on drums. They set up a throbbing, bass heavy riff that chugged along in a tight robust rhythm for a few minutes while we waited for Mark E Smith to appear. Another minute went by, still no Smith. Then suddenly we heard that familiar phlegm infused growl crackle out of the speakers. Smith was beginning his monologue from the dressing room, or somewhere off site, exclaiming something or other in garbled syntax, his guttural tone and Mancunian accent rendering him entirely incomprehensible. Just as we began to think Smith might do the whole gig from backstage, he wandered into view, hitching his pants and chewing cud, entirely indifferent to our wild applause and cheers. The great man was among us…
————
A month ago if anyone had asked me to imagine my best case scenario over the next 30 days, I'd have probably said something along the lines of Hawthorn winning the premiership, being offered a redundancy package at work, The Fall playing three nights in Melbourne and Scarlett Johansson knocking down my door to demand immediate and wanton sexual dalliance.
So imagine my excitement when three of these four options eventuated! Sadly, it was the last of these possibilities that didn't ensue, but it is perhaps a measure of my warped priorities that it wasn't necessarily the most desired of the four options.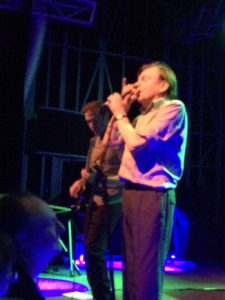 The Fall were appearing as part of the Melbourne Arts Festival. Along with a theatrical adaptation of George Orwell's 1984, Toni Morrison's Desdemona, the usual Israeli and Belgian dance troupes, immersive performance pieces and esoteric theatre, this year's festival included a good music program headed by Laura Marling and a performance of Patti Smith's Horses album by Jen Cloher, Courtney Barnett, Adalita and Gareth Liddiard. There were celebrity DJ sets, jazz guitar virtuosos, and Flight Facilities performing with the Melbourne Symphony Orchestra.
For me, however, The Fall's three-night residency at the Festival Hub on the banks of the Yarra was by far the most tantalising prospect in the entire festival line-up.
The Fall have been one of my favourite bands since they released Grotesque in 1980 – I think I scored a copy for my 16th birthday. I've followed them on and off ever since, and I alternate from periods of normal fandom, playing them once a month or so, to obsessive-compulsive nut when I play The Fall exclusively for weeks at a time, much to the dismay of my family.
They have released 30+ albums (not including compilations and live albums, of which there are literally hundreds) and I have all of them on vinyl or CD plus download, or in a number of cases, all three formats.
Their particular brand of music is repetitive and dissonant. It includes strands of post-punk, industrial, kraut-rock, new wave, no wave, grunge, punk-a-billy, techno and drum 'n bass – sometimes all in the space of one song. The only constant is lead singer Mark E Smith's spoken word vocal, that once was a ranting yelp and is now more of an incoherent growl.
Some of their records are mixed with a degree of sonic finesse, while others are so slapdash and rudimentary they make the Legendary Stardust Cowboy's Paralyzed sound like a sophisticated aural soundscape. It's not something you generally play in polite society or mixed company, by which I mean non-Fall aficionados. For example, I don't play The Fall if my wife is within earshot, but if I want the room to myself I just put on 1983's Perverted by Language or pretty much anything from the 1990s.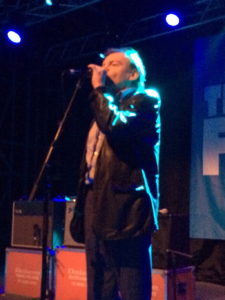 I've seen The Fall on each of their previous tours to Australia; 1982, 1990 and 2010. Plus, I saw them play in 1993 when I was in London. I've read lead singer and band meastro Mark E Smith's autobiography, Renegade, as well as memoirs by at least four former members of the band. With 40 + ex-members, Fall tell-alls are themselves a publishing cottage industry.
There is even a rock t-shirt that proclaims 'I Used to be in The Fall' and there are probably enough actual former members to ensure ongoing profitability. In fact, the best music book I've read is The Fallen by journalist and Fall fan, Dave Simpson, who rounded up former members and quizzed them about their time in the band.
Smith famously rules the band with a ruthlessness that would make even Vladimir Putin consider contacting HR. He has sacked band members on stage, physically assaulted band members on stage and off, withheld wages, denied writing credits, altered the settings and levels on amps and microphones mid-song, replaced members without informing them, refused to take the stage, and just as often stormed off it. In severe cases, he even married a couple of his band members.
I'm no psychologist, but I'd say he sits somewhere near the upper end of the sociopath spectrum and his actions would be classified as workplace bullying in any other context. Really, we should probably be thankful it is just a small-scale post-punk band he runs and not an organisation or island nation.
Having said that, and regardless of how Smith treated his musicians or offloaded them, most of his former band mates say that being a member of The Fall was the highlight of their lives and that they'd work with him again.
This tour by The Fall marks an oddity in that it features the same line-up that played on their previous Australian tour in 2010. Much like the English cricket team, the band has a history of imploding during tours to Australia. They may have imploded before they even got here, for they've been playing around Europe with a second drummer, but he doesn't seem to have made it. It's quite possible Smith simply neglected to inform him about the tour – he's done that before too – or left him stranded at a duty free shop at Abu Dhabi on the way over.
——–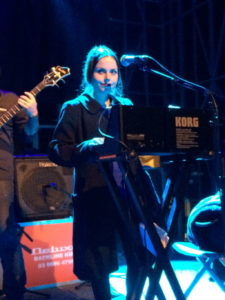 In my introduction to this series of blogs, I quoted the saying that writing about music is like dancing to architecture, but trying to explain why you like The Fall is perhaps even harder.  To say they are an acquired taste is to give the phrase new meaning. Even so, the 'F' rack is the first section I visit in any record store and I pre-order every new Fall release because Australian record stores aren't as avid about stocking Fall albums as I am.
There is a saying that good things come in threes and that is certainly true of October 2015. Firstly, Hawthorn completed an historic three-peat, winning its third premiership in succession. Then the Melbourne festival program was announced with The Fall booked to play their own three-peat.
I booked tickets to the Friday and Saturday night shows. My wife couldn't understand why I booked tickets to two shows; I couldn't understand why I hadn't booked tickets to all three. My reasoning was that if you buy tickets to two shows, there's a chance Mark E Smith might actually turn up for one of them, and there's a better chance of seeing a good show.
And that second proved prescient, for after a good, but somewhat brief show on Friday night (45 minutes…including encore), Saturday night's show was a triumph – a full hour for a start (a Hex Enduction hour?) and a robust, energetic performance, complete with the unexpected sight of Mark E Smith smiling as he 'assisted' guitarist Peter Greenway by fingering his fretboard during Theme From Sparta F.C. The Saturday night gig was such a buzz that I went directly to the box office at its conclusion and bought a ticket for the following night as well. I would see all three nights after all.
——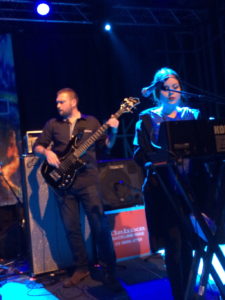 As we waited for the band to take the stage for the first Friday night show, the family of Fall fans down the front talked amongst ourselves, reliving our various experiences of seeing the band and putting forth our credentials as fans.
On the Friday night I was chatting to a young couple, Rudi and Laura, and they were impressed by my seeming Fall vintage, having seen the band on their first tour of Australia in 1982 tour. I was more impressed by their youth.
I was easily outdone by far hardier Fall fans, however, particularly on the Saturday night where I met one bloke who proudly announced that this was his 100th Fall gig. He'd travelled out from the U.K. and seen them in New Zealand, Brisbane and Sydney before the run of Melbourne shows. But even he was outdone by the bloke behind him who was celebrating his 107th Fall gig. I'm impressed by their tabulation – I've seen The Fall on fewer than 10 occasions over 35 years, but even so, I couldn't tell you the exact number. I wondered if they get a little tattoo for each gig they see.
There was also a little cohort of Fall-spotters out from the U.K. – I saw them gathered together in a little knot comparing and photographing set lists after the Sunday show.  I suppose most bands have their regulars, people who follow them around, groupies and the like, but travelling across hemispheres to see a band you've seen 100 times before shows a degree of devotion and ardency that is certainly unusual, and possibly even unnatural. I've always considered myself a bit of a Fall tragic, as evidenced by my set of drink coasters featuring Fall album covers, but compared to some of these blokes (yes, it's always men), I barely even rate as a casual fan.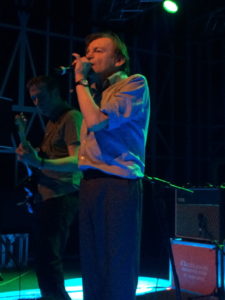 By the Sunday night I was chatting to blokes I'd seen at both the Friday and Saturday night shows. Most people had their own story of seeing The Fall in Glasgow, or some out of the way town in the U.K. or Europe. One guy on the Saturday night told us he'd seen them on the 1982 tour at The Venue in St Kilda. I was with Ralph on the Saturday night and we both nodded and said that we had also seen that tour, but at the Seaview Ballroom. Our interlocutor informed us that we were wrong – that they never played the Seaview Ballroom. Again we nodded, not because he was right (he wasn't), but because we couldn't be bothered having the argument. The Fall did indeed play two nights at the Seaview Ballroom in 1982, as well as one from The Prince of Wales Hotel, which was broadcast live to air by radio station 3PBS and is available as Live in Melbourne.
One common link among the local fans, however, was the reverence with which we all spoke about the 2010 show at 170 Russell Street (formerly Billboard). It was such a powerful gig that everyone who witnessed it felt bonded in some weird, metaphysical way and I'd say the majority of people who saw that gig had a ticket to this Festival run.
——
When Smith emerged for Friday night show, he put the microphone to his mouth and growled something like the words for No Respects rev as he stared blankly out at the audience.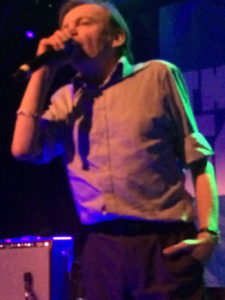 Smith's on stage antics are well known and over the course of this three-night residency he managed to indulge in almost all of them, from nudging his wife, Eleni Poulou, away from her keyboard so that he could run his fingers indiscriminately over a few keys, regularly fiddling with the knobs on Peter Greenway's amp, rearranging the microphone stands around Kieron Mellor's drum kit, and on one occasion moving drums and cymbal stands out of Mellor's reach. Only Dave Spurr's massive bass amp escaped this treatment as Spurr has learnt to stand resolutely in front of his amp to protect it from Smith's meddling.
Being a sound engineer for The Fall must be one of the most thankless jobs in the music industry. Just when you think you've captured the right nuance of sound, Smith lumbers on stage and changes all the settings. The remarkable thing about Smith's on stage mixing and fiddling, however, is that quite often he managed to improve the sound. At one point he turned up Greenway's amp just as the guitarist let rip with a blistering guitar break. Perfect timing.
Despite these distractions and meddling, the band were tight and powerful, and Smith was magnificent, prowling the stage and wincing as he mumbled some incomprehensible doggerel into the microphone, or even two microphones as is his wont.
Smith maintains a weird, counter-intuitive relationship with his fans, one that is quite unique in rock music, in that the more we admire him, the more indifferent he is to us, and the more indifferent he is, the more we adore him. As another Mancunian once sang, 'the more you ignore me, the closer I get.
——–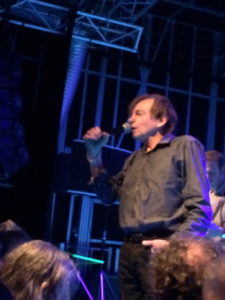 The set on each of the three nights was mostly drawn from their most recent album, Sub-lingual Tablet, and 2010's Your Funeral, Our Clutter. But there were occasional incursions into the back catalogue, back to Tuff Life Boogie, a b- side from the 1980s, and Mr Pharmacist, one of the band's signature cover versions. Another cover, White Lightning, was the sole song they played from the 90s.
Friday night's show was short but raucous, with the show ending on two of Smith's more belligerent recent rants, Facebook Troll and Quit iPhone, songs that are so discordant and dissonant I sometimes have to skip them. The encore was a almost melodic by comparison, with White lightning and probably their best song of this century, Theme From Sparta F.C.
They played that song on each of the three nights, as they did Venice With the Girls,
Dedication Not Medication and a new song, Wise Old Man. This song sits snugly within the sonic spectrum of recent records, all clumped guitars, heavy bass and Smith's fulminating tirade. Overall they played 19 different songs over three nights, so it was well worth attending each gig.
The best of the three nights in length, consistency of performance and sheer energetic playing was Saturday night. Having said that, a couple of the real highlights came on the Sunday night when they played Auto-chip 14-15 and then returned for a second encore to play Blindness, a relentless, driving number from 2005's Fall Heads Roll. It was the perfect way to end their run of shows. In fact, Smith wandered off the stage to signal the end of the show and forced the drummer to go with him, as the rest of the band kept playing nervously. It was typical Fall.
Mark E Smith: genius or jerk? I don't know but I remain in thrall to The Fall.
Setlists
Friday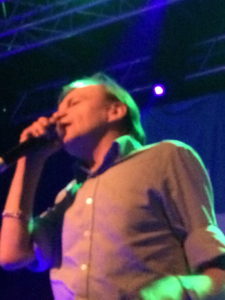 No Respects rev
Venice With The Girls
Bury
Dedication Not Medication
Wise Old Man
Facebook Troll
Quit iPhone
———
Theme from Sparta FC
White Lightning
Saturday
Wolf Kidult Man
Venice With The Girls
Cowboy George
Bury
Wise Old Man
Dedication Not Medication
Tuff Life Boogie
Junger Cloth
Theme From Sparta FC
Snazzy
———-
Pledge
Mr Pharmacist
Sunday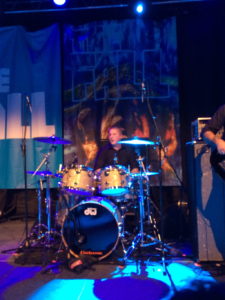 No Respects rev
Venice With The Girls
Wolf Kidult Man
Dedication Not Medication
Wise Old Man
Auto-Chip 14-15
Tuff Life Boogie
Mr Rode
———-
Theme From Sparta F.C.
Bury
———
Blindness