Paul Kelly
Paul Kelly
Gang of Youths
Meg Mac
Gretta Ray
'Making Gravy' – Sidney Myer Music Bowl
Saturday 16 December 2017
$150
KELLY'S LAST STAND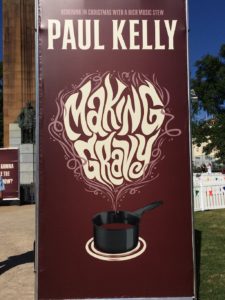 PaulI Kelly has already attained national treasure status. He is regarded in music circles as Australia's great storyteller and gets wheeled out as support act to the true greats; Bob Dylan, Leonard Cohen and the like. He's the man tour promoters turn to when they want to showcase a literate Australian. He's done everything there is to do in music: written anthems, had top 10 hits, met Molly, performed at the AFL Grand Final, overcome a heroin addiction, played with a Luscombe and left a string of former wives and partners in his wake. But as his book, How to Make Gravy attested, even he was nervous about ringing Nick Cave.
It's usually a sign that you're washed up once the government take notice of you, so there were fears his career might be over when he was appointed as an Officer of the Order of Australia early in 2017. Instead he has enhanced his reputation with a truly excellent album, Life is Fine. The songs are indeed among the best he was written for some years, and the record features a full rock band sound. After a series niche projects like setting Shakespeare sonnets to music, covers of songs about death with Charlie Owen, duets with Neil Finn, the general view is that with Life is fine, Paul Kelly has made a proper record again.
It really is a beauty. The first single, I Smell Trouble hinted at the quality of the album, but it was the picture on the cover that made me suspect he had made something special. It's a picture of Kelly submerged in the ocean with only his head visible above the lapping water, plus his hand held up as if to say, "not waving, drowning", or most likely, "don't take my photo."  It's a great image. You may not be able to judge a book by its cover, but sometimes you can tell a good record by its cover.
I couldn't find anyone who wanted to join me when Paul Kelly's Life is Fine tour swung through Melbourne in November. So when this special Christmas show, Making Gravy, was announced, with Kelly, Gang of Youths and Meg Mac, I bought a ticket for myself in the stalls and looked forward to a relaxing evening at the Bowl with some groovy sounds.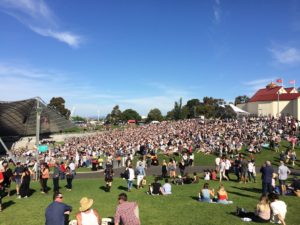 Life is Fine
Gretta Ray was performing Drive as I walked over the hill. It's her 'big' song so I suspected she was about to wind up her set. The song goes for awhile, so I had time to check out the merch stand and pick my way through the picnickers on the hill and get to my seat before she bade us farewell.
Paul Kelly 'Life is Fine' tour t-shirts mixed with Gang of Youths 'Say Yes to Life' t-shirts on the backs of the people lounging in the sunshine. All this positivity made me feel like I was at some sort of revival gathering. Thankfully Meg Mac was here promoting an album called Low Blows that helped balance out the upbeat vibes.
Further offsetting the happy positivity was being asked to show ID before I could get a wrist band to enter the bar. I didn't even get asked for ID when I was 16, and here I am about to turn 18 for the third time and they have finally think to check my credentials.
Meg Mac – the Caped Crusader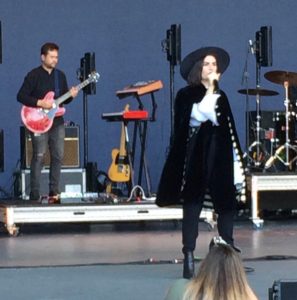 Meg Mac is a R&B/soul singer who I've only really heard in passing, and although her music is not really my thing, she has a strong following, many of whom were in the audience. There was a little cluster of girls to my left who squealed in recognition as each song started.
Her band consisted of guitar, bass, keys, drums and two backing vocalists. Meg wandered on stage wearing a brimmed hat, a white shirt with large French cuffs undone and a velvet cape – she looked like a musketeer on her way to a swordfight.
This blog is not really the forum to air my fetishes, but where some men claim to be arse men and others breast men, I'd describe myself as more of an eyebrow man, and Meg might just have the best eyebrows in Oz rock: they're thick, dark and bestow on her a sullen, brooding look that I was always quite partial to. She also has a spectacular voice, so even though her brand of slick R&B or neo-soul is not much represented in my record collection, I sat there happily as she went through her set.
Low Blows is a good song and she got us all clapping along to Grandma's Hands. I could see Gretta Ray dancing in the wings as Mac performed Maybe it's My First Time and Paul Kelly was hidden beneath a baseball cap and taking in her set from the boxes on the side.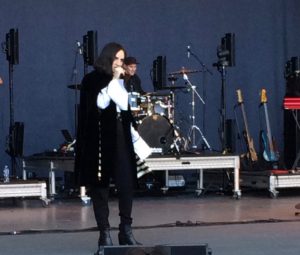 Mac finished with a couple of her early singles, Never Be and Roll Up Your Sleeves – advice she didn't heed herself, for her cuffs flapped about on her wrists like seagulls fighting over a chip. Still, most of the people seated around me seemed to be familiar with these final two songs and were singing along. And whatever you might think of her music, only someone truly stylish can carry off a velvet cape, and Meg Mac did so with aplomb.
Setlist
Grace Cold
Brooklyn Apartment (It's Louder Than the TV and the Radio)
Low Blows
Didn't Want to Get So Low
Grandma's Hands
Maybe it's My First Time
Ride It
Never Be
Roll Up Your Sleeves
Gang of Youths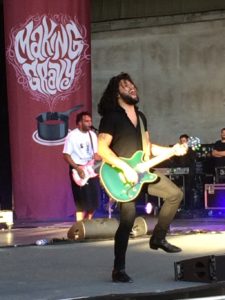 Gang of Youths recently swept the ARIAS winning best album, best group and several other awards, beating Paul Kelly in several categories. Even so they're much better than this might suggest.
By name they may sound like a cross between Gang of Four and Sonic Youth, but sonically they sound more like a cross between Springsteen and U2. Visually, lead singer David Le'aupepe has the look of Jim Morrison L.A. Woman era combined with the moves of Michael Hutchence and the name of a Musketeer – yes, he really is that sexy and charismatic!
Their music is no more my thing than Meg Mac's, but you have to admire the way they filled the Bowl's amphitheatre with their big, widescreen sound and the way Le'aupepe used the entire stage. He strutted, he pouted, he punched his fist over his heart, raised it into the air (see what I mean about Bono), he stood atop the foldback speaker and raised his guitar in the time honoured rock god pose. He did it all. And when he put down his guitar to go he gave us a series of sassy moves replete with a bit of French mime. I mean, Fuck off! I bet he can cook and is handy about the house as well. It says something about Le'aupepe's magnetic stage presence that the guy on guitar in dreadlocks wearing a dress was barely noticeable.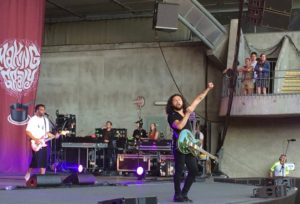 Very few support acts can get the Bowl crowd to their feet, but there was a big contingent of Gang of Youths fans on hand and we were up and filling the aisles for most of their set. As I said I can take or leave their music, but they are a ripping live band and Le'aupepe might just join Hutchence, Bon Scott and Nick Cave in the pantheon of great Oz rock frontmen.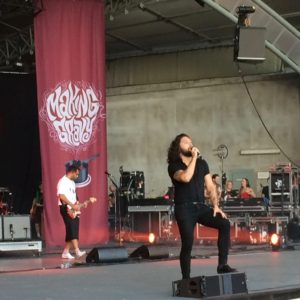 During Magnolia, Le'aupepe left the stage to join us in the aisles, pushing through so that he could get to the folks on the hill and do his full Bono routine, arms raised, slapping backs, getting a singalong going and just being a general sex god.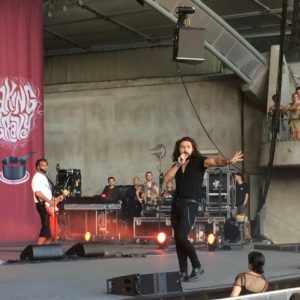 What a triumph! Such was their impact I was wondering if Paul Kelly might be regretting inviting them onto the bill.
Setlist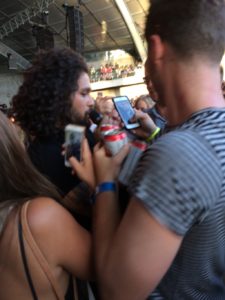 What Can I Do if the Fire Goes Out
Atlas Drowned
Sjamboska
The Deepest Sighs, The Frankest Shadows
The Heart is a Muscle
Let Me Down Easy
Vital Signs
Magnolia
Paul Kelly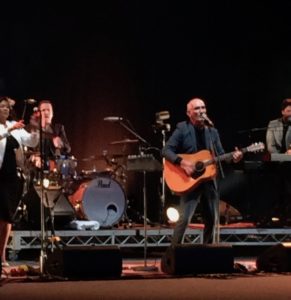 Whereas Gang of Youths had spread out across the entire stage and Le'aupepe had even taken their performance up to the hill, the equipment for Paul Kelly was set up in a tight, compact cluster in the middle of the stage.
The contrast in styles was apparent when Kelly walked on stage with just an acoustic guitar and performed the title track from his new album, Life is Fine, solo. From the widescreen vista and big sound of Gang of Youths, suddenly we were honing our attention on one man alone on a vast stage with just guitar and voice.
Kelly's nephew Dan joined him for the next song and together they played the classic From St Kilda to Kings Cross. Nothing gets a Melbourne crowd on side quicker than one-upping Sydney, and this is perhaps the best known example in song, where the glorious Sydney Harbour is subordinate to the grimy promenade of St Kilda beach. Written and recorded more than 30 years before Life is Fine, it provided a nice link from one of his latest songs to one of his earliest.
The rest of the band wandered on at this point, including the Bull sisters in matching black dresses, white jackets and white flowers in their hair. More than just backing singers, they take it in turns to take centre stage, with Kelly handing over lead vocal duties from time to time, giving the show variety and depth.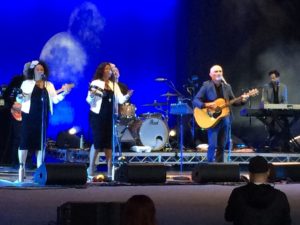 Kelly devised a setlist that showcased his new material, while mixing in a regular supply of classics and crowd favourites to keep everyone singing along and even enticing the punters into the aisles to dance. Before Too Long was the first such moment a few songs in.
Vika Bull took the lead vocals on My Man's Got a Cold – Kelly's salute to the dreaded man-flu. He followed this with Careless, admitting that he stole the chords from The Go Betweens' Apology Accepted. He put down his guitar and took to the keyboards for I Smell Trouble – as good a song as he has ever written, the circular piano motif pre-empting the sense of foreboding in the lyric.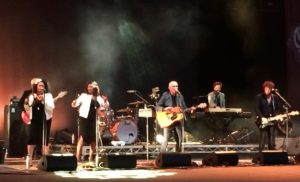 Sitting a few rows in front of me on the aisle was Brian Nankervis of Rock Wiz fame. Even though he has met and worked with all the people on stage, like any fan, he was clapping his hands above his head when the Bull sisters and Peter Luscombe were introduced, fussing over the focus of his iPhone to get the best action shot, and getting to his feet to dance to How to Make Gravy. This song came surprisingly early in the set, given it's the song that gave the night its title. The obsessive-compulsive list maker within me thought this would be saved for the encore, but it shows that Kelly doesn't follow conventions and that he had plenty more where that came from.
Nothing illustrated this more than the fact that with the Bowl at fever pitch, instead of following Gravy with another crowd pleaser, the band left the stage and Kelly played They Thought I Was Asleep solo. It's a song about a child listening in secretly as his parents' marital discord is exposed, and while it's one of my favourite Paul Kelly songs, it certainly killed the party vibe that he'd created.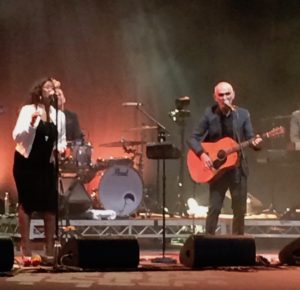 To further confound the audience, he followed this with Sonnet 18 (Shall I compare thee to a summer's day) from his Shakespeare EP, sharing the vocal with Linda Bull, over which you could hear the sound of a thousand people murmuring. Linda Bull continued on lead vocals for Don't Explain.
Their solo moments were good, but I loved watching the Bull sisters working in unison. Their gestures are always perfectly aligned – whether it's extending their right arm, raising their left, or shifting their weight from leg to leg. I couldn't help wondering if they were like that as kids playing with their toys, or when they dine out, ordering the same meal and working their knives and forks in perfect symmetry.
Meanwhile the hits kept coming, To Her Door, followed a few songs later by Leaps and Bounds – the crowd in full voice for the line, "…at the Emm Cee Geeee!" – and Dumb Things. Vika Bull took the lead vocal on What Makes Such a Sweet Guy Turn So Mean, and brought the house down with her resonant voice.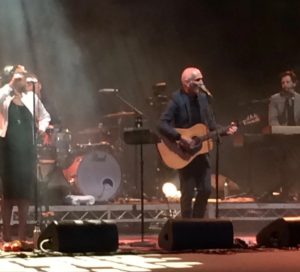 They closed with Deeper Water and the sing-a-long gospel song, Oh Lord Hasn't It Rained, alternating the vocals between various band members.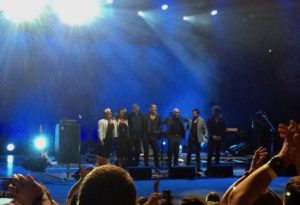 During the early parts of the concert I'd been following the Test match form Perth where Steve Smith had scored a double century for Australia. Returning to the stage for the encore, Paul Kelly said, "we might have a new Don Bradman – his name is Steve Smith" and played his ode to Australia and test cricket's greatest ever batsman.
Look So Fine, Feel So Low and Darling it Hurts rounded out the encore, before the musicians gathered arm-in-arm centre stage and sang Meet Me in the Middle of the Air a capella.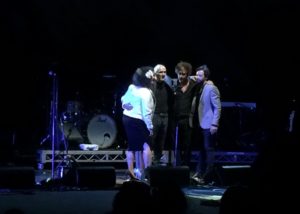 When they returned for the final encore, they played the little known Down on the Jetty, with the Bull sisters on vocals, after which a large section of the audience began chanting for From Little Things Big Things Grow. Singing it in fact. "Alright" said Kelly, and played it. If he wasn't going to end with How to Make Gravy, then this song was always going to conclude the night.
Paul Kelly may not wear a cape as well as Meg Mac, but his eyebrows are perhaps her equal. And he may not have the grand anthemic gestures of David Le'aupepe from Gang of Youths, but he does have grand anthems about great Australians: Vincent Lingiari, Don Bradman and Ned Kelly, about iconic Australian locations, the MCG, Darlinghurst, St Kilda and Kings Cross, and about everyday men and women living lives familiar to us all. In singing them here at the home of Candles by Candlelight, Paul Kelly brought us a night of secular joy and goodwill.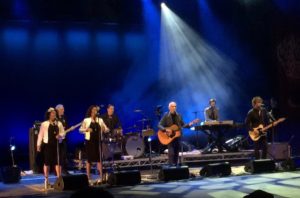 Setlist
Life is Fine
From St Kilda to Kings Cross
Rising Moon
Finally Something Good
Before Too Long
Our Sunshine
Firewood and Candles
My Man's Got a Cold
Careless
Letter in the Rain
I Smell Trouble
How to Make Gravy
They Thought I Was Asleep
Sonnet 18
Don't Explain
Love Never Runs on Time
To Her Door
Josephine
Song From the 16th Floor
Leaps and Bounds
Dumb Things
What Makes Such a Sweet Guy Turn So Mean
Deeper Water
Oh Lord Hasn't it Rained?
————-
Bradman
Look So Fine, Feel So Low
Darling it Hurts
Meet Me in the Middle of the Air
————
Down on the Jetty
From Little Tings Big Things Grow