Big Thief
Big Thief
Howler, Brunswick
Friday 8 December 2017
$42
THIEVES LIKE US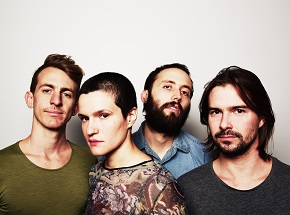 Every now and again I see a band or performer who are so good that I think my wife might overcome her aversion to noisy, crowded pubs (or me) and join me at the show. Having seen Big Thief at the zoo earlier in the year when they supported Warpaint, I was so impressed I bought two tickets when they announced a sideshow at Howler ahead of their Meredith Festival performance. I thought Angela would enjoy Adrianne Lenker's singular songwriting and impassioned live performance. And hopefully give me a lift home.
She was never really on board, and in the end she bailed, or got a better offer, so my friend John joined me. He hadn't heard of Big Thief before (he obviously doesn't read this blog) and I was worried that I might have oversold them in my appraisal, because when we met up on the night he was still buzzing from seeing Paul McCartney play a few of nights earlier. I feared he might be in for a bit of a let down. Shark Smile is a good song, but it probably doesn't have quite the cultural cachet or live impact as 25,000 people singing along to Hey Jude. On the other hand, there was a good chance they'd play Paul – one of their best songs.
On a side note, readers may be wondering why a blog ostensibly about live music in Melbourne would overlook, snub if you will, the first performance in 20 something years by a real live Beatle. Yes, I know Ringo played at Crown a couple of years ago, but you know what I mean – one of the good Beatles. The simple reason is that I'm not a fan of the arena show. After seeing Springsteen at AAMI Park earlier in the year, I can't imagine an act that would get me back there, not now that Bowie is no longer with us. You pay $200-$300 to see a guy who has more money than most small nations (what is that?), for a seat 2-3 kms from the stage from where he appears no bigger than an actual beetle, as in the garden variety. And then there's still the danger he'll play Ob La Di, Ob La Dah. No thanks! On the other hand, everyone who went said it was an absolute blast, so that'll teach me.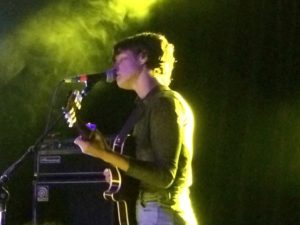 Buck's Fizzer
When Big Thief emerged there was only three of them; Buck Meek, multi-instrumentalist and lead guitarist – and the best name in rock – wasn't there. It was like going to a Beatles gig, I imagine, and finding out George was a late withdrawal.
I wasn't the only one feeling Buck's absence, for people were shouting out "Where's Buck?" Lenker had to reassure us that he was still in the band, but had stayed in new Zealand to record a solo album. Which sounds like the same excuse Paul used when he quit The Beatles, except for the bit about not being able to stand Yoko. What made this interesting was that Lenker had to take lead guitar duties, and she went for a feedback over refinement approach, which worked perfectly and gave the gig a bit more oomph than might otherwise have been the case.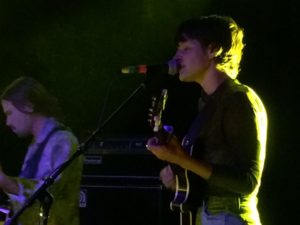 Been Caught Stealing
They opened with Orange, the same song they opened with at the zoo earlier in the year, and which they still haven't recorded, or at least released. Lenker said she'd written it in her hotel, The Quest, in Melbourne. The song has matured over the ensuing nine months and is no longer the bitter, angry tirade it was on its earlier outing. Or Lenker was just in a better mood on this night. I think I preferred the earlier rendition, but it was interesting to hear how the song has changed over time.
The band then gave us the raucous dissonant introduction to Shark Smile and we were away with more familiar material from their two albums. Masterpiece again lived up to its name, Real Love was dynamic and Lenker faltered while trying to sing the dense, Dylanesque lyrical pattern of Mary.
Drummer James Krivchenia and bassist Max Oleartchik played with great touch and restraint, knowing when to go silent and when to improvise as Lenker trialled a new song or kept a guitar break going longer than anticipated. They looked lovingly at her as she played, enjoying her performance as much as the rest of us perhaps, or possibly just counting their luck that they ended up playing with such a unique songwriter.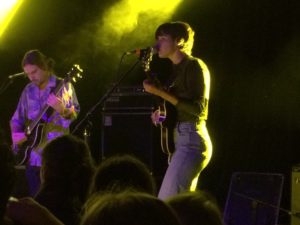 The set also featured two or three new songs to whet our appetite for another album. This is the second time I've seen Big Thief and on both occasions the setlist has looked forward as much as back – which is a sign of a restless and relentless songwriter.
Pretty Things is a disturbing song, even by Lenker's standards, in which her fragile, vulnerable voice sings a pretty tune that describes what might be incest, rape or both. I saw Mitski play at the same venue last week and she also had plenty of tales about mistreatment by men, so I don't know if these two women have been unfairly singed out, or whether men in general are just dicks. As a man, I think I'm in a good position to take a guess that it is the latter.
Lenker exhibited a mix of shyness, anxiety and charm in her stage banter, but she left herself plenty of space as the breaks between songs were elongated by her need to retune her guitar. This was where Buck was missed.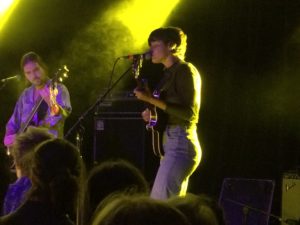 After closing their set with a new song called terminal paradise, about her fear of death, they returned for a three song encore from the first album; Vegas, which the woman next to me had been yelling out for at every available opportunity, and with good reason, Parallels and finally, Lorraine.
I checked out the merch stall on the way out, but there was no vinyl of Masterpiece and the t-shirts all featured distinct sexual imagery that would look a little creepy on the pronounced gut of a 50+ something male.
So although the night fell short on retail therapy possibilities, it was nevertheless a great gig. John was impressed and resisted the urge to compare the experience to McCartney. Even better, Angela had been passing through Brunswick, so she was waiting for us in the car park. I got a lift home after all.
Setlist
Orange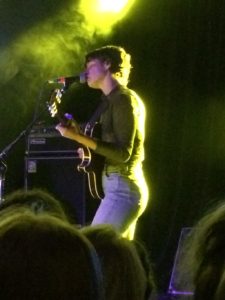 Shark Smile
Coma?
Masterpiece
? – new song
Real Love
Mary
Capacity
Pretty Things
?- new song
Paul
Haley
Mythological Beauty
Terminal Paradise
———
Vegas
Parallels
Lorraine
Big Thief: Royal Melbourne Zoo, 24 February 2017