PJ Harvey
PJ Harvey
Sidney Myer Music Bowl
Saturday 21 January 2017
$117
DOWN BY THE WATER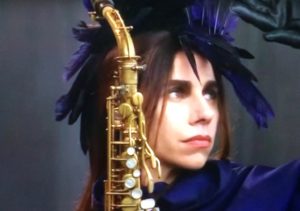 It is an established trope in rock music that young girls are moved to squealing, crying, general over-emoting and full-on mania in the face of good looking boy bands or spunky male singers. The Beatles, The Bay City Rollers, Leif Garrett (not to be confused with former Midnight Oil dance man and Minister for the Environment, Peter Garrett), Justin Bieber and One Direction are just some of the acts in this lineage of libidinous abandon.
Fans of such bands are dismissively called teenyboppers, or Beliebers in the case of Justin. Less prevalent, or at least less reported, is the scope of male hysteria over female singers. Is this because female singers are not good looking? Hardly, exhibit A: Debbie Harry. Is it because teenage boys are more mature than their female counterparts and are not given to such displays of irrational behaviour? Unlikely, or how would Dr. Who be still going. Or is it perhaps that males are not quite so open and honest about expressing their true feelings and prefer to lust in secrecy and silence? Well of course, which I think we can all agree is much creepier and far more disturbing than the comparatively wholesome act of squealing, bursting uncontrollably into tears and trying to scale a hotel exterior to get into Jon Bon Jovi's room.
The reality is that women in rock have inspired every bit as much lust as those long-haired, cherub faced boys that have provoked such high-pitched heights of female hysteria. Suzi Quatro, Stevie Nicks, Grace Jones, Debbie Harry (especially Debbie Harry), to name just a few, have driven young men to as much distraction as David Cassidy's hair ever did. The only difference is that young males channel their obsession inwardly. Instead of chasing their targets down the street or flinging themselves across car bonnets, boys make a show of pretending to be into the music and become experts, list-makers and collectors of rare 7" flexi-discs.
To Bring You My Love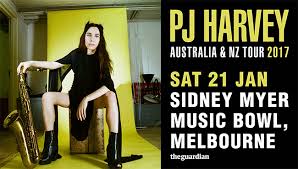 If I've revealed too much about myself then you've worked out my relationship to PJ Harvey. Sure, I like her music and appreciate her artistic sensibilities, but this is driven as much by repressed lust as any sort of artistic temperament. Yes, I'm that shallow.
Anyone who has skimmed through this blog will already know how much I idolise Nick Cave. However, were a psychologist ever to delve deep enough, it's quite possible they would conclude that my admiration for Saint Nick has as much to do with his romantic liaison with PJ as anything to do with his own music and mythology.
Nick Cave and PJ Harvey were fleetingly the Brad and Angelina, Burton and Taylor, JFK and Monroe, Gainsbourg and Bardot, even the James Packer and Mariah Carey of the indie music world. A couple so perfect it could never last.
Last year the world mourned the break-up of Brad and Angelina. The marriage of the world's most handsome man and most beautiful woman was widely viewed as a genetic fillip for the species – or would have been had they reproduced naturally instead of adopting discount third-world babies. Their break-up, however, was interpreted as the death of love itself – if they can't make it work, who can? – was the question widely posed by newspaper columnists and TV entertainment reporters. To which of course the answer is anyone who isn't a stuck-up, spoilt, over-indulged movie star working in proximity to the world's most badass dudes and hottest babes. But of course, indie rock fans were immune from such hand-wringing trauma, for we had already been through the break-up of Nick Cave and PJ Harvey. We had built up romantic resilience. And at least Nick and PJ's break-up resulted in The Boatman's Call LP, so we all got something out of it.
I first fell in love with PJ Harvey at a concert in London in 1993. I was staying with my friend Bill in Battersea and PJ was booked to play The Forum in Kentish Town. It was the Rid of Me tour and everywhere you went in London that summer the album cover image of her shaking her hair after a shower was plastered across every tube station. I was right down the front and when the curtains opened on PJ standing there with a string section (they opened with Man-size sextet), she smiled so warmly and radiantly that I was forever fixated. Not some idle infatuation you realise, but fully blown love. In the years since, there has always been a Kylie or Karen O, a Tori or Topley-Bird, a Miley or a Marling, a Sandoval or St Vincent, a Regina or RiRi, or any number of sassy sirens to stake momentary claims on my affections, but I've remained loyal to PJ throughout.
This Mess We're In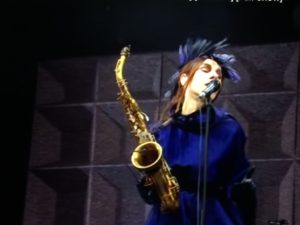 I was meeting my friend Fiona for a drink at Transport before heading over to the Bowl. I arrived early so I headed to the Kylie on Stage exhibition at the Arts Centre. It is an exhibition of her stage costumes, so no gold shorts unfortunately, but I did get closer to her corsetry than I might otherwise have hoped for. It was all part of my erotic prepping for a night with PJ.
Fiona was the person who first lent me PJ Harvey's Dry album when it came out, so it was fitting that I was going to the show with her. She is also a smart, serious academic with a strong feminist resolve, so I thought better of wearing my, 'I Wanna BJ From PJ' badge. Instead I bought a tour t-shirt with the Hope Six Demolition Project album cover crest in a nice mandela design. I didn't get the girl, but I did at least get the t-shirt.
The show was taking place at an awkward juncture for the world in general and the people of Melbourne in particular. That morning, our time, Donald Trump was inaugurated as President of the USA.
Also, just the day before a man had driven at speed through a pedestrian mall in central Melbourne killing six people and injuring dozens of others. Much of the incident was caught on film so we had all witnessed it in one form or another. Many in the city were still in shock from the trauma of this event and floral tributes were dotted through the streets.
If ever there was a time for some celebratory, or at least escapist music, then that time was now.
The city was crowded with people attending a variety of events. In addition to PJ Harvey at the Bowl, the Melbourne Stars were playing the Sydney Sixers in a T20 match at the MCG and the Australian Open tennis tournament was in full swing at Melbourne Park. Looking at the hordes heading off down either side of the Yarra, you didn't have to be an anthropologist to work out who was going to PJ Harvey.
You Exhibitionist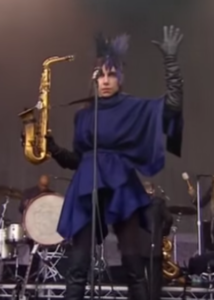 We had seats towards the back of the stalls so there was no need to get there early to nab a spot on the lawn. A support act was finishing as we walked over the hill and looked down into the yawning cavern of the amphitheatre. There were two people playing what sounded like traditional Greek instruments, but they finished just as we wound around the maze that led to the bar. A crowd was already gathered around the front of the stage to get up nice and close to PJ, but despite my obsession, Fiona and I were happy to take in the gig from our allotted seats.
It was still light when the nine member band marched out in single file formation. Two of them, including John Parish, had snare drums around their necks and got up a paruppa pum pum tattoo as they marched out, while another member had a large bass drum strapped to his chest on which he pounded a rhythm. In their midst was PJ Harvey holding a saxophone.
This formal opening set the tone for a show that was a highly controlled and choreographed performance from beginning to end.
Opener Chain of Keys afforded PJ the chance to blurt out a note or two of noise on her saxophone in unison with the brass ensemble. It was a low-key opener, but it set the scene for the foreboding, militaristic bombast of The Ministry of Defence that followed. The song is delivered in short, sharp blasts, five notes at a time like the retort of heavy artillery. As it rang out, a backdrop of a bland, windowless building façade rose from the ground. Such imagery of authoritarian regimes made us feel uneasy as we entered the Trump presidency.
PJ Harvey's stage movements are mannered and stylised. She didn't dance so much as vogue, holding her poses between vocal lines. Her steps were measured and deliberate. But if her movements were controlled, so was her voice which was clear and commanding as it moved through the registers.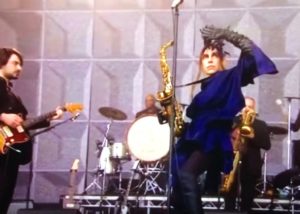 Harvey was front and centre when singing but took her place in the ranks of the brass section between verses and slipped back into the shadows between songs. With her thin face, deliberate movements, feathered headwear and a ruffled purple or blue jacket that looked like plumage, she resembled a large, exotic flightless bird. And even if her every gesture and step was rehearsed and mannered, at least the music took flight.
There were eight men on stage with her, all dressed in dark suits, including long time stalwarts John Parish and local boy Mick Harvey. After lengthy stints in The Bad Seeds and now PJ Harvey's band, you wonder if Mick Harvey sometimes fantasises about joining The Wiggles or The Flaming Lips so he can wear something other than a black suit on stage.
The mix of brass and percussion was the dominant music motif and each member of the band was called upon to clap hands or shake a rattle when not playing their main instrument. They also added expressionless call and response type backing vocals, like dour male furies, providing a deep counterpoint to Harvey's higher register and more expressive voice.
As with PJ, such movements as they did make were carefully choreographed. They too remained in character and maintained suitably grim expressions throughout the show.
That might not be entirely unexpected when you consider that much of the early part of the set was taken from her latest album, The Hope Six Demolition Project. The album features songs set in some of the world's most brutal conflict zones and recounts personal stories that focus on the minutia and molecular of these tragic events.
One of the very great pleasures of the concert was hearing this new material played live. The record, in my view, is marred by a muddy, muffled production. As if Flood, the producer, really did mix it underwater. The effect is to render many of the songs indistinguishable from one another. Live however, songs like The Orange Monkey revealed sharper edges and more distinct characteristics.
Still, they are great songs, little poetic vignettes. And indeed, many of the songs from the newest album first appeared as poems in Harvey's collection, The Hollow of the Hand.
A quartet of songs from its predecessor, Let England Shake, were greeted warmly by the audience, but the serious subject matter of the material (WWI), kept the mood somewhat cheerless, despite the quality of the playing.
The earliest departures from the two most recent albums came with When Under Ether and The Devil, two songs from the baroque oddity that is the White Chalk album. Not exactly euphoric crowd pleasers.
It wasn't until near the end that they allowed the setlist to break character and they played a raucous and energetic 50ft Queenie, Down By The Water and To Bring You My Love. This may have been a reluctant concession an audience wanting to hear earlier glories, but these songs, each more than 20 years old, still rank among her best.
They returned to the latest album for the final song, River Anacostia, an elegiac finale that ended with all band members lined up across the stage humming and intoning the old gospel song, Wade in the Water.
For the encore, they lifted the tempo with Near the Memorials to Vietnam and Lincoln, before finishing with the haunting The River, from Is This Desire? It was a nice surprise to hear this beautiful evocative song from one of her best albums, a song that wouldn't be out of place on her most recent albums.
Again, the band stretched out across the front of the stage to take a bow. No smiles or thank-you's. Just a bow.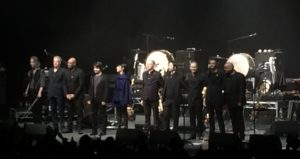 PJ hadn't picked up a guitar for the entire show and the only words she said to the audience, outside of song, were to introduce the band. There were no wild guitar wig-outs or freeform sax improv moments. The music and production was minimalist and hypnotic throughout and was perhaps all the more powerful because of it.
The formality of such a conceptual performance meant that the audience never quite got to let their hair down. However, given the previous day's events in Melbourne, it was the sort of controlled and sombre show that suited the occasion.
Setlist
Chain of Keys
The Ministry of Defence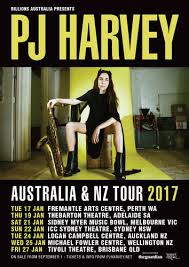 The Community of Hope
The Orange Monkey
A Line in the Sand
Let England Shake
The Words That Maketh Murder
The Glorious Land
Written on the Forehead
When Under Ether
Dollar, Dollar
The Devil
The Wheel
The Ministry of Social Affairs
50ft Queenie
Down By the Water
To Bring You My Love
River Anacostia
– – – – – – – – – – –
Near the Memorials to Vietnam and Lincoln
The River