Rockwiz Taping
Rockwiz Taping – 9 April 2014
The Gershwin Room, Esplanade Hotel, St Kilda
Wednesday 9 April, 2014
Free
Rockfizz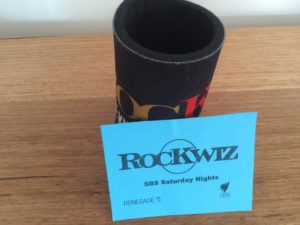 Being a music nerd, many of my friends and acquaintances have long urged me to try out for Rockwiz – the long running SBS music quiz show hosted by Julia Zemiro (the French Jay Z) and Brian Nankervis.
I'd like to think this urging came about through wonderment and awe at my vast repository of knowledge about the finer points of rock and roll and associated musical genres. I realise, however, that these entreaties more likely represent a conversational get-out clause after I've been boring them for 15 minutes or more about the relative merits of the first four Echo and the Bunnymen albums.
Happily I'm sufficiently self-aware to know that my knowledge of music, whilst reasonably extensive within the small parameters of the post punk, new wave genre, is lacking significantly in almost every other style; Blues, R&B, Country & Western, folk troubadours other than Bob Dylan, jazz, urban grooves, Hip hop and the more extreme permutations of metal. In short, there's infinitely more that I'll never know than I could ever learn. If you're curious about the first four Bunnymen albums, however, I might just be your man.
Of course being a music bore, I enjoy watching Rockwiz and take great pride in shouting out the answer before the contestants do, so I've often wondered what the vetting process is for getting on.
Most of the contestants are slightly paunchy, balding, middle-aged males, but is this because they are the type of sad people who annex large parts of their brains to the storage of arcane music trivia? Or are most of the contestents middle-aged males because they're all a little bit obsessed with Julia Zemiro and the gap in her teeth?
More disturbingly, how do these people know what Mark Chapman had for breakfast the morning he murdered John Lennon?
I'm happy to say that I don't know what Mark Chapman had for breakfast on the day he assassinated Lennon, however, I do know that he had a ticket to see David Bowie on stage that night in his portrayal of The Elephant Man.
So that's me, a paunchy, bald, middle-aged male in possession of a fairly standard Julia Zemiro obsession and a few dinner party talking points on music minutiae. In other words, the perfect Rockwiz demographic. So when my friend John, who has insider connections, managed to wrangle a few tickets to the taping of Rockwiz and invited me along, I eagerly accepted.
Rockwiz is taped in the Gershwin Room at the Esplanade Hotel in St Kilda, or the Espy to anyone who has ever been there. We arranged to meet for drinks about an hour or so before showtime, but even then the queue to get into the Gershwin Room was long and snaked back into the bar. We didn't bother joining the queue, electing instead to have a drink. The reason for the queue, however, became apparent when we did finally get in, as there are only a small number of tables. Everyone else is crammed around the bar or up the back. Having no choice by the time we entered, we settled for up the back.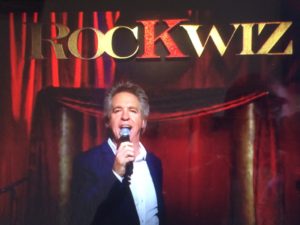 Visibility was poor but there were plenty of monitors and impresario Brian Nankervis kept the vibe positive and uplifting. Brian Nankervis is a veteran of Melbourne's comedy circuit and has been a warm up act for a number of live TV shows, so he knows how to get a crowd on side and buzzing.
Four contestants get to battle it out on the recorded show, along with two musical identities. The four people are selected from the audience after a series of mini quizzes. I'm not sure how many people overall competed for these four spots, but there was one from each table as well as a pool of people from those standing. Brian walked among us at the back offering people the chance to play-off for a spot. After initially declining, I eventually succumbed to the urgings of those I was with and decided to give it a go. I accepted a blue ticket and joined the throng of hopeful contestants waiting in the corridor.
Four people at a time were ushered into a small room in the bowels of the Espy – it would be nice to call it an ante-room, but in reality it was a storeroom. I was in the final group – all men – and we crammed into the room with Brian.
The rules were simple, Brian would read out questions and the first person to get four correct answers was through to the next round. I missed on the first question, but my knowledge of lead singers: James Reyne, Damon Albarn and Jack White, and then The Dots (as in Paul Kelly and the…) meant that I got the next four in a row and I was through.
The next stage was reasonably lengthy as 24 people competed on stage in the Rockwiz format in four separate contests, with Brian Nankervis reading the questions. The winner of each contest would get to appear on the show.
I was competing in the final bout, so I had a fair idea of what was expected by the time I took to the stage. Answering questions, I'd been warned by one who tried before, was not so much a matter of knowledge, but of speed with the buzzer. I also saw that a little bit of showmanship might help and the willingness, to say nothing of ability, to belt out a line or two of song when required.
Being on the stage under the bright lights is quite surreal. The audience is packed in and you can fee them right on top of you, like a real presence, ready to heckle your wrong answers and hector you with correct ones. It's a little unnerving, so my strategy was to focus on Brian Nankervis and not look into the audience, and just pray that I didn't make a complete goat of myself.
Nankervis is fully switched on and keeps the mood vibrant throughout. He is performing the whole time. When you watch Rockwiz you might think he hardly does anything up the back, but he's actually taking a break after working hard for a good couple of hours.
It does my credibility no good to admit that the first words I uttered into the Rockwiz microphone after pressing the buzzer were "Elton John"…the question relating to which English pop star has a Melbourne tram in his back yard. How I came to know this piece of trivia is perhaps best left unexamined, but it must surely stem from an abiding interest in trams or Melbourne iconography, because I certainly have no interest in Elton John. But at least I was in the game.
My credibility tracker would have picked up after that for the ensuing answers I was first to buzz in for included Lou Reed, Bob Dylan and The Smiths. There were others, did I get a question about Waterloo Sunset wrong? (surely that's to my credit), but the lights and the onlookers and the hubbub in the room rendered my stage time a bit of a blur, so I can't remember the exact questions or how many I answered correctly. John said he counted six. So at least I wasn't disgraced, but it wasn't enough to get me a ticket onto the show. Sadly no questions about Echo and the Bunnymen. I shook hands with Brian and left the stage where I gratefully accepted a beer from my crew.
I was sufficiently relieved not to have made a goat of myself on stage, so I dread to think of the fretting ball of anxiety I'd have become had I actually made it through to the televised round. Would I sit there stony-faced answering no questions, or worse, would I be one of those middle-aged music bores trying to impress Julia Zemiro in a vane and pathetic attempt to woo her on national television?  Of course it would be worth it if it worked, but there was more chance of me being asked to be a mentor on The Voice.
So I was able to relax and retreat to the back of the room to watch the show unfold. The musical guests who performed and took part in the televised quiz were Garland Geofrey and Peta Tabu, plus Sally Seltman performed a song from her new album.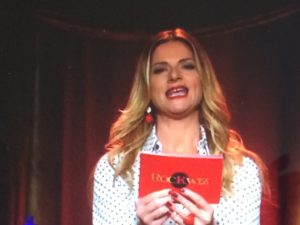 My only regret came when Julia asked of the contestants who Jodie looked like in the Lloyd Cole and the Commotions' song Rattlesnakes. I knew the answer immediately, 'Eve Marie Saint', but no one on stage buzzed in and something about Julia's bopping suggested that Lloyd might be one of her personal favourites. This would have been my opportunity to commune one-on-one with Julia in our own Lloyd Cole world. I could have become that middle aged bore using Lloyd as my pimp to seduce Ms Zemiro. Of course the likelihood is she would have simply made fun of my attempted pronunciation of the French name.
The other question that drew a blank from the contestants but to which I could supply the answer was, "Who was glad to be gay?" The answer being 'Tom Robinson'. Not sure whether knowing that would have abetted or hindered my seduction of Ms Zemiro, but at least it meant I would have gotten a couple of answers right.
The all important answers to the traditional introductory Rockwiz questions of my first concert and the first record I bought with my own money are: Talking Heads at Dallas Brooks Hall in 1979. Well it was the first concert I paid for and elected to attend – my eldest brother David having previously taken me to see Leo Sayer at Festival Hall and Rose Tattoo play at the Exhibition Buildings as part of 3XY's Rocktober. The first record I recall purchasing was the 7-inch of "Horror Movie" by Skyhooks. I've still got it.
Indeed, had I made it onto the show, the lyrical motif of that song, "It's a horror movie right there on my TV" might have had a whole new application.
The episode was part of series 12 and went to air on 2 June 2014.