Dave Graney
Dave Graney
The Worker's Club, Fitzroy
Friday 2 May 2014
$14
Everything Is Legendary With Dave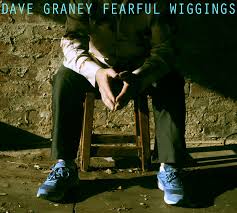 There is only one Dave Graney, and yet at the same time there are so many. On my iPod I tend to sort my music by artist, which is usually fine except for musicians like Dave Graney who insist on recording under numerous guises. Finding a specific album can be difficult – on my artist playlist I have albums attributed to Dave Graney, Dave Graney 'n' the coral Snakes, Dave Graney & Clare Moore, Dave Graney & The Lurid Yellow Mist, dave graney and the mistLY, Dave Graney Show, Dave Graney with The Coral Snakes, The Lurid Yellow Mist (Featuring Dave Graney & Clare Moore) and Davey Graney with Clare Moore. He's basically annexed the view on the small screen of my iPod, and that's without me having anything digital by The White Buffalos or The Moodists.
And now he's recorded another album, Fearful Wiggings, which is attributed to Dave Graney on the cd cover, but who knows what variation he might find for the digital version. To mark the release of the album, Dave is playing a show at the Worker's Club Hotel in Fitzroy, and at $14 a ticket, it seemed churlish not to go. Dave always puts on a good show and it's worth the price of admission just to see what he's wearing.
Showtime is at 10pm and the room begins to fill on the dot with 100 or so 40 somethings as the band set up. Dave is looking resplendent as ever in what could be black leather, or plastic, or indeed pleather pants and jacket, topped off by a wide brimmed hat worn at a suitably rakish angle.
The Soft 'N' Sexy Sound
The band eventually saunter on and take up instruments, and as they blink into the lights and fiddle about with leads Dave doesn't so much launch into a song as tentatively broach it, as if he's testing the water a little. Clare Moore, taking up a seat behind keyboards instead of drums looks up at him quizzically before eventually joining in.
Dave has always had evocative song titles, (No Pockets in a Jumpsuit, Three Dead Passengers in a Stolen Second-Hand Ford, My Schtick Weighs a Ton, I'm Not Afraid to be Heavy, You Wanna Be There, But You Don't Wanna Travel) and he doesn't like to waste them, because a number of his songs consist primarily of him repeating the title in different phrasings and intonations. His opener tonight is just such a number, A Woman Skinnies a Man Up,the meaning of which he emphasised by repeating the title. It's a low-key opener to the show, but sets up a relaxed, laid back vibe. I later discover it also opens the new album.
Dave took a moment to explain that he's going to play mainly songs from his new album and then throw in some odd oldies. That suits me, I like to hear artists road test their new material. Cover versions I can always take or leave. I'm not particularly interested in hearing songwriters of great originality churn out Kinks covers, especially if their own songs are better than those by The Kinks, which in my opinion they almost invariably would be. But there's nothing like hearing a new song from a favourite performer for the first time – especially if the song goes on to be well-known. The Triffids road tested the material from Born Sandy Devotional for nearly 12 months before the album came out; Into My Arms was a regular in Nick Cave's set list long before he released it. So I was thrilled when the first six songs Dave performed were all drawn from the new album.
The songs are mainly in the loungey vibe he made his own in the 90s, but softer and more intimate – some of them not much more than talking songs. Many of them have unusual phrasings, not unlike jazz compositions, such as How CanYou Get Out of London? Everything Was Legendary With Robert and Country Roads, Unwinding. His album We Woz Curious is probably the closest relative.
There's a four piece line-up on this night with Dave on acoustic guitar, long-time band member Stu Thomas on electric guitar, Emily Jarrod on percussion, mainly shakers of various shapes and sizes, plus of course long-time partner and collaborator, Clare Moore, this time on keys instead of behind the kit.
I Will Always Have Been Here Before
Graney and Moore are names that are synonymous with each other, perhaps not with quite the same universal recognition as Lillee and Thompson or Simpson and his donkey, but nonetheless intertwined in Australian musical folklore. You can't imagine having one without the other.
They have been playing together for nearly 35 years, starting in The Moodists. I wasn't a particular fan of the Moodists – all rumbling bass and crashing drums and you couldn't make out the words because, a) the music was so loud and b) Dave eewwwed and ahhhhed all the way through them. I saw The Moodists a number of times, as they always seemed to be supporting whatever band I was going to see. But as The Moodists morphed into the White Buffalos and then The Coral Snakes, the sound evolved, as did I, and it all eventually clicked for me.
After showcasing his latest material, Dave then went back to his very earliest, with Where the Trees Walk Downhill and another from the Moodists period, followed by tracks from the Coral Snakes days, including, I Was the Hunted and I Was the Prey, Bad for Each Other, You Wanna be There But You Don't Wanna Travel and All Our Friends Were Stars. Each track was introduced with witty banter and sharp observations.
The encore gave us one of his most well-known songs, Night of the Wolverine, a request form a member of the audience, ("we've had a request, but we'll play it anyway"), but it is always good to hear. Like Cave with The Mercy Seat or Elvis Costello with Watching The Detectives, he never plays it the same way twice.
At one point he removed his jacket and commented on the portrait of French poet Arthur Rimbaud that adorned his t-shirt, which admittedly I'd thought was a young Andy Warhol, although somehow I knew that was too obvious a pop culture reference for a Renaissance man like Dave. He then played Je Est Un Autre (I Am An Other) based on one of Rimbaud's poems, and a fitting description of Dave who is both Dave and, as his many digital identities testify, many others.
At the conclusion of the gig Dave sat on the edge of the stage and I was one of a few who wandered over to say hello and buy a copy of the new album. It's a good album, not ground breaking, or markedly different from his other material, a point he conceded during the show when he highlighted that like most singers, many of his songs were the same ones written in a slightly different way, but Dave Graney is nothing if not the best interpreter of Dave Graney.
Set list
A Woman Skinnies a Man Up
Everything Was Legendary With Robert
How Can You Get Out of London?
Country Roads, Unwinding
Flower of the Earth
I'm the Stranger in Town
Where the Trees Walk Downhill
??
I Was the Hunter and I Was the Prey
Bad for Each Other
You Wanna Be There But You Don't Wanna Travel
I Will Have Always Been Here Before
All Our Friends Were Stars
Je Est Un Autre
Night of the Wolverine