The Vampire Chronicles
Vampire Weekend
Gang of Youths
Festival Hall, West Melbourne
Monday 6 January 2014
$88.74
The Vampire Chronicles
Most parents avidly track the various 'firsts' of their offspring; first steps, first word, first Christmas, first day of school, first day of high school, first pimple, first drunken experience etc.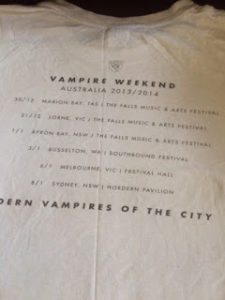 Another momentous first is the first concert. This milestone has taken on greater significance since the advent of the music quiz show Rockwiz, in which host Julia Zemiro routinely asks contestants to name the first concert they attended. It is vital that your answer be either ultra cool: The Clash, Nirvana, Bob Marley, or ultra cheezy: Air Supply, The Spice Girls, One Direction. In other words, it should inspire either awe or laughter. Anything in between is pointless. Of course it's a bit of a lottery when you're choosing years in advance, after all, one generation's cool is another's corny.
My wife Angela and I were conscious of this when for Christmas in 2013 Santa decided to bestow a ticket for Vampire Weekend on our eldest son, Oscar, who was 14 at the time. Should Julia ever pose the big question to him, we hope Vampire Weekend will still have some cachet. The good news is that I also received a ticket from Santa!
Vampire Weekend, along with Gorillaz, is one of the few bands our entire family quite likes. Their latest album, Modern Vampires of the City, has been on heavy rotation in the car. We love their infectious, upbeat songs and we sing along loudly, notwithstanding that the lyrics are obtuse and make very little sense. Which is great because it doesn't matter so much when you get them wrong – which we frequently do.
They remind me of early Talking Heads with their quirky song structures and staccato rhythms, with a trace of Paul Simon circa Graceland. They even have a song about architecture (Mansard Roof).
Going to your first gig at Festival Hall was a rite of passage for people of my generation and earlier, not because it was an impressive building or boasted superior acoustics. Quite the opposite on both counts – architecturally it is what is known in the industry as a shit-hole and acoustically it is a shit-box. However, for many years it was the only rock venue in Melbourne that wasn't a pub, so if you were under 18, or under the age when you could pass for 18, that was the only place you could go to see bands. I remember going to a Battle of the Bands contest there in the late 1970s only because The Sports were paying at the end of the competition. It was the only way I could see them.
In the way that one generation likes to pass on traditions and rituals to the next generation, especially unpleasant ones, it was only fitting that Oscar's first gig be at Festival Hall.
We had General Admission floor tickets (non-licensed area) so that Oscar could get a real sense of the buzz that you can get from being in the crowd at a good gig. Also, because the seated areas on the side at Festival Hall are among the worst vantage points you can get for comfort, sightlines or sound anywhere in the world.  The back row at Wembley would be better.
Oscar picked up a tour t-shirt and we stood back a bit from the throng, but still close enough to get a god view. While we waited for the band to come on I began to get a sense of how young the crowd was. This shouldn't have surprised me given I was with a 14 year old, but even so, I wasn't ready for the teeny-bopper squealing that erupted every time one of the band members wandered on stage to plug something in or move a mike stand. The band must have been lapping it up, because I couldn't work out why the roadies weren't performing these perfunctory tasks.
I looked around and noticed that I was comfortably the oldest person in the area by a good 20 years or so. Feeling somewhat conspicuous I made a point of keeping up the conversation with Oscar so that I looked less like a paedophile and more like a father accompanying his son to a gig.
When the band emerged on stage together to start the show the screaming reached a deafening pitch. I concede that lead singer and rhythm guitarist Ezra Koenig is a handsome man, notwithstanding the khaki onesie he was wearing. It was like a boiler suit. Had it been yellow I would have sworn I was seeing Devo. Bass player Chris Baio is okay looking I suppose, drummer Rostam Batmanglij is tall and beardy, and at least has 'Batman…' as part of his name, but guitarist Chris Thomson could possibly be cast as a hobbit in a Lord of the Rings movie. I don't mean that unkindly – he was in my view the star of the show – it's just that I didn't quite understand the teeny-bopper squealing that accompanied their every gesture.
One of the good things about an audience made up predominantly of young girls, however, is that I can actually see without too much difficulty. That's not the only good thing, but it's the one I'm prepared to admit to. Most of the bands I see seem to appeal exclusively to tall males, so it was a relief to not have long-necked oafs in front of me.
The band launched into the quirky, up-tempo Diane Young from their latest album, followed by the Paul Simonesque, White Skyfrom Contra, then Cape Cod Kwassa Kwassa from their first LP. They picked up the pace again with Unbelievers and Holiday and got the audience bouncing and singing along enthusiastically.
Even slower numbers like Step, got everyone singing, particularly three young girls just to our right who stood facing each other rather than the stage and sang the words loudly at one another. They also managed to carve out their own dancing space with their exaggerated moves, but no one begrudged them. Vampire Weekend was very much their band and they were having the time of their lives, utterly oblivious to the other 5,000 people present.
The band maintained a frenetic pace and energy and worked their way through a good mix of songs from their three albums. There really were no dull moments – Oscar's favourite songs Horchata and A-Punk all came in the first half of the show, but they also got around to playing two of my favourites, Oxford Comma and Cousins.
Most eyes remained on Koenig and he is a magnetic frontman, but guitarist Chris Tomson was the real revelation for me – he reminded me of Joey Santiago from Pixies in that he was happy to stay more or less in the background, but his musicality and virtuosity provided much of the colour and momentum of the show.
The set ended with Giving Up the Gun and the relatively slow and reflective, but fabulously catchy, The Obvious Bicycle. By this time they could have played anything and the audience would have roared along.
They had the confidence to commence the encore with another gentle number, Hannah Hunt, before busting out a couple of infectious showstoppers, One (Blake's Got a New Face) and Walcott. As we escaped Festival Hall Oscar and I, like everyone else, left the hall singing a lyric about escaping Cape Cod. As first gigs go Oscar had seen a beauty.
Check out some great photos of Vampire Weekend's Melbourne show by Katie Fairservice on fasterlouder.junkee.com at this link – http://fasterlouder.junkee.com/vampire-weekend melbourne/755033#&gid=1&pid=1
Diane Young
White Sky
Cape Cod Kwassa Kwassa
Unbelievers
Holiday
Step
Finger Back
Horchata
Everlasting Arms
Cousins
California English
A-Punk
Boston (Ladies of Cambridge)
Ya Hey
Campus
Oxford Comma
Giving Up the Gun
Obvious Bicycle
– – – – – – – – –
Hannah Hunt
One (Blake's Got a New Face)
Walcott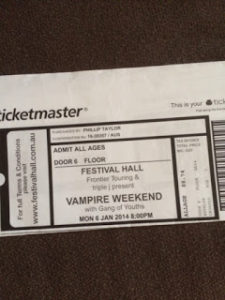 Encore – Festival hall figures prominently in Melbourne's musical history. It was where The Beatles played in 1964, just three days after I was born. Most big acts of the 1960s, 1970s and 1980s have played there: Bob Dylan, Lou Reed, Queen, The Clash, you name it. I was taken there as a child by my parents to see Andy Stewart, a kilt wearing Scottish singer. My eldest brother David took me to see Leo Sayer 's Just a Boy tour. One early gig I went to featured The Angels, Cold Chisel, Flowers (Icehouse), The Boys Next Door and La Femme. The Boys Next Door were heartily booed throughout their set by Chisels fans, which of course simply encouraged Nick Cave to up the barking and hee-haws.
Despite my misgivings about the acoustics and the sightlines, I've been back numerous times to see loads of bands; Elvis Costello, The Police, Fleetwood Mac, Madness, REM, Ian Dury and The Blockheads, PJ Harvey, Morrissey, Radiohead, Pulp, Pixies, Iggy Pop, The Strokes, The Sex Pistols, The Motels, Coldplay, The The, Nick Cave & The Bad Seeds, and now Vampire Weekend, among others. And I'll probably keep returning so long as the bands keep playing there.