2014 Preliminary Final
Hawthorn v Port Adelaide
Saturday 20 September 2014, MCG
Hawthorn Health Warning
The Heart Foundation and other leading medical bodies all agree that the major risk factors for heart attack or coronary heart disease are:
– Smoking
– High blood pressure
– High blood cholesterol
– Diabetes
– Obesity
– Lack of exercise
– Stress
– Use of stimulant drugs
– Mental health issues
That makes nine, but to round out the top ten I'd add to the list, 'following the Hawks in a Preliminary Final'.
This is the fourth successive Preliminary Final featuring Hawthorn that has been decided by less than a goal. Plus there were two previous ones in 1974 (lost to North by 5 points) and 1987 (defeated Melbourne by 2 points). And while the Hawks have emerged as winners in the past three of these games, the fans have acquired one or more of the above risk factors along the way. Even non-smoking, svelte, physically active, healthy people with a sound diet who manage to watch the games with calm equanimity have by now been driven using illicit stimulants of one sort or another, so there's no escaping the dangers.
It is these Preliminary Finals that explain why health care fund Bupa is one of Hawthorn's major sponsors – they recognise Hawks fans as their main customer demographic.
Scotland No, Hawthorn Yes 
How did it come about this time? Most football pundits predicted that this would be a close game; that of the two Preliminary finals, this was the one in which it was hardest to pick a winner. Only the Scottish independence vote was tipped to be closer. And just as the 'No' vote in Scotland took a comfortable lead once the excitement died down and everyone saw reason rather than romance, the Hawks took a 29 point lead half way through the final quarter to prove their class and quell the excitable stirrings of the romantics who wanted fifth placed Port to prevail.
From this stage we should have enjoyed a reasonably relaxing run in to the big one. A five goal lead should have afforded us some calming, even life affirming moments, the chance to look forward with cheerful optimism to the Grand Final and perhaps eternal happiness, but instead we watched on in tense horror as Port stormed home, frantically texting people who could tell how much time was left…and it was always too much.  We wanted finality, Grand Finality, but the siren seemed an eternity away, an eternity filled with Angus Monfries, of all people, kicking goals.
When I watched the match back some 48 hours later (I couldn't bring myself to face it any earlier), I still got tense even though I knew the outcome.
The lead up to the vote for Scottish independence may have been 500 years or so in the making, but it was mere blip compared to what Hawks fans had to endure waiting for the siren to sound as we clung to our slender lead. At least in the end we got a 'Yes' vote.
The Hawthorn Life Cycle
The human life cycle is notable for the utter helplessness of the human being in its early years and then again in its dotage. In our first few years we are a feeble, mewling bundle writhing about in our own muck, unable to perform even the most perfunctory of tasks. We have to be fed, cleaned and put to bed. Then we flourish for a time, stand tall and become independent, perform noble deeds and achieve great feats, only to again hunch back into ourselves and revert to the same pathetic and mewling state of helplessness.
In this sense, Hawthorn's performance in the Preliminary Final mirrored the human life cycle. In the first and final quarters we were helpless against Port's irresistible force and incessant run; we couldn't do anything for ourselves and if not for the umpires intervening to help us out, we might never have got going nor been able to hold on at the end.
For the first five minutes of the match we barely touched the ball, and the quarter was a blur of Port making space and setting up scoring opportunities. If not for the fact that Port sprayed shots like an unattended hose, and a brief period of calm when Rough and Langford marked and kicked set shots, the game might have been over at quarter time. We were fortunate with a 12-point deficit.
Even in the second quarter, it was only the umpires intervening that helped get us going. First Gunston was awarded a free kick in front of goal when the play had been somewhere on the wing. Then Duryea received a 50-metre penalty when the ball was knocked out of his hands after he'd taken a mark. Both decisions were technically correct, but both could very easily not have been paid.
As if the umpires had awoken us to the task at hand, our third goal for the quarter was a classic. Shiels, Lewis, Roughead, Suckling and Hill featured in a series of slick handballs before Hill kicked to Hale, who marked, turned and handballed back to Suckling who had continued running on and kicked a lovely goal from 40 metres out.
Two more goals to Roughead and one to Smith gave us an 11-point half-time lead and half-time drinks in the Tower 6 bar were convivial and relaxed.
Jordan Lewis was injured in the first minute of the third quarter, so hardly ideal, but after Breust set up a Hodge goal, Lewis was back in the middle feeding out a handball to Rough who ran on and banged through a beauty from 50 to give us a 4 goal lead We maintained this lead for to the end of the quarter after Rough soccered through his sixth for the match right on the siren.
It wasn't a match winning lead, but by the time Smith and Gunston goaled to extend our lead to five goals half way through the quarter, we were watching on with a mounting sense of excitement at the prospect of another grand final the following week.
I can't bring myself to describe the rush of Port Adelaide goals that ensued, suffice to say that two match saving acts; one form Luke Hodge to smother a Brett Ebert kick, and another from Brian Lake to intercept a … kick when there was less than 30 seconds to go have gotten us into the Grand Final.
For the second year in a row I haven't heard the siren to end the Preliminary Final, but I can't wait for the one to start the grand final next week against Sydney.
Go Hawks!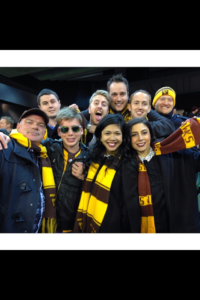 Final scores: Hawthorn 15 7 97 d Port Adelaide 13 16 94
Attendance: 74, 856
Notable Hawks: Jarryd Roughead, Luke Hodge, Will Langford, Liam Shiels, Jordan Lewis, Brad Hill, Sam Mitchell, Taylor Duryea, Shaun Burgoyne, Josh Gibson
What we learned: No one thought Matt Priddis from West Coast would win the Brownlow medal – not even Channel 7 who didn't have a highlights package ready to go.  An hour later they still hadn't put one together. Perhaps there aren't any Priddis highlights.
Nor it seems did people believe it even as it was happening. After round 20 with Priddis on 24 votes and Gary Ablett on 22 votes, a Viewers poll predicting the winner still had Ablett as favourite, even though, as was widely known to anyone watching the count, he didn't play any further games and was therefore unable to overtake Priddis.
Even with one round to go, Travis Boak received 60% of the Viewers poll as the likely winner, significantly higher than Priddis, even though Boak could not actually beat Priddis at this stage, a tie being the best he could hope for.
Priddis' humility upon winning has been roundly praised, but perhaps it is humility borne of he realisation that until the day Sam Mitchell or Luke Hodge win the medal, then no one else can be considered a worthy winner.
What we already knew: Football and fashion don't mix, aside from the ever-stylish brown and gold vertical stripes that is. Why does anyone think that an ex-footballer, even one as dashing and handsome as former Western Bulldog, Daniel Giansiracusa, or Gia as we know him, can be in any way interesting or illuminating telling the WAGs how stunning they look and asking them who they're dressed by. As if names like Alannah Hill, Juli Grbac or Jacob Luppino will mean anything to the interviewer, let alone the vast majority of viewers.
The real fashion statement at the Brownlow was from winner, Matt Priddis, who might single-handedly bring back the 80s spiral perm.
What we wonder: How does Geoffrey Edelston and whoever his current squeeze is score an invitation to the Brownlow medal?  Every year! Former winners are invited and that is fair enough, it's the only place we get to see Johnny Platten these days, but does this also extend to former club presidents – even disgraced ones?
What we fear: Australia's terrorist threat has been increased to high and there's talk of an imminent terrorist attack, but in truth I'm much more fearful of Sydney's midfield than I am of ISIL.