Ed Sheeran, Tom Jones
Ed Sheeran
MCG, AFL Grand Final, 
Saturday 27 September 2014
The H Team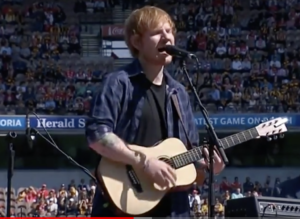 At this stage of the year, I'd probably nominate St. Vincent at Howler as gig of the year, but the show I've enjoyed the most is Ed Sheeran at the MCG. I haven't experienced the same excited anticipation for any other gig, felt the same sense of joy and exhilaration at any other show, been moved to tears by any other performer, sung along with such gusto, or shrieked and roared with such abandon between songs.
Of course the reason for this hyper-emotional state had nothing to do Ed per se, rather the occasion – post match after my team, Hawthorn, had achieved a spectacular victory over Sydney in the AFL Grand Final. I'd have enjoyed pretty much anyone on this occasion, with the possible exception of Barnesey.
But Ed was great. He was double-teaming with Tom Jones on this occasion, but somehow my movements (drinking, back slapping and engaging in general premiership ra ra in various members' bars) meant that I pretty much missed Sir Tom's post-match performance.
Prior to the match Ed performed his hits Sing and The A Team before joining Sir Tom for a cover of Prince's Kiss, a song that Tom had successfully covered in the 90s. Sir Tom's declaration, "I think I better dance now" from the song's bridge befitted the occasion perfectly. Hawthorn fans were already well ahead of him.
It was lucky Tom Jones was there because the stage was facing the MCC Members' Pavilion and most of the people sitting there watching the pre-game entertainment were firmly embedded in Tom's generation rather than Ed's. If there were any Ed Sheeran fans in the members, they were likely hidden away in one of the throbbing bars out the back. So despite the fact that he played two songs that were reasonably popular FM radio hits, most of the people facing Ed while he played would have been impatiently waiting for the weird looking hobbit with the red hair and acoustic guitar to depart so that Tom Jones could get on stage and sing Green Green Grass of Home. Given his visible sleeve tatt, most of the members probably thought he was a Collingwood player.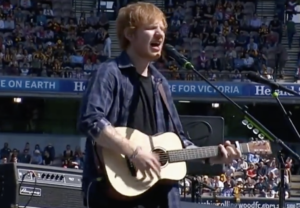 My main concern was for Ed's fair skin. It was a hot, sunny, blue-sky day and Ed was out there on stage with no shade – not even a hat. I was hoping that Hawthorn's redhead, Jarryd Roughead, had lent him some sunscreen.
I can't claim to be a big Ed fan, but he was out there on his own with just an acoustic guitar (which appeared to be half-sized – was it a dwarf guitar or an overweight ukulele?) and his loop machine, so he was doing a pretty good job. His songs though, seem suited to big sporting events. Even if his exhortations for the crowd to sing along in Sing met with a muted response, at least among those near me, at least The A Team was a title in which both sets of fans could find meaning.
Sheeran set the stage nicely for Tom Jones and joined him for a rendition of Kiss. The crowd was buzzing with pre-match anticipation as Tom and his rather formidable band of blues maestros took over for a quick run through some of Sir Tom's recorded highlights. Tom's voice has lost none of its power in his seventy something years, plus he was moving well and looking sharp in a dark suit. He didn't play Green Green Grass of Home, but we did get Delilah. And can I say, there's nothing like a rousing song about domestic violence to set the scene for a big sporting event. Go Hawks!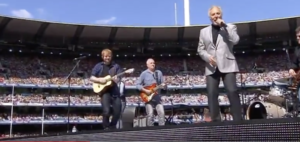 Cheering Out Loud
The deal for the post-match gig was that the two acts were each to perform a short set, first Tom Jones and then Ed Sheeran, ahead of the premiership team coming out on to the stage to hoist the cup and lap up some well-deserved adulation. With the Hawks recording a resounding victory there was a bit of celebrating to do in the Hugh Trumble Bar first, so I missed Tom Jones' post match set. I may have stayed in the bar celebrating for longer, but I had to meet up with my son Oscar who didn't have access to the Members area.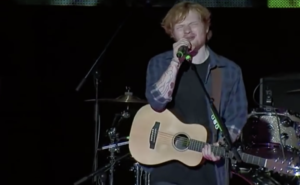 It meant that we could go and watch Ed while we waited for the team to come out with the cup. We didn't bother trying to push into the mosh, but took up some seats near the fence. It is a testament to Ed Sheeran's popularity that quite a few Sydney Swans fans had stayed behind for his performance.
Ed was already on stage as Oscar and I took our seats. He was singing I'm a Mess, his voice and acoustic guitar being fed through loops to add to the hypnotic repetition of the song's refrain, "and for how long I love my lover". The chant morphed into an exhortation to the audience to 'Give me love', which given the Hawks had just won the flag, was an emotion not only in fairly abundant supply but one being quite liberally disseminated already.
I can't say I was particularly au fait with Ed's oeuvre, but Oscar knew his songs. He was messaging his friends who were jealous that he was seeing Ed Sheeran perform.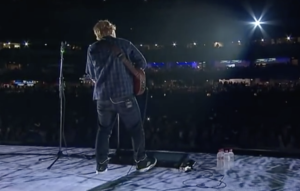 Plenty of other people must have been familiar with his repertoire, because he announced that Thinking Out Loud had gone to number 1 in Australia that day. The crowd shots on the big screen showed a string of young girls leaning over the security barrier singing along and holding their iPhones aloft to film him.
It must have been an easy crowd to work; we were already up for pretty much anything, but he performed with verve and enthusiasm. His pure pop was the perfect sonic soundscape for the occasion and his inventive use of loops and tapes enriched the sound.
It aided my appreciation of his set that behind him, I could see the scoreboard that still glowed with the final score of the game: SYD 11 8 74 HAW 21 11 137.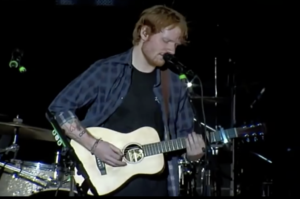 Each song started with Ed setting up a basic track of guitar, voice or percussion to loop through his gadgetry. The multi-track singalong loop he set up in Give Me Love was particularly impressive. For this song he also split the audience into lower and higher harmonies for a singalong that got us into fine voice for the impending appearance of the Hawks.
It has to be said that my appreciation of ed's set was somewhat coloured by the occasion, the setting and my mood, but then what concert experience isn't? Ed may have been merely supporting the main act, or The A Team – Hawthorn – but he put on a pretty impressive performance. The Swans fans who left as soon as his set finished had at least got something out of the day.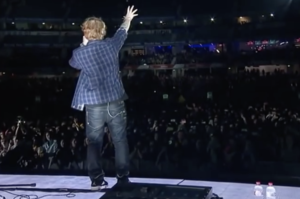 Setlist
pre-match
Sing – Ed Sheeran
The A Team – Ed Sheeran
Kiss – Ed Sheeran & Tom Jones
Mama told me not to come – Tom Jones
Delilah – Tom Jones
If I Only Knew – Tom Jones
post-match – Ed Sheeran
I'm a Mess
Don't
Thinking Out Loud
Lego House
Give Me Love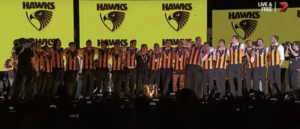 2014 AFL Grand Final – Hawthorn v Sydney Swans
2015 AFL Grand Final entertainment: Bryan Adams, Ellie Goulding, Chris Isaak
2016 AFL Grand Final entertainment: Sting, The Living End, Vance Joy