Cloud Nothings
Cloud Nothings
Press Club
IV League
Max Watt's Melbourne
Saturday 24 February 2018
$59.90
PUTTING THE LOUD IN CLOUD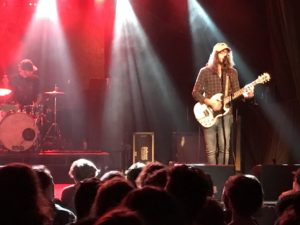 Cloud Nothings' latest album is called Life Without Sound, and having seen them live at Max Watts underground bunker in Swanston Street on Saturday night, I now know why. After playing at that volume night after night, the band members must be close to deaf and effectively living without sound.
Such was the din I could feel the hairs in my ears, manicured as they are, bristling with the vibrations. I had to retreat to the bar area at the back for the second half of the gig, where the overhang from the upper level shielded some of the noise. If nothing else, Cloud Nothings put the 'loud' in 'cloud.'
IV League & Press Club
I arrived as first support act IV League were playing. Despite the sparse audience – surprisingly the show was not a sell-out – they played with energy and enthusiasm and injected their brand of jangly indie pop with some oomph. They're a young band but they exhibited all the signs of a band who might hang around – good songs, strong performers, interesting arrangements and a female singer wearing Doc Martens. In other words, they looked cool.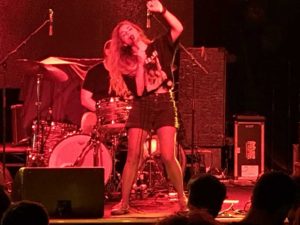 Press Club are an entirely different proposition. No indie introspection for them. They consist of three blokes on guitar, bass and drums who give the music as much throttle as possible, while lead singer Natalie Foster leaps and lunges about the stage with frenetic energy.
She may be small of stature, but she is big of voice and especially of hair. Her long, thick mane essentially functioned as the band's major stage prop as she whipped it about like a flag – so much so that perhaps her hairdresser should get a credit.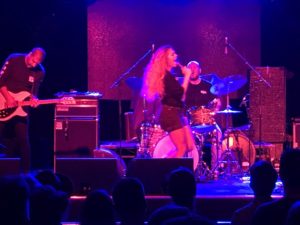 She is a dynamic performer and the Max Watts stage and this support slot were barely able to contain her zest and genuine rock chick credentials (Chrissy Amphlett came to mind),  to say nothing of her hair. After two songs she pointed at a guy standing near the front and basically demanded to swap t-shirts with him. He obliged (he really didn't have much choice), peeling off his Luca Brasi shirt and accepting her Cloud Nothings tee in return.
If you think I've placed too much emphasis on Foster's hair, you'll understand it is the prerogative of someone who lost most of their hair in their early 20s. Also, readers of this blog will know my theory that a distinctive hairstyle is as important as demonic guitar riff. Just think of Georgia Maq's fringe, Meg Mac's eyebrows and Ian 'Mac' McCullch's birds nest. And that's just the Macs.
Press Club's song Suburbia, from their forthcoming debut album, has a touch of the anthem about it. Look out for it in next year's Hot 100. Next time Cloud Nothings come this way, I suspect they'll be supporting Press Club.
I had deliberately arrived in time to see Press Club because my friend Carissa who had first put me onto Cloud Nothings had also alerted me to Press Club. As with all her previous recommendations, this one was also spot on. I'm glad I saw them here because they're going to get much bigger.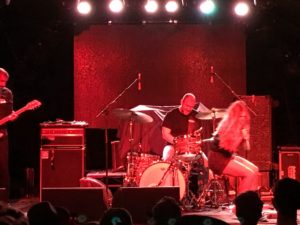 Cloudbursting
I grabbed another can of Asahi while I waited for Cloud Nothings, as well as a tour t-shirt. I don't always buy the merch, but at $25 they were cheaper than usual. I don't know what the design was meant to depict, but it had merged into a shapeless, amorphous white splodge. Perhaps it was meant to be a bank of cumulus nimbus, but it looked like I had upended a can of white paint on my chest.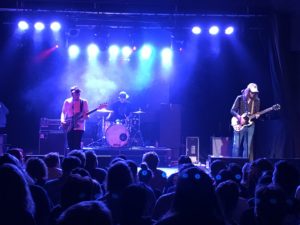 While I waited I got to thinking about the name Cloud Nothings. It's an odd sort of name. Is it intended to represent a sort of opposite of Cloud 9 – where Cloud 9 is all peaceful bliss and Cloud Nothing a chaotic disturbance – a sort of Hell to Cloud 9's Heaven? Perhaps; perhaps not, but when the band emerged and extracted a dense, scuzzy racket from their collective instruments, you could be forgiven for thinking it.
On record there is a discernible melodic line running though through most of their material – sometimes it's buried deep, but it's there nonetheless. Live however, the band dispensed with such nuances, or simply drowned them out with feedback. The first song, Now Hear In, opened proceedings at a rapid Ramones-like pace, which set the tone for the night with virtually every song emerging from a squall of feedback to suddenly streak onwards at breakneck speed. 'Hypersonic' is the word in inter-continental missile lexicon, and it works just as well here.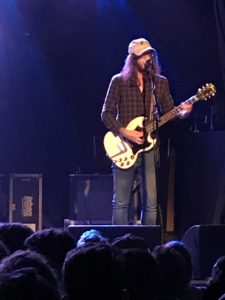 It was an exhilarating set and provoked uncontrolled, moshing from those near the front of the stage, particularly during Fall In, Psychic Trauma and Stay Useless.
The longer the show went, the more manic the jostling and jumping became. I was standing on a step overlooking the mosh-pit and was glad not to be involved in the pushing and shoving that was passing for dancing. The pint-sized lead singer of Press Club, I noted, was right in amongst it all.
The highlights of the set for me were the newer numbers, The Modern Act, Things Are Right With You and Enter Entirely.
Lead singer and guitarist Dylan Baldi has hair nearly as long as Press Club's Natalie Foster, but he contained his beneath a baseball cap worn low over his eyes. I presume he realises the irony of his name given his long locks, but I do hope someone warned him about the funny looks he might get in Melbourne if he introduced himself as Mr Baldi.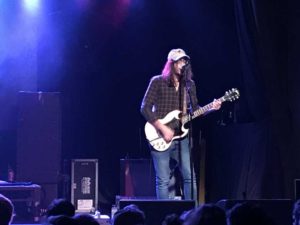 He stood on stage left while bassist TJ Duke took the centre stage and guitarist Chris Brown manned stage right. It was all heads down violent thrumming from them while up the back, drummer Jason Gerycz set a cracking pace on his kit, determining the rapid fire tempo.
I retreated to the back and grabbed another Asahi – the heavily tattooed barmaid handed it to me before I'd even ordered it . I didn't think I'd drunk that much and was flattered to think that she had taken note of me well enough to remember my order, until I realised that I was probably the oldest person in the room by at least a decade. She was probably just wondering what I was doing there.
I took in the remainder of the show from a stool up the back where I could see quite well, the sound was less abrasive and I could enjoy the spectacle of kids lurching about with wild abandon.
It was a powerful show; cloud nothings by name perhaps, but they were really something.
Setlist
Now Hear In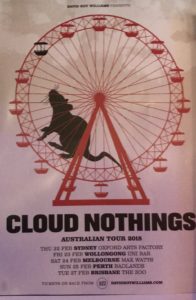 Fall In
Modern Act
Psychic Trauma
Enter Entirely
?
?
Stay Useless
Things Are Right With You
I'm Not Part of Me
Realize my Fate
—————
Wasted Days