Car Seat Headrest
Car Seat Headrest
Croxton Park Hotel
Wednesday 28 February 2018
$60
TOLEDO SHUFFLE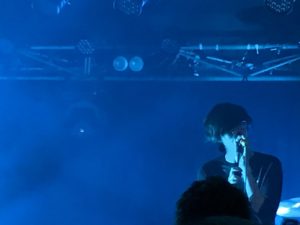 I got into Car Seat Headrest at the insistence of Spotify's algorithm, which automatically triggered Drunk Drivers/Killer Whales or Fill in the Blank at the conclusion of almost every album I was playing. After a while I just gave in and downloaded the Teens of Denial album.
Knowing nothing about them, I listened happily enough to their Sonic Youth/Strokes/Parquet Courts kind of groove and enjoyed the slacker vibe, spiky guitars and schizophrenic arrangements. I was a little puzzled by the band name, Car Seat Headrest, only because I wondered what sort of band, other than Dashboard Confessional perhaps, would want to convey their worldview through the prism of automobile interiors. Would Glove Compartment or Booster Seat also work as a band name I wondered? Of course I realised I quite liked listening to them while driving, so perhaps there was some serendipitous alchemy at work after all.
My friend Paul saw them in London in 2017 and said it was the gig of the year, so on that recommendation I headed to the Croxton for their sold out Melbourne show.  And he was right; unless Bjork brings an All Nude Review revue, or The Fall tour with a hologram of Mark E Smith out front, I'm calling this as gig of the year for 2018.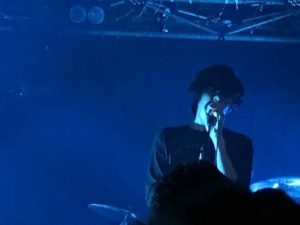 The band may be uber cool right now, but they're not above doubling up as retail assistants at the merch desk before and after the show. I picked up shirts for the whole family and then took up a position near the stage.
The band consists of Will Toledo up front backed by the Naked Giants, who are a band in their own right. In fact it was the Naked Giants who kicked off the show without Toledo, opening the set with a Naked Giants song, TV.
Toledo joined the band for The Drum, before the riff for Fill in the Blank signalled an eruption of jumping and jostling up the front, which served as an invitation for hundreds of other tall, young men to invade the mosh pit area and start throwing their bodies about. From that moment the moshpit was a mass of heaving, hurtling bodies, waving arms and raised voices singing along – not all of them able to maintain Toledo's studied croon.
In particular the guy behind me who didn't know many of the words, but didn't let that stop him from tunelessly shouting his rough approximations in my ear. It was annoying, but at least he was enjoying himself. However, I'm not sure how the directors of Beyond Blue would have reacted to hearing a chorus of mostly male voices shout out, "You have no right to be depressed…"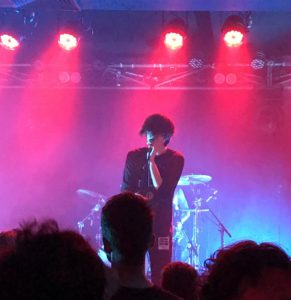 Destroyed by Hippie Powers, Cute Thing and Drunk Drivers/Killer Whales prompted wild scenes of shouting and exuberant dancing in the mosh pit, so much so that I edged further back out of the maelstrom entirely. I don't think I've ever seen people this excited on a Wednesday night. But it was not without reason for the band was in cracking form; there was a sense of zeitgeist about the evening – we were all seeing the right band at just the right time.
To offset the audience's tuneless shouting, the Naked Giants were all very adept singers. Quite apart form their playing, which was tight and frenetic, their harmonies were smooth and controlled. This was never more evident than during a cover of The Boxer – after all, it takes a good set of pipes to take on a Simon & Garfunkel number.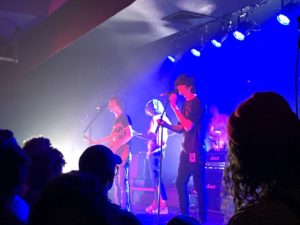 They followed this with the epic Beach Life-in-Death. It took a false start, so went for even longer than normal. But given it goes for 10 minutes and veers about all over the place, you want to nail the beginning. They rounded out the set with  Nervous Young Inhumans, also from their latest album, Twin Fantasy.
A lengthy encore consisted of a medley with Toledo taking the keyboard for a run through of Frank Ocean's White Ferrari (a vehicle that presumably has a car seat headrest), followed by his own Twin Fantasy, before they rounded out the show with Nina Simone's Do What You Gotta Do. This was probably the only part of the night that dragged, and I don't know if it was because it sounded like one monumentally long song, or because by this stage my feet and back were aching and I was keen to get home to bed – if only I had a headrest. Even so, this was a memorable gig that highlighted the value in seeing a band right at the peak of their powers.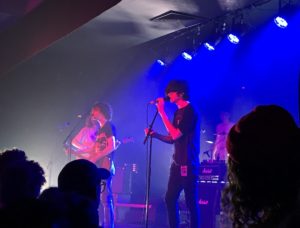 Setlist
TV
The Drum
Fill in the Blank
Bodys
Sober to Death/Powderfinger
Destroyed by Hippie Powers
Pyramids
Cute Thing
Drunk Drivers/Killer Whales
The Boxer
Beach Life-in-Death
Nervous Young Inhumans
—————–
White Ferrari
Twin Fantasy (Those Boys)
Do What You Gotta Do
Check out some more pics here from Secret Sounds Facebook page. Photos by Nova Stella Photography.