Aldous Harding
Aldous Harding
Fraser A Gorman
Croxton Park Hotel
Wednesday 7 February 2018
$34.70
PARTY GIRL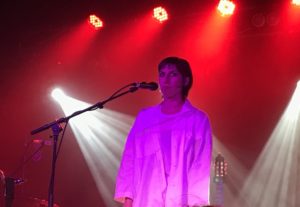 From the moment I heard Aldous Harding's song Horizon, I was utterly enraptured. What drama. What mystery. And the video was equally enigmatic. I pre-ordered the new album Party direct from the record company and it became my favourite album of 2017. Admittedly, it's an album I'd only play once the party was over. Its quiet melancholy is barely going to get toes tapping, let alone hips shaking. For all that, it's a beautiful album.
I followed the progress of her tour and private life via Instagram and Facebook – a sort of authorised stalking. It's possible I became a little obsessed. I very nearly subscribed to 3RRR just so I could be in the running to win tickets to a radio show she was playing there in December.
When she was announced as part of the Laneway line-up I immediately bought a ticket and did the same when her sideshow at The Croxton was announced. Had I known where she was staying I may well have gone through her rubbish bins.
Her set at Laneway overlapped with Wolf Alice's so I missed her first couple of songs, but she was amazing. Squinting into a fierce afternoon sun it was difficult to tell if her unusual facial mannersims and slumping posture were a result of circumstance, vitamin deficiency or affectation. Such was the brightness of the sun, people kept throwing hats onto the stage.
Having seen her at Laneway, some of the mystique was gone by the time she hit the stage at the Croxton, but her performance was still mesmerising. Since I last saw her at the Corner Hotel in 2015 supporting Perfume Genius, she has added a new theatrical element to her show.
The chief change is the songs. Gone is the gothic folk girl; her new songs exhibit a minimalist melancholia. They are quiet, contemplative and hauntingly beautiful, but with a slight subversive edge. What if Birds Aren't Singing, They're Screaming is perhaps a good illustration.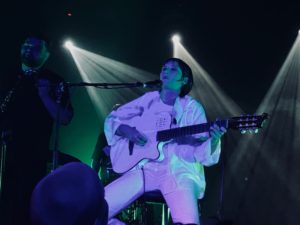 Her performance style has also changed; she has cultivated a studied, oblique Bowie-esque presence and added an element of Kate Bush theatricality with Joe Cocker's demented twitching.
Her voice is no longer all falsetto warble either. There is more range, depth and drama to it. Her facial twitches, studied gestures and distorted posture suggest a dramaturge has gotten involved. Turns out it wasn't just the sun at Laneway; she slouches on her stool, tucks her guitar right up under chin and grins maniacally like The Joker. It's a bit disturbing, but you can't take your eyes off her.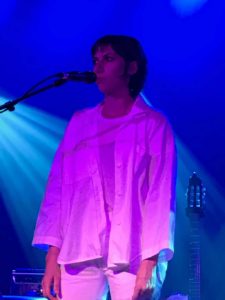 As she has for her entire tour, Aldous was dressed in an all-white ensemble. Her set was taken mainly from Party and augmented with a few new songs. Nothing at all from her debut album. She was accompanied by a band – a drummer, a sax/clarinet player and a keyboard player, all of whom came and went as needed.
Horizon was performed as a duet with her keyboard player. New song Pilot was just Aldous on keyboards and vocals. During Imagining Her Man the audience joined in on the little yelps where required. The sax player, when not actually playing, just stood there staring impassively out at the audience, looking more like a bouncer than a musician.
Aldous herself alternated between standing in statuesque pose at the microphone and sitting in slumped posture on a stool while playing her guitar. Between singing each line, she did her mouth exercises; pursed her lips, stretched them into a grin and shaped words that she didn't articulate. It was magnetic to watch, and not just because I'm a little obsessed. People around me were chuckling at her antics. There is something mystical about her. I think she might just be the real deal – an actual artist. There's certainly no one else quite like her.
When I first saw her, I wrote that, "Her name may never come top in a Google search starting with 'Aldous H…' but on the evidence of what I heard, over time it may come a legitimate second." Well, I might been mistaken. Certainly by whatever algorithm runs my search history, it is Aldous Harding's name that comes up first.  Go see her!
Setlist
I'm So Sorry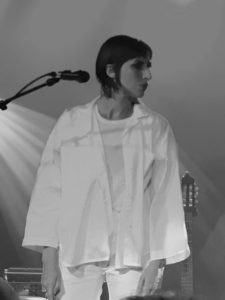 Elation
Blend
Horizon
Living the Classics
Party
Imagining My Man
Heaven is Empty
What if Birds Aren't Singing, They're Screaming
Pilot
————
The Weight of the Planets
Fraser A Gorman, the support act, was also pretty good. He has an Alex Gow (Oh Mercy) sort of persona – good songs, wry comments and sharp band. One to watch.
Aldous Harding with Perfume Genius at The Corner Hotel: 15 February 2015