Nocturnal
Totally Mild
Jess Ribeiro
RVG
Jade Imagine
Nocturnal – Melbourne Museum
Friday 4 May 2018
$30
GIRLS TO THE FRONT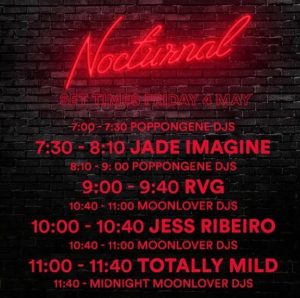 Some rock bands belong in museums; others just play there anyway. Nocturnal is a music program held on the first Friday of the month at Melbourne Museum. The May lineup featured four of my favourite local acts – Totally Mild, Jess Ribeiro, RVG and Jade Imagine – so it was a worth pushing through the chill of Melbourne's early onset Winter and making the trek to Carlton Gardens.
There was a good set up with bars, food stalls and a large open space in the foyer for the audience – who could either watch the bands or explore the museum galleries. The stage was festooned with plantlife and a large video backdrop projected images of the performers. This added to the sense of occasion, but became a little disconcerting when you could see an a vastly oversized image of the singer's head looming menacingly over the real person.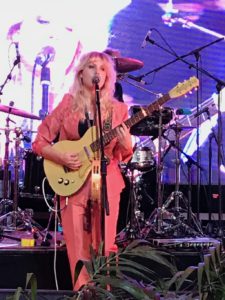 Jade Imagine took to the stage first and set the tone for the night by playing largely new, unreleased material. Their music is of the gentle indie pop variety, but lead singer Jade McInally has a smooth clear voice and the band set up some interesting arrangements. I recognised a few of the tracks, such as The News, from a public rehearsal they played at M Pavillion over summer.
Jade McInally may not be the most dynamic frontperson at this formative stage of her career, she's no Chrissy Amphlett, but she is warm and personable, and anyone who can rock a two piece peach suit deserves respect.
I've seen Jade Imagine three times now, and each occasion has been in an odd venue: the Melbourne Town Hall, the M Pavilion in Queen Victoria Gardens and now the foyer of the Melbourne Museum. Perhaps it's time I saw them in a proper rock dive. Let's see her try and get away with that peach suit at The Tote!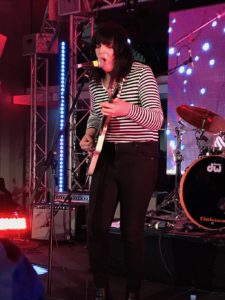 RVG were next up and they were the highlight for me. With Romy Vager up front spitting out her songs and the band falling in behind her, they played an energetic, vibrant set that featured songs from their magnificent debut album of 2017 plus a few new songs.
I went for a wander through some of the museum exhibits in the break between bands. The audience was mainly young, early 20's, as befitting the bands that were on the bill. At the risk of sounding like one of those bastards who decries 'today's youth,' it was still disturbing to hear a voice emerge from a group of people around the glass case containing Phar Lap to ask aloud, "so what's this horse so famous for anyway?"
Jess Ribeiro was up next and while she was waiting for the drummer to get settled, asked for a show of hands from those who were menstruating. Unusually forthright perhaps, but it sure beats 'How are you all doing?' as an opening gambit.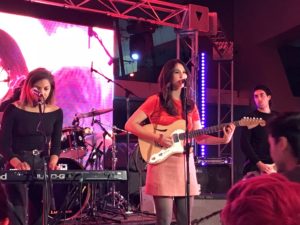 Ribeiro opened with Kill it Yourself, the title track from her 2016 album, but Like Jade Imagine and RVG before her, played largely new material.
It was a good set of songs set off by her languid vocals that whets the appetite for her next album. It was good to see Marc Regueiro-McKelvie formerly of Teeth & Tongue, on guitar with Ribeiro. With Jade Mcinally as a fomer backing vocalist and her drummer James Harvey also from that band, there was a healthy Teeth & Tongue alumni present.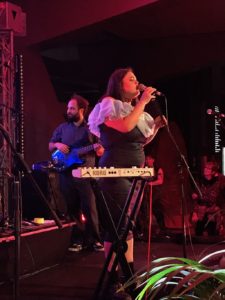 Totally Mild are playing around a bit in support of their new album Her. I last saw them supporting Perfume Genius at the Recital Centre, and here they adopted a similar approach of playing their new album from start to finish, as well as a few songs from their first album. The songs have more oomph live while retaining their pop-noir quality, and Elizabeth Mitchell is always an engaging and chirpy frontwoman.
By 11pm however, my feet were aching from four hours of standing on a hard museum floor, so I was happy enough when Mitchell said 'Good night' and I could go home. It was a good night of local music featuring four very different female singer songwriters as well as some reconstructed dinosaurs and a stuffed horse in a glass case.