Jack Ladder
Jack Ladder
Rock Steady Records, Melbourne
Saturday 5 May 2018
Free
WHISPERING JACK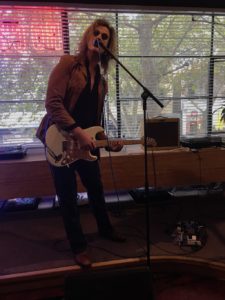 Jack Ladder is far from a household name, yet he still emanated an air of rock star swagger as he lent against the counter at Rock Steady Records gassing with his peeps. Is it attitude, confidence or just the telltale rock 'n' roll affectations of long hair and aviator sunglasses that gave him away?
Either way, he was clearly a step above me on the 'cool' ladder. Then again, I was on my way to the footy and was wearing my Hawks cap and scarf, so you could argue I wasn't at my sartorial best. Plus, he was touring the country as support to The Killers, so perhaps some of Brandon Flowers' uber-coolness had rubbed off.
In addition to playing with The Killers that night, he was promoting his new album, Blue Poles, which had come out the day before, and was doing an in-store appearance at Rock Steady.
Rock Steady Records is one of Melbourne's best record stores, certainly in the CBD. It's on Level 1 of Mitchell House, a smart art-deco building on the corner of Lonsdale and Elizabeth streets. Pat, the owner is knowledgeable and is good for a recommendation, so I pop in every couple of weeks to pick up something new or even an old classic that has been re-issued on vinyl.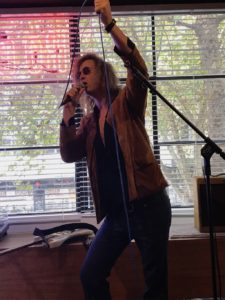 The gig was due to kick off at 1.00 pm, which was quite convenient for me to get to the G for the Hawthorn game. We were playing arch rival Essendon, so i needed some music to soothe my rising anxiety levels.
I took up a spot close to the small stage, near the M-O racks. Ladder, if that's his name, found the sound file on his phone with the backing track, picked up his guitar and played Tell It Like It Is from the new album.
His voice is a rich baritone with a sort of Chuck Prophet drawl that could carry any tune. Other than his guitar, the music for this show was piped in via his iPhone, but despite this, he wasn't just phoning it in.
He introduced his single Susan as his 'euthanasia disco song,' then ditched the guitar and went full karaoke for the love ballad, White Flag.
"I've been playing arenas for the past two weeks" he said as he looked over the crowd huddled into the small space of the record store, he said, "but this is terrifying."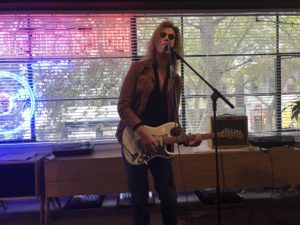 It was a short, but good show and I'm glad I caught it, because I don't think I'll be able to see his headline show that is due to swing through the Corner hotel in a couple of weeks.
To cap off a good day, the Hawks won and the album is pretty impressive.
Setlist
Tell It Like It is
Susan
White Flag
Feel Brand New
Merciful Reply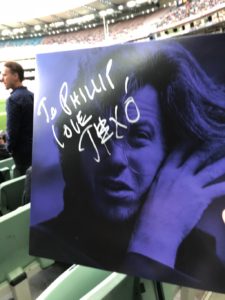 Jack Ladder with Angel Olsen – Corner Hotel, 28 November 2016