The The
The The
State Theatre, Arts Centre Melbourne
Thursday 4 October 2018
$99.90
SWEET BIRD OF TRUTH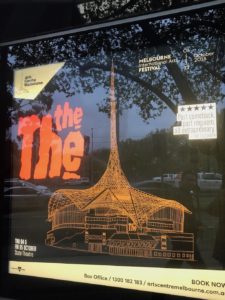 I was standing at the urinal in the State Theatre with three strangers, all 50+ year old men when one of them said aloud to the room in general, "What a great song."
We each knew what he was referring to.
"Thirty years old and it still makes me tear up" I admitted.
"Somehow it is both a positive song and a sad song" a third added.
Then we began querying whether it had come out in '83 or '85, but none of us could say with any certainty and really, as if it matters in the case of such a timeless song. Then we zipped up, pressed our respective flushes and made our way back to the auditorium where Matt Johnson and band, aka The The, were still midway through Soul Catcher.
The song that had prompted the unlikely rest room conversation was This is the Day. The band had just finished performing it and we were each separately taking advantage of the lesser known follow-up song to visit the bathroom, not only to relieve our bladders, we were aging men after all, but to compose ourselves after the emotional hit of This is the Day.
The The were playing at the State Theatre for the opening night of the Melbourne International Arts Festival as part of their comeback special tour. I had seen them on their previous visit to Melbourne 30 years ago with Johnny Marr on guitar, so I was very excited when this show was announced.
Johnson had been absent from the music scene for the best part of this century – his last album NakedSelf appearing to almost no fanfare in 2000. He had been biggish in the 80s, at least in indie circles, or alternative scene as it was called then. He had a handful of minor hits espousing right-on social values and political awareness while also hinting at male fragility. He was pre-woke.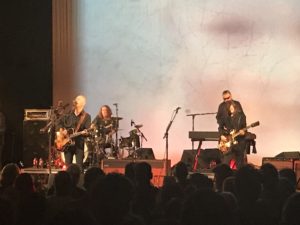 To be honest I hadn't spent much of the intervening time wondering what had happened to Johnson. Since his last record I'd raised children to adulthood, bought property, graduated from university, buried my father, aged considerably, continued to follow my football team, tried to keep up with technological changes, built my collection of Fall albums, and all the other time consuming stuff of life. However, I did give him a thought whenever I made a playlist for The Beat(en) Generartion, This is the Day or Uncertain Smile invariably found their way into the mix.
Then a year or so ago my friend Greg in London went to a Q&A night with Johnson followed by a concert a few months later, so I knew there was renewed activity on the The The front (it's rare that you can write the word 'the' or any other word for that matter three times in succession and still be correct).
I was at the show with Angela, Sue and John. It's fair to say John and I were the more excited to be there – so much so that we'd bought tickets for our wives without thinking to ask whether they really wanted to go. It's a version of mansplaining of which we are occasionally guilty. We had other friends dotted throughout the audience as well, so there was a convivial social element to the evening, in the foyer beforehand and the Barre bar afterwards.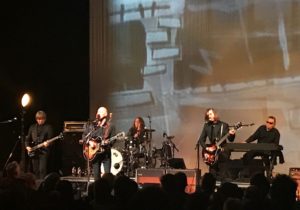 Being a festival show there was no support act and the band ambled on stage at more or less the advertised time all wearing black. They faced inwards and set up the slow chug of GlobalEyes, one of the tracks from NakedSelf. It's not a particularly well-known song, even among Johnson's oeuvre, so the Melbourne audience, though greeting the band warmly, remained typically subdued and of course seated.
The audience remained seated even when the familiar strains of Sweet Bird of Truth rang out. In fact we only stood when Johnson invited us to do so for Armageddon Days Are Here (Again), and then most of the audience promptly sat down again as soon as the song finished.
The seats in the State Theatre are plush and comfortable and most of the audience were around the 50 year-old mark, so I get it, but I was in a dancing mood. There were a few occasions after one of the 'hits' when I found myself as the sole person in my area standing. So out of a mix of Melbourne courtesy and self-consciousness I sat down until the next well-known song gave me a legitimate excuse to get up and, if not quite boogie, at least shuffle.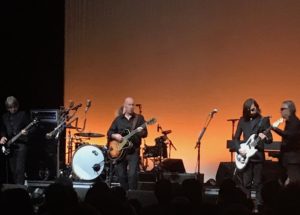 As it happened, most of my favourite songs came early; Heartland, The Beat(en) Generation and Armageddon Days Are Here (Again) came in quick succession near the front of the set. All of them retain the political relevance they did 30 years previous, in some cases more so.
Johnson was quite the raconteur and enjoyed reminiscing about the origins of some of his best known songs. His singing voice seemed deeper than in the 80s, but his speaking voice was a beautiful mellifluous baritone. If he chooses not to continue singing, a career in audio books awaits him. I might even get through Infinite Jest if he was reading it to me.
The setlist featured songs from across his career, though Dusk was the most heavily represented album. Johnson explained that he wrote the album around the time his younger brother died in the early 90s, and after the recent deaths of his other brother and father, those songs best captured his mood. Dogs of Lust, Helpline Operator and Slow Emotion Replay were among the highlights from this album.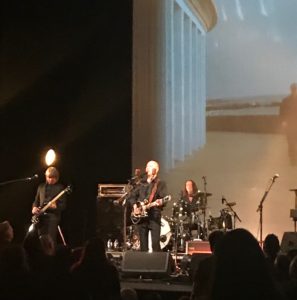 In amongst this they also played the 2017 single We Can't Stop What's Coming, a couple of songs from the first album and I Saw the Light from his album of Hank Williams covers.
The band members were introduced, but I wasn't taking notes, so I can't run to names, but they were uniformly excellent. In addition to Johnson who played guitar, there was a lead guitar, bass, drums and keyboards.
They performed against a video backdrop of recent footage and old samples from film clips with Johnson pausing at one stage to laugh at his younger self. The most effective video was of turning pages showing scrawled graphics and illustrations.
Then after the neo-funk of Infected and I've Been Waiting for Tomorrow (All of My Life), Johnson raised an arm and wandered off, leaving the band to finish the show.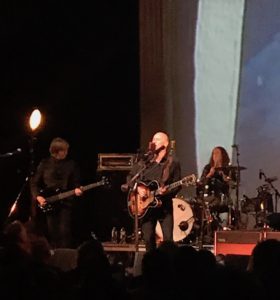 He opened the encore solo playing True Happiness This Way Lies on acoustic guitar before the band re-joined him for Uncertain Smile. Famous for its extended piano solo played on the record by Jools Holland, the keyboard player here milked his big moment beautifully, wandering around the stage and chatting to each band member in turn as played their way towards the moment, whereupon he sat down at the keys, wiped the keyboard with a towel, rubbed his hands together in readiness and then plonked them down in fevered tenacity as he tore it up with a demonstration of Rachmaninovian virtuosity.
During the final number of the encore, Lonely Planet, a woman clambered slowly onto the stage and tried to plant a kiss on Johnson's cheek. Far from welcoming this tribute, Johnson recoiled, turned his head away from her and signalled furiously for security. He couldn't get off the stage quickly enough once he'd brought the song to an end.
I didn't mind, I needed to visit the bathroom again by that stage, so I was in no mood for drawn out ovations. He'll be back in 30 years anyway.
Setlist
Global Eyes
Sweet Bird of Truth
Flesh and Bones
Heartland
The Beat(en) Generation
Armageddon Days Are Here (Again)
We Can't stop What's Coming
Beyond Love
Love is Stronger Than Death
Dogs of Lust
Helpline Operator
This is the Night
This is the Day
Soul Catcher
Bugle Boy
Slow Emotion Replay
I Saw the Light
Like a Sun Risin' Through My Garden
Infected
I've Been Waiting for Tomorrow (All of My Life)
———————-
True Happiness This Way Lies
Uncertain Smile
Lonely Planet