Even
Even
Northcote Social Club, Northcote
Thursday 27 September 2018
$30
GRAND FINAL ENTERTAINMENT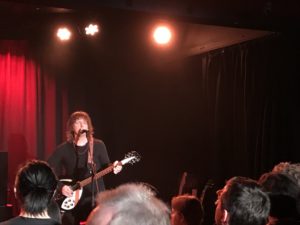 Each year much is made of the musical act booked to play at the AFL Grand Final. Generally the announcement provokes rolling of eyes, superior smirks and yawns. If Meatloaf was the all-time low water mark of pre-match music in 2011, then The Killers provided the yin to Meatloaf's yang last year when they garnered universal good reviews. Who knew that the Grand Final entertainment could be, well, entertaining?
Of course it couldn't last, and this year we were back to the tired and dire: The Blackeyed Peas (without Fergie) and Jimmy Barnes. If it wasn't already bad enough that Collingwood was playing.
Over the past few years, friends of mine have raved about Even, a Melbourne band who all but passed me by since they began in the early 90s or was it the 00s ? That's the point, I have no idea. All I know is that guitarist and singer Ash Naylor, along with Davey Lane, is the go-to man if you're putting on a tribute night for a recently deceased artist from the 60s or the anniversary of any Beatles album.
So when they announced a gig for the night before the Grand Final Eve Holiday, I thought it was a good opportunity to see them. Grand Final weekend is the best time to be in Melbourne, especially if your team is in the big one. My team wasn't playing, but it is still a great time to be out on the town. And with our recently gazetted public holiday to help us ease into the weekend, there was no reason not to be out.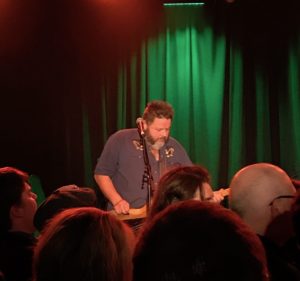 I contacted my friend Paul who was jetting in from London to watch his beloved Tigers in the Grand Final to see if he was interested. "That sounds good. My mate Wally plays bass in the band, so would be good to check them out" he responded.
I was more out of touch in the early 00s than I realised if I one of my friends' mates was in the band and I didn't even know about them.
Anyway, I got the tickets and everything was working out perfectly … except that Richmond lost the Preliminary Final to Collingwood and didn't make the Grand Final. So, Paul's trip home wasn't exactly going to plan, but at least he could relax and enjoy the show without the Granny nerves kicking in.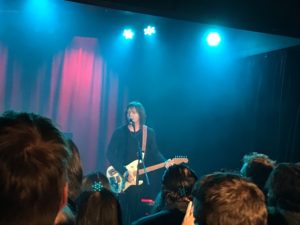 There were several friends and acquaintances in the Northcote Social Club front bar when I arrived, including Paul and Wally, and with a long weekend holiday ahead of us, we settled in for a convivial evening, i.e. one involving quite a few beers. Paul and I had caught up a couple of nights earlier when Wolf Alice played at the Corner Hotel, so this meant we could skip the 'how are the kids?' type talk and focus on life's real issues – footy and music.
In preparation I'd listened to Even's new album, Satin Returns, and was pretty impressed, not only by the title, but the songs, the playing and the production. It's a good album and it stood me in good stead for the gig, because they played all but two songs from it during the show.
Their music is psychedelic but in a classic rock framework – i.e. as great a guitarist as Ash Naylor undoubtedly is, he doesn't go off on ten-minute solos, his first duty is to the song. There is a definite Pink Floyd, Stones, Beatles influence in the sound, but there was no pretence otherwise and the playing was tight and solid throughout.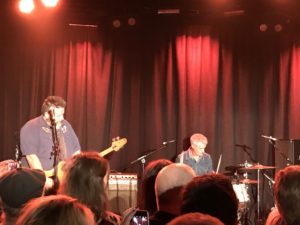 In footy speak, they were enjoying home ground advantage with plenty of love in the room. When a voice yelled out, "Can you play at my funeral?" Wally snapped back with, "When is it?"
Sunshine Comes and Black Umbrella both received a roar of recognition, as did the guest sitar player who joined the band on stage for Return to Stardust – the first song of the encore, and possibly the highlight of both the album and the show. It reads like a possible tribute to Bowie, and sounds even more like one, so much so it wouldn't be out of place on the Ziggy album.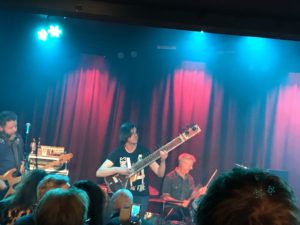 We convened for more beers and banter after the show, chatted with Wally and Matt from the band and got them to sign our special pink vinyl versions of Satin Returns, before heading home to enjoy a long weekend and a classic Grand Final.
Even were fantastic – so good you can say with some confidence they'll probably never be invited to play at the Grand Final. It's unlikely on the day I'll emerge from the bar to watch the Black-Eyed Peas or Barnsey play their sets, but I can say I've had my Grand Final entertainment, and unlike most people, mine was actually good.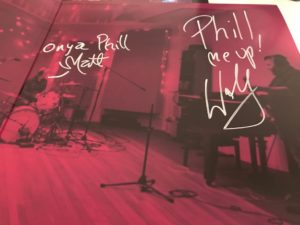 Setlist
The Opener
Victoria
Pretender
The Owl and the Lark
Little Piece
Stupid Dream
Stop and Go Man
Shining Star
Sunshine Comes
Out of the Woods
Coming Back to Earth
Indian Ocean
Jet Black
Black Umbrella
Don't Wait
—————-
Return to Stardust
Life Gets in the Way
—————-
Rock and Roll Save My Life