Peter Murphy (Bauhaus)
Peter Murphy
Max Watts Melbourne
Friday 26 October 2018
$70.80
MURPHY'S LAW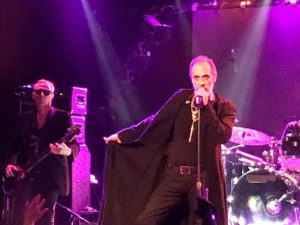 The queue outside Max Watts on Swanston Street stretched for more than one hundred metres. A mass of middle-aged people in an array of black garb, not just jeans and jackets, but capes, scarves, frock coats or possibly bat wings, hats and eye-liner. Hair was painted black and styled in a variety of quiffs and braids. An innocent by-passer might have thought an early Halloween party was about to take place.
Two women in Cabinet Bar where I was waiting to meet John and Ralph were likewise buttressed up in black corsets, black floor length gowns, jet black hair and black lipstick. Possibly they were drinking absinthe.
They could only be going to one place. When John arrived he asked them if they were going over the road to Max Watts. "Yes" their black lips assented.
I wondered if Melbourne was in the grip of a severe black lipstick shortage. Taylor Swift was playing that night at Marvel Stadium, but fans wishing to replicate her new edgy Reputation image were possibly struggling to find the right MAC matte blacquer, black truffle, or glossy panther shade, because over on my side of the city, Peter Murphy, the dark prince of goth rock was just emerging from his coffin and getting ready to perform at Max Watts.
I was going with Ralph and John. Ralph had shared my interest in Bauhaus when we were teenagers in early 80s suburban Melbourne. It wasn't easy work being a goth in Melbourne on bright sunny 35+ Celsius degrees days, especially as I had blonde hair, but we managed. It was all in the posturing, affectation and of course pointy black shoes. John, meanwhile had grown up in England. He hadn't been a goth, but he'd seen Bauhaus supporting Magazine way back.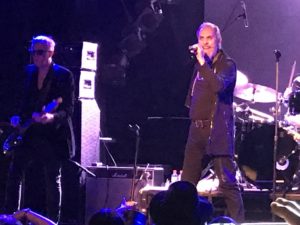 Bauhaus never toured Australia and although Peter Murphy had been here, I had never seen him. Ralph had though, and he raved about it – well as much as any self-respecting goth can ever rave about anything.
This show was to celebrate the band's debut album In the Flat Field – was it the 40th anniversary or just a reissue? Either way, we were promised the album in full plus a selection of other Bauhaus classics, of which there is a considerable catalogue. Plus, original bassist David J was on the tour, so it would be just like the old days, just a little more rickety and a little less pretentious. Meaning hopefully no songs from Dali's Car – the band Murphy formed with Japan's Mick Karn ("I'm in a band with David Sylvian's brother called Dali's Car … pretentious, moi?")
I was looking forward to the show, even if I considered the $70 ticket price to be quite expensive. But then it was still $300 less than Tay Tay, so in that sense it was a bargain.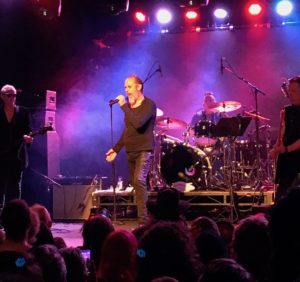 Max Watts (formerly the Hi-Fi Bar) is the perfect venue for a Peter Murphy gig. You enter from Swanston Street and descend several leagues underground to get to the stage area. It offered the illusion of entering a bat cave or vampire's bunker.
We got in a couple of Young Henry Lagers and set ourselves up on the edge of one of the steps around the mosh pit. That's the other good thing about the venue, there are plenty of good viewing areas for short people like me.
We saw the end of support act, Bitumen, who played dark, heavy industrial rock. Three men thrashed their guitars and bass over a dense programmed drum beat, while a woman in standard issue black shouted various complaints and observations into the mic. Not bad, but not exactly conducive to quiet conversation.
Between Bitumen and Bauhaus, the room became packed. At last it was time for the main man – he duly appeared wearing all black and sporting a Dali-esque goatee with pointy beard and tapered moustache. David J looked exactly as he did in the early film clips in his dark glasses, standing nonchalantly at stage right thrumming out dark, heavy notes on his bass. There was also a guitarist and drummer who Murphy did introduce later in the night, but whose names I missed. The main point, however, is that they could recreate the trademark shard of glass guitar sound and rolling drum peels of Bauhaus' best material.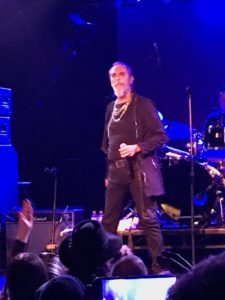 The levels weren't quite right for opener Double Dare and it was hard to make out Murphy's vocals They had sorted it out by the time we got to the famous refrain, "I get bored, I do get bored in the flat field" in the album's title track and I was able to sing along loudly with Murphy's marvellously expressive baritone.
They moved quickly through the first album, not stopping to reminisce or engage in banter. Murphy played up the dark prince persona, waving his coat tails like a vampire's cape, stalking the stage and staring menacingly at the audience through panda eyes. There were costume changes, moments of goth panto – it was all highly entertaining.
First album favourites The Spy in the Cab, St Vitus Dance and Stigmata Martyr – complete with Christ on the cross poses – were pumped out with genuine intensity, before they tackled the moody epic album closer, Nerves.
The band remained on stage as Murphy disappeared at the end of the album set. He returned with his coat zipped up straight-jacket style and they moved into the 'hits' section of the show, opening with Burning From the Inside, but moving quickly to the magnificent Silent Hedges – one of the highlights from The Sky's Gone Out.
Next up was the classic Bela Lugosi's Dead, with Murphy giving it the full goth treatment and adding electronic percussion as he intoned "the bats have left the bell tower."
I was standing right behind a super fan who was dancing, shouting out every word and alternately filming or waving his arms expressive gestures. This sort of behaviour had the potential to be annoying to those in his immediate vicinity, but I was enjoying watching him getting so involved in the show. I think I recognised the sort of obnoxious effusiveness I display at Echo & the Bunnymen gigs. His girlfriend was clearly less of a fan but that didn't stop him leaning over to explain some nuance she might have overlooked. Again, I recognised my own behaviour and forgave him, even as he held a giant iPhone up to film entire songs.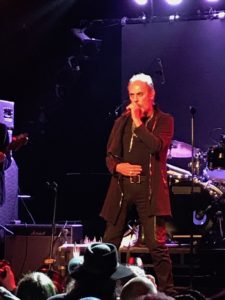 She's in Parties got the mosh pit jigging while Kick in the Eye had me shouting out nearly as loudly as the super fan in front of me, and I continued as I sang along to The Passion of Lovers. By this stage he was wearing a full length coat and was giving it the full Nosferatu as he wrapped it around him like a cocoon.
Readers of this blog will know that I like to check out new bands, but nothing beats the exhilaration and sheer joy of shouting out the words of a youthful favourite, even if those words are evocative of impassioned teenage angst, "the passion of lovers is for death, said she…" I haven't had this much fun at a gig since the last time a band from the 80s returned to milk my nostalgia.
They closed with Dark Entries and returned for an encore to play Severance, a cover from Melbourne's own Dead Can Dance.
After a break of four or five minutes, when quite a few people had gone to the bar, bathroom, merch desk, or even left the building, the band suddenly returned and played blistering energetic renditions of two of Bauhaus' most famous cover versions, Telegram Sam and Ziggy Stardust. Only Bauhaus had the chutzpah to cover this most iconic of Bowie songs in the early 80s – and only Murphy could still get away with aping many of Bowie's famous Ziggy moves as he acted out the tale of the androgynous rock star.
There is perhaps no more triumphant note on which to finish. This was a magnificent gig – Bela Lugosi may be dead, but Peter Murphy is still going strong.
Setlist
Double Dare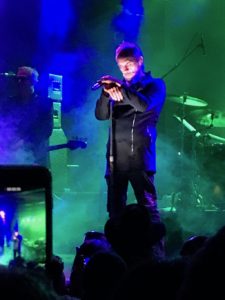 In the Flat Field
A God in an Alcove
Dive
The Spy in the Cab
Small Talk Stinks
St. Vitus Dance
Stigmata Martyr
Nerves
————–
Burning in the Night
Silent Hedges
Bela Lugosi's Dead
She's in Parties
Terror Couple Kill Colonel
Kick in the Eye
The Passion of Lovers
Dark Entries
———-
Severance
———-
Telegram Sam
Ziggy Stardust