Loose Tooth
Loose Tooth
Northcote Social Club
Darebin Music Feast
Sunday 28 October 2018
Free
SWEET TOOTH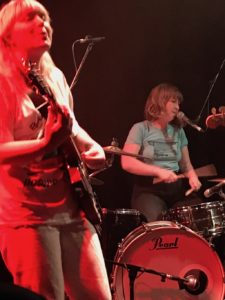 Somewhere in this blog I posited the theory that all Australian indie bands fit into one of three 1970/80s sound prototypes: The Saints, The Birthday Party or The Go Betweens. If this is true (and it's my theory so I'm running with it), then Loose Tooth definitely reside in The Go Betweens camp. The melodic imperative in each song, the shared vocals and dual voices, a sense of the joi de vivre plus a woman on drums are all traits the Melbourne band share with the erstwhile Brisbane outfit.
They were playing as part of Darebin Music Feast. Following an afternoon of great bands playing on a makeshift stage in adjoining Hawthorn Street (RVG, Jaala, Jade Imagine and Jess Cornelius – see below) Loose Tooth took to the indoor stage in the Northcote Social Club.
I had been enjoying their new album, Keep Up, so was keen to see them play live. From the outset they got the place bopping with their upbeat, up tempo pop songs and harmonies, starting with All the Colours Gone. I was a little surprised to discover that Etta Curry on drums took on most of the vocal duties. I'm not accustomed to seeing drummers sing, having many years ago perfected the art of turning away or off whenever I saw Phil Collins on screen.
Maintaining a steady rhythm on the skins while providing a vocal melody must be the musical equivalent of rubbing your tummy while patting yourself on the head. I don't know how she did it, but that might just be because I can neither sing nor play the drums. Or for that matter rub my tummy while patting myself on the head.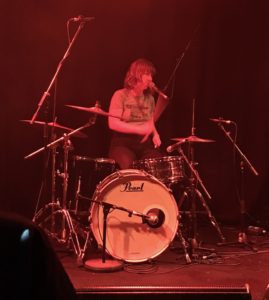 While Curry was busy drumming and singing, guitarist Nellie Jackson and bassist Luc Dawson engaged in a spot of byplay upfront, joining in for the chorus or adding a splash of vocal colour here and there. Jackson was often at the front of the stage mouthing the words while shredding her Rickenbacker.
Jackson also provided the bulk of the between song banter. She was entertaining and witty, even if she was slightly thrown by the kids at the front of the stage (this happens at free gigs in Northcote).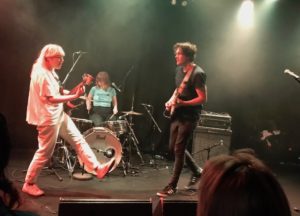 After the power and exhilaration of RVG on the outdoor stage, Loose Tooth kept the energy up and capped off a great day of music in Darebin.
I don't know what inspired the band's name, but their music has the same sense of joyful, slightly illicit fun that I remember as a kid on discovering a loose tooth in my mouth. I'm definitely up for seeing them again.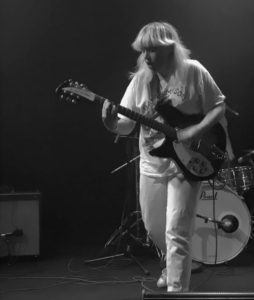 Setlist
All the Colours Gone
Butter Knife
Will You Evolve
Sherry
Everything Changes
Bad One
Asteroid
You Say
Keep Up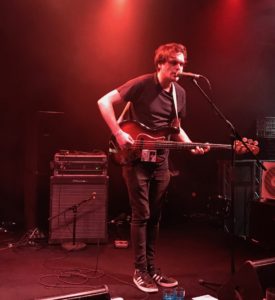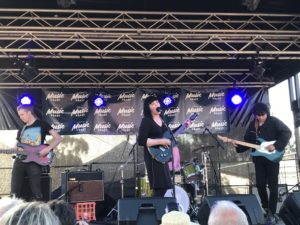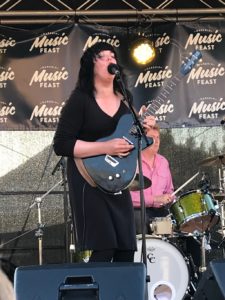 RVG featured a mix of new songs plus a few faves from their debut album, finishing a blistering set with the fabulous Feral Beach. RVG are right up there with Rolling Blackouts CF as one of the best bands in Melbourne.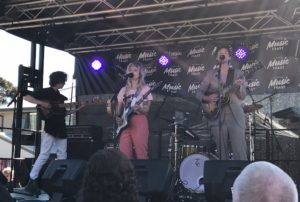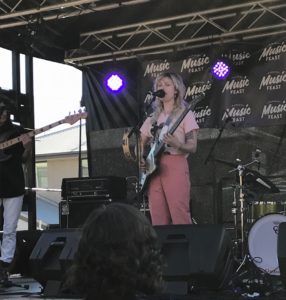 Jade Imagine's sound continues to evolve.  They previewed material from their forthcoming album in a lively set.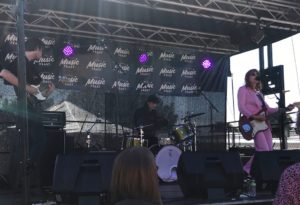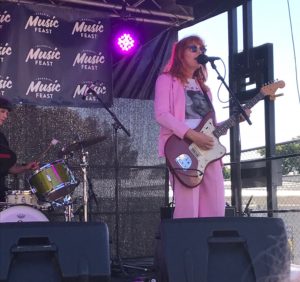 Jess Cornelius, formerly of Teeth & Tongue, currently living in LA, played a set of mostly new material and a couple of songs from her 2017 E.P.  The pink suit was a sartorial highlight of the day. She's still my favourite.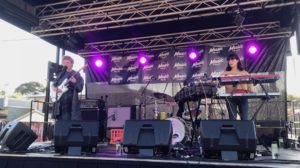 Jaala played a selection of tracks from their recent album in a creative and laid back set.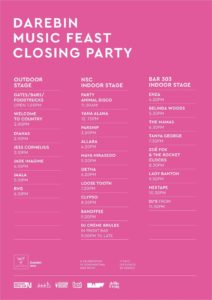 RVG, Jade Imagine – Melbourne Museum May 2018
Jess Cornelius – The Tote Hotel June 2017, Noisy Ritual People Powered Winery