Lazarus
Lazarus
Playhouse, Arts Centre Melbourne
Saturday 18 May 2019
$150
TURN AND FACE THE STRANGE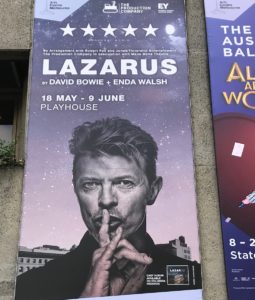 I knew it was a bad omen. I had tickets to opening night of David Bowie and Enda Walsh's stage musical, Lazarus, on the same day as the federal election.  My fear was that the name Lazarus was a sign that Scott Morrison and his right-wing LNP cronies were going to come back from the electoral dead to claim office. I had a further shudder when I saw the full moon hovering over the MCG as we walked down St Kilda Road. Strange things happen on a full moon.
And my concern was well founded. As I left the theatre with the exultant notes of Heroes still ringing in my ears, I checked my phone to see the unwelcome news that the Coalition had won the election. After six years of inaction, ineptitude and infighting, it was a result that made even less sense than the synopsis of stage show I'd just seen. In a way, I identified with the fate of Lazarus' protagonist, Thomas Newton. Just as he was an alien trapped on a planet from which he couldn't escape – either by rocket or death – I felt trapped in a country that couldn't escape from retrograde right-wing policies.
I was attending with Angela and meeting old friends Neal and Mark. It was Mark with whom I first discovered the music of Bowie in the late 70s, and it's fair to say we both got a little obsessed. Mark and I don't see each other very often, so this was a good opportunity to catch up and commune once more with Bowie.
Milling in the Bowie Barre ahead of the show there were a few people with tour t-shirts and Bowie paraphernalia. Jeanne Pratt, Chair of The Production Company, the company putting on the show, was in the foyer, presumably to greet, or be greeted by sponsors, backers and theatre luvvies. She ignored us as we dashed past, but there was a buzz as the opening night curtain drew near.
Angela and I had seats in the Circle overlooking the stage. The set design was simple; there was a screen running across the stage that began as see-through, but alternated through being blocked out and projecting video images. It was a clever device that helped create a multi-dimensional space.
The synopsis was a very loose hook on which to hang a selection of Bowie's songs. Thomas Newton, the character Bowie played in The Man Who Fell to Earth, played here by Chris Ryan, is supine on a bed in a languid gin-soaked haze lamenting lost love. He is trapped on Earth and can neither escape back to his home planet or die here.
Various characters that may or may not be figments of his imagination come and go and either taunt or tempt him. It's fair to say that the story probably didn't trouble the Pulitzer judges, and unlike reviews of Game of Thrones, there is no real angst around spoilers here because the plot, such as it is, doesn't exactly follow a conventional or coherent narrative arc. Not that you'd expect any different from a Bowie vehicle.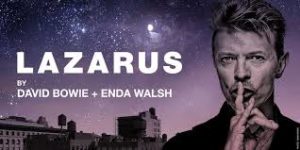 The real point of the show however, is the music and in this respect the production was excellent. The band was superb and each of the vocalists brought a unique interpretation to their performance. Phoebe Panaretos as Elly, an assistant and sort of love interest, was a standout, particularly her performance of Changes which drew the first ovation of the night.
iOta (yes, that's his name) as Valentine, a malevolent being of some sort who dressed as both the Thin White Duke and Pierrot, was the standout performer of the show. His dark and dramatic renditions of Dirty Boys and Valentine's Day were perhaps the musical highlights.
This was certainly not a conventional jukebox musical in that it largely shied away from Bowie's most well-known songs and focused instead on material from 2016's posthumous No Plan EP and 2013's The Next Day LP to tell its story.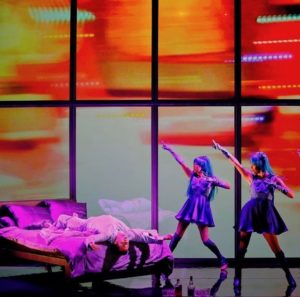 As such, the casual Bowie fan may not have heard the songs they might have expected. However, some of the hits were present and accounted for; The Man Who Fell to Earth, Changes, Absolute Beginners, Life on Mars and Heroes were all aired, but there were also some less expected gems, such as It's No Game and fan favourite, All the Young Dudes.
The staging was clever and creative and the production as a whole – notwithstanding the slightly bonkers storyline – was excellent. It drew a standing ovation in the stalls and coaxed the odd tear to dampen cheeks as Heroes finished and a reprise of Absolute Beginners rung out to accompany the curtain call.
And more importantly, as it turned out, the show's fractured storyline, esoteric songs, sonic maelstrom and powerful performances proved a welcome distraction from the horrors of election night. Listening to Bowie as Australia burnt itself up gave me a greater understanding of Nero's actions.
Setlist
Lazarus
It's No Game (Part 1)
This is Not America
The Man Who Sold the World
No Plan<
Lost is Love
Changes
Where Are We Now?
Absolute Beginners
Dirty Boys
Killing a Little Time
Life on Mars
All the Young Dudes
Always Crashing in the Same Car
Valentine's Day
When I Met You
Heroes