Joan As Police Woman
Joan As Police Woman
Northcote Social Club
Friday 10 May 2019
$59.90
GOOD COP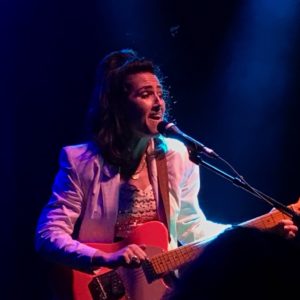 If Joan Wasser took on the role of her stage name, Joan As Police Woman, and interrogated you, I suspect she'd play the part of the good cop; she'd be the quiet one showing comfort and understanding, speaking in her soft, slow Brooklyn drawl, and probably offering you a smoke and a drink, and you'd find yourself spilling your guts and revealing everything.   
Her first show at the Northcote Social Club with her band sold out before Fiona had even texted me the event details. So, when a second, solo show was announced for the following week, we snapped up a couple of tickets.
It was a cold, wet Friday night in Melbourne, so although staying at home with a heater seemed the more natural and sensible thing to be doing, Fiona and I trooped out to the warm embrace of the NSC band room.
We arrived just as the final support act, Lucie Thorne, was finishing up. The audience was in a state of respectful hush as she sang, so much so that they all heard Fiona order me an Asahi.
The NSC stage was pretty much taken up by the baby grand piano – like a dining table where a coffee table should be. It was, she later revealed, the first time an instrument that big had been brought into the band room. And it was lucky her band had already flown home because there wouldn't have been room for them on stage.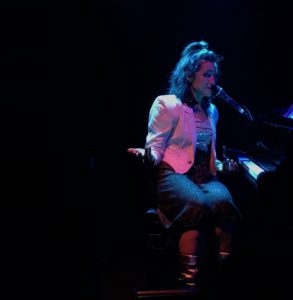 Joan As Police Woman has been recording and releasing music for around 15 years. Fiona had seen her play on her previous visits to Australia. I'm only really familiar with some of her more recent material and the odd song here and there, but literally no one who asked me what I was doing on the weekend had heard of her.  I'm not sure if this implies I've got my ear close to the ground, reflects on the circles I move in, or simply suggests that Joan hasn't quite found cut through yet. Even so, given how quickly her shows sold out, it is surprising she hasn't graduated to a bigger room than the NSC.
It certainly made for an intimate show though. Wasser, wearing the sort of knee-high silver boots you might wear to a Bowie dress-up party, plonked herself down at the baby grand with a cup of tea and for more than an hour played utterly beguiling set of soft, slow torch songs.
After opening with a slow, blues song I didn't recognise (it might have been Honor Wishes – the song she does with David Sylvian), she played the opening two songs from her latest album, Damned Devotion, Wonderful and Warning Bell. She moved to the guitar and picked out the soulful lick for Tell Me, but abandoned it half way through because she couldn't remember 'the really cool bit' she played in the bridge. She promised to come back to it later, but never did.
The set was made up of songs from across her entire career, right back to Real Life, so long-time fans were well rewarded. Wasser moved between the piano and guitar throughout.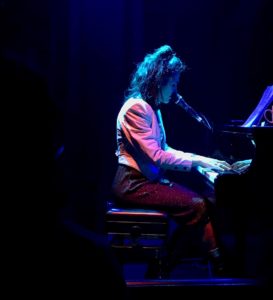 She played her songs at a slow, steady tempo and with quiet intimacy. The mood was most definitely mellow, with Wasser setting the tone with minimalist piano and quiet, nuanced vocal stylings, but it was never morose. She allowed her self-deprecating humour to shine through in her between song banter. You could hear a pin drop, or more accurately, the stubbies clinking as they were served at the bar. But Wasser put us at ease and invited those needing to cough to go ahead and do so, and even offered a Fisherman's Friend to anyone who might require one.
It was an absorbing gig, and the audience was attentive and reverent, almost overly reverent. But in our defence, it felt more like a friendship than an audience-performer relationship.
Wasser sought advice from us about what to do on her free day the following day. Someone yelled out "Go to the footy!" while some more earnest types suggested the NGV – as if she doesn't have access to one or two art galleries in New York. Hopefully she chose the footy. It was Collingwood playing Carlton, so the more law enforcement officers on hand the better.
She closed the set on the guitar with Real Life, The Magic and a cover of Prince's Kiss, pausing mid-song to ask, "what exactly is the twirl?" before enlisting the audience to sing backing vocals.
For her encore she played her wonderful new single, What a World, a quiet, meditative song of existential enquiry. The perfect way to send us out into the cold, wet streets.
Setlist
Honor Wishes (?)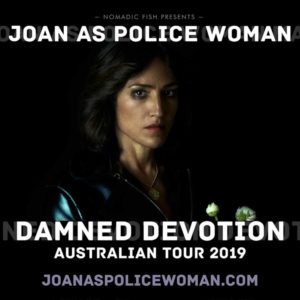 Wonderful
Warning Bell
Tell Me (abandoned)
Flash
To Be Lonely
To Be Loved
New Year's Day
Your Song
Christobel
We Don't Own it
Start of my Heart
Real Life
The Magic
Kiss
———
What a World