Anna Calvi
Anna Calvi
Corner Hotel, Richmond
Tuesday 18 June 2019
$67.90
SHE'S AN ALPHA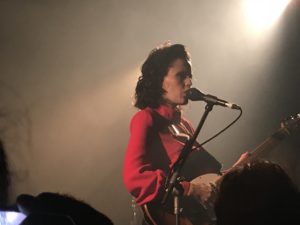 The Spice Girls caused confusion among Australian fans when they announced on stage at Wembley overnight that they were set to tour Australia, only to reneg on the offer before the night was out. But who needs Ginger, Baby, Scary, Sporty or Posh when we have Anna Calvi in town this week. Walt Whitman famously once wrote 'I am large, I contain multitudes' and the same might be said of Anna Calvi who possesses Ginger's feistiness, Baby's free-spiritedness, Scary's ferocity, Sporty's fitness and Posh's aloofness and red lipstick all in one, and without the annoying Jenny Craig ads. Plus she shreds like a demon.
Anna Calvi's third album Hunter was one of the very best albums of 2018. Every song is a triumph of tempo and tension, taking the listener through a rich and ever-changing soundscape of Calvi's intense guitar playing and histrionic vocal style. Since releasing a promising self-titled debut album in 2011, there has been one other album One Breath (2013) and a couple of EPs. But Hunter is Calvi's most consistently strong work and re-established the promise she displayed on her debut.
John and I saw Calvi at the Corner when she toured on the back of her debut album and she was magnificent, so I was online for the pre-sale as soon as tickets went on sale.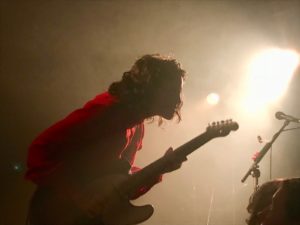 There were some surprises on the night, the most unwelcome of which were the new parking arrangements around the Corner Hotel precinct which are so restrictive that they act as a deterrent for attending future shows there. The other surprise was that the show wasn't sold out. Granted, it was a Tuesday night, freezing cold and tickets cost $67.90, but even so, I thought Anna Calvi warranted a bigger audience.
Not that I was complaining, it meant that John and I could wander down the front where it was comfortably uncrowded. Here was another surprise; despite being a relatively young female artist, the audience was largely 35+ and male. Admittedly one of those males was 6'5″ with short platinum blonde hair, elaborate eye make-up and wearing a low-cut leather bustier and tutu. But otherwise it seems Anna's demographic is cis-gendered, straight, balding, slightly pudgy, white guys. I fitted right in, but a cursory read of Calvi's lyrics suggests that it's not the audience characteristic she might have dreamt of attracting.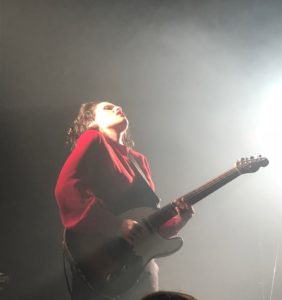 When the curtains parted, the stage was awash with dry ice swirling in red lights. Calvi was also in her trademark red – shirt and lipstick – and was accompanied by a drummer and a keyboard player, with Calvi on guitar.
They opened with the slow burning title track form her latest album, Hunter. You get the sense with Calvi that she's always holding something back, and it's this restraint that makes the sudden explosions in her songs so potent. It was an intense performance, heightened by the red lighting washing over the stage.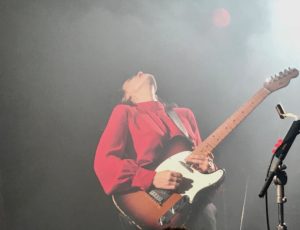 The drummer and keyboard player were set to the side, giving Calvi plenty of space to stalk the stage as she shredded, leant into the front row to headbang an audience member, or when necessary, get down on her knees to extract an extra decibel from her guitar.
It was an astonishingly powerful performance, probably my favourite gig of the year. The only flaw was its brevity. She performed only 10 songs, including the encore. Sure, I'll Be Your Man and Wish included extended guitar extemporisation replete with prowling and floor writhing, while Don't Beat the Girl out of My Boy featured a sustained guttural scream, but it would have been nice to hear Desire. All of us hetero men clustered near the front of the stage were certainly feeling plenty of it.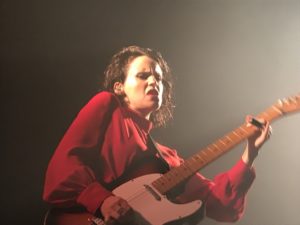 That said, she gave her all on stage, so we shouldn't quibble about her leaving a song or two in the vault. They returned for an encore of Suicide's Ghostrider, at the conclusion of which she walked over to the man wearing the leather vest and gave him a big kiss.
To repurpose Dave Graney's title, she is the hunter and we are the prey.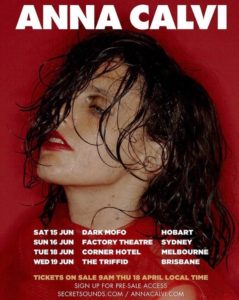 Setlist
Hunter
Indies and Paradise
As a Man
Wish
Swimming Pool
Suzanne and I
I'll Be Your Man
Don't Beat the Girl out of My Boy
Alpha
————-
Ghostrider