Batts
Batts
Howler, Brunswick
Friday 28 June 2019
$20
RELEASE THE BATTS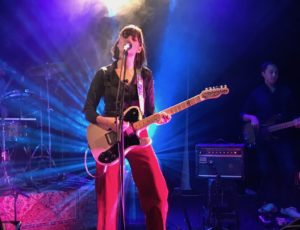 Having seen Tanya Batt play a solo set at Hamer Hall as support for Sharon Van Etten a few weeks ago, I was keen to catch her album launch show at Howler and see her perform with her band.
She goes by the name Batts, but is not to be confused with New Zealand band The Bats, Bat For Lashes or even Batpiss, and has released one of the year's best albums, The Grand Tour, which is on high rotation at chez Taylor. It's a concept album that not only uses the Voyager space journey as an extended metaphor, but also incorporates the sounds of space recorded on the voyage that were provided to Batts by NASA. It is evidence of a big thinker at work. Plus, her Facebook posts suggest she supports Hawthorn in the AFL, so that is a further sign of heightened sensibility and good taste.
There was a time when a propitious sign for a good night out involved mind altering substances and the prospect of frisky behaviour. But when Angela joined me for a date night to see Batts, it was finding a good park right out the front that got us most excited.
I was taking a risk buying Angela a ticket – she's easily unimpressed by what might be called the music scene, but something about Batts' left of centre worldview and her deceptively powerful voice made me think that even Angela would like her.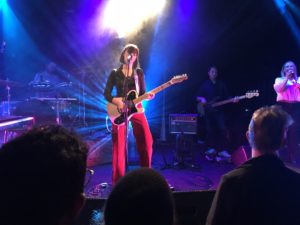 We arrived as Alexander Biggs was starting his set and took a seat in the bar to the side of the stage. He seemed okay in an earnest Bon Iver kind of way, although it was difficult to hear him at times due to the increasingly drunken yakking of a couple behind us. I'm not familiar with Biggs' oeuvre,  but after several songs of more or less interchangeable mid-tempo folk songs, his second last song suddenly exploded with noise and intensity, which of course simply provoked a louder burst of yakking from the couple behind us. Pity, because it sounded pretty good.
Batts and her band (guitar, bass, drums, keys/synth/computer set up, or 'that' as Batts described it when she introduced the band) came on stage to a recording of the album intro that sets the scene for the Voyager journey.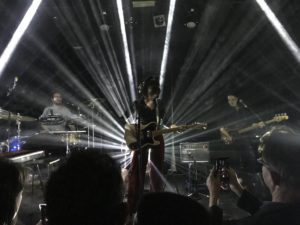 Bright lights projected onto artfully placed mirror balls and provided the celestial lighting effect required and the group launched into opening track, Mars.
From there they worked their way through the entire album with the band providing a polished, subtle soundscape as Batts' powerful, emotive vocals soared. Highlights were the evocative Little White Lies, the Laura Marling-esque Folding Chairs and the haunting Gun.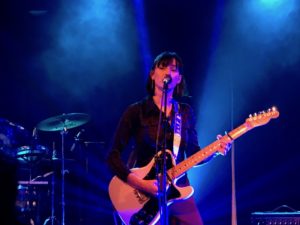 Dark Heart saw Batts perform solo on keyboard, while for an encore the band joined her to play For Now and For That I'm Sorry, both of which feature Batts' soaring vocals.
It was a stunning performance with her self-deprecating between song banter again a highlight.
Setlist
(Intro)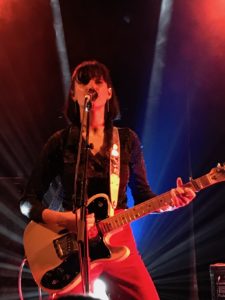 Mars
Overstayed Your Welcome
Don't Treat Me Like You Do
Little White Lies
(Interlude)
Shame
Folding Chairs
Gun
Dark Heart
Waste of My Time
For Now
For That I'm Sorry