Sharon Van Etten
Sharon Van Etten
Batts
Hamer Hall
Tuesday 11 June 2019
$70
COMEBACK KID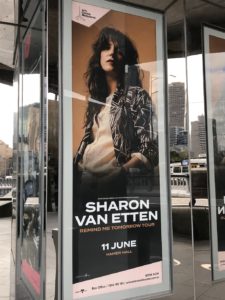 Previously known as the Queen of alt-country, Sharon Van Etten has replaced the strum of guitar with syncopated beats and the deep, pulsing throb of synths to transform herself into the Queen of, well, just alt I suppose.
Van Etten going electronica may not incite the same anger and hysteria as Dylan going electric, but only because we've grown more accustomed to such transformations over the years.
Like Dylan though, the quality of the songwriting and the conviction of the performance should be enough to win over even the most die-hard alt-country aficionado.
Van Etten's new album, Remind Me Tomorrow, is one of the best albums of 2019.  While I quite liked her earlier work, the new sound is deep, layered and complex, and to me, much more compelling than any of her previous albums.  The album prior to this was called Are We There and while it was very successful, with Remind Me Tomorrow, Sharon Van Etten has well and truly arrived.
She hasn't played in Australia for a few years and it's been five years between albums, during which time she's become a mother and dabbled in acting, so her gig at Hamer Hall was something of a comeback. And what else would you do on a Tuesday night in Melbourne?
SPACE ODDITY
Support on this night was by Batts, UK born, Melbourne-based singer songwriter Tanya Batts who herself has released another of the year's best albums to date – The Grand Tour. I was inclined to see Sharon Van Etten anyway, but discovering that Batts was also on the bill convinced me to pick up a ticket.
The Grand Tour is a beautiful record that is in turn sad, sunny, snide and sweet – sometimes all in the space of the same song. There is a loose over-arching outer space concept that adds a metaphysical element to what are in essence, songs about personal relationships.
It transpires in the live context, however, that Batts is, well, just a little bit bats – but in a good way. Performing solo, she brought her sublime songs to life with gentle guitar tones and rich, evocative vocals, her voice soaring to fill the vast auditorium of Hamer Hall. But between songs, the audience were treated to a neurotic monologue of self-doubt and wry observation about everything from leaky water bottles and messy rooms to whether anyone will turn up for her forthcoming show at Howler and observations that Saturn would float if you could find a bathtub big enough. All of it delivered in a rapid British brogue that even when incomprehensible, was still somehow utterly charming.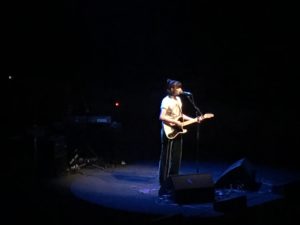 She played songs from her album as well as a couple from her preceding EP, 62 Moons, plus the obligatory Gillian Welch cover, Everything Is Free.
If the murmurs of approval from those around me were any indication, she guaranteed herself an audience for her forthcoming show at Howler, or at least a following on social media.
Setlist
Change
Little White Lies
Gun
Shame
Everything's Free<
Folding Chair
For Now
SHARON VAN ETTEN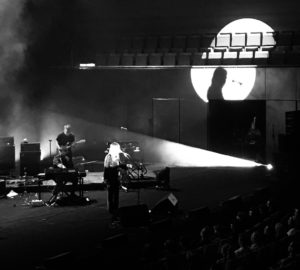 Portishead's Biscuit blasted from the speakers to welcome the band on stage, its skewered electronica offering us a hint at Van Etten's new sound.
The deep synth thrum of Jupiter 4 – perhaps the song in which Van Etten comes closest to sounding like Portishead – reverberated throughout the theatre and continued the space theme Batts had introduced. With the stage in darkness, spot lights from either wing zeroed in on Van Etten's face as she sang, giving her a otherworldly spectral visage.
Comeback Kid and No One's Easy to Love raised the decibel level further, with the band (guitar/keyboards, bass, drums, keyboards) giving full throttle to their exertions as Van Etten prowled the stage. Devon Hoff on bass, seen here recently playing double bass with Julia Holter, seemed to relish the chance to flex his rock muscle with low slung electric bass, a muscle shirt and a sort of unkempt half mohawk.
Van Etten admitted that she didn't play much guitar on the new album, but strapped one on for a brace of older songs – One Day and Tarifa – "just to show you I haven't forgotten how."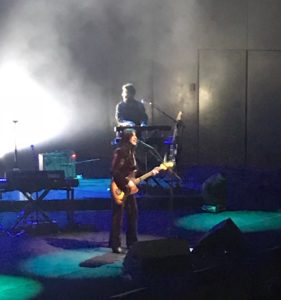 These songs with their more traditional structures sounded a little at odds with the dense arrangements and abstract melodies of the new material. I was pleased when they returned to the songs from Remind Me Tomorrow. By the end of the show they had played the entire album, with Van Etten giving single Seventeen a bit of extra bite and snarl. This followed a haunting cover of Sinead O'Connor's Black Boys on Mopeds that she performed solo at the keyboard. Her 'hit' Every Time the Sun Comes Up also got an airing before they closed out the set with Stay, the final song from Remind Me Tomorrow.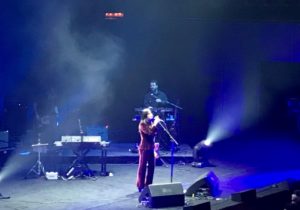 The encore was a contrast in moods with the quiet and tentative I Told You Everything giving way to the 'wall of sound' noise of Serpents, which was given such a workout that Hoff went full-on Townsend and dropped his bass on the floor to wring even more feedback from it, while Van Etten rocked out so much she split her pants.
The final song, Love More, was a quiet, positive note to send us on our way, rounding off an electrifying and powerful gig.
Setlist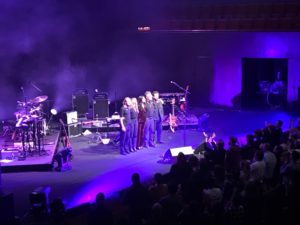 Jupiter 4
Comeback Kid
No One's Easy to Love
One Day
Tarifa
Memorial Day
You Shadow
Malibu
Hands
Black Boys on Mopeds
Seventeen
Every Time the Sun Comes Up
Stay
———–
I Told You Everything
Serpents
Love More