Thee Marshmallow Overcoat
Thee Marshmallow Overcoat
The Spotted Mallard
Sunday 25 August 2019
$23.77
SUBSTITUTES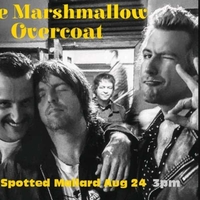 Thee Marshmallow Overcoat is not, as you might suspect, an Elton John stage costume or a piece from Lady Gaga's collection of red carpet couture, but a Melbourne super-group of sorts. It features Davey Lane from You Am I (among other bands), Ash Naylor from Even and Brett Wolfenden, whose musical pedigree is unknown to me, but I'm reliably informed he's the guy from Dan Murphy's in Preston. He also plays drums, which is perhaps secondary to his easy access to alcohol, but he is nevertheless an excellent sticks man.
As a break from their musical day jobs they get together every once in a while to play a bunch of psychedelic covers from the late 60s and early 70s. This was one such matinee gig at the Spotted Mallard and I was attending with a group of people to celebrate our friend John's birthday. They are one of his fave bands and he regularly tries to coax us along to their gigs. For this one he just bought us tickets and announced it was his birthday party. We could hardly refuse.
Without going over the top in the dress-up department, the group certainly looked the part. Lane was wearing a Pete Townsend type boiler suit while Wolfenden looked like he'd stepped out of the cover of Yellow Submarine with a Beatles 'tash and paisley shirt.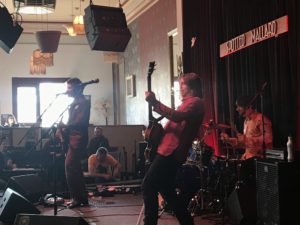 The Beatles' look was no accident, for the fab four featured strongly in the setlist – most notably the opening number, Come Together that saw Naylor stretch out the distinctive bass line to draw the band into what is possibly The Beatles' best song.
After belting out The Who's I Can't Explain, the group delivered an impassioned reading of The Masters Apprentices' Living in a Child's Dream, to add a welcome Australian context.  The 50+ year old men in the audience, of whom there were many, grew misty-eyed as they nodded their heads and sang along to the chorus' nostalgic refrain.
Pretty Flamingo enticed a few women to hit the parquetry dance floor in front of the stage. By the second set, the dance floor was packed with lithe and not so lithe movers, and dancers had also marked out zones near the pool table and even on the vaping balcony.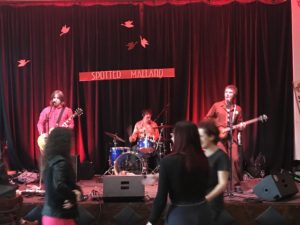 A particular hallmark the late 60s era of music, every song the band played came with a distinctive riff, catchy hook and infectious sing-a-long chorus. It was enough to make even the most progressive, forward looking old bastard opine that they don't write 'em like that anymore. Of course, these were all well-known hits in their day and I'm sure you could collate a comparable playlist from any era with a similar number of riffs, hooks and melodies, but whether it would be as much fun as this is debatable. And whether you could then jump on stage and belt them out with the same effortless flair and finesse as the Overcoat is highly unlikely.
They traversed the era, playing songs by the Stones, Byrds, The Nazz, Manfred Mann, Fleetwood Mac, Dylan, The Easybeats among others. Even the band's name is a cover, as there was an American band in the 1980s called The Marshmallow Overcoat.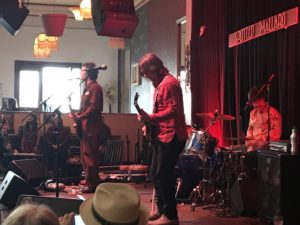 Vocals were shared by all three members. Lane gave us some Townsend style wind-ups and kicks during Pinball Wizard, and he and Naylor, who together alternated between lead and bass took turns on virtuoso solos and the occasional story.
Naylor offered an insight into the world of a gigging musician. Satisfied on having secured a convenient park, he highlighted that rock n roll is not all pizzas and cocaine – sometimes it's about getting a good park on Sydney Road. No mean feat, even on a Sunday.
Opening the second set with Massachusetts – the group launched into a bracket of Beatles songs, with Wolfenden taking vocals appropriately enough on Ringo's  numbers Octopus' Garden and With a Little Help From My Friends. From there we got some Neil Young, Kinks, Stooges – you name it, they played it – until they revisited The Beatles again to conclude with One After 909.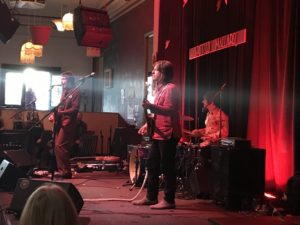 They returned for an encore specially dedicated to our friend John for his birthday and played his favourite Beatles song, She Said, She Said before wrapping up with The Who's Substitute. A good choice for a 60s covers band, they looked pretty young but they were just backdated.
I didn't know all of the songs (before my time), or whether they played anything by the original Marshmallow Overcoat band, but every song they played fizzed with energy and fun. I had a ticket later that night for an Aldous Harding show as part of Supersense. While I was looking forward to it, I doubted that her cerebral, avant-pop would incite quite the same degree of wigging out as the Overcoat had during the afternoon.
Setlist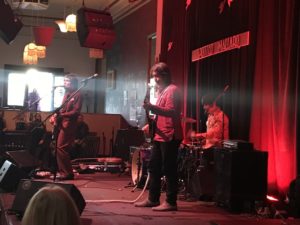 Come Together
I Can't Explain
Living in a Child's Dream
Open My Eyes
For Your Love
Pretty Flamingo
You Can't Talk To Me
This Could Be the Last Time
Like a Rolling Stone
Pinball Wizard
Albatross
I'll Feel a Whole Lot Better When You're Gone
—-
Massachusetts
Strawberry Fields Forever
Octopus' Garden
My Life
Something
With a Little Help From My Friends
Tomorrow Never Knows
I'll Cry Instead
Cinnamon Girl
I Wanna Be Your Dog
Sorry
You Really Got Me Now
I've Got to Know That I Belong to You (?)
One After 909
—–
She Said, She Said
Substitute