Aldous Harding
Aldous Harding
The Playhouse, Arts Centre Melbourne
Sunday 25 August 2019
$59
KEEPIN' IT SURREAL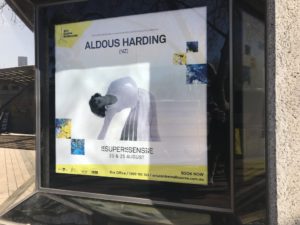 There's nothing new about feeling faint at pop shows. Whether as an expression of lustful ecstasy, heat stroke or good old-fashioned drug and alcohol abuse, fainting at gigs is a staple of pop music going back to The Beatles, the Bay City Rollers, Leif Garrett, Guns n Roses at Calder Raceway, AC-DC at the Bowl, and in more recent times Justin Bieber, 1D and any number of K-Pop bands.
However, it's probably less common at Aldous Harding shows, but that was my state as I slumped in unconscious stupor in the relative comfort of the Playhouse a few songs into Harding's performance at this year's Supersense – Festival of the Ecstatic.
To be clear, whilst I'm not immune to Ms Harding's feminine charms, I wasn't fainting in a fit of ecstatic frenzy or as a sign of lustful yearning. It was more a virus of some sort, mixed with sudden extreme hunger and dehydration. Yeah, not very rock and roll. Sure, I'd had a couple of beers during that afternoon's Marshmallow Overcoat gig, but not enough to bring on a dizziness and blackout.
The problem was exacerbated by the fact that the houselights remained on during Harding's performance and heat was beaming down on my sconce from a 10,000 watt globe. I was four rows from the stage, dead centre with escape via the side aisles at least 15 very visible (the lights were on) and audible "excuse me's" away on either side. So rather than interrupt the gig and make an embarrassing spectacle of myself, I elected to sit still and stoically ride it through.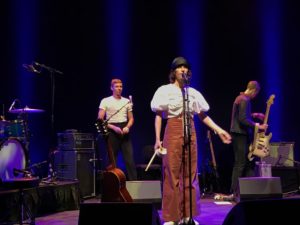 What had been intended as a date night with my wife was disrupted on two fronts. Angela and I had parked the car and were making our way to the Arts Centre when she received a call from her mother who was recuperating from planned surgery in hospital requesting her presence. So Angela wasn't physically there and I was in no physical state to be there.
Harding appeared by herself and took a seat centre stage, allowing an awkward silence to build as she fiddled with the mic stand and strapped on her guitar. She was wearing a rust brown suit with matching pork pie hat. Then she picked out the first quiet, slow notes of The World is Looking For You, one of just a few songs she would perform from her second album Party.
The band joined her (drums/trumpet, guitar, bass keyboards) to play the title track from her latest album, Designer. The playing was immaculate and intricate, with the band members remaining largely expressionless as they went about their business.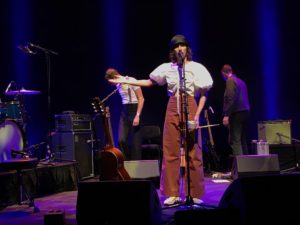 Harding has cultivated a singular performance style that is unique and enigmatic. She peers upwards, eyes rolling to the back of her head (as my friend Kerrie wrote in her review, it was after all the festival of the ecstatic) and moves with a series of studied gestures. Then, all of a sudden, she focuses her attention on an audience member and stares at them with a grin that is as threatening as it is friendly.
I've seen her perform previously, so none of this was new to me, but what was new was the formal setting of the Arts Centre Playhouse – and the way its plushness and banked seating with the house lights on exacerbated the awkward silences that separated each song. Harding played on this and allowed the uncomfortable quiet to grow. Such is her aloof, impenetrable persona that no one dared hold an iPhone aloft or posit an exclamation of the 'I love you Aldous!' type that mars so many other acoustic gigs. People were too scared to bring attention to themselves, hence my decision to faint in my seat rather than risk a hasty exit past 15 sets of knees and trip hazards.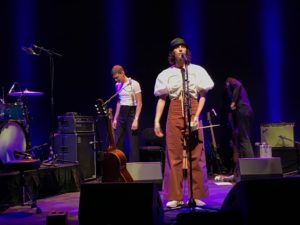 "Am I what you were expecting?" she asked aloud. Rhetorically, as it turned out because as people began to titter uncomfortably, she added "that wasn't directed at you."
The set consisted largely of tracks from Designer, all played with exquisite touch by her band, as well as a cover of Gerry Rafferty's Right Down the Line. Harding has a captivating stage presence. Her voice shifts timbre from tremulous trill to rich deep bass while remaining perfectly controlled throughout.
I zoned out somewhere between Treasure and The Barrell, but Treasure was the song I was humming to myself at night's end. Perhaps semi-consciousness is the best entrée into an Aldous Harding song. The other highlights were the gentle Weight of the Planets and the quiet circular repetition of Damn for which Harding took to the keyboard. "That's one I did on the piano" she deadpanned after finishing the song.
They concluded with Blend, also from Party, with Harding out front on vocals. I'd recalibrated by this stage and joined in the warm applause that eventually drew Aldous back on stage for an encore. She played a solo acoustic version of I'm So Sorry that she introduced as her favourite track from Party. My favourite track from that album is the single Horizon, but with Harding's penchant for confounding expectations, I wasn't expecting her to play it.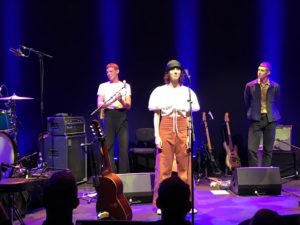 The band re-joined her to play a new song, Old Peel, that saw Harding accompanying with drum stick and coffee mug.
Quiet and reserved during the show, the audience responded with an ecstatic and sustained standing ovation at its conclusion. There were no squeals, but only because we were feigning adult sophistication. Inwardly we were carrying on like teens at a BTS gig. Harding got it, and remained on stage to soak it up.
There's a lot I don't understand about Aldous Harding – they're the best bits.
Setlist
The World is Looking For You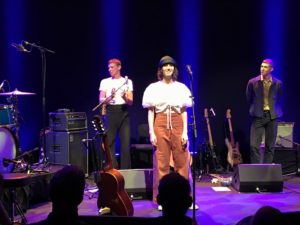 Designer
Fixture Picture
Zoo Eyes
Treasure
The Barrel
Damn
Right Down the Line
Weight of the Planets
Blend
————
I'm So Sorry
Old Peel
Aldous Harding, Croxton Park Hotel 7 Feb 2018
Aldous Harding with Perfume Genius, Corner Hotel 15 Feb 2015