Kukangendai
Kukangendai
The Substation, Newport
Friday 18 October
$40
BIG IN NEWPORT
After 60 plus years of rock music, you would think that the possible permutations of sound, structure and sonic variation that might be generated by guitar, bass and drums would by now have been exhausted. After all, with only three instruments, there are only so many notes and chords, notwithstanding effects pedals and hairstyles, that might conceivably be employed in the service of rock and roll. So it came as a source of surprise and delight that Japanese post-rockers Kukangendai managed to find a whole new palette for this limited format.
Sure, one of the riffs hinted at Television's Marquee Moon, while the occasional shard of guitar shredding was reminiscent of early Gang of 4, but on the whole, this was an entirely new genre and more than lived up to the 'mind bending experience' billing on the poster in the foyer.
Kukangendai is a trio hailing from Japan and they were visiting Melbourne as part of the Melbourne International Arts Festival. I had never heard of them but came across their bio during a leisurely morning spent browsing the festival guide. A quick Spotify listen later and I was emailing my friend Ralph who is always up for something a little different to see if he was keen to join me.
The show took place at the Substation in Newport, an imposing red brick building in Melbourne's inner west that was formerly part of Melbourne's electrical power generation network. So not exactly the festival hub, but a fitting enough venue for a rock show.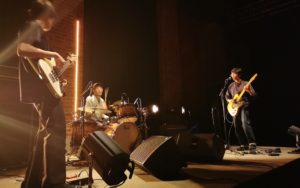 The pre-show blurb suggested mats on the floor, so we were pleasantly surprised to see chairs set out in front of the stage. We took a seat in the front row, and at Ralph's sensible suggestion, on the other side of the stage to the guitar amp.
Ralph's partner Nina also joined us and the room was full by the time the band members shuffled on stage and took up their positions. Keisuke Koyano started up a bass riff while drummer Hideaki Yamada commenced 'drumming' without actually making contact with his kit.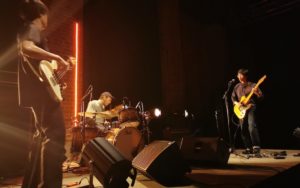 It was a low key intro to what was one of the most brilliant percussive exhibitions I've seen or heard. Subtraction Ralph called it – whereby you remove beats from the pattern. It was something he did with great effect over the course of the night, witholding beats and …
It is difficult to describe the music. They played one extended 50 minute piece, with no discernible break where we might have interjected with applause and whoops, although one member of the audience couldn't help him or herself.  Koyano's funky bass playing was steady and hypnotic and he worked in tandem with Yamada to set up a sturdy framework for the musical mosaic.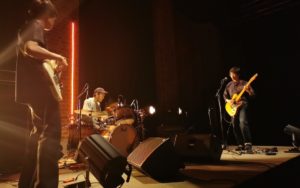 The music was largely instrumental although guitarist Junya Noguchi sang occasionally. There were moments I think I recognised from their album, Palm, but it seemed to be a performance piece that centred on jerking, synchronised soundscapes and recurring motifs – the three band members working in concert to produce explosive bursts of rapid fire, staccato sounds. It was inventive and innovative and utterly absorbing from beginning to end.
The band members hovered in the foyer afterwards and most audience members took the opportunity to thank them in person and shake hands. I even saw a few people bowing.