Gang of Four
Gang of Four
John Curtin Hotel, Carlton
Saturday 16 November 2019
$50
GANG OF ONE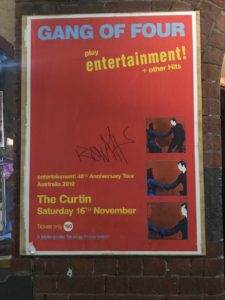 A curious sign at the merch table advertised Andy Gill's 'Anthrax' guitar from tonight's performance for $200 and the 'He'd Send in the Army' microwave for $55. Cash only. What's a microwave I wondered. Could it be a normal domestic oven or was it an advanced medium of download or streaming?
Both mysteries were solved by the end of the gig. And indeed, both items would appear to have sold, for the sign was no longer there at the end of the night.
The gig opened with Andy Gill coaxing every decibel of distorted feedback required for the opening bars of Anthrax by throwing his guitar to the ground and dashing its strings on the stage. And the show ended with singer John Sterry providing the beat for He'd Send in the Army by smashing a microwave oven to bits with a baseball bat sized stick. These were the items for sale, a cheap bashed up guitar and a mangled microwave oven. Though by the time singer finished belting the microwave there wasn't much of it left for the lucky buyer to take home. And they'd be even less likely to produce a meal with it.
In between these incendiary bookends, the new line-up of Gang of Four blasted out a loud, distorted set of spiky post-punk classics dating from 40 years ago.
Gang of Four playing the John Curtin Hotel – you can't get much more left wing than that, unless you get The Whitlams to support. Sadly they weren't; instead when Ralph and I ascended the narrow rickety staircase to the Curtin band room, we were assailed by the ear piercing din of a band called Rathead. Ralph liked them while I was somewhat less enamoured. They did put on a good show though, with the shirtless singer spending as much time in the audience as on the stage, but they were dangerously loud. I was just thankful Ralph had some spare ear plugs.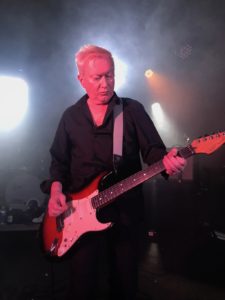 Gang of Four – which is really just a Gang of One, with only guitarist Andy Gill from the original line-up still in the band – were here to celebrate the 40th anniversary of their devastatingly brilliant debut album Entertainment. I was 15 when the album came out and someone gave me a home recorded cassette containing Entertainment as well as music from a few other emerging bands at the time. I had never heard anything like it, particularly the guitar sound, and 40 years later, it has lost none of its hold on me.
The night previous, another band with similar political leanings who began at around the same time also played in Melbourne. Their debut album, Boy, was in my view nowhere near as impactful as Entertainment. Yet they played to around 60,000 people at Marvel Stadium while Gang of Four played to about 160 people at The Curtin. Clearly it was small even by Gang of Four standards, because a few songs in Andy Gill looked out from the stage and said, "Hmm, this is cosy."
Of course, the relative success of the two bands is not just down to the vagaries of music and taste. It's fair to say U2 kicked on a bit after their debut, refining and developing their artistry to a level that allowed them to record the sublime Joshua Tree in 1987, the album they were playing at their show. With Noel Gallagher supporting no less.
By that stage, Gang of Four were no more, having broken up after the release in 1983 of Hard, an album with a contemporary funk sound that aimed for the charts but was perhaps their most underwhelming release.   
There were subsequent reformations and records, but nothing approaching the radical sonic invention of their first three albums. They toured Australia for the first time during one of these reformations around 2011 or 2012 and played an exhilaratingly raucous show at The Corner Hotel that remains the best show I've seen from a reunited band.
I was more sceptical about this show, featuring just one original member. I haven't seen Peter Hook's Joy Division or New Order shows and I'm not planning to front up for Bruce Foxton's forthcoming From the Jam show. But to hear Entertainment played in full, all you really need is Andy Gill on guitar, so that was enough for me and Ralph to pick up some tix.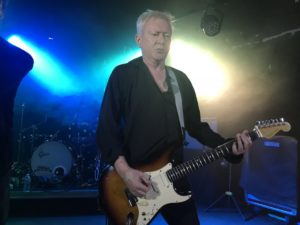 And I'm glad we did. The new band Gill has assembled are all excellent musicians and exuberant performers with an abundance of zest, youthful energy and stage presence.
Singer John 'Gaoler' Sterry leaps about the stage and has nearly as much stage strut as Jagger,  Hutchence, and dare one say, erstwhile Go4 vocalist Jon King. Bass player Thomas McNeice, meanwhile ploughs a suitably dirty bass line while slinking about the stage in slick, lithe movements that have an aspect of vogueing, or just posturing. He's also incredibly handsome – and I say this as a cis hetero male. Drummer Tobias Humble, true to his name, hid behind a pall of dry ice and blacklighting, so I can't vouch for his level of handsomeness, but he maintained a decisive and powerful beat.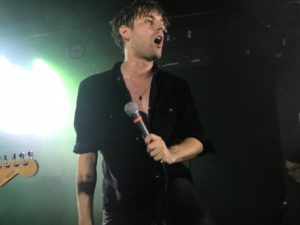 Ralph and I had been somewhat puzzled by the presence of so many attractive young women pushing up near the front amongst the audience of predominantly 50+ grizzled, balding men. We were trying to imagine what, other than devotion to their dad's record collection, might have at prompted so many 20 somethings to a Gang of Four gig, but the handsomeness of the band ring-ins might have partly explained it. Another mystery solved.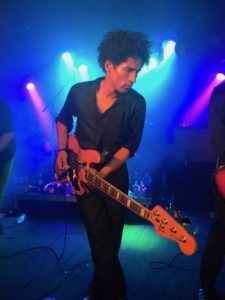 Gill meanwhile, a good 30 years senior to his bandmates, stood steadfastly stage left swatting at his strings and thrashing out discordant shards of fuzz and noise, at one stage inviting the woman in front of me to claw at the strings.
Where some guitarists have a nest of pedals and switches that resemble model villages, here was Gill, one of the finest guitarist in the world, making do with just six switches at his feet.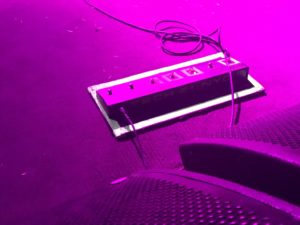 They chose not to play the songs from Entertainment in the same order as the album – opening as they did with album closer, Anthrax.  They also threw in Paralysed from follow-up Solid Gold, on which Gill supplied lead vocals. But those wanting a faithful re-enactment of the record, with all its driving rhythms, dissonance and strident socialist politics were well and truly rewarded.
At Home He's a Tourist and Damaged Goods were particular highlights from this section of the show. I danced as much as the sticky carpet allowed foot movement, threw out some "whoops" and "Bravo's!", punched the air at key moments and shouted along with Sterry's strident pronouncements.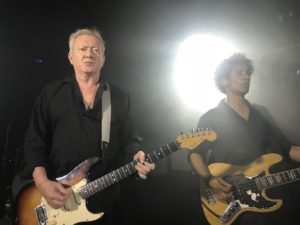 After running through the album, closing with Ether and Essence, they took a short break and returned for an encore of new and old material. A later than planned start time meant that they had to leave out a couple of songs listed on the setlist. The first one they skipped over, unfortunately, was I Love a Man in Uniform. Still, they played a dense, driving version of What We All Want before closing the show with He'd Send in the Army and the wanton destruction of white goods.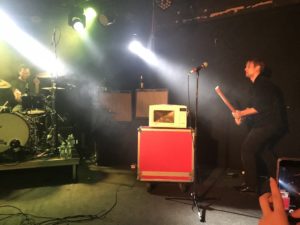 New song Toreador was slated for the encore but time constraints meant they skipped over it and went straight into their potent proletarian anthem, To Hell With Poverty with its tremendous funky riff and riotous shouty chorus. Anyone forking out $55 for a ruined microwave oven had certainly taken the message on board.
This was a magnificent exhilarating gig that demanded a visit to the merch stand where, in the absence of anything that had been destroyed, I settled for a signed test pressing of their latest album, Happy Now. And I was. To hell with original line-ups!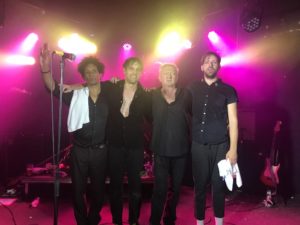 Setlist
Anthrax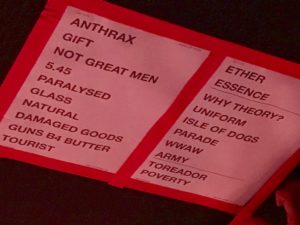 Return the Gift
Not Great Men
5.45
Paralysed
Glass
Natural's Not in it
Damaged Goods
Guns Before Butter
At Home He's a Tourist
Ether
Essence
——–
Why Theory?
Isle of Dogs
Parade
What We All Want
He's Send in the Army
——–
To Hell With Poverty
I met photographer Mary Boukouvalas from the What's My Scene site at the gig – click here to view her far superior photos from the gig.