AC/DC
AC/DC
Kingswood
The Hives
Etihad Stadium, Docklands
Tuesday 8 December 2015
$160
FOR THOSE ABOUT TO RETIRE…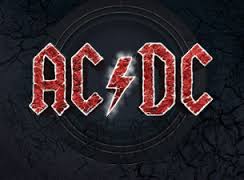 The last time I saw AC/DC was in 1980 at the Sidney Myer Music Bowl on their Back In Black tour – their first foray with new singer Brian Johnson after the death of Bon Scott. When I say 'saw', of course I mean 'heard'. Being a Bowl gig and being only 16 years old, I wasn't in the venue proper, but was outside in the Botanical Gardens with thousands of other freeloaders. I'd say 'picnickers' except that most of the hampers chilling in Eskies consisted entirely of beers and mixers. We know this because when the barrier was breached at some point during AC/DC's set and the police were called into enforce the entry by ticket holders only policy, there seemed no shortage of empty bottles to be used as ammunition by the increasingly unruly crowd.
The night ended with police on horseback trying to disperse the brawling, bottle-hurling crowd outside the venue. It wasn't quite Altamont or PIL at the Ritz in New York, but it was bad enough that it ushered in a ban on future rock shows at the Music Bowl that lasted for more than a decade.
By that stage however, I'd heard the support act, The Angels, one of my favourite bands at the time, and a good portion of AC/DC, including the ominous bell that tolled to open the set with Hell's Bells.
Here I was then, 35 years later, attending another AC/DC gig. A lot had changed in that time, both in the world, the world of music and the band itself – only two band members from that night 35 years earlier would be on stage, and one of them, Johnson, was still pretty much considered a newbie. But for all that had changed, plenty hadn't – Angus Young's schoolboy outfit hadn't changed, though hopefully it had been washed once or twice, and neither the stage show or the set list had changed appreciably in all that time. I was still expecting to hear the 'best of 1975-1980', plus one or two staples they've since added and a couple of token numbers from their newest record.
It was an auspicious night in the annals of rock and roll, being the 35 years to the day since John Lennon was shot dead in New York. Also, Australian artists Tame Impala and Courtney Barnett had been nominated for Grammy Awards overnight. Even AC/DC, for all their rock and roll longevity and output have won only one Grammy, and that was for Best Hard Rock Performance in 2010 for War Machine – not a song with which I'm familiar, but I could probably guess how it goes. And if they didn't win until 2010, it was probably one of those oversight Grammys awarded in the 'Oops, we never got around to giving you one of these when you were actually good' category.
Let There Be Merch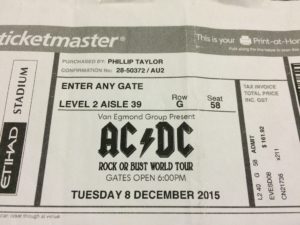 I had every intention of arriving in time to see support acts Kingswood and The Hives, but an early burst of summer heat and cancelled train services due to a grass fire somewhere on the Cragieburn line, conspired to delay me. The Rock 'n' Roll Train wasn't running!
As I made my way over the bridge towards Etihad Stadium, the crowds converging on the arena were decked out in an array of AC/DC t-shirts and merchandise from past tours. They looked like football supporters who all support the same team. There was even one middle-aged bloke wearing a crimson velvet school uniform and carrying an inflatable guitar.
The female busker singing Silent Night and playing acoustic guitar was largely ignored by those walking past. Unsurprisingly perhaps, the piper dressed as the Cookie Monster blasting out the bagpipe refrain from It's a Long Way To the Top seemed to be doing better trade. Most of the patrons however, were probably conscious of keeping their cash for the $9 mid-strength beers and the many merchandise opportunities on offer.
AC/DC don't tour to promote albums so much as to promote their range of merchandise, of which there is a plethora. Flashing red devils horns were the most popular item, or at least the most obvious, particularly once darkness fell. Red and black school ties were also in abundance, so much so that for a fleeting moment I thought there was a formal dress code in force. Except that most of them were worn over t-shirts, making for a confused sartorial style. There would have been plenty of people who were wearing a tie for the first time, or at least since the first time since the Black Ice tour wound through these parts in 2010. Plus there were several different t-shirt designs promoting the current tour, most of them sharing a similar graphic aesthetic of satanic iconography and lightning bolts.
The people seated behind me and on each side of me were all adorned in it. In fact every time the woman directly behind me bent over to get something out of her bag or pick up her drink, the tip of her devil horns poked me in the back of my head. Indeed, I seemed to be the only one in my area on level 2 wearing casual clothes. Frighteningly the merchandise overlord that rules over us seemed to know this because in the week after the show I was inundated with email offers to purchase last minute and specially themed AC/DC items.
Now I'm not saying that Acca Dacca fans are bogans, even though there was a city-wide shortage of Bundy and Coke in the week of the shows, but the first of these emails promoted special AC/DC branded, 'High Voltage' lightening bolt AFL jumpers in Collingwood and Richmond designs. The second email offered AC/DC Christmas t-shirts to celebrate the festive season – which were basically the same as other AC/DC t-shirts, but with the band's red insignia on a green rather than black backing. After all, nothing says Christmas like a Satanic themed wardrobe or Jingle 'Hell's' Bells.
Whole Lotta Sex Dolls
I saw out the end of The Hives set and they seemed to go down pretty well, for blokes wearing matching white dinner jackets at an AC/DC concert that is. The sound bounced about everywhere and I wondered if it would be any different when Acca Dacca came on.
As we waited for that to eventuate I took in the arena. The stage was at the Coventry end and the roof was open, which was probably a good thing given the fireworks and assorted incendiary devices likely to be launched before the night was out. Even though the stadium was by no means full, there was probably still over 30,000 people on hand, which is considerably more than Carlton get these days for home games at the same venue.
Inflatable sex dolls were tossed about like balloons among the people crowding the stage and the centre runway. In AC/DC lore these represented the generously proportioned and sexually proficient 'Rosie' from the 1977 song Whole Lotta Rosie. Or perhaps their presence was a sign that those closest to the stage had been prepared for any eventuality during their long wait.
A wall of amps lined the back of the stage, stacked in banks three high. There are probably more than 40 of them in total. 'Surely props' I thought. Misshapen slabs of corrugated iron outlined giant video screens and devil horns rise from the top of the stage.
High Dotage Rock and Roll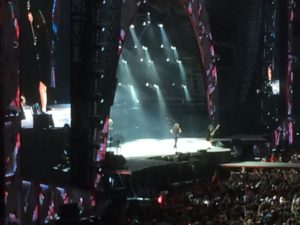 Soon enough we hear the distinctive riff of Rock or Bust blasting from the P.A. as the slight figure of Angus Young makes his way to the front of the stage with guitar in hand. I say 'distinctive', for even though I'm not familiar with the song itself, it shares the same riff as the majority of AC/DC's oeuvre, so I felt like I knew it.
They follow with Shoot To Thrill from Back in Black and then the first song from the Bon Scott years, Hell Ain't a Bad Place To Be.  It is loud. Extremely loud and I begin to think the banks of amps lining the stage aren't props after all. Fine perhaps for those of us who bought tickets, we knew what we were letting ourselves in for, but I wonder how the residents in neighboring Docklands apartments are enjoying the show – the second in three nights.
Not surprisingly, the entire show is centred around Angus' movements; the rest of the band staying in the background unless required to step forward to bark out a chorus. In fact from my vantage point on the side that's the only time I see bassist Cliff Williams and Malcolm Young's replacement, nephew Stevie Young.
Even Brian Johnson gets out of the way when he's not actually singing. Although the term 'singing' might seem relative; his high-pitched screech sounds like a cross between Jimmy Barnes with polyps and Bob Dylan with a throat infection. So much so in fact that a song as well-known as High Voltage is a few bars in before I pick it. He is undoubtedly the worst singer I've ever heard, and I was at the MCG the day Meat Loaf sang at the Grand Final.
AC-DC have been synonymous with Melbourne since the video for It's A Long Way To The Top (If You Wanna Rock 'n' Roll) that featured the band playing on a flatbed truck as they travelled south along Swanston Street. It was a signature song for Bon Scott and reportedly Brian Johnson doesn't sing it out respect for his predecessor, and after hearing him on this night, that tribute has perhaps never carried more resonance.
Johnson's stage persona is quaintly incongruous for the singer of one of the world's hardest rock acts; perennially titfered in his workers flat cap, he prances across the stage and shuffles with little mini steps that have an almost vaudevillian campness. But he must have something; not many bands survive the death of their lead singer, especially one as charismatic and singular as Bon Scott – think INXS and Queen. Yet Johnson not only replaced Scott, but Back in Black remains their biggest selling album.
Having said that, most of the big songs they played came from the Bon Scott era, and that ended 35 years ago. High Voltage, TNT, Whole Lotta Rosie and Dirty Deeds (Done Dirt Cheap) – the latter presumably played in tribute to former drummer Phil Rudd who had been charged in New Zealand with allegedly procuring just such a dirty deed (a murder), although this charge was subsequently dropped.
You know a band has been around for a long time when one of its members has to retire due to dementia, hence Malcolm Young being replaced by his nephew. However, I don't know what it says about a band when the drummer has to be replaced because he's facing charges for procuring just such a dirty deed and is placed on home detention over a series of drug charges. That never even happened to The Birthday Party, although they once had to cancel a show when Tracy Pew was convicted of stealing a sewing machine – talk about rock and roll!
Rock or Rust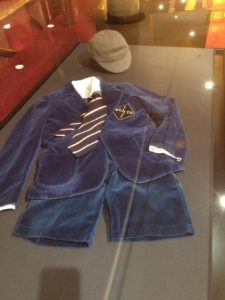 Let There Be Rock closed out the set and featured a 15 minute (at least) guitar solo from Angus, which was impressive in its ear-splitting volume and never-ending longevity, as well as the amount of space Angus covered while playing it. This included traipsing across the top of the amps at the back and spinning on floor as he rose skywards on a dias situated at the end of the runway, which then erupted in a shower of confetti. For a band that sings so relentlessly about their travels in Hell and its environs, as if it's their home town, this mock ascension was theologically confusing.
It really was all about Angus, and you can't fail to be impressed by a 60 something exerting that much energy – he literally doesn't stay still for two hours. Even in those rare moments when he is standing in the same spot he stamps each foot forcefully and bangs his head in time with the driving snare emanating from drummer Chris Slade as well as his own internal rhythm. Plus there are plenty of moments when he skipped across the stage with his trademark duck-walk.
Overall I wasn't as impressed by the spectacle as I thought I was going to be. Angus emerging through a trap door to commence the encore with Highway To Hell, the swinging bells in Hell's Bells, the ascending dias with erupting confetti and the rows of cannons firing during For Those About To Rock that concluded the show – it was all a bit Spinal Tap for me. The show never really gained momentum either, with lengthy delays between each song, which seemed odd given that the setlist was the same every night and everyone's movements were carefully choreographed. Plus the sound was muddy and uneven. That might have been the fault of the venue, but given that all their shows for the past 30 years have been held in similar sized stadiums they should have it worked out by now.
But having said that, the people around me, genuine fans and the real demographic for such a show, loved every minute of it – the girls on shoulders who lifted their tops when the camera caught them, the long guitar solos, the duckwalk, the inflatable dolls, the flashing red horns in the crowd, the fireworks and the procession of well-worn songs like You Shook Me All Night Long.
In the foyer of the State Theatre on St Kilda Road, there is a glass case displaying one of Angus Young's old stage school uniforms. For all that there is still clearly a massive market for AC/DC and no reason why they shouldn't continue, I can't help feeling that for me, AC/DC's show was like Angus Young's uniform in the glass case – a bit of a museum piece.
Setlist
Rock Or Bust
Shoot To Thrill
Hell Ain't A Bad Place To Be
Back in Black
Play Ball
Dirty Deeds (Done Dirt Cheap)
Thunderstruck
High Voltage
Rock 'n' Roll Train
Hell's Bells
Baptism by Fire
You Shook Me All Night Long
Sin City
Shot Down in Flames
Have a Drink On Me
TNT
Whole Lotta Rosie
Let There Be Rock
– – – – – – – – – – – – –
Highway To Hell
For Those About To Rock (We Salute You)