Father John Misty
Father John Misty
Forum Theatre, Melbourne
Wednesday 9 December 2015
$60
SAVE ME WHITE JESUS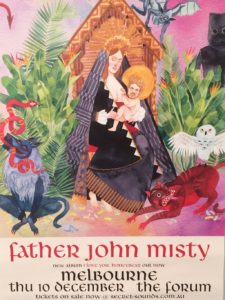 It was fitting that Father John Misty performed his first Melbourne shows at the Forum.  Between life as a cinema in the 1960s and 70s (I recall lining up out the front as an 11 or 12 year old to see Jaws on its first release) and its current incarnation as a music venue, the Forum was a Christian Revival Centre.
I once stood on the stage and sang God Save the Queen at the wedding of a couple of congregation members. For some reason the Christian revivalists were also staunch monarchists – not for them the modernist republican claptrap of Advance Australia Fair.
Father John, aka Josh Tillman, would have felt right at home in that environment, for he was raised in an evangelical Christian family in America's South. He has also chosen to cloak himself in religious iconography; he records under a name borrowed from the church's index of honorific titles and he sports a pretty impressive beard, reminiscent of you know who. And while he might not signify the next advent or offer any sort of spiritual succour, he is at least the poster boy for hipsters. That's more than most of us can boast.
As the band ambled on stage, it was apparent that a number of them also sported beards, although none as impressive as the main (mein?) man. Was there a hierarchy of the hirsute? Facial hair also sprouted wilfully among the audience, to the point that my friend John said that he hadn't seen this many beards outside an ISIS gathering.
In his often cynical but always entertaining lyrics, Tillman portrays himself as something of a louche pantsman, so it was unsurprising that he took the stage to the strains of Serge Gainsbourg and Jane Birkin singing the anthem of unrestrained eroticism, Je taime…moi non plus.
Funtimes in Babylon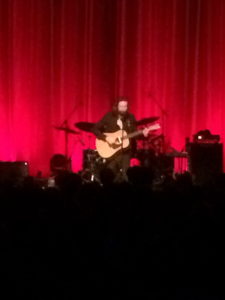 As this faded, Father John and the band kicked into the title track from his latest album, I Love You Honeybear. Tillman immediately commanded the stage and the crowd with his magnetic presence and showmanship. He moved fluently across the stage on long legs and swivelled his snake hips with lithe sensuality, making elaborate gestures, in some cases almost 'signing' the lyrics – particularly graphically on the line, "Good luck fingering oblivion."
Moving through two more cuts from his latest album, Strange Encounter and True Affection, the sound was crystal clear and the five piece band were sharp and note perfect, creating strong dynamics that were matched by an impressive light show. I was thoroughly enjoying the gig, but not nearly as much as the guy in front of me, who was grooving like a clubber on ecstasy, and he was the guy operating the lights – no wonder the light show was good.
Much of the show was backlit, with Father John appearing in silhouette, like an apparition or a spectre, accentuating his mythic persona.
He played Only Son of a Ladiesman from the first Misty album, Fear Fun, before returning to the latest album for When You're Smiling and Astride Me and The Night Josh Tillman Came To Our Apt (you see what I mean about his self-mythologising). As the strains of Chateau Lobby #4 (in C for Two Virgins) rang out, the young couple in front of me began exchanging meaningful looks, and as Tillman sang, "I wanna take you in the kitchen, lift up your wedding dress someone was probably murdered in," I felt as if I'd been granted special insight into their relationship.
Tillman paused between songs to say what a privilege and an honour it was to travel to far off places to give people the best time of their goddam lives, and in particular to the birthplace of AC-DC, after which he gave a vivid account of the band being born down a laneway.
He introduced Bored in the USA – a snide evisceration of the dual modern obsessions of consumerism and romantic love – as a 'sarcastic meta-ballad of despair' and then confiscated a fan's iPhone to film himself as he sang the it. If not quite singing along, the audience joined in the sarcastic cheers and laughter that punctuate the singer's inventory of dubious achievements. It's a powerfully confronting song too, for when he performed it on Letterman, the end of the song was met with an uncomfortable silence from the studio audience instead of the cheers that might have been expected.
A trio of standout songs; Hollywood Forever Cemetery Sings, Funtimes in Babylon and Holy Shit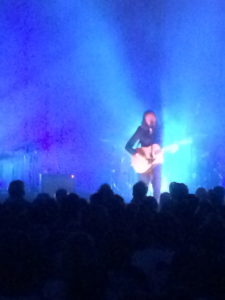 led into the heightened drama and litany of self loathing that is The Ideal Husband, and which saw Tillman writhing about on stage like a man shaking off his demons. It was a fitting and explosive end to the show.
Sexistentialism
Tillman returned to the sage for a Q&A session and a comment on the charade of the encore. One questioner asked who he would rather sleep with, Jean Paul Satre or Simone de Bouvoir – yes, it was that type of audience. After reassuring us of his literary credentials by saying he'd read The Second Sex, he plumped for "Satre…now, in the cemetery…just pop a couple of ecstasy tabs and see what happens."
Having established that, he played the final song from each of his albums – the balladry of I Went to the Store One Day and the countrified Everyman Needs a Companion – both of which suggest that despite everything, and irrespective of life's many irritants, we all need someone to love. A touching sentiment on which to finish, and perhaps a little unexpected coming from Father John Misty, but one suspects that he thrives on such contradictions.
Setlist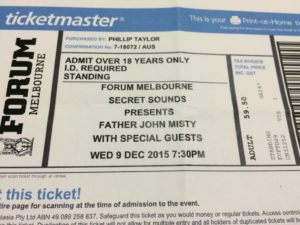 I Love You Honeybear
Strange Encounter
True Affection
Only Son of a Ladiesman
When You're Mmiling and Astride Me
The Night Josh Tillman Came To Our Apt.
I'm Writing a Novel
Chateau Lobby #4 (in C for two virgins)
Nancy From Now On
Bored in the USA
Nothing Good Ever Happens at the Goddam Thirsty Crow
This is Sally Hatchet
Hollywood Forever Cemetery Sings
Funtimes in Babylon
Holy Shit
The Ideal Husband
– – – – – – – –
Q&A
I Went to the Store One Day
Everyman Needs a Companion