MONO
MONO
Corner Hotel, Richmond
Saturday 5 December 2015
$48
WHEN WORDS FAIL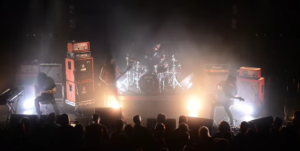 As I walked out of Richmond station on my way to the Corner Hotel to see Japanese post-rock maestros, MONO, I was confronted by thousands of people walking in the same direction. I joined the tide of human migration heading east along Swan Street. MONO, it seemed, had grown more popular than I'd realised and I began to doubt if the Corner could hold all of us. Perhaps I should have arrived earlier.
Then I spied that many of the throng were wearing green wrist bands and I realised that Ed Sheeran must have just finished his show at the soccer stadium down the road. I wondered if any of them were doing the Ed-MONO double.
MONO is my favourite Japanese band, which is not saying much really. It's a bit like declaring Ed Sheeran as your favourite red-headed balladeer – there's not really many more that I'm aware of. In fact the only other Japanese band I'm familiar with is Yellow Magic Orchestra, and they broke up 30 years ago. I once saw YMO member Ryuchi Sakamoto play a show at Hamer Hall as part of the Melbourne Festival. He was performing with a German sound and visual artist, or 'collabing' as the kids now say, who remixed Sakamoto's music live and created light projections on stage. Sounded interesting in the program, but was in fact extremely dull in the auditorium.
That shouldn't be the case with MONO – I've seen them play once before at The Forum with a small orchestra and they were truly astonishing.
I arrived late so I missed the support acts, both of whom had names like MONO song titles; We Lost the Sea and Fourteen Nights at Sea. But it was so hot inside The Corner I'm glad I was limiting my time in the band room. I met my friend Bryan and his two sons and we got some beers to help combat the equatorial like humidity in the room. The heat also encouraged us to remain up towards the back, or at least the bar.
MONO wandered onto stage not long after I arrived. Guitarists Takaakira Goto and Hideki Suematsu took seats on either side of the stage and picked out the first tentative chords of Recoil, Ignite – the lead song from their latest release, Rays of Darkness, and also, as it happens, a reasonable description of a typical MONO song structure. Drummer Yasunori Takada was also seated behind his kit, while bass player Tamaki Kunishi stood in front of him, swaying and shifting her weight from side to side while thrumming at her bass. You'd think one of these blokes would offer their seat to the only woman in the band.
Thinking Out (Extremely) Loud
MONO is a four-piece band that creates majestic, guitar symphonies, sweeping soundscapes of noise, reverb, drums and occasional glockenspiel, but no vocals. Recoil, Ignite and the following track, Death in Reverse both pretty much follow the typical MONO template; they begin slowly with one of the twin guitarists teasing out single notes while the other band members gradually join in, adding shade and depth, building the sound incrementally, even painstakingly until it swells, intensifies and explodes in a maelstrom of transcendent grandeur, and in the case of Death in Reverse, caterwauling feedback.
The music is visceral and the band members nod their heads violently as they play, their long hair shaking and swaying as they lash at their instruments.  Their stage show essentially consists of lights and hair – you wonder if, like Samson, they'd lose their powers if they shaved their heads.
Kanata is based around a haunting refrain played on the keyboard by Tamaki Kunishi and provided something of a counterpoint to the previous wall of sound songs and showcased the band's tender side.
It is thought that Eskimos have 50 words for snow, and MONO have almost as many songs with the word 'snow' in the title – and they played two of them on this night, Pure as Snow and Ashes in the Snow, both from the Hymn To The Immortal Wind album. Other feature songs included Halcyon (Beautiful Days), a standout track from the album, Walking Cloud and Deep Red Sky, Flag Fluttered and the Sun Shined.
It is perhaps a cause for regret that a band that can come up with album titles like that don't venture further into lyrical expression. Unless of course they expend all their lyrical energy creating such evocative titles and couldn't possibly write the sort of prose poems that would do them justice. More likely they consider music to be the one true international language and don't want to be restricted by fitting it to meet the needs of rhyming couplets in English. Ed Sheeran may like to think out loud but MONO keep their thoughts very much to themselves.
I See Fire
We also heard a new, as yet unrecorded piece called Requiem For Hell that is as epic as its title suggests. It opens with a typical hypnotic guitar motif that gradually expands until it sucks the listener into its vortex of symphonic turbulence that might actually be the soundtrack you hear should you descend into Hell's fiery pits.
Fittingly perhaps it is the final piece of the night – after all where do you go after a requiem for Hell? In my case I headed back to Richmond station – same dif you might say.
Using words to describe music is often seen as a pointless, even futile pursuit, and perhaps this goes doubly for MONO who eschew using words in their own music. Playing just eight songs over 90 minutes, MONO were utterly compelling and transfixing. Just like the band, I was left speechless. Sometimes words really do fail.
Aside from the top photo which I took, the good photos in this article were taken by Tony Proudfoot and published in the AU Review at: http://music.theaureview.com/photos/photo-gallery-mono-we-lost-the-sea-fourteen-nights-at-sea-the-corner-hotel-05-12-15/
Check out the full photo gallery via the above link.
Setlist
Recoil, Ignite
Death in Reverse
Kanata
Pure as Snow
Halcyon
Where We Begin
Ashes in the Snow
Requiem For Hell