Angie McMahon
Angie McMahon
Elisabeth Murdoch Hall, Melbourne Recital Centre<
Wednesday 2 October 2019
$40
ADDED SALT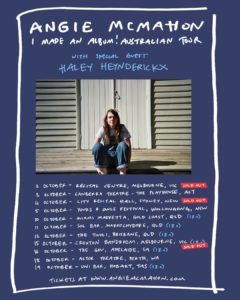 People of my generation (X/Boomer cusp) are quick to criticise millennials for pretty much anything – they think only about themselves, they're rude, apolitical, obsessed with their phones, like shit music and they don't tidy their rooms. There may be some justification for the latter, but we are very selective, if not completely hypocritical when it comes to the other points.
For instance, an inordinate number of (mainly) men my age are currently being whipped into an apoplectic rage by Swedish teenager Greta Thunberg precisely for being too politically aware and caring way too much about others. On the music front, yes there's a lot of shit about (I cite Drake, but there's probably worse), however the shit quotient was just as high in what might loosely be called 'my day' – it was the early 80s after all. And there is arguably just as much, if not more good music about these days.
Just a few days ago I saw Tones & I perform at the AFL Grand Final alongside Paul Kelly. Different musical eras, different musical styles – both great. Prior to Nick Cave's imminent release (Ghosteen), my favourite Australian albums this year are by Batts, Martin Frawley, Sampa the Great and Angie McMahon. All talented young Australian artists. And possibly the most impressive of them all is Angie McMahon whose deep, raspy voice, assured delivery, sparse bluesy guitar arrangements and raw, arresting songs would have seen her gain an audience in any era of rock music.
Her 'I Made an Album' show at the Recital Centre sold out in quick time, as did her follow up show in a couple of weeks at the Croxton. The album in question, Salt, is a slow burning gem and the millennials who are listening to the album and who snapped up the tickets are demonstrating just how in tune with the times they are. Most of the best albums reveal themselves slowly and Salt falls into this category. All week I've been waking up with a refrain from one of her songs reverberating in my mind – and it's a different song every time.
Listening to her songs you think you're in the hands of a seasoned pro who has been through most of the trials that life might dish up. Then you look at the cover and realise you're dealing with a bright eyed, fresh faced twenty-something. Talk about adding salt to the wounds. No wonder we hate millennials – how dare they be so young and so accomplished.
And on the evidence of this gig, she couldn't be a more pleasant and respectful person. During the course of the night she thanked pretty much everyone she's ever met, was generous in her praise, related stories of their various kindnesses and acknowledged the contribution they made in helping her get to this point. In fact, I worry that she might be too nice and considerate to make it in the music industry. Her relative youth gives me some hope – there's plenty of time yet for her to display narcissistic behaviour, indulge in diva tantrums, destroy close relationships and develop debilitating drug habits. Just like my generation of rock stars did. Then perhaps we'll embrace her properly.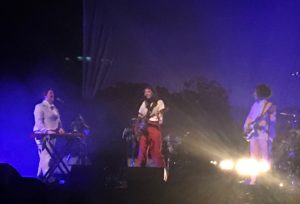 The instruments were set up in a tight semi-circle at the front of the stage with the drum kit to the side. Eucalyptus leaves festooned the mike stands and a large bunch of flowers (from her mum) rested between the foldback speakers.
McMahon appeared in a red suit accompanied by Lachlan O'Kane on drums, Alex O'Gorman on bass and her old friend (whose name I missed) and new band member joining them on keyboards and harmonies.
They opened with Play the Game and Soon and it became clear we were moving through the album in more or less song sequence. A cover of Neil Young's Helpless broke things up a little, Pasta was skipped over (saving it until later) plus she threw in a new song as well as a cover of Fleetwood Mac's Silver Springs.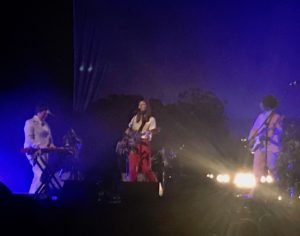 McMahon spoke quite a bit between songs, but it was pertinent and on point. There was a fair bit of awkward laughter that you get in intimate venues with good acoustics, and one or two inane "I love you Angie!" shout outs. She thanked the audience for our quiet attention and admitted that she'd chosen a seated venue because she hates standing at bands and was quite happy to impose that on the rest of us. My 55-year-old bones certainly appreciated her decision. It was the reason I chose this show ahead of the Croxton Park gig.
The band was tight and their contribution subtle and respectful of McMahon's sparse arrangements. And I am a Woman built gradually with great power to its anthemic crescendo and received a duly rapturous ovation.
They wound up their set with the shifting sonic dynamics of Pasta followed by the quieter album closer, If You Call – replete with whistling refrain, which resonated richly in the finely tuned acoustics of Elisabeth Murdoch Hall.
In the way of today's young performers there was no encore, or even any expectation of one, however, I look forward to hearing plenty more from Angie McMahon in the coming years. 'No Added Salt' may be a virtue signalling in food preparation, but when it comes to Angie McMahon's album, you can't have enough.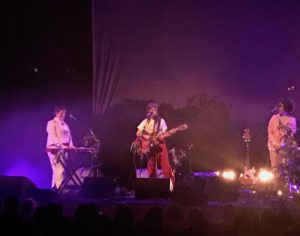 Setlist
Play the Game
Soon
Keeping Time
Slow Mover
Helpless
Push
Missing Me
Standout
New song (Take it With Me?)
Mood Song
Silver Springs
And I am a Woman
Pasta
If You Call