Emma Louise
Emma Louise
Corner Hotel, Richmond
Friday 13 September 2019
$38.87
JUNGLE DRUMS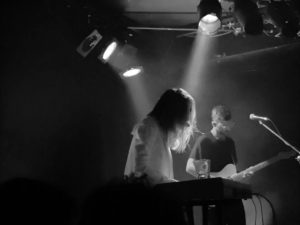 I tend to buy tickets for gigs in advance, mainly because I don't want to get all the way to the venue to find that I can't get in, but also because it acts as a motivator to get me off the couch. I might never leave the house otherwise. There are drawbacks however. A few days before Emma Louise's show at the Corner, for which I had pre-purchased a ticket, I heard a great album called What Chaos is Imaginary by American duo Girlpool. Then I saw that that they were playing in Melbourne and I was momentarily excited until I realised their show clashed with Emma Louise.
Had I not had a ticket for Emma Louise I probably would have gone to see Girlpool instead. Not because Emma Louise wasn't good, she was, but because I've seen her before and sometimes I like to see the new and unfamiliar. Of course, in reality I know that if I didn't already have a ticket for Emma Louise I would simply have stayed at home on the couch and watched the footy on the TV.
So with that realisation I cast aside my FOMO and headed to the Corner Hotel for Emma Louise's Lilac Everything show. Besides, Ryan Downey was supporting so it promised to be a good night.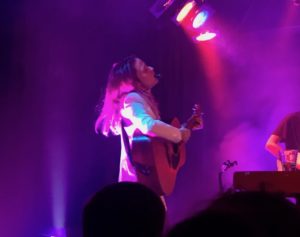 As it happens, Emma Louise and Girlpool present an interesting case study in the different methods artists might take to achieve a similar result.
On Lilac Everything, Emma Louise used the technology of the mixing desk to slow down her vocals and lower the register of her voice. Cleo Tucker, one half of Girlpool, took an altogether different path – coming out as trans and taking testosterone which had the effect of doing something similar to his voice. Tucker's approach might seem more drastic, but I suppose it was a consequence rather than the goal itself. Either way, these artists are literally finding a new voice.
In Girlpool's case, this change added a new dimension to their vocal sound and harmonies. For Emma Louise, her voice acquired a rich, mournful tone that added depth to the lush sound of the album. I was intrigued to see how she would approach the material live.
Ryan Downey played as a three piece with bass and drums. His set mixed in a few new songs with his live standards, Renewed, Running and No More Miracles.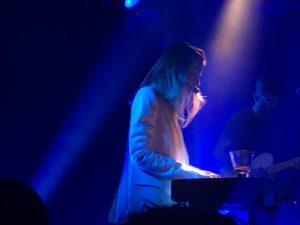 Emma Louise started on keyboard and opened with my favourite song of hers, Underflow. She followed this with Wish You Well, the best track from Lilac Everything. Here was the problem with the gig, having opened with my two favourite songs, the rest of the show was always going to be an anti-climax.
Which isn't to say it wasn't a good gig, just that having heard my favourite songs, I no longer had a sense of anticipation about what was coming up. The band were polished and proficient without pushing the edges of the material, but they gave Emma Louise the space to she needed to sing the songs. Emma alternated between keyboard, guitar and vocals. She added the effect to lower her voice on the Lilac material, but that's where the experimentation ended.
The set consisted mainly of songs from Lilac Everything, but she also included West End Kids from Supercry and a couple of new songs, Medicine and Nothing Can Tear Us Apart.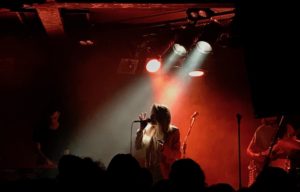 She introduced her best known song Jungle by saying this was the last tour on which she would be playing it. It's popularity, she said, restricted her growth as an artist. It's an interesting point and she's not the first artist to feel burdened by playing the hits. Radiohead don't play Creep, Models used to refuse to play Atlantic Romantic and The Church resented playing Under the Milky Way. It's probably more common with up and coming artists, and Radiohead aside, artists often become more amenable to playing the hits after a few years – especially when they become heritage acts. Eventually they become thankful to have a song anyone recognises, let alone wants to hear.
Anyway, I was glad to hear it on this occasion. As were the audience, for along with Two Bodies, her collaboration with Flight Facilities, it was one of the few occasions the yakkers up the back were silenced. Emma Louise is a good songwriter so I'm pretty confident she'll produce a few more hits to fill the space in her set.
Setlist
Underflow
Wish You Well
Falling Apart
Gentleman
West End Kids
Just the Way I Am
Shadowman
Never Making Plans Again
Jungle
Medicine
Nothing Can Tear Us Apart
Mexico
Two Bodies