Anohni
Anohni
Joan Sutherland Theatre – Sydney Opera House
Saturday 28 May 2016
$119
THE ARTIST FORMERLY KNOWN AS ANTONY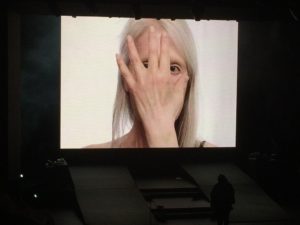 Transformation in popular music is nothing new; Bowie and Madonna made it the basis of their entire careers, Dylan went electric and Japan went from a glam metal band to low-fi merchants of sophisticated synth pop. Even Sherbet cut their hair, binned their satin jackets and changed their name to The Sherbs in a misguided attempt to appear 'new wave.'  The Sherbs, really? Who thought that sounded punk?
Even gender fluidity has been relatively commonplace in rock since Bowie donned what he called a 'male dress' for the cover of The Man Who Sold the World. Since then we've had Freddie Mercury, Boy George, Marilyn, The Bronski  Beat and Divine, just to pick out a few of the more obvious examples. Not to forget Grace Jones and Annie Lennox who adopted a male or non-gendered wardrobe. In Australia we saw Jeff Duff and Kush (Snow White and the Eight Straights, I'm Your Football, Kick Me), Jimmy and the Boys with transvestite Joylene Hairmouth on keyboards and even Robert Forster from The Go Betweens wore a dress from time to time.
I Am Woman
But Antony Hegarty from Antony & The Johnsons has taken the idea of transformation a step further. Quite a considerable step too. New album Hopelessness represents a dramatic change in sound with programmed beats and cold, stark, brutalistic electronica replacing the tinkling piano and lush, elegant chamber music of previous records. More than that though, he's also changed his name and gender. She's cut off her johnsons in more than just name. Anohni is now female. You can't get a more dramatic transformation than that!
This is not quite a first for the rock world, but it's close. The only other example of a transgender singer that I can think of is Wayne County of Wayne County and the Electric Chairs, who became Jayne County. What she used to do with the microphone stand I won't say, but being her roadie would have been confronting.
It must take considerable courage and conviction to change your gender. After all, Brian May and Robert Smith haven't even changed their hairstyles in 35 years. For myself, I can barely imagine changing football teams, let alone gender. Although truth be told, I'd be far more likely to change my gender than my football team, but perhaps that just highlights my intransigence on certain issues.
The subject matter of Anohni's songs has also altered. Obviously she no longer needs to sing about wanting to be a girl (For Today I Am a Boy, You Are My Sister), but Hopelessness is marked by bitter political protest about American aggression in the middle east, (Drone Bomb Me, Obama), climate change (4 Degrees), and domestic violence (Violent Men).
So Hopelessness is not exactly a party album and John and I, who have travelled to Sydney to see Anohni perform, are not expecting a Mardi-Gras like celebration.
A Night at the Opera (House)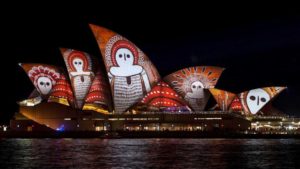 Among other boasts, Melbourne prides itself on being the musical capital of Australia. This may or may not be true, and surely it would be difficult to quantify one way or the other, but even so, I don't think there is any argument that Sydney is the festival or event capital of Australia. John and I were in Sydney for the Vivid festival, a three week extravaganzas of light installations and projections, live music and discussions. I realise this blog is ostensibly about live music in Melbourne, but Vivid always boasts a great musical program of exclusive performances at the Sydney Opera House. As such, it is always worth the trip.
This was our third visit to Vivid. In 2011 we saw The Cure commemorate the 30th anniversary of their third album Faith by playing it in its entirety, along with Three Imaginary Boys and Seventeen Seconds. For the encore they played all the B-sides plus the follow-up singles from Charlotte Sometimes right up to Love Cats, in what amounted to an epic three-hour show and one of the best concerts I've ever seen.
In 2013 we went up again to see Kraftwerk play their Man Machine album plus a set of greatest hits as part of their retrospective series.
Other visitors to Vivid in the past have included Lou Reed playing his Metal Machine Music album, Brian Eno, who curated a light and sound spectacular, but didn't play a concert as such, Pet Shop Boys and Morrissey.
This year New Order and Bon Iver were playing exclusive shows while Bjork was curating a video installation as well as doing a couple of DJ sets. Finally Bjork comes to Australia and all she does is turn on a tele and spin a few discs!
Tickets to Bjork's event and New Order's shows sold out quickly, but John and I decided to go up and see Anohni's show, which was also exclusive to Vivid.
Day Trippers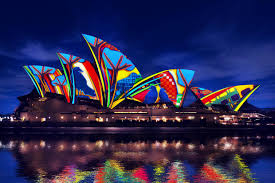 John and I spent the day roaming about the streets of Sydney. After a late-ish breakfast I visited Red Eye Records while John roamed about his old hood in Surry Hills. We then repaired to our hotel in The Rocks and had a couple of beers while watching the Hawks turn it on in the final quarter to overcome the Brisbane Lions.
We met our friend Mathew at The Lord Nelson Brewery Hotel for drinks – just one of several pubs in the area claiming to be Australia's first or oldest. I doubt that any such claims are true, but the Lord Nelson serves a refreshing Three Sheets Pale Ale that we imbibed steadily. We eventually parted and John and I pushed through the crowds gathered around Circular Quay for Vivid's light show. The famous sails of the Opera House were lit with projections and patterns of light as we headed towards them and thousands of people milled about with smart phones held aloft to capture the shifting colours.
The Woman in Black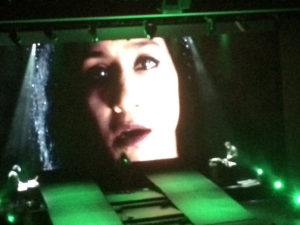 The foyer bars were still abuzz as we made our way into the auditorium to find our seats.  We were in row V of the stalls, just under the lip of the Dress Circle, so we had a pretty good view, though as we were to discover, this did not particularly matter.
The stage had a raised platform with a single microphone stand in the centre. There was a ramp on either side of the platform and two keyboards positioned on the outer side of the ramp in the respective wings.
When the lights dimmed a stark image filled the entire back wall from floor to ceiling – Naomi Campbell wearing black underwear gyrating slowly to a soft ambient drone in what looked like an abandoned warehouse or car park. This film continued as patrons slowly wandered in to take their seats, and was still going as five minutes became 10 and 10 minutes became 15. So long did it continue that any excitement built by the seemingly imminent commencement of the show had well and truly abated. In fact it continued long past the time when even someone with a fetish for Naomi Campbell in underwear might have grown tired of it.
Finally Naomi's gyrating image faded away and was replaced by a close up of a woman with a whitened, but graphically bruised and bloodied face. Two figures on the keyboards in the wings – presumably the people going by the cumbersome nomenclature Oneohtrix Point Never – played or at least generated the song Hopelessness, while the image of the woman mouthed the words. There was no sign of Anohni, but we could hear her singing, though whether it was a recording or Anohni singing from backstage I couldn't say.
Anohni appeared on stage for the next song, 4 Degrees, a powerful percussion led track and one of the highlights of the album. Her silhouetted figure was centre stage and her voice was strong and dynamic. A different face was projected onto the screen behind her, this time a man (I think) with heavy eye make-up who mouthed the apocalyptic words about oceans boiling and animals going belly-up.
Although we could see Anohni on stage, she was draped in folds of black cloth with her head completely covered in a black hood and veil. Was it a burqua, traditional mourning garb or black beekeeping getup? Was it meant to be confronting or just a protection against photography? Either way we couldn't see her.
Not so long ago I'd seen The Residents perform in masks, but theirs were for comic effect as well as concealment. I also saw Kanye West perform in a face mask, although naturally his was jewel encrusted and had more of a Marvel anti-hero look to it. Also, he eventually removed it, whereas Anohni showed no signs of emerging from her disguise.
As a piece of theatre, the stage show was bold, inventive and dramatic, but I couldn't help wondering what it meant for a transgender female to adopt a wardrobe that in some people's eyes is the symbol of female oppression. After all, it is an outfit synonymous with a religious system that doesn't condone homosexuality, let alone transgenderism. Perhaps that was her point. Or had something gone horribly wrong during her gender reassignment surgery, rendering her face disfigured?
I'll never know because indeed, she didn't lift the veil at any stage of the show. The musicians remained in darkness and all we saw of Anohni was her silhouette against the bright video backdrop. She didn't acknowledge the audience at any stage or indulge in any between song banter; not even a "How ya goin' Sydney!" She simply sang, powerfully, it has to be said, as the figure projected on the screen behind her lip-synched along.
I'm a sucker for a bold and innovative stageshow so I loved the stunning presentation and performance. The show was part of Vivid after all, and this was a true sound and vision spectacular in keeping with the festival's raison-dete. But it clearly wasn't to everyone's taste, as the numerous walk-outs after I Don't Love You Anymore attested. Did they choose that song to walk out on because its title best expressed their viewpoint? In any event it was a shame because they missed the dissonant drone and bitter critique of Obama. Come to think of it, perhaps they left just in time. Even Anohni walked out at one stage, for she wasn't on stage for Violent Men, even though we could hear her.
Another World
I didn't recognise all of the songs they performed, some of them, Paradise, Ricochet, Indian Girls and Jesus Will Kill You are, to my knowledge at least, unreleased. However, they matched the musical and lyrical palette of the tracks from Hopelessness, so hopefully they will see the light of day in a follow-up E.P.
There was no concession to long time fans wanting to hear old hits or revel in past glories. Anohni remained in character and disguise for the entire performance, the show maintaining its own context. Not everyone was alienated though; a cheer went up towards the end when Anohni's face appeared on the screen at the end of In My Dreams.
Drone Bomb Me, an ecstatic deathwish of a song, concluded the show with Naomi Campbell making a re-appearance on the screen, crying and lip-synching to the chorus. As the song wound down, Naomi's image was replaced by that of indigenous elder Nyarri Nyarri Morgan who wondered aloud about the state of the world and what humankind is doing to the earth. It was a sobering, if fitting end to a stunning and unflinching performance.
This was more than just a concert; in keeping with Vivid, it was a stimulating visual and aural experience, even if it didn't necessarily meet the expectations of the audience. John was less enamoured with it than I was and he thought the show would have been improved had Anohni tried to connect with the audience. While he may be correct, I admired the fact that Anohni remained true to the concept throughout, even if it meant that we never got to see her.  Several years earlier, Antony had sung about needing another world, and here, as Anohni, she had created one.
After leaving the Opera House we followed the crowds into the Botanical Gardens and walked through the light arbour and admired the illuminated trees and garden beds, which were almost as surreal as the show we'd just witnessed.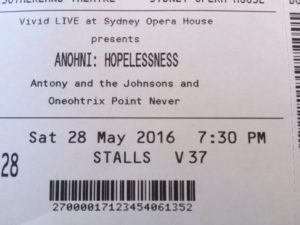 Setlist
Hopelessness
4 Degrees
Watch Me
Paradise
Execution
Ricochet
I Don't Love You Anymore
Obama
Violent Men
Why Did You Separate Me From the Earth?
Jesus Will Kill You
Crisis
Indian Girls
Marrow
In My Dreams
Drone Bomb Me