Gold Class
Gold Class
Mere Women
Newtown Social Club, Newtown
Friday 27 May 2016
$17
GOLDEN NEWBIES
Music and football are my two great loves and just lately they seem to be intersecting. Last Friday night I left the MCG after watching Hawthorn and went straight to 170 Russell to see The Drones. This week after watching the Swans play North Melbourne in Sydney I found myself rushing from the Sydney Cricket Ground to the Newtown Social Club where Gold Class were playing. Seriously, I only have two things going on in my life, you'd think I could arrange it so they weren't happening simultaneously.
This blog ostensibly documents live music in Melbourne, but I was in Sydney to see Anohni at the Sydney Opera House for the Vivid festival. When planning the trip I noticed that Gold Class were playing in Newtown the night before, so having missed out on tickets to their Melbourne show, I picked up a couple for John and I to see their Sydney performance. Sometimes it is just easier to go to Sydney to see Melbourne's latest 'it' band.
When we subsequently noticed that there was a top of the table clash clash at the SCG on the same night, we thought, 'well, when in Sydney…' and endeavoured to see both. Unfortunately the Newtown Social Club is not as convenient to the SCG as 170 Russell is to the MCG, and our taxi driver seemed more intent on reading his text messages than getting us to the gig. So unfortunately we only saw half of their set.
The band room at the Newtown Social Club is a small space with the stage set up in the rear corner. Being late we just stood at the back, so all we could see was the bobbing bald heads of the band members. I couldn't see who was playing which instrument, but the sound was strong and the energy in the room was pulsing.
Nor could I name the first couple of songs I heard, although one of them was from their excellent debut album, It's You. The closing four songs of their set were also from the album and were all delivered with a rollicking intensity that had the audience whooping and pogoing, at least for Life as a Gun, Furlong and Athena.
They closed with Shingles (Stay a While), a quiet song with keyboard accompaniment and the only slow number in their repertoire. It concludes with a plea to 'stay a while' and it's a shame they didn't heed their own advice and return for an encore. Although in our case, rather than stay a while, it would have just been better if we'd turned up a bit earlier.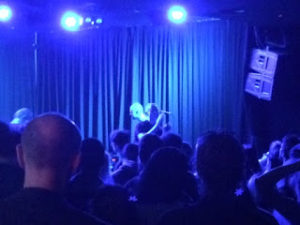 The name 'Gold Class' may be synonymous with an overpriced and underwhelming cinema experience, but the band is a dynamic and exciting live act. There is a hint of raw early Joy Divivison, circa Still era, about their sound with its throbbing rhythm section, searing, scratchy guitar and the deep resonant vocals of Adam Curley, whose voice would add drama and gravitas to a recitation of the bar snacks menu at the Newtown Social Club.
The gig was a double bill with Mere Women, celebrating a joint seven-inch release by the two bands. We missed Mere Women but I did buy a copy of the single and their side Numb is every bit as good as Gold Class' Standing at the Fault.
At a time when the lame synth pop of the 80s is being revived, it is some consolation at least that the classic post punk strains of the same era also has new outlets.
Setlist (part thereof)
?
?
Life as a Gun
Furlong
Athena
Shingles (Stay a While)